Exhibitors get the party started with pizzazz… and an occasional cocktail
Even for the most seasoned meeting planners and journalists, the trade show floor at IMEX America is something to behold. Set in the very welcoming Sands Expo Center exhibition hall in Las Vegas, the floor is eye candy for business travelers.
From airlines showing off their first-class accommodations to Mr. Holland always dressed in orange, aisle after aisle provides a refreshing way to keep tabs on what's new and happening in the international meetings and events scene. It doesn't take long before someone starts pouring cocktails, wine or beer— usually the Europeans, combusting into a daily "Meetings Mean Business" gala.
If there's one industry show to attend, it's IMEX America. That fact is not lost on meeting suppliers, who arrive en masse to convene with hosted buyers and network with one another. Last year, IMEX America featured 3,100 exhibitors from 150 countries. With 80 new booths in 2015, the number of exhibitors increased by 6 percent.
"It's a celebration of the industry and the world—all the destinations celebrating the best of themselves," says Carina Bauer, CEO of IMEX Group. "People can get a sense of the culture and personalities of the destinations."
Bauer says the creativity and investments exhibitors pour into their booths definitely help elevate the show.
Among the new organizations and businesses that will be making their IMEX America debut this year are Reno-Sparks Convention and Visitors Authority, Albuquerque Convention & Visitors Bureau and Destination Michigan. International newcomers include Slovenia, Munich and Hanoi, Vietnam.
Meanwhile, exhibitors such as Visit Nashville and NYC & Company will be showcasing larger booths than in past years to take advantage of what is expected to be another record turnout. (The 2015 show had 10,732 participants, a 4 percent increase in attendance.)
Just as the trade show floor is divided into groupings based on regions of the world and sectors, Smart Meetings offers up a sampling of exhibitors scheduled to participate in the 2016 IMEX America trade show.
Hospitality Corporations
There are many strategies to catch the attention of meeting planners during IMEX America. One tactic is combining forces with other suppliers from the same city or region, or bringing properties from the same brand into one large exhibition area.
The beauty of visiting a corporate booth is that meeting planners can usually glean information about multiple properties in one sitting.
Starwood Hotels & Resorts Hawaii is a collection of 11 properties on Kauai, Oahu, Maui and Hawaii Island. Whether you're planning a large-scale convention or executive retreat, these resorts offer variety and experiences that will appease both the CEO and chief financial officer.
For example, Sheraton Kona Resort & Spa at Keauhou Bay on Hawaii Island features an all-inclusive experience, with perks such as cultural team building. This property has 485 guest rooms, 23 suites and a 10,000-square-foot ballroom. Boasting 759 guest rooms, The Westin Maui Resort & Spa, Kaanapali is a tropical meeting jewel. The oceanfront 11,000-square-foot Aloha Pavilion adds to The Westin's meeting magnetism.
One of the top meeting resorts in the Hawaiian Islands is Oahu's Sheraton Waikiki. With the largest hotel ballroom in Waikiki at 26,000 sq. ft. and 1,636 newly transformed guest rooms and suites, this property is a key meeting destination. A recent $200 million renovation also included the implementation of sophisticated technology throughout the resort's convention center.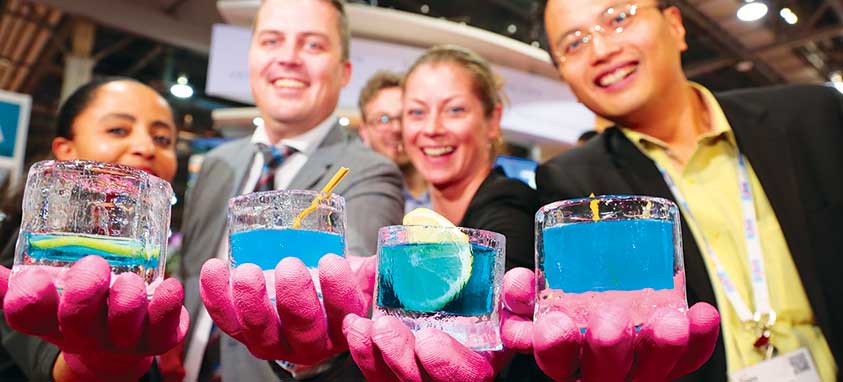 Salamander Hotels & Resorts will expand its portfolio in November when it opens 171-room Henderson Beach Resort in Destin, Florida. The resort will feature 30,000 sq. ft. of outdoor event space and 10,000 sq. ft. indoors. The Salamander collection boasts three other properties in Florida. Hammock Beach in Palm Coast has 320 guest suites and villas, and 45,594 sq. ft. of indoor and outdoor event space. Reunion Resort, located in Kissimmee, features 360 suites, condos, villas and vacation homes. It has 24,446 sq. ft. of indoor meeting space. Innisbrook Resort, in Palm Harbor, outside Tampa, has 609 guest rooms and suites, and 100,000 sq. ft. of indoor and outdoor event space. Golf is a big deal here, with four championship courses.
Salamander also has meeting resorts in New Orleans and Middleburg, Virginia.
Hyatt Convention Alliance is a meetings-oriented group within a brand, and all 10 members will be exhibiting together at IMEX America. Launched in 2015, alliance members combine to offer more than 1.5 million sq. ft. event space and 13,313 guest rooms. One of the key functions of the alliance is to provide customized solutions that give planners the ability to book meetings seamlessly from one market to the next over multiple years.
"We're fortunate to own and manage some of the premier convention hotels in the majority of primary destinations across the United States," says Jack Horne, vice president of sales and marketing at Hyatt Hotels-Americas. "We've listened to our customers, and by leveraging our unrivaled convention hotel collection, now offer a streamlined, hands-on solution for multiyear bookings starting with the RFP all the way through paying the bill."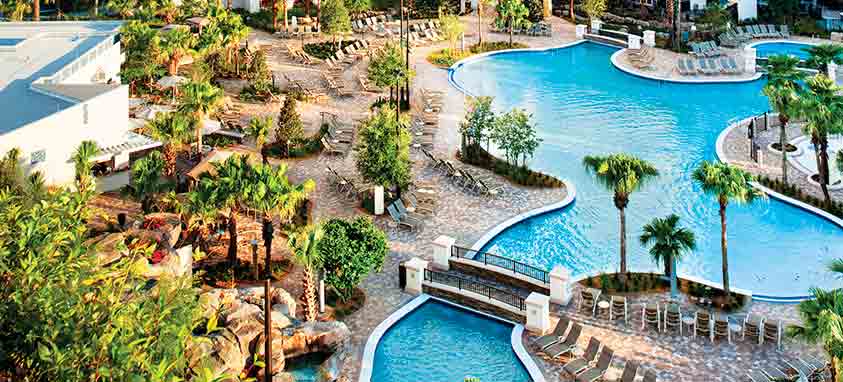 Hyatt Regency Orlando (pictured) helped spearhead the alliance and reflects a commitment to meetings and events that is emblematic of the alliance. The Orlando property features 1,639 guest rooms and 315,000 sq. ft. of indoor and outdoor event space. Other alliance members are Grand Hyatt San Antonio, Hyatt Regency Atlanta, Hyatt Regency Chicago, Hyatt Regency Dallas, Hyatt Regency Denver at Colorado Convention Center, Hyatt Regency McCormick Place in Chicago, Hyatt Regency New Orleans, Hyatt Regency O'Hare in Rosemont, Illinois, and Manchester Grand Hyatt San Diego.
Playa Hotels & Resorts properties are as diverse and enchanting as their locations. Playa Resorts Management, the operational arm of Playa Hotels & Resorts, oversees 14 properties that combine to offer 6,175 guest rooms in prime beachfront destinations in Mexico, Dominican Republic and Jamaica.
Playa's relationship with Hyatt Hotels Corporation has bolstered its international reputation. In Mexico, Playa owns and manages Hyatt Ziva Los Cabos, Hyatt Zilara Cancun, Hyatt Ziva Cancun and Hyatt Ziva Puerto Vallarta. Hyatt Ziva Rose Hall and Hyatt Zilara Rose Hall are in Jamaica. (Hyatt Zilara is an adults-only brand, while Hyatt Ziva is family friendly.)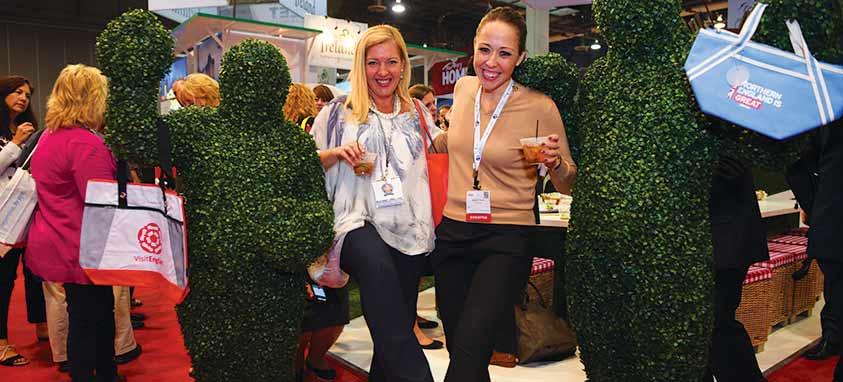 Hyatt Ziva Cancun earned a AAA Four Diamond rating earlier this year, a huge honor since it just opened in January.
Under an agreement with Hyatt, Playa can pursue the acquisition or development of new resorts under Hyatt's two all-inclusive brands. Playa also has certain rights to operate Hyatt-branded resorts in five Latin American and Caribbean countries.
Playa owns and operates three resorts under its own brands, The Royal Playa del Carmen, Gran Porto Resort Playa del Carmen and Gran Caribe Resort Cancun. It also owns five resorts in Mexico and the Dominican Republic that are managed by a third party.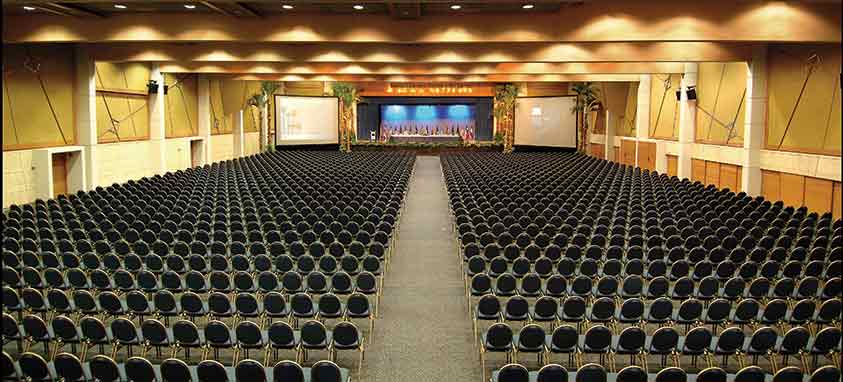 Barcelo Hotels & Resorts (pictured), which is celebrating its 85th birthday this year, made big news this summer when it signed a major franchise agreement with Asian giant Plateno to operate under the Barcelo brand in China. Plateno is China's second-largest hotel company, with more than 3,000 properties. "Our two groups are aiming to combine the know-how of European hoteliers with the knowledge of the Chinese market," says Raul Gonzalez, CEO of Barcelo Group.
With 50 properties in Spain, Barcelo is the third-largest hotel brand in the country. It has 105 resorts, with nearly 33,000 guest rooms in 18 countries. Popular meeting properties include recently renovated Barcelo Maya Beach Resort south of Cancun, Mexico, and Barcelo Bavaro Beach Resort in Punta Cana, Dominican Republic. Barcelo also owns a 40 percent shareholding in Barcelo Crestline, a U.S. management corporation.
Meeting Hotels and Resorts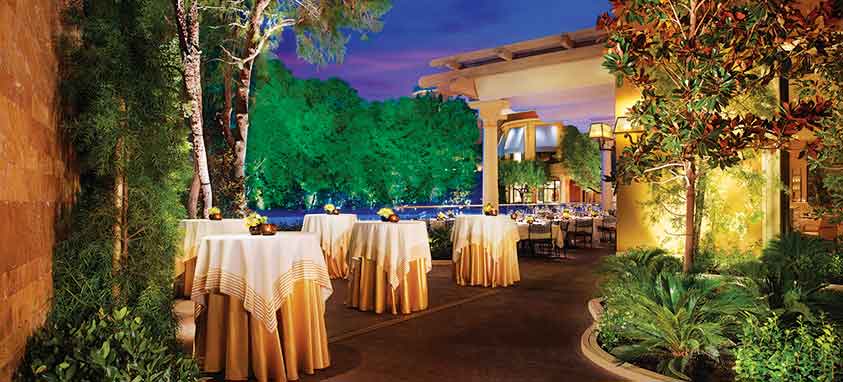 SW Steakhouse private dining patio, Wynn Las Vegas
Wynn Las Vegas and Encore are considered by many to be host hotels for IMEX America. This mega resort property is near the Center Strip, within walking distance to Sands Expo Center. It offers a combined 4,750 guest rooms and 260,000 sq. ft. of meeting space, including many areas that boast floor-to-ceiling windows with stunning views overlooking the pools and gardens. There are five popular nightclubs and two theaters, which feature live entertainment.
There's so much attention to detail that meeting planners can get a few decorating tips by just strolling through Wynn and Encore's seamless meeting and entertainment flow. Passion for excellence is visible everywhere, a byproduct of owner Steve Wynn's mark on the hospitality industry. Besides both towers earning Forbes Five Star ratings for hotels, the two spas are also Forbes Five Star winners. The resort complex offers shops, salons, a fitness center, pools and golf.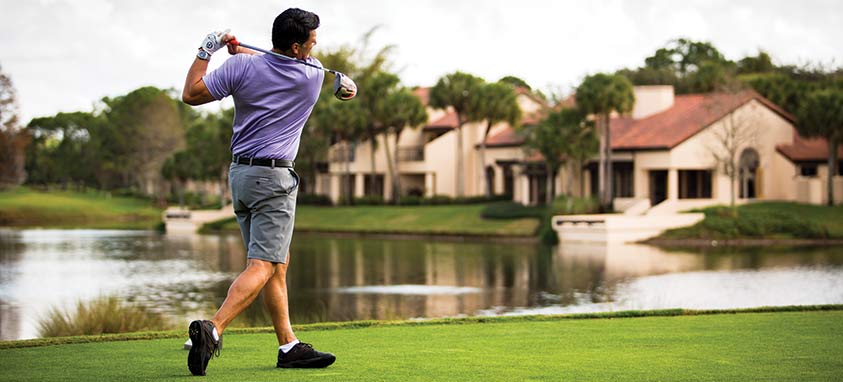 Villas of Grand Cypress, Orlando
Orlando will be on full display during IMEX America, including Villas of Grand Cypress, a luxury resort less than 3 miles from Walt Disney World. With its own golf school, 146 villas and a 7,200-square-foot executive meeting center, the resort is ideal for retreats and small events, especially for those traveling with family.
The Forbes Four Star and AAA Four Diamond rated resort has everything a group could ask for, starting with 45 holes of championship golf designed by Jack Nicklaus. For those short on time, there's also a nine-hole pitch and putt course. Two pools have waterfalls and slides, and there's a bike fleet, climbing wall, fitness trails and fishing on resort lakes.
Beach tent, Ponte Vedra Inn & Club Spa, Ponte Vedra Beach, Florida
Ponte Vedra Inn & Club is an oasis sandwiched between Jacksonville and St. Augustine, Florida. Its Atlantic Ocean beachfront location is impressive and certainly factors into its AAA Five Diamond rating for 15 consecutive years. There are 250 guest rooms and suites, including 18 luxurious historic rooms that date to 1937. (The Lodge & Club is a nearby sister property with 66 upscale oceanfront rooms and suites.) There's 25,000 sq. ft. of meeting space. Among the amenities at Ponte Vedra Inn are 36 holes of golf, 15 tennis courts, a full-service spa, more than 100 weekly fitness classes, four heated swimming pools, and rentals for kayaking, paddleboarding and biking.
Shirodhara, Nizuc Resort & Spa, Cancun, Mexico
Nizuc Resort & Spa, tucked away in a secluded enclave in Cancun, Mexico, is well-suited for incentive travel and executive retreats. It features 274 suites and villas, and 8,500 sq. ft. for meetings, including a ballroom and two conference rooms. There are six restaurants and a world-class spa. The Forbes Four Star beachfront resort is a luxurious oasis, with snorkeling just outside its doorways. Other activities include tennis, kayaking and paddleboarding. At night, enjoy live Cuban jazz and a sunset cruise on the resort's private yacht.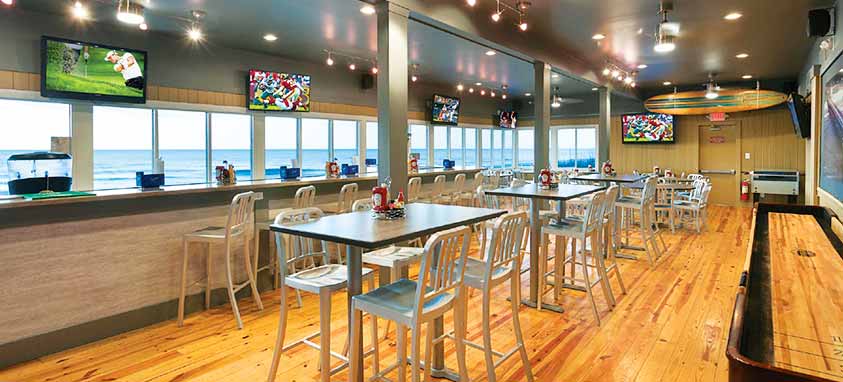 Southern Tide Bar & Grille, Springmaid Beach Resort, Myrtle Beach, South Carolina
Big things are happening at Springmaid Beach Resort in Myrtle Beach, South Carolina. Following a nearly yearlong renovation, it will be relaunched as DoubleTree Resort by Hilton, Myrtle Beach Oceanfront on Sept. 15. The project included upgrades to all 452 guest rooms. The newly-named Southern Tide Bar & Grille on 1,060-foot Springmaid Pier has been transformed. The resort's 35,000 sq. ft. of oceanfront meeting space also was renovated.
Onsite amenities include mini-golf, volleyball and Jack's Surf Shack, which offers surf lessons and rentals, kayak rentals and paddleboard lessons and rentals. Adjacent to Myrtle Beach State Park, the resort's beach is one of the area's best for surfing. Myrtle Beach's more than 100 golf courses are convenient to the resort.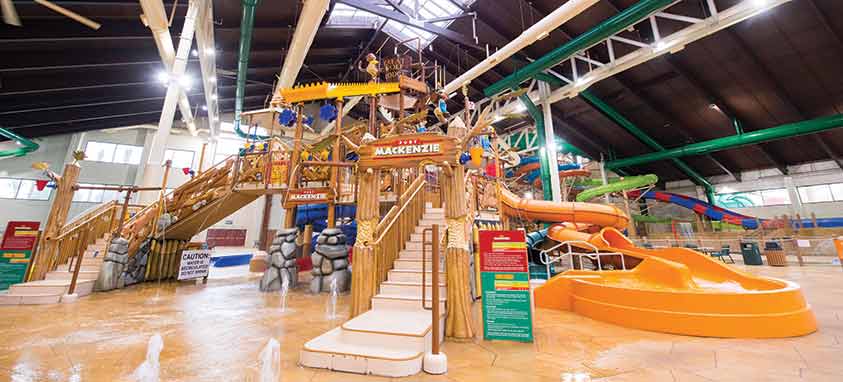 Great Wolf Lodge Southern California Indoor Water Park Resort, Garden Grove
Great Wolf Resorts will be calling attention to its latest projects. The world's largest operator of indoor water parks announced in June it will invest $150 million to open a Great Wolf Lodge Georgia in LaGrange, outside Atlanta. Expected to debut in 2018, Great Wolf Lodge Georgia will feature 456 guest suites, 16,000 sq. ft. of event space, and signature rides and attractions, including water slides, a relaxing lazy river and wave pool.
Earlier this year, Great Wolf opened its 13th U.S. resort in Garden Grove, California. The 603-room property, which is near the theme parks of Anaheim, has 21,000 sq. ft. of event space. Great Wolf Lodge, Colorado Springs is expected to open by the end of the year, with 311 guest suites and 20,000 sq. ft. of meeting space.
U.S. and International Destinations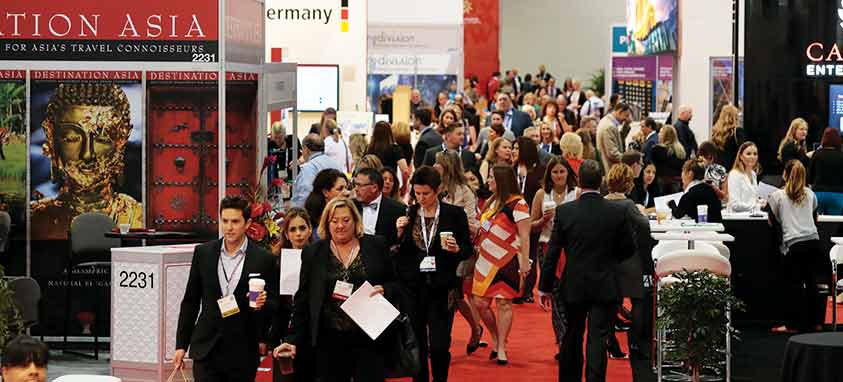 IMEX America lures destination marketing organizations from around the world. Besides bringing a sense of their hometowns and homelands to the trade show floor, these cities, regions and countries provide a snapshot of global meeting possibilities.
Greater Miami Convention & Visitors Bureau (GMCVB) will be calling attention to its record-breaking year in 2015, which accounted for a 6.4 percent increase in overnight visitors. The destination welcomed 15.5 million overnight visitors, with a record 8 million from domestic markets and 7.5 million from international destinations. The very successful GMCVB global marketing program resulted in a record economic impact of $2.3 billion from New York alone, while Brazil and Colombia accounted for $1 billion each. The total economic impact of overnight visitors to Greater Miami reached a record $24.4 billion last year.
To accommodate the surge in business travel, Miami Beach Convention Center is undergoing a $615 million renovation scheduled for completion in 2018. It will offer 500,000 sq. ft. of contiguous exhibit space, a 60,000-square-foot grand ballroom, three 20,000-square-foot junior ballrooms and 59,000 sq. ft. of breakout meeting spaces.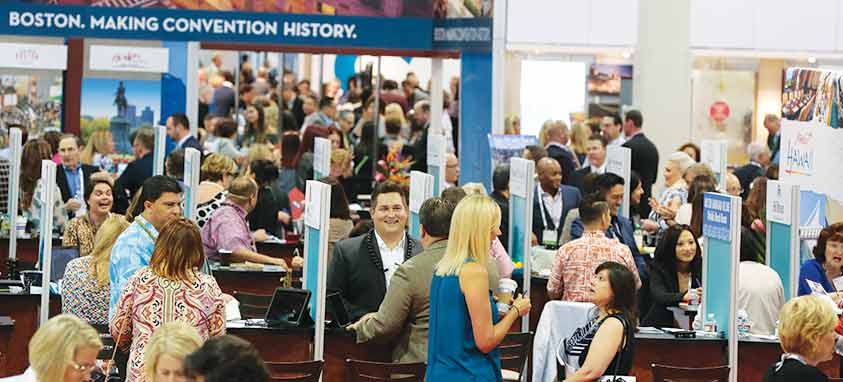 Quebec City Business Destination will use IMEX America to highlight what has been described as the city's largest cultural project. The new Pierre Lassonde Pavilion opened in June. It's the fourth building of the Musee National des Deaux-Arts du Quebec (MNBAQ) complex. The pavilion serves as a passageway that links the city, park and museum.
Quebec City's food scene is on the rise, including what's being served at Quebec City Convention Centre, which prides itself on offering fresh ingredients and regional flavors. AAA concurs, awarding six Quebec restaurants Four Diamond ratings. With culture and F&B leading the way, Quebec City is a great place to conduct business thanks to a high concentration of research centers, and industrial and technology parks. Representatives from these sectors are city ambassadors who work with Quebec City Business Destination to attract international meetings and conventions.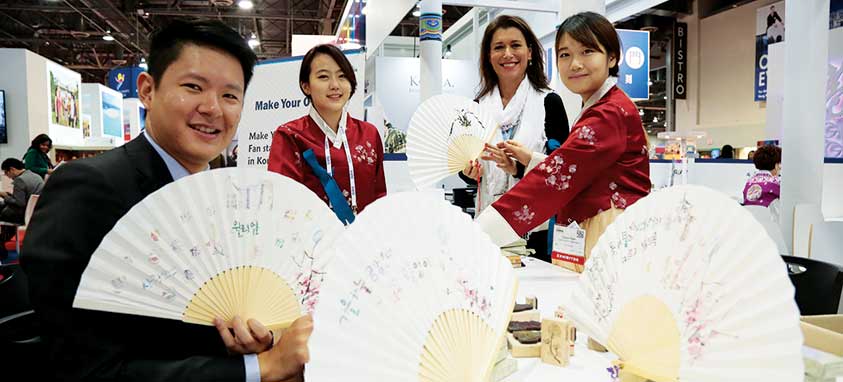 Tourism Australia always has fresh news to report, with a half-dozen meeting cities taking advantage of the country's vibrant business and cultural centers that inspire delegates. For example, Brisbane, the capital of Queensland, just gained major notoriety when Brisbane Convention & Exhibition Centre (BCEC) was named World's Best Convention Center by International Association of Congress Centres. BCEC stands out for creating a dedicated boutique convention space, BCEC on Grey Street, which takes advantage of increased demand for smaller- and medium-sized meetings.
The new International Convention Centre Sydney is scheduled to open in December. It will feature 374,500 sq. ft. of exhibition space and 85,600 sq. ft. of meeting room space. The 53,500-square-foot waterfront deck will be a key part of the event space. The state-of-the-art convention center will also have three theaters and a ballroom for up to 2,000 people.
Australia will be host destination for the prestigious World's 50 Best Restaurants awards in 2017—solidifying its reputation as an emerging food lovers' paradise. William Drew, editor of The World's 50 Best Restaurants, is excited about Aussie food.
"Having kicked off our global tour in the U.S., The World's 50 Best Restaurants has chosen to move to Australia for 2017 because—like New York—it is one of the most exciting gastronomic destinations in the world," Drew told Smart Meetings. "What's more, its food and drink offering is unique, from its raw materials and producers to its chefs, restaurateurs and winemakers."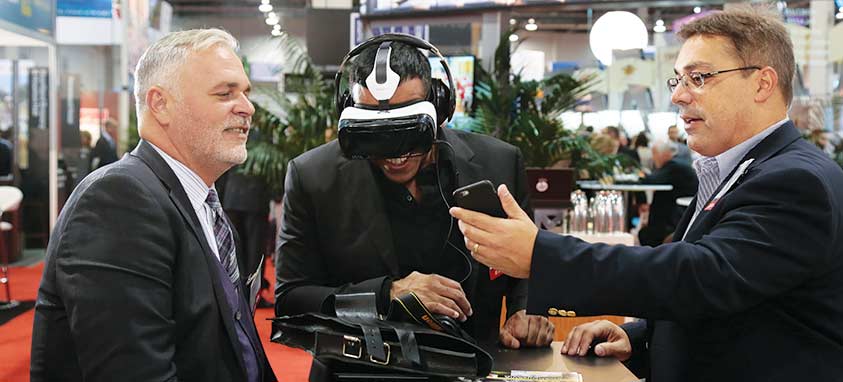 Visit Scotland gets lots of attention at IMEX America thanks to its countrymen, who stroll the trade show floor in traditional kilts. They're used to taking photos with attendees, so don't be shy.
Scotland has emerged into an incredible meeting country, thanks to Edinburgh and Glasgow. According to Richard Knight, Visit Scotland's marketing manager for the Americas, Edinburgh is known for its universities and technologies. He points out that local universities provide many options for speakers, so meeting planners won't necessarily need to fly in presenters.
Scottish Exhibition and Conference Centre (SECC) in Glasgow is the largest meeting venue in Scotland. It has nearly 240,000 sq. ft. of exhibit space across five ground-level halls, and is connected to Clyde Auditorium, which seats up to 3,000 and has 16 breakout rooms. Events are boosted with multipurpose indoor venue SECC Hydro. It has a capacity of 13,000 and is the third-busiest music arena in the world.
Besides major meetings, Scotland has become a very popular incentive destination. Scotland is the center of the universe for golf, with 606 courses. After a day playing golf, it's important for groups to visit one of 125 whisky distilleries.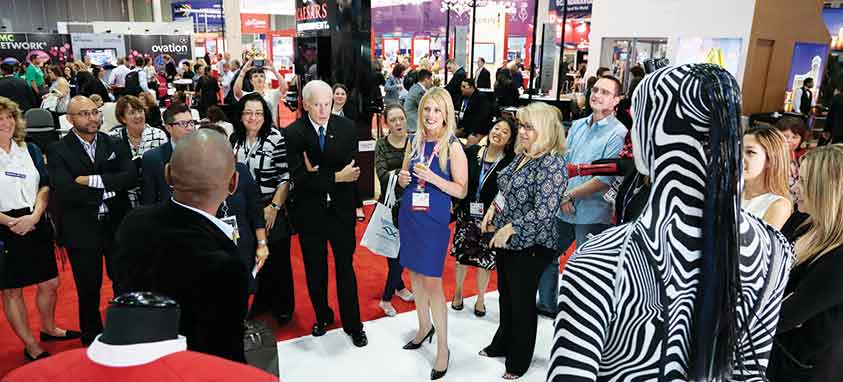 Visit Denver will have some F&B news to share during IMEX America. Denver Beer Trail has become a must-see for business and leisure travelers, with 20 breweries. Denver produces more beer than any other urban region in America, accounting for an estimated 200 different craft beers that are brewed daily. The city also hosts the annual Great American Beer Festival, the largest beer competition in the world, featuring more than 6,700 beers. It's scheduled for Oct. 6−8.
"As travelers continue to seek out authentic experiences, and especially local culinary scenes, Denver's chefs, restaurateurs, brewers and distillers never cease to impress," says Richard Scharf, president and CEO of Visit Denver. "The number of incredible restaurants and craft breweries that continue open and flourish in Denver's neighborhoods is a testament to the innovative, entrepreneurial spirit that drives our nationally renowned culinary scene."
Denver is at the forefront of several national food trends, ranging from chef-driven fast casual restaurants to food halls and marketplaces to upscale and creative ethnic fusions.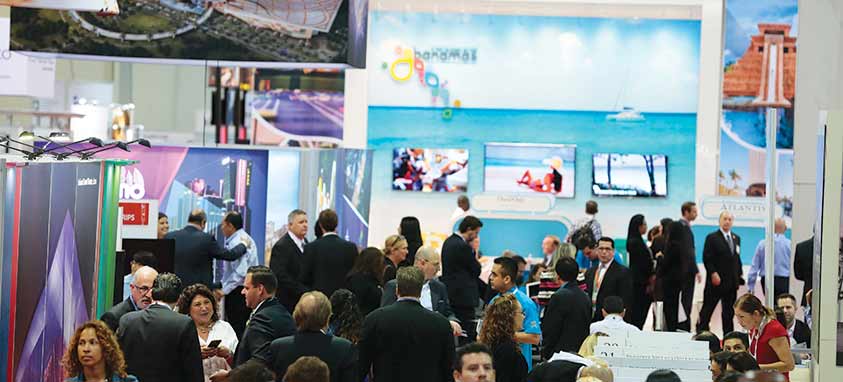 Visit Orlando always makes a big splash at IMEX America as one of the chief hosts of meetings and events in the world. The Visit Orlando booth is so big that it's more of a village than an actual booth. Universal Orlando will be getting lots of attention following the opening of a fifth hotel in July. The addition of Loews Sapphire Falls Resort brings the number of guest rooms at Universal to 5,200.
Sapphire Falls has 115,000 sq. ft. of meeting and event space, including a 41,000-square-foot ballroom. Universal's meeting space has grown to a whopping 295,000 sq. ft.
Reno-Sparks Convention and Visitors Bureau is a unique CVB that promotes destinations in Nevada and California. Known for entertainment at its casinos and awesome skiing in the winter, it also offers a variety of event space, including Reno-Sparks Convention Center, which has five contiguous exhibit halls that total 381,000 sq. ft. of space and a 30,000-square-foot ballroom.
The 7,000-seat Reno Events Center features 56,000 sq. ft. of exhibition space. National Automobile Museum is located downtown, showcasing vintage cars and offering event space for up to 1,200. The 1,623-room Peppermill Resort Spa Casino features 106,000 sq. ft. of meeting space.
To see who's serving up what in the meetings and events industry, there's no better place than IMEX America, where every aisle is a business meeting feast full of flavor and diversity.
---
For more on IMEX America 2016, click here.