Sponsored by Huntington Convention Center of Cleveland

Cleveland's Convenient Convention Gallery
Cleveland is all about two things – connections and convenience. Luckily, the Huntington Convention Center of Cleveland provides the keys to convenience when planning a convention or event. Swipe right to find out why Cleveland is the convenient choice.
LEARN MORE
Cleveland's Connected Convention Center Campus
A connected campus, the Huntington Convention Center of Cleveland is conveniently connected to the Hilton Cleveland Downtown and Public Auditorium, offering meeting planners one-million-square-feet of meeting and event space.
LEARN MORE
Cleveland's Award-Winning Hotels
The attached Hilton Cleveland Downtown (Hilton) is a proud recipient of the Connie Award, that's presented by the Hilton Corporation. The award is based on performance in several areas, including overall guest experience, guest service and quality assurance audits measuring cleanliness and property condition.
While we take great pride in the awarded Hilton, Cleveland has plenty of other hotels to choose from. Offering both historic and modern hotels, there are nearly 5,000 hotel rooms within walking distance of the convention center.
LEARN MORE
Extraordinary Exhibit Halls
Our 225,000 square-foot exhibit hall is your convention canvas. With the ability to divide into three distinct ballrooms, 30-foot ceilings, easy-to-access loading docks and concession stands, our exhibit hall has hosted anything from heavy machinery to baseball fields to sports arenas.
LEARN MORE
The Grandest Ballrooms
Our center puts the 'grand' in Grand Ballroom. We offer a 32,000 square-feet, column-free ballroom that's divisible into three ballrooms and overlooks our onsite farm, The Real Farmville, as well as Lake Erie and the Brown Stadium.
LEARN MORE
Lighting Venue Space Since 2016
We like to provide unique space, and by unique we mean stunning ballrooms and meeting rooms that provide natural lighting. The connected Global Center for Health Innovation provides a modern meeting space that will give that extra edge to your next meeting. Included is a 11,000 sq. ft. Atrium Ballroom, 8,200 sq. ft. pre-function space, and 11 naturally-lit meeting rooms.
LEARN MORE
Catering With A Passion
Exclusive catering partner, Levy Convention Centers (Levy), is known for pairing passion with social responsibility. Not only does Levy provide the utmost in quality, flavor and variety, but they also manage our onsite farm, The Real Farmville. The farm is comprised of livestock, greens, herbs, veggies, eggs, and honey.
LEARN MORE
Partners & Amenities
Responsive, effective and innovative, our service partners are not only experts you can rely on, but also your planning partner in crime. Our team consists of Levy Convention Centers, PSAV, Edlen Electrical, the UPS Store, and Towne Park.
LEARN MORE
Convention centers are reinventing the science of gathering
For many meeting planners, the term "convention center" may conjure images of vast, warehouse-like spaces that stress function over form and size over service. But those assumptions may need updating, as many convention centers have been enhanced with new technologies, design features and other amenities.
Consider Long Beach Convention & Entertainment Center, which has invested $50 million in modernization in recent years. Far from a blank slate, the facility's 400,000 sq. ft. of space includes LED ping pong tables, white leather furniture, networking pods and turnkey event spaces such as The Cove, where planners can hold food truck parties beneath crystal chandeliers hanging from an overhead bridge.
"We were home to the TED Conference for five years, and we watched and learned how successful conferences were run and what the components were that made them successful," says Steve Goodling, president & CEO of Long Beach Convention and Visitors Bureau. "What we observed is they created an environment that fostered and supported collaborating and connecting."
Whether it's flexibility in layout, proximity to hotels, sustainable design features or top-notch food and beverage options, the list of what makes a great convention center is continually evolving. Below is an overview of what's great about a few leading convention centers, which are among the hundreds across the nation.
Smart Tip: No matter which convention center you pick, be sure to work with the local CVB and ask lots of questions to make sure you get everything it has to offer. If you assume a property is a blank slate, you may end up missing opportunities to create experiences and save money at the same time.
"Convention centers are realizing that they need to change," says Long Beach CVB's Steve Goodling. "The old style of 'we're just renting you space,' and 'there's really not much functionality built into that space,' doesn't work anymore."
Esports Stadium Arlington & Expo Center, Texas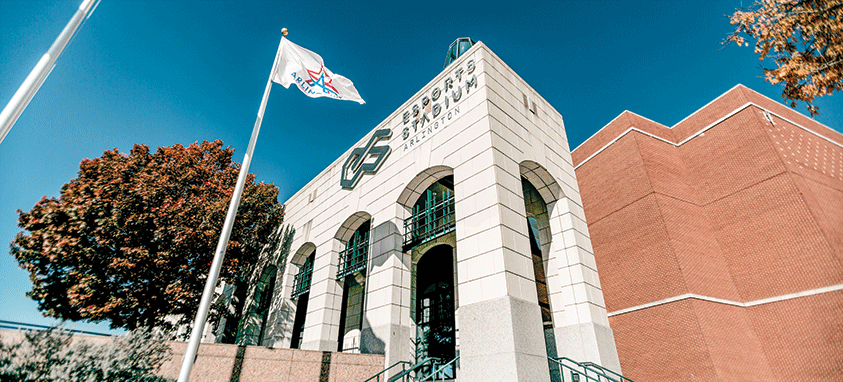 Esports Stadium Arlington & Expo Center encompasses 100,000 sq. ft. and has 8 team training rooms, as well as a terrace for outdoor functions. Perhaps most impressively, the complex is home to 90,000-square-foot Esports Stadium, the largest venue of its kind in the country. It has a 90-foot LED stage display with state-of-the-art lighting and sound, as well as a broadcast and production studio.
This summer, the $150 million flagship Live! by Loews-Arlington, Texas, hotel will open next to Texas Live!, a major entertainment district, bringing an additional 302 guest rooms and 35,000 sq. ft. of function space.
"[Esports Stadium Arlington & Expo Center] is designed for effortless set-up and tear-down for any size meeting or event, and is capable of handling even the most complex electrical, utility and communications needs," says Matt Wilson, vice president of sports and events for Arlington Convention and Visitors Bureau. "The center operates on a rental-only basis, so we don't require food and beverage minimums. This makes it really easy for planners to utilize the great off-site event venues Arlington has to offer without worrying about meeting a minimum."
Austin Convention Center, Texas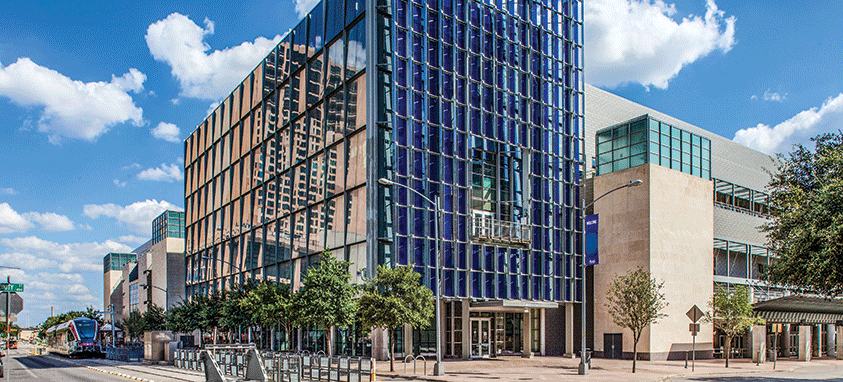 From its efficient LED lighting to green-cleaning techniques, LEED Gold-certified Austin Convention Center has an impressive array of sustainability-focused features and programs. Boasting 900,000 sq. ft. of high-tech meeting space in the heart of downtown—including 54 meeting rooms—the venue is powered by 100 percent renewable energy from Austin Energy's Green Choice Program, and more than 2,200 tons of waste have been diverted from landfills through the center's extensive recycling, reuse and composting program. The ACC is also a "gigabit-rated building" and ranks among the most technologically advanced convention centers in the country.
Some 11,000 guest rooms are nearby, so attendees can use the convenient MetroRail and MetroBus—as well as scooter, bike and car-sharing services—to get around. There's also plenty to do after the day's business is done: Austin bills itself as the Live Music Capital of the World, and with 250 music venues, it's a credible claim. Attendees can also get tips from Visit Austin's Diversity Field Guide Series, brochures focusing on the LGBTQ, African American, Hispanic/Latino and Asian American/Pacific Islander experience in Austin.
Colorado Springs Event Center, Colorado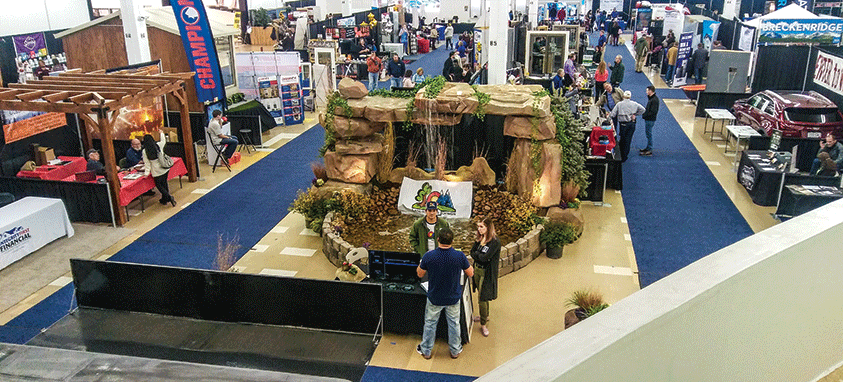 Featuring slightly more than 40,000 sq. ft. of exhibit space, Colorado Springs Event Center is not the largest convention center in the country, but it is undergoing an expansion that will increase its size to more than 90,000 sq. ft. The facility itself has a dedicated caterer, ample free parking and affordable rental rates.
The best thing about the center, though, is its location in Colorado Springs, which has regularly landed on lists of best cities from Time magazine, Parenting.com and other media outlets; it has earned accolades ranging from "best drivers" to "friendliest bike city in America." With 300 days of sunshine every year, Colorado Springs sits at the foot of Pikes Peak, and gives attendees opportunities to visit renowned attractions such as Garden of the Gods and U.S. Air Force Academy.
Wisconsin Dells, Wisconsin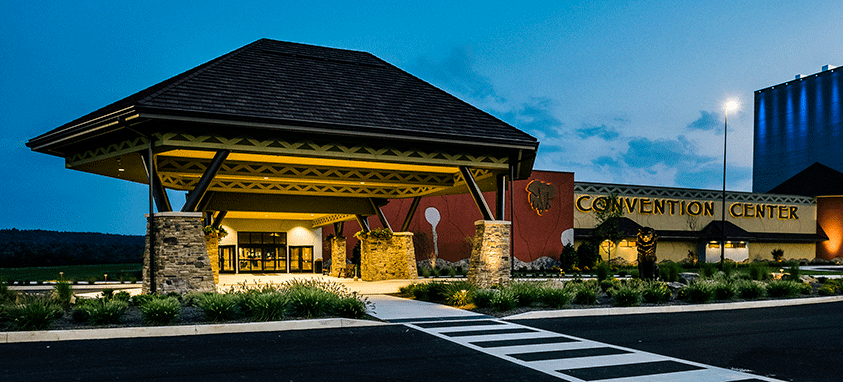 Featuring 212,000 sq. ft. of meeting space, Kalahari Resort and Convention Center is the largest resort convention center in Wisconsin. The resort has plenty of on-site amenities, including Spa Kalahari, restaurants, fitness centers and retail shops—but what makes Kalahari different from other local properties is its African theme, indoor water park and theme park. These are also found in Kalahari Resort and Conventions properties in Sandusky, Ohio, and Pennsylvania's Pocono Mountains and will be included at a new property under construction in Round Rock, Texas.
The convention center at the Wisconsin Dells property is completing a $35 million expansion that will add 112,000 sq. ft., with 10 new meeting rooms and a new 52,000-square-foot ballroom. The Poconos property, meanwhile, is more than doubling the size of its meeting facilities.
"Kalahari Resorts combines the best in family-friendly resort amenities with massive convention space, leading to an average 20 percent increase in meeting attendance," says Tifani Jones, corporate director of sales for Kalahari Resorts and Conventions. "Meeting planners enjoy that their attendees have the opportunity to mix business and vacation time. With everything under one roof, once they arrive at Kalahari, they park their car and can enjoy the entire resort without leaving."
Colorado Convention Center, Denver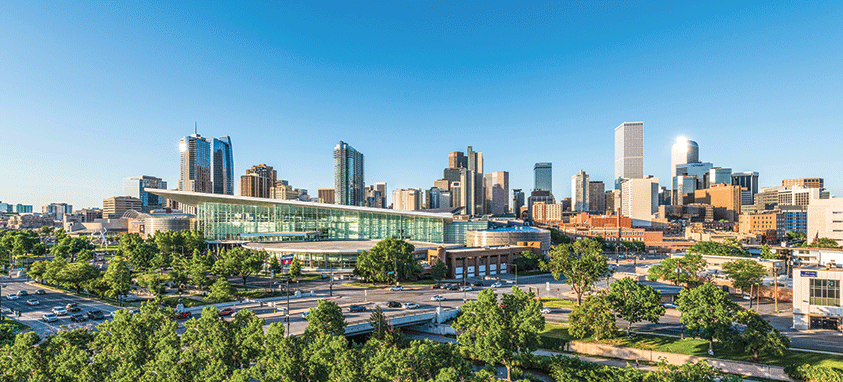 Located squarely in downtown Denver, Colorado Convention Center (CCC) is within a block of 3,200 hotel rooms, with 11,000 rooms within walking distance. The facility has 584,000 sq. ft. of exhibit space on one level, plus 63 meeting rooms—and it's next door to Denver's 10-theater performing arts complex. A major expansion of the center is set to bring an 80,000-square-foot ballroom, technology improvements, a large new outdoor patio and additional prefunction space.
Looking for strong green practices? CCC is the largest LEED Gold-certified building in Colorado, and has 30,000 sq. ft. of solar panels as well as its own on-site urban garden, the Blue Bear Farm, which has 5,000 sq. ft. of growing space that produces 5,000 pounds of fresh fruits and vegetables annually.
"The Colorado Convention Center consistently is ranked by users as one of the top centers in the country for functionality and convention service levels," says Rachel Benedick, vice president of sales and services for Visit Denver. "The large lobbies create an open and airy feel, with both city and Rocky Mountain views. The floor-to-ceiling windows bring in natural light, which is wonderful when attendees spend the bulk of their time inside the building. We also have millions of dollars of public art throughout the building; the city utilized local artists for this element, which really gives the building a personality."
Fort Worth Convention Center, Texas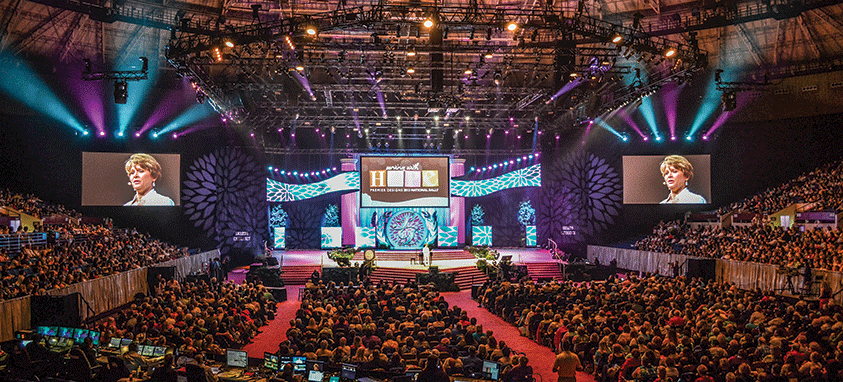 Easily reachable from either coast, Fort Worth Convention Center is within walking distance of a variety of hotels, restaurants and attractions. A new TexRail line can transport visitors directly from the airport to within steps of the convention center, and a free commuter trolley can help attendees get around town. The center has 253,226 sq. ft. of total exhibit space and 38 breakout rooms, not to mention a multifunctional, 13,500-seat arena and a 55,000-square-foot events plaza that connects to Fort Worth Water Gardens, an urban park with flowing waterfalls. Fort Worth is in the preliminary planning stages for a major expansion of the center.
"Unique neighborhoods such as the Cultural District and Stockyards National Historic District are less than 4 miles away, allowing visitor to see attractions like the only Michelangelo in the Americas at the Kimbell Art Museum and the world's only twice-daily cattle drive, presented by the Fort Worth Herd," says Charles Mayer, director of sales and marketing for Fort Worth Convention Center. He emphasizes the quality of the center's staff and ease of doing business: "All convention centers sell the same thing—pace. It's the staff and visitors that make it great."
Long Beach Convention & Entertainment Center, California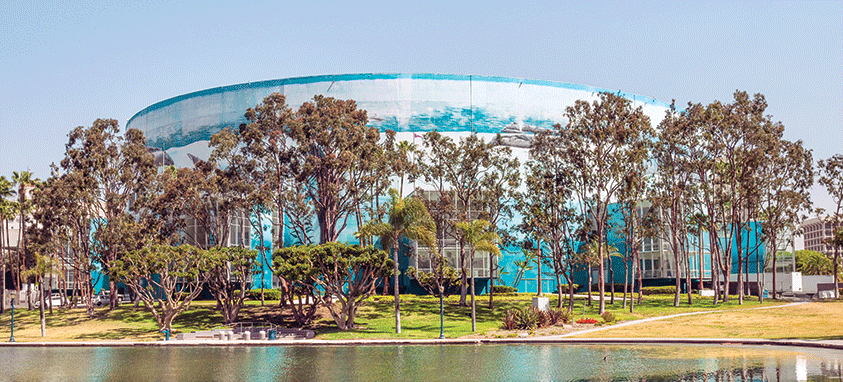 Creating dedicated spots for seating and networking has been central to Long Beach Convention & Entertainment Center's transformation in recent years, says Goodling from Long Beach Area CVB. And the addition of on-site event spaces has helped planners keep costs down.
"A client will save between $125,000 and $500,000 for a special event, because it's already built in," he says. "Clients that choose Long Beach can save money, and put it into food and beverage rather than decor….We have to create buildings that permit attendees to 'work' the convention the way they want to work it. They leave happier and more fulfilled."
In addition to proximity to the waterfront and bustling downtown Long Beach, the convention center offers a variety of amenities to suit the demands of younger convention attendees. "Millennials are really looking for the experience," Goodling says. "We've created Instagrammable special event spaces that are unique and memorable."
Oklahoma City Convention Center, Oklahoma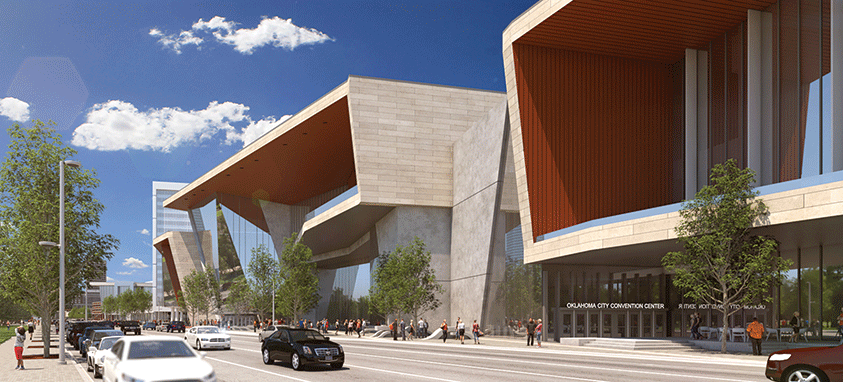 Replacing a structure built in the early 1970s, Oklahoma City is building a brand-new convention center that is scheduled to open at the end of 2020. "It's not an expansion or renovation, but a totally new 200,000 sq. ft. of exhibit hall space, divisible into four areas, with 45,000 sq. ft. of additional meeting space in 22 rooms," says Michael Carrier, president of Oklahoma City Convention and Visitors Bureau.
The adjacent Omni Oklahoma City Hotel—with 605 guest rooms, seven dining outlets, a pool deck, and 78,000 sq. ft. of indoor and outdoor meeting space—is set to open in 2021. Both the hotel and convention center will be located next to 70-acre Scissortail Park, with a cafe, sports facilities, a lake, nature trails and other amenities. Come evening, attendees can head across the street to catch an NBA Oklahoma City Thunder game.
For anyone who thinks OKC lacks sophistication, it's important to note that one of the city's eateries, Nonesuch, was named in 2018 as the best new restaurant in the country by Bon Appetit. "You can see a world-class Matisse or Van Gogh exhibit in the morning and world-class Western heritage museum in the afternoon," Carrier says. "It's a very affordable market, and visitors who come here enjoy a much better value for their dollar than they get in a lot of other cities."
Boise Centre, Idaho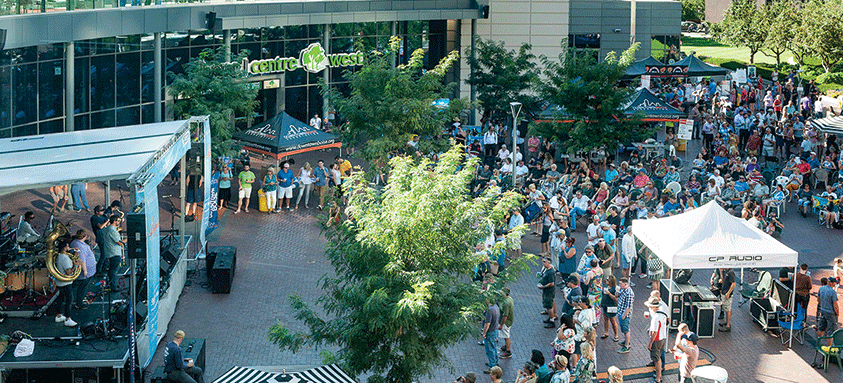 Event professionals can kiss stress goodbye with help from the team at Boise Centre in The District in Idaho. The 86,000-square-foot facility embodies 31 meeting rooms, including a 36,000-square-foot expansion that makes the space even easier to customize to fit any size group. The in-house audio-visual department was good enough to wow American Nuclear Society's Top Fuel Conference and National Football Bowl Association's annual meeting in 2018. And the catering team incorporates local bounty in thoughtfully prepared menus that can be customized to fit the occasion.
In a Pacific Northwest destination that boasts the beauty of Boise River Greenbelt, planners just might be tempted to take the meeting outside to incorporate the abundant natural attractions of hiking and water sports.
Getting there is easier than ever. The centralized Midwest location offers 20 nonstop daily flights to major hub cities through Boise Airport (BOI) seven minutes from downtown. With four new hotels and a total of 1,275 guest rooms in walking distance, if you haven't been to Boise lately, it might be time for a site visit.
Peoria Civic Center, Illinois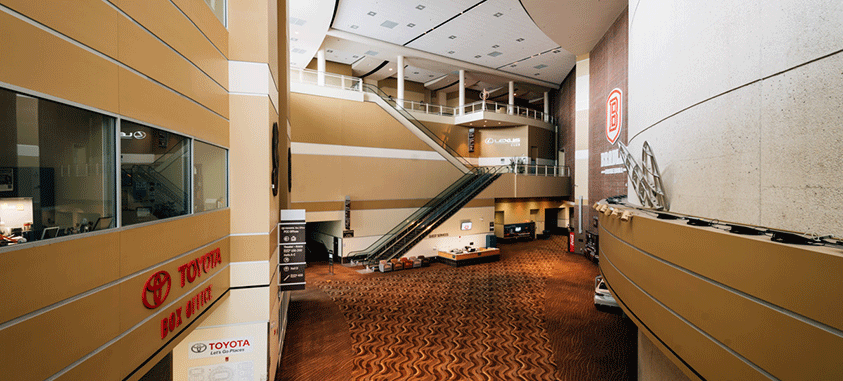 A plum in the heart of downtown Peoria—an all-American city on the Illinois River that is home to the headquarters of Caterpillar (among other companies)—Peoria Civic Center is a multipurpose event facility that hosts more than 700 events per year. Located 6 miles from General Wayne A. Downing Peoria International Airport (PIA) and less than a three-hour drive from Chicago and St. Louis, the facility has public art (including sculptures) both inside and out.
It also has 110,000 sq. ft. of exhibit space, a 27,000-square-foot carpeted ballroom and 16 flexible meeting rooms. For larger events, the civic center's Carver Arena can seat up to 12,000 for concert-style events and can host trade shows.
A skywalk connects the civic center to a 400-room hotel complex that includes Courtyard Peoria Downtown and Peoria Marriott Pere Marquette l; another 600 rooms are within walking distance. Nearby, Peoria's Riverfront district is home to restaurants, bars and museums, including Peoria Riverfront Museum, which has a planetarium and other spaces that can be used for special events.
Raleigh, North Carolina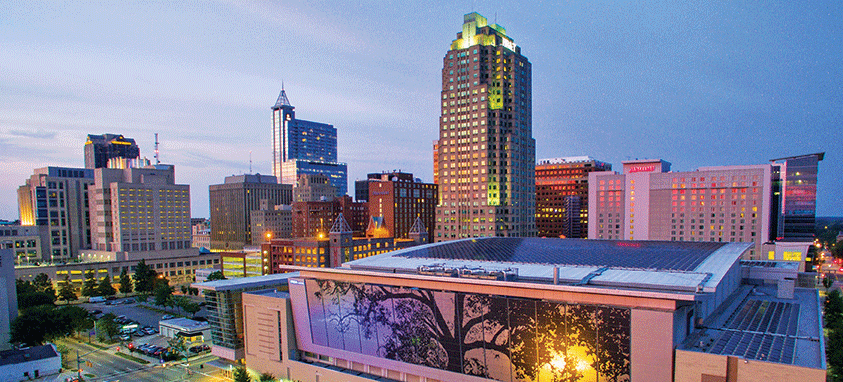 Boasting 500,000 sq. ft., LEED Silver-certified Raleigh Convention Center includes a 150,000-square-foot exhibit hall, a 32,000-square-foot ballroom and 20 flexible meeting rooms. The facade of the building is a 10,000-square-foot wall that features a work of art, Cree Shimmer Wall, which is brought to life with 80,000 aluminum squares depicting the oak tree, symbol of the city. The wall can be lit up to suit the branding needs of groups using the convention center. Other resources include a 5,000-seat outdoor amphitheater that can be utilized as flexible event or performance space.
Raleigh is very accessible, with more than 400 flights daily coming into Raleigh-Durham International Airport (RDU). The events campus is in a prime location, within walking distance to restaurants, culture and entertainment venues.
"Some planners are hesitant to book a convention center, preferring to use big-box hotels instead," says Malinda Harrell, CMP, CASE, director of sales for Visit Raleigh. "But at our size, meeting space and hotel package are very compatible to some big-box hotels and can offer a unique alternative destination and facility for many groups."
Greater Columbus Convention Center, Ohio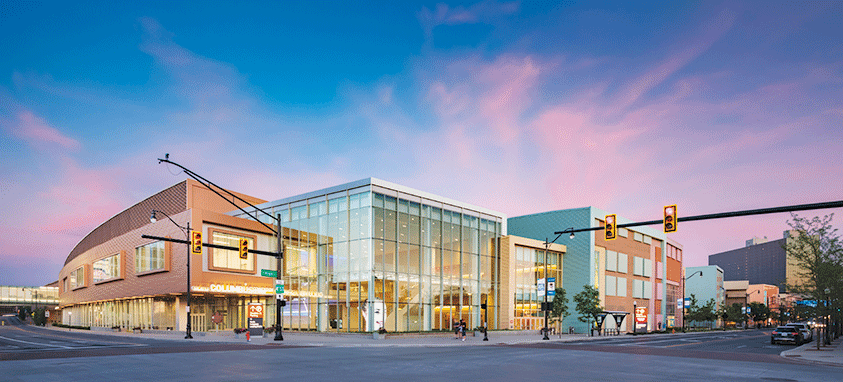 With 1.8 million sq. ft. of meeting space and 75 meeting rooms, Greater Columbus Convention Center (GCCC) completed a $140 million renovation in 2017 that brought nine new meeting rooms with outside windows, a dedicated room for nursing mothers and more than 150 pieces of local art—including an interactive, 14-foot-tall sculpture of a head, onto which attendees can project their faces.
The center is also home to Smartfarm, the first hydroponic vertical farm in a convention center, which yields 5,000 pounds of produce per year for use in the facility, with extra items donated to local charities. Also, GCCC's Smart City internet is capable of hosting 20,000 simultaneous users, and all public spaces and meeting rooms have free Wi-Fi.
Ease of access is a key benefit, as Columbus lies within a one-day drive or one-hour flight of half the U.S. population; even better, the convention center is just 10 minutes from the airport. And the 468-room expansion of Hilton Columbus Downtown, set to open in 2022, will bring the number of hotel rooms at GCCC to 1,000.
"Not only is it in a city that's centrally located and easy to get to, but it is at the center of all the activity in Columbus," says Lexi Sweet, public relations manager for Experience Columbus. "All the great things there are to see, do and experience in the country's 14th largest city…are truly walkable and easily accessible from the center."
Artist Dares Us to See Ourselves and Others 'As We Are'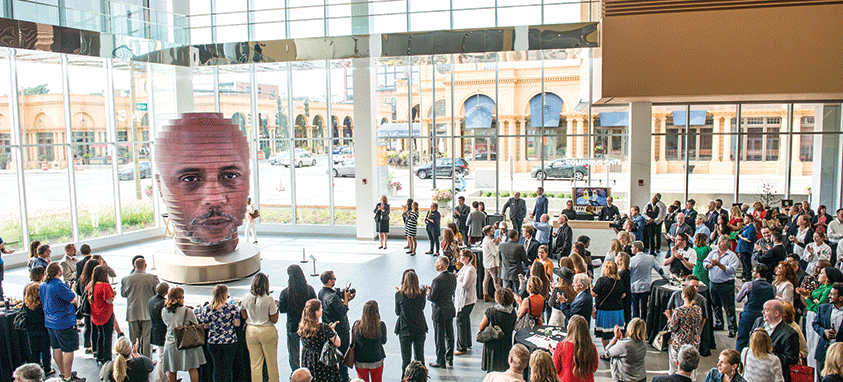 The Greater Columbus Convention Center Art Collection is part of the largest contemporary collection of Franklin County art. Styles range from traditional to cartoon and animation, graphic design and graffiti; works in oil, acrylic, fabric, collage, video, ceramic, glass, wood and multimedia are displayed.
The centerpiece of the collection, As We Are, depicts—literally—the diversity of people in the community, as well as its visitors. The 14-foot-tall, 6,000-pound, interactive installation, made from ribbons of ultrabright LED screens, gives the public a chance to be a part of a work of art while taking the ultimate selfie.
Visitors can have their photos taken in a photo booth, where 29 digital cameras capture a 3D image of their head and face, and voila! They are depicted in a 360-degree image—17 times larger than life–as the face of As We Are. The sculpture also displays photos from its database.
Conceived by Matthew Mohr, associate professor of advertising and design at Columbus College of Art and Design, the sculpture persuades participants and visitors to rethink their place in the world and how they view themselves and others in a unique context.
"It is intended to provide amusement and evoke larger discussions around the phenomena of social media, diversity, and the power dynamic of public art," Mehr says.
During the day, the sculpture faces the atrium in the convention center; at night it faces the street and rotates to face the street for all to see.
Ontario Convention Center, California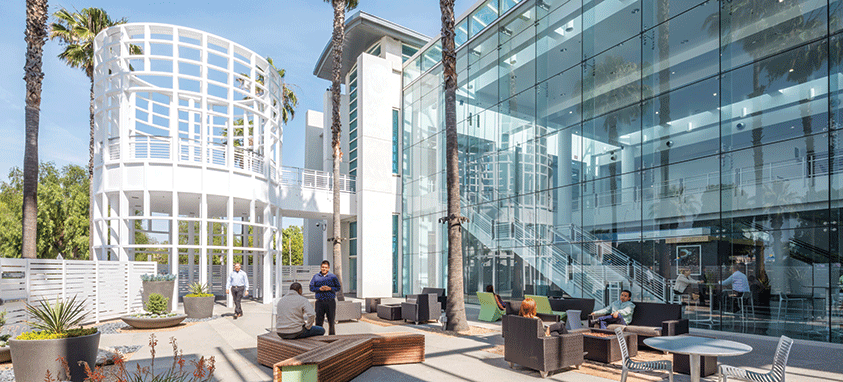 Not to be confused with the province in Canada, the city of Ontario, California, is a convenient and often-overlooked option for meetings in Southern California. Located within 1 mile of Ontario International Airport (ONT), Ontario Convention Center encompasses 225,000 sq. ft., including the 20,000-square-foot Mayoral Ballroom, two levels of meeting rooms and a 70,000-square-foot, column-free exhibition hall.
Greater Ontario has 6,000 guest rooms, and more than 2,500 of them are located within walking distance of the center. "Ontario Convention Center recently celebrated a 20-year anniversary; however, most people remark about the 'new convention center,'" says Sue Oxarart, director of marketing for Greater Ontario Convention & Visitors Bureau. "We take pride in every detail to ensure the center is clean, up to date with new amenities and ready when visitors arrive.
"The venue is beautiful, with dramatic views of the San Gabriel Mountains. Within one hour, you can enjoy the alpine lakes of Big Bear Mountain, the high desert region or dip your toe in the Pacific Ocean."
Caesars Forum: Don't Call It a Convention Center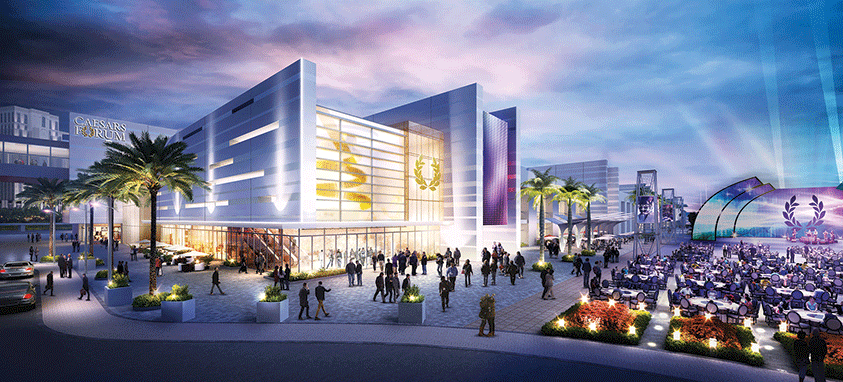 When it opens in 2020, Caesars Forum, a new meetings facility on the Las Vegas Strip, will feature more than 300,000 sq. ft. of flexible conference space, including the two largest pillar-less ballrooms in the world. If ever there were a facility designed to accommodate huge gatherings of people for business-oriented meetings—i.e. conventions—this is it. Just don't call it a convention center.
"It's not a convention center," says Don Ross, vice president of conventions, catering and events for Caesars Entertainment. "To me, a convention center implies no carpet, no frills. What we're building will have all the bells and whistles you'd expect of any premier ballroom space in the world."
The Forum will not only have a 100,000-square-foot plaza that can be used for outdoor events, but it will also be adjacent to Linq Promenade, a popular outdoor retail area with Jimmy Kimmel Comedy Club, Brooklyn Bowl, High Roller Observation Wheel and other attractions for team building, private events, VIP experiences and fun.
"All these venues will create a campus feeling right in the middle of the Las Vegas Strip," Ross says. "We're giving our customers the ability to create whatever they want. Not only do they want flexibility, but they don't want to compromise quality just because they have a lot of people."