Call it a reversal of fortune. When the inaugural Global Meetings Industry Day (GMID) was celebrated worldwide on April 14, there were $114.2 billion worth of reasons to feel excitement about the future of events, conferences and conventions.
The climate is drastically different now than the 2009 circumstances that triggered a strategic push to let the world know the broad and financial value of meetings. There's nothing like a crisis to galvanize an industry.
"It made us get off our asses and do something," said Mike Dominguez, co-chair of Meetings Mean Business Coalition and senior vice president of corporate sales at MGM Resorts International.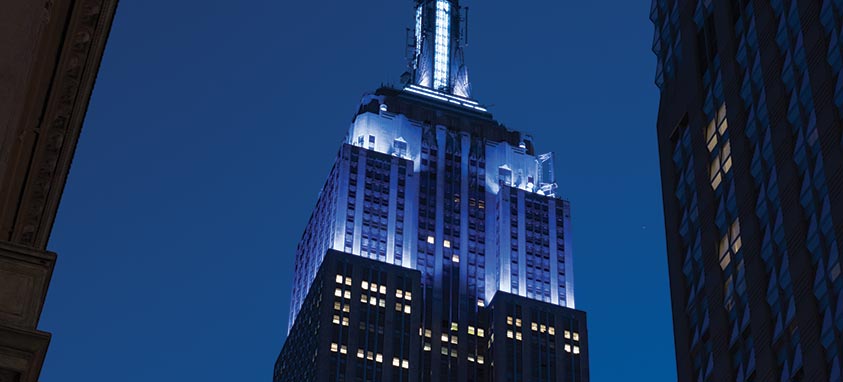 GMID, or #GMID16 as it was referred to virally, was literally in the spotlight last month, emblazoned boldly at brand-spanking new T–Mobile Arena in Las Vegas and in New York City's Time Square. On April 12, the Empire State Building was lit up in blue, the color of the Meetings Mean Business Coalition.
More than 100 events took place in more than 30 countries across five continents, and the Meetings Mean Business message was spread far and wide via Twitter, Facebook, Snapchat, YouTube and Instagram. The digital age is not lost on the meetings and events industry, as reflected in the 7,000 tweets that were posted with the #GMID16 hashtag, accounting for a whopping 37 million impressions in a week's time.
Smarts Meetings celebrated in Las Vegas during an event sponsored by the Las Vegas Convention and Visitors (LVCVA) at T–Mobile Arena where a crowd of more than 250 descended on The Strip's newest events venue.
Luminaries included Roger Dow, president and CEO of U.S. Travel Association; Rossi Ralenkotter, president and CEO of LVCVA; Mike Massari, senior vice president for national meetings and events for Caesars Entertainment; Chris Flatt, executive vice president of hotel sales and marketing for Wynn Resorts; Chandra Allison, vice president of sales for The Venetian and The Palazzo; Chuck Bowling, president and COO for Mandalay Bay.
LVCVA hosted 10 meetings journalists, including five from the United Kingdom. Also, the Smart Meetings TV crew was on hand to conduct interviews, which can be found on the Smart Meetings website.
"This is the top destination for meetings and events, and to have such great industry leaders talking about that and to have such a great turnout from the community speak to how important meetings are to our city," Allison told Smart Meetings TV.
Indeed, Las Vegas is an example of how the meetings industry can transform a city. In 2015, the city drew 6 million delegates that accounted for an economic impact of $9 billion and supported 65,500 jobs.
Around the U.S.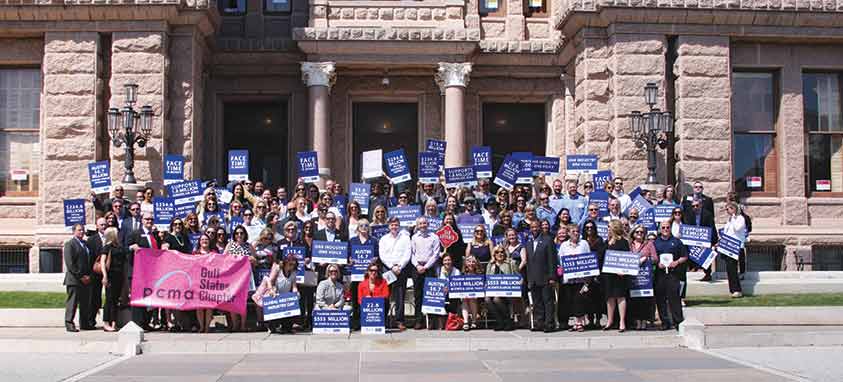 Austin, Texas
In Austin, Texas, industry leaders gathered for a rally and press conference at the state capitol. In addition to Dominguez, the lineup included Paul Van Deventer, president and CEO of Meeting Professionals International; Sherrif Karamat, COO for Professional Convention Management Association; Cathy Breden, executive vice president and COO for International Association of Exhibitions and Events (IAEE); Ken Sanders, president of the audio visual division for Freeman; and Kevin Olsen, founding partner of Keyway LLC.
"We are standing together with one voice–and there's no emergency," Dominguez said. "GMID allows meeting and events professionals from every corner of the globe to show their passion and dedication to building personal relationships, driving positive business outcomes and supporting strong communities by facilitating face-to-face meetings. Industry professionals know that great things happen when people come together."
NYC & Company began its celebrations on April 12 when industry supporters gathered at Planet Hollywood in Times Square for a business card exchange. During the event, rotating footage of the Meetings Mean Business Coalition and GMID logos were displayed outside on Planet Hollywood's digital billboard.
"New York City offers unrivaled meetings experiences, from world-class hotels to one-of-a-kind meeting venues," said Jerry Cito, NYC & Company senior vice president of convention development. "As a founding industry supporter of the Meetings Mean Business Coalition, we gather this week to recognize the profound impact that face-to-face meetings have on our City and the world."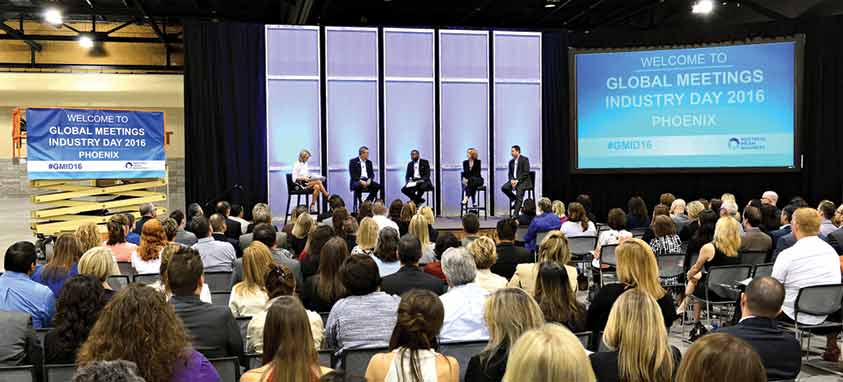 Phoenix
In Phoenix, Mayor Greg Stanton proclaimed April 14 Global Meetings Industry Day during an event that drew more than 200 to the Phoenix Convention Center, which sponsored the event with Visit Phoenix.
"Meetings mean business at our hotels," Stanton said. "They mean business at the airport—America's Friendliest Airport. They mean business at our restaurants and attractions. And meetings mean business when they bring knowledge-industry leaders and job creators to the front doorstep of our city."
Maryland Governor Larry Hogan, Kentucky Governor Matt Bevin, Ottawa Mayor Jim Watson, Edmonton Mayor Don Iveson, Baltimore Mayor Stephanie Rawlings-Blake, Mobile, Alabama, Mayor Sandy Stimpson and Buffalo Mayor Byron Brown all declared April 14 as Global Meetings Industry Day.
Building for the Future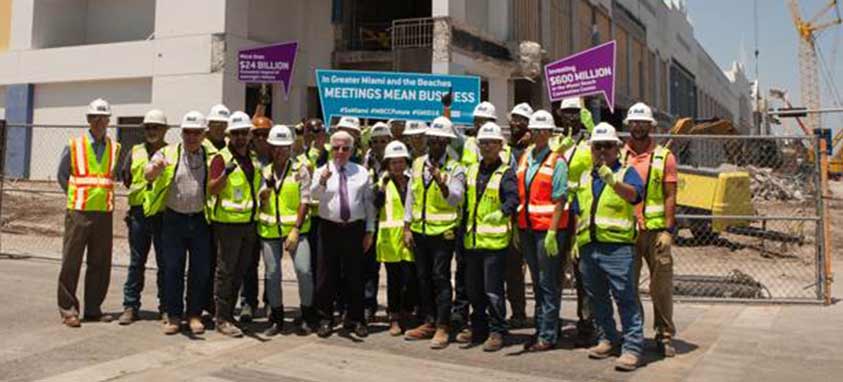 Miami
Greater Miami Convention & Visitors Bureau (GMCVB) used Global Meetings Industry Day to call attention to the $600 million investment underway at the Miami Beach Convention Center. William Talbert, president and CEO of GMCVB, took advantage of a photo opportunity at the construction site. Meetings generate an economic impact of more than $2 billion in the region.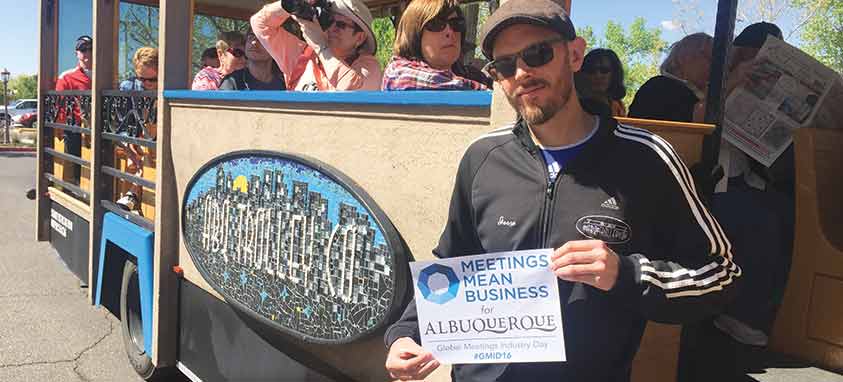 Albuquerque, New Mexico
Meeting Professionals International (MPI) chapters organized 60 events, including the celebration in Austin. Professional Convention Management Association (PCMA) hosted nearly 20 events, and the Latin American Federation of Professional Congress Organizers staged 15 events.
The Disney meetings team supported GMID by putting together a slideshow that included cast members holding pro-meeting signs from Disneyland Paris, Hong Kong Disneyland Resort and Walt Disney World Resort in Orlando. The Disney theme was "Meetings Make Our World Go Round." On April 14, that message reverberated from New York City to Las Vegas and beyond.
---
5 Takeaways from Las Vegas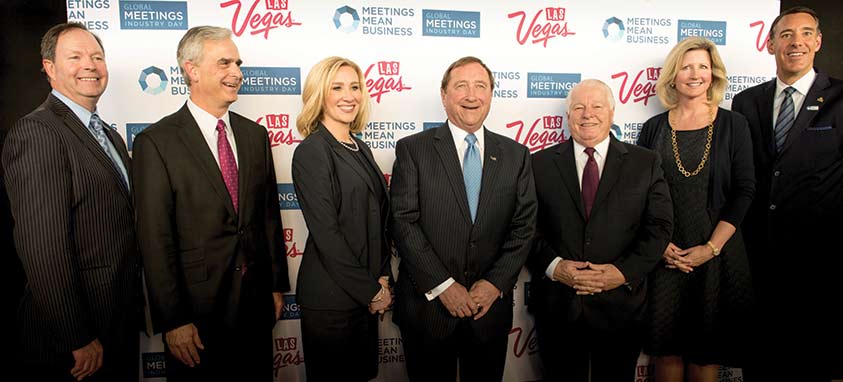 Smart Meetings celebrated Global Meetings Industry Day in Las Vegas at the new T-Mobile Arena. Here are five takeaways from the panel discussion:
1. Virtual reality and other technology will not replace meetings and events; today's technology is expected to improve engagement before events begin, creating excitement that will elevate attendance. "Tech isn't taking over meetings–it's expanded meeting purpose," says Chuck Bowling, president and COO for Mandalay Bay.
2. Wi-Fi is no longer a perk. It's a necessity that attendees expect, especially millennials. Las Vegas Sands Corporation just invested $8 million in Wi-Fi improvements to its expo and convention center.
3. The word "attendees" will fade from meetings language; the new buzzword is "participants." "Attendees is a thing of the past," says Chandra Allison, vice president of sales for The Venetian and The Palazzo.
4. The impact of meetings and events has transformed Las Vegas to much more than a gaming city. Celebrity chefs, adventure opportunities outside the city limits, shopping, spas and entertainment contribute more to the Las Vegas economy than gaming. "Vegas has become such a different place. Las Vegas has really changed for the good," says Chris Flatt, executive vice president of hotel sales and marketing for Wynn Resorts.
5. "We never have an opportunity to be complacent," says Mike Massari, senior vice president for national meetings and events for Caesars Entertainment.