Faneuil Hall Marketplace, Boston
U.S. cities are revitalizing their downtown districts through adaptive reuse
When Teri Trinidad planned the opening reception for a conference in Baltimore, she selected American Visionary Art Museum, a unique gallery on the city's downtown waterfront. While the location and art displays were the main draws, part of the appeal was the building itself, which in the early 20th century operated as a paint company and whiskey factory.
"The inside of the building—with the hardwood floors and trusses in the ceiling—is really very charming," says Trinidad, director of finance, administration and conferences for the Washington, D.C.-based Council of the Great City Schools. "When I'm looking for places to hold our events, I want to take people to places that are iconic to the city, places you couldn't find someplace else. People thanked me for bringing them there."
American Visionary Art Museum is just one example of the countless properties across the United States that have been brought back to life through adaptive reuse, through which old structures—warehouses, banks and even pawn shops, elementary schools, churches and mortuaries—have been renovated and turned into hotels, bars, restaurants and other venues. These properties are ideal for meeting planners, as they tend to have a built-in historic vibe that can make an event all the more memorable.
"Too many meetings happen in windowless ballrooms," says Lane Velayo, C.A.E., CEO of Professional Fraternity Association, whose latest conference saw attendees visiting restaurants and breweries housed in former warehouses in Wichita, Kansas. "Our philosophy is to use the city as a backdrop for the experience. The adaptive reuse allows a city like Wichita that doesn't have big skyscrapers to maintain its historic character while having something new and purposeful."
Interested in bringing a little history into your next event? Here's an overview of some of the adaptive reuse venues that planners can use in a variety of U.S. cities.
Atlanta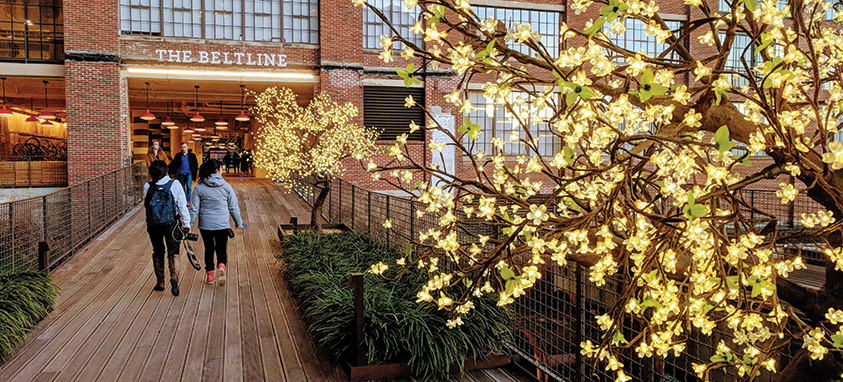 Georgia's capital has been revitalized through adaptive reuse, from the popular Ponce City Market (formerly a Sears, Roebuck & Co. distribution center) to Atlanta Beltline, a 22-mile network of parks and trails that was once a deserted railroad corridor. A new hotel option with historic appeal, the city's grand Candler Building is being reshaped into a Hilton hotel. Meanwhile, Atlanta's convention district has seen more than $4.7 billion in development in the past four years—with nearly $900 million more planned before 2020.
"Atlanta continues to attract larger associations, as the city has so much to offer, including the nation's fourth-largest convention center," says Mark Vaughan, executive vice president and chief sales officer for Atlanta Convention & Visitors Bureau.
Baltimore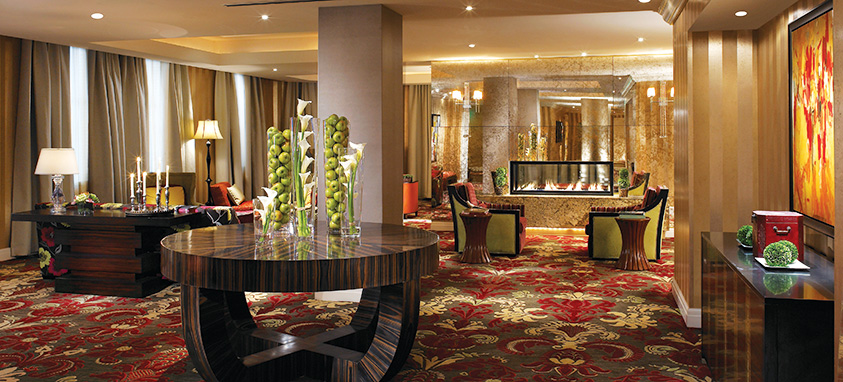 With roots dating back to 1729, Baltimore has an array of historic old buildings, many of which have been converted into restaurants and hotels. Italian restaurant Cosima, for example, is located in what was once a 19th-century cotton mill, while Woodberry Kitchen is in a foundry from the 1870s. For accommodations, the art-themed Hotel Revival is housed in the building where Baltimore Museum of Art held its first exhibit in 1923, while the boutique Kimpton Hotel Monaco Baltimore was once the headquarters for B&O Railroad.
"When you hold a meeting or convention in Baltimore, attendees are just steps from a variety of colorful attractions, living history and exciting, experiential opportunities," says Al Hutchinson, president and CEO of Visit Baltimore.
Boston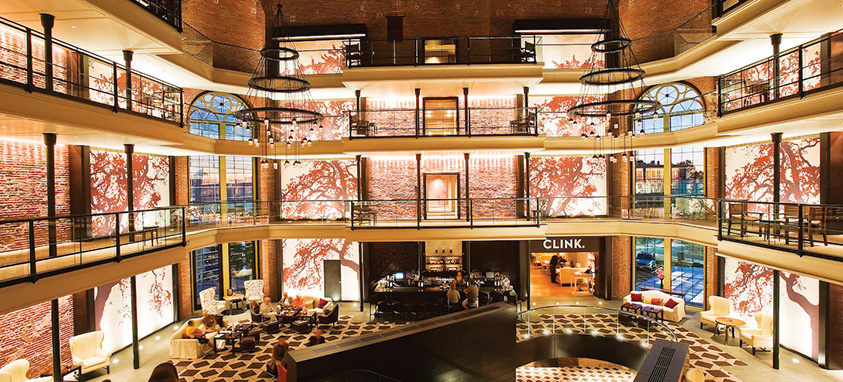 The city is chock full of historic buildings, and many of the best-known sites—such as Faneuil Hall marketplace—still operate as they did during the 18th century. But plenty of other properties have been repurposed through adaptive reuse.
Loews Boston Hotel, for example, is housed inside a massive limestone edifice that was once home to the Boston Police Headquarters. If you would rather get a taste of the other side of the law, The Liberty is a luxury hotel on Beacon Hill built inside what was once Charles Street Jail, a national historic landmark constructed in 1851.
Chicago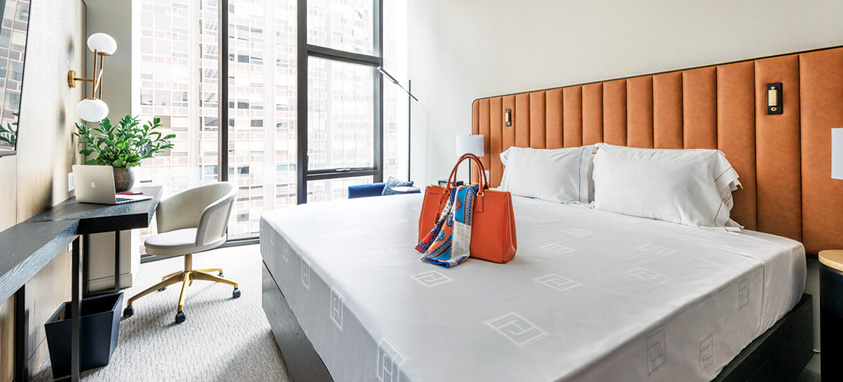 While the Windy City has been investing in renovations to Navy Pier and other well-known sites, it has also seen plenty of adaptive reuse. The recently opened Hotel Julian is based inside the former Atlantic Bank Building, while Cambria Chicago Loop/Theatre District shares the same building as the famous Oriental Theatre, a deluxe movie palace that opened in 1926.
"Chicago's history and spirit of reinvention lend themselves well to adaptive reuse projects," says David Whitaker, president and CEO of Choose Chicago. "It's a city that embraces this form of creativity—and Chicago has seen its fair share in the last few years."
Dallas
For planners looking for a one-of-a-kind event venue, Dallas is home to Bomb Factory, a 50,000 square-foot music and private event space that served as—you guessed it—a bomb factory during World War II. Meanwhile, Statler Dallas, part of Hilton's Curio brand, recently reopened following a $255 million redevelopment.
"With more than 13,000 downtown Dallas area hotel rooms and 35 new hotel projects in the works, Dallas has an accommodation type and price point for every preference and budget," says Phillip Jones, president and CEO of Visit Dallas. "The Dallas area is the second-highest in hotel development [in the United States]. Only New York City has more new hotels in the works."
Denver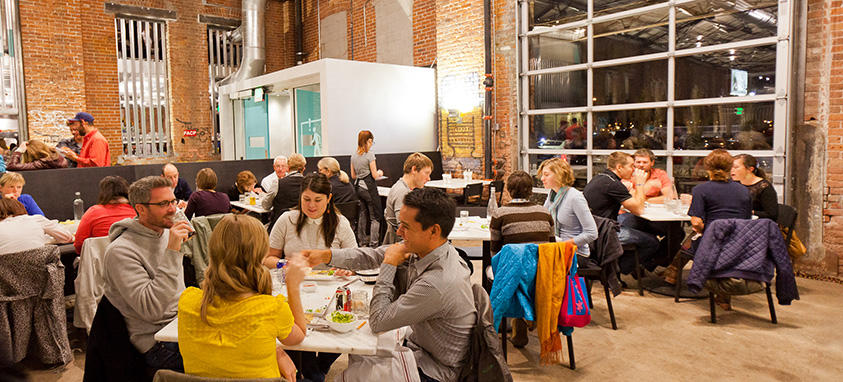 The downtown core of the Mile High City has undergone a dramatic transformation in recent years, as myriad old warehouses and other industrial sites have been reimagined as chic hotels and restaurants. The once-run-down Union Depot train station now houses hip restaurants and Crawford Hotel, while Denver's booming River North area has venues such as Work & Class (a restaurant inside a former shipping container) and The Source, which was once a blacksmith and boiler shop and now houses a 25,000-square-foot artisan market with restaurants.
Denver is even home to a repurposed mortuary: The Olinger Mortuary Complex includes restaurants, or "eatuaries," including Linger, which has a rooftop bar with views toward the city's skyline.
Greenville, South Carolina
Boasting 75 historic sites and districts located on the National Register of Historic Places, Greenville County, South Carolina, has seen some significant recent adaptive reuse of old structures. One of the main recent projects was the transformation of the former Piedmont Plush Mill, built in 1925, in the city of Greenville.
Located on Highway 123 between downtown and the Village of West Greenville, it is now home to a new model for coworking, Serendipity Labs—an upscale, hospitality-focused brand offering a flexible workplace option for large companies, mobile professionals and independent workers. Meeting space can also be rented.
The original structure was designed by J.E. Sirrine, a local architect whose projects, including Poinsett Hotel, Greenville High School, Parker High School and Greenville Country Club, helped to shape modern Greenville.
The 24,000-square-foot historic mill building was closed in 1983. Mark Peters of Fountain Inn, South Carolina, bought the dilapidated industrial complex at 200 Easley Bridge Road in October 2016 with plans to renovate it.
The redevelopment retains the open space, high ceilings, original flooring, exposed brick walls and skylights of the original structure.
Los Angeles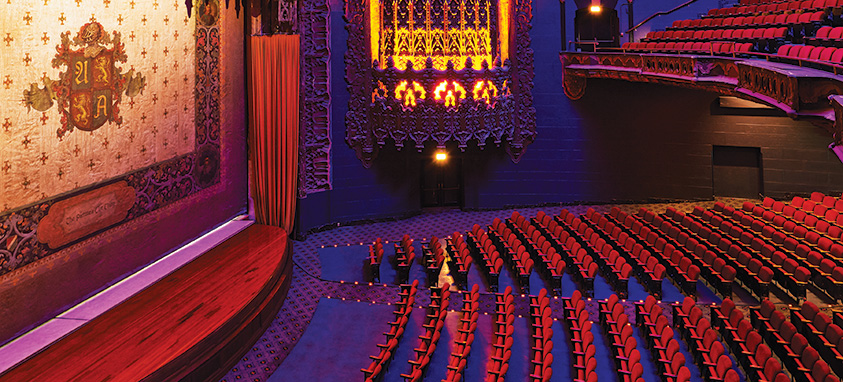 Located downtown, NoMad Hotel Los Angeles is housed inside Giannini Place, which was built in the 1920s as the headquarters for The Bank of Italy. Other adaptive reuse projects in Los Angeles include the Freehand Hotel, built in the former Commercial Exchange Building, and Ace Hotel Downtown Los Angeles, which is inside the former United Artists building and includes event spaces such as a 1,600-seat movie palace from the 1920s.
"Downtown Los Angeles is in the midst of a major development boom that is restoring and revitalizing several different areas and pockets across the region, creating a vibrant 24/7 urban neighborhood," says Darren K. Green, senior vice president of sales for Los Angeles Tourism & Convention Board. "This vision has attracted developers to an array of local landmarks, historic buildings as well as vacant properties in downtown L.A.'s historic core and beyond."
Minneapolis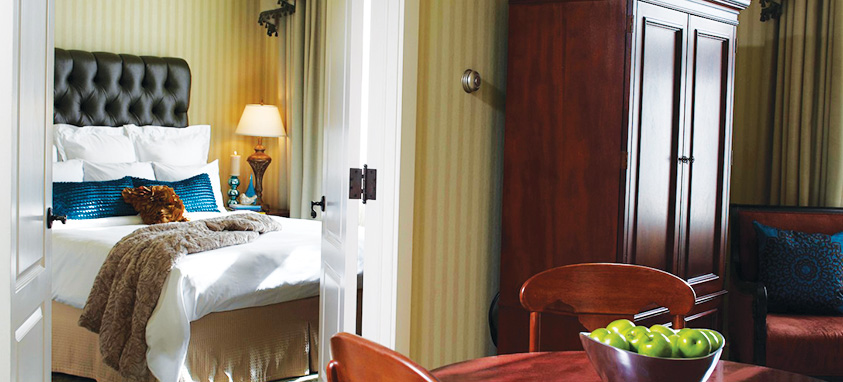 When Greg Kajiwara was asked to plan a conference for a global medical device company, he picked Renaissance Minneapolis Hotel, the Depot, a hotel developed inside a historic railroad depot.
"We wanted something that wouldn't feel like a cookie-cutter event," Kajiwara says. "We were drawn to its charm and history. People appreciate it when you pick something unique. It creates excitement and buzz, and in the long run, the goal is to have an event that's memorable."
With 9,000 hotel rooms downtown, Minneapolis has plenty of adaptive reuse properties, including Hewing Hotel, inside a brick-and-timber building once used to distribute farm implements, and Aria, an event venue in the warehouse district.
"Our downtown is vibrant, compact and extremely walkable," says Kim Insley, public relations and communications manager for Meet Minneapolis. "Best of all, there are plentiful and easy-to-use transportation options to our acclaimed restaurants, craft breweries and distilleries that spill from our downtown and into our diverse neighborhoods."
New York City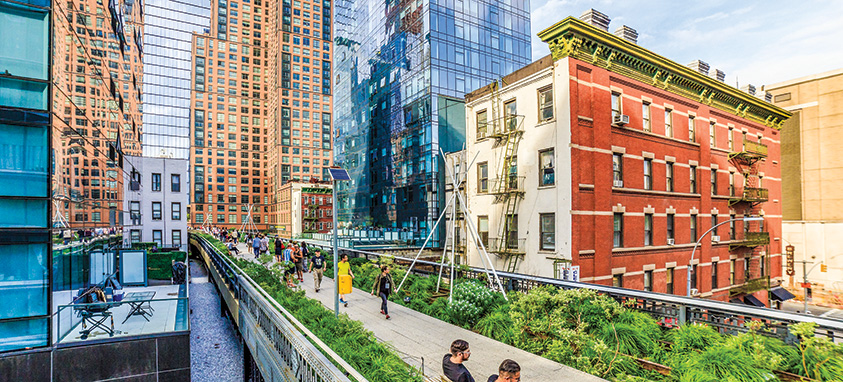 The Big Apple abounds with adaptive reuse properties, including High Line, a park-like public space built atop a historic, elevated freight line that offers a variety of potential event spaces, including Chelsea Market Passage, which can hold more than 450 guests.
For accommodations, Beekman Hotel is a luxury property inside one of New York City's original skyscrapers, a majestic old building with a nine-story atrium. For a memorable private event, Trinity Place Bar and Restaurant is built inside a turn-of-the-century Wall Street bank vault originally commissioned by Andrew Carnegie.
Meanwhile, New York City's Seaport District will soon see the rebirth of Tin Building as a seafood-themed market to be helmed by celebrity chef Jean-Georges Vongerichten.
Orlando
You may think that it is all about theme parks, but Orlando actually is home to lots of adaptive reuse venues, including one speakeasy bar housed in a former shoe repair store and another in what was once a vintage furniture store. Ace Cafe Orlando opened inside what was previously an industrial supply company founded in 1938, while Aloft Orlando Downtown—a 118-room hotel with 8,994 sq. ft. of meeting space—opened in the building that formerly housed Orlando Utilities Commission.
"Orlando continues to reinvent itself year after year, delivering new options for meeting planners and exciting experiences for attendees—including improvements at the convention center, brand-new hotels and numerous new dining and attractions," says George Aguel, president and CEO of Visit Orlando.
Phoenix
In addition to the attractive Phoenix Convention Center campus, which affords easy access to a wide variety of downtown restaurants and event venues, Phoenix has seen the rise of a variety of adaptive reuse venues.
Found:RE Phoenix, for example, is an art-themed hotel that includes works by more than two dozen local artists, with everything from interactive digital images to a large sculpture of an ear. Other Phoenix businesses housed in repurposed spaces include Taco Guild, which is inside an old church from the late 1800s; the Vig Uptown, a bar and restaurant in what was once a bank; and The Yard, a cluster of restaurants in a former motorcycle garage and dealership.
San Antonio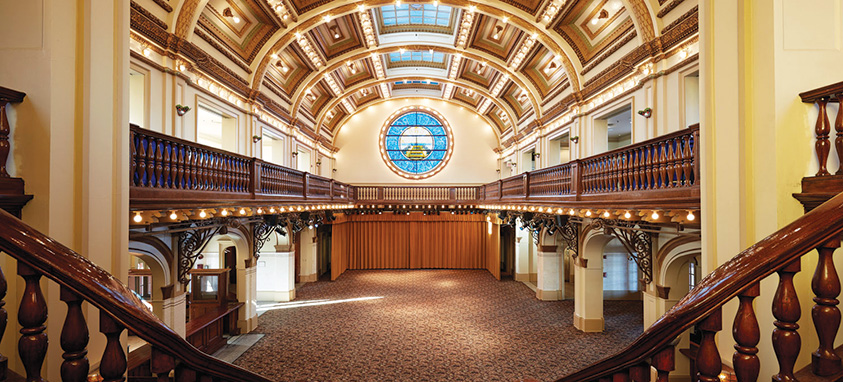 San Antonio's best-known example of adaptive reuse may be the River Walk area, a 15-mile-long urban waterway built along what was once simply the San Antonio River. But the city is also home to plenty of other cool spaces, including Briscoe Western Art Museum & Jack Guenther Pavilion, an event venue housed in the restored 1930s art deco/neo classical building that once served as home to San Antonio Public Library.
The erstwhile Pearl Brewery now houses a mix of restaurants, shops and other businesses, and Sunset Station—once home to the Southern Pacific Railroad depot terminal—has 20,000 sq. ft. of flexible event space.
"The City of San Antonio is investing heavily in the downtown core and adjacent neighborhoods to provide more opportunities for residents and convention attendees to explore the area and engage with each other's communities," says Casandra Matej, president and CEO of Visit San Antonio.
San Francisco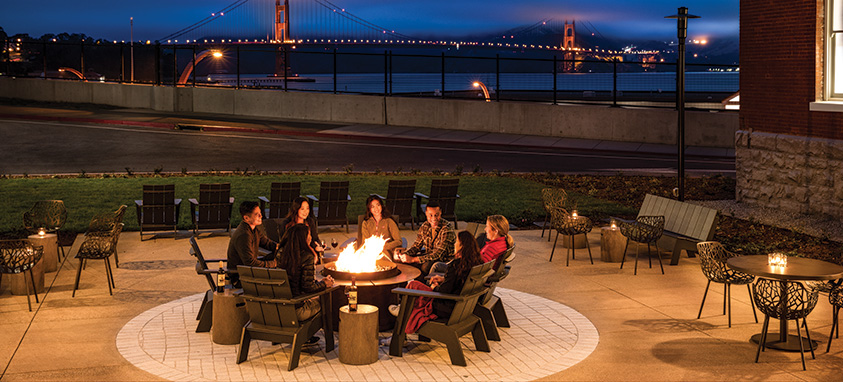 San Francisco has seen plenty of adaptive reuse in recent years, particularly as tech companies such as Twitter, Yelp and AirBnB moved into old buildings with prior lives from bygone eras.
For a cool event option, San Francisco Mint, a classical Greek revival structure known as The Granite Lady, near Moscone Center, offers 92,000 sq. ft. of meeting space. Beyond downtown, The Lodge at the Presidio is a boutique hotel developed out of 123-year-old Army barracks near the Golden Gate Bridge.
Seattle
Set to open in early 2019, the Hotel at the Mark is a luxury 189-room property with 21,000 sq. ft. of meeting and event space; its architects took inspiration from The Sanctuary, an adjacent event venue inside a Beaux-style church.
Other adaptive reuse options include Block 41, housed in a former ice warehouse, and the recently opened Palihotel, near Pike Place Market, which is inside the historic Colonnade Hotel Building. The State Hotel, set to open in early 2019, is a new boutique offering inside the historic Eitel Building. Seattle recently broke ground on the new, $1.7 billion Summit building, which will expand the convention center significantly when it opens in 2022.
"Seattle is a world-class city with the unique advantage of offering a major convention facility with hotels all located in the heart of a vibrant downtown," says Katy Willis, director of convention services for Visit Seattle.
Washington, D.C.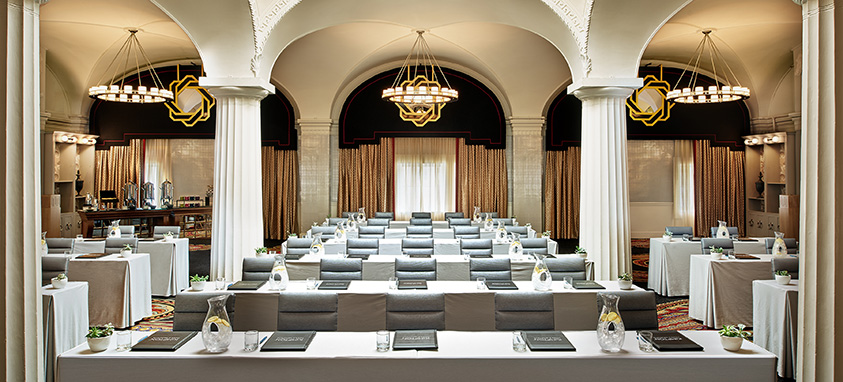 Not surprisingly, the nation's capital includes historic buildings galore, and many of them have been turned into venues that can be used for events. Kimpton Hotel Monaco Washington DC ais inside an old post office in the Penn Quarter neighborhood; a former Carnegie Library is being converted into a flagship Apple store and event space near the convention center; and in the Adams Morgan area, the recently opened Line Hotel was built in a neoclassical church.
"All the new development has made D.C. a more walkable destination for conventions," says Elliott Ferguson, president and CEO of Destination DC. "We've got 40 hotels within 1 mile of the convention center. You can walk to the National Mall from downtown, and groups can use bike shares and scooters. By 2020, our Metro system will extend all the way out to Dulles airport, which will make all three of the airports accessible by train."
Wichita, Kansas
In Wichita, several downtown hotels have emerged from previously dormant structures. The AAA Four Diamond-rated Ambassador Hotel Wichita, for example, was once the Union National Bank building, while Hotel at Old Town once served as a warehouse facility for tools, silverware, dishes and sporting goods. Event options include Distillery 244, an event space in an old warehouse that houses an artisan distillery.
"In the last 10 to 15 years, downtown Wichita has been evolving into a vibrant area with vacant buildings and spaces re-emerging as new restaurants, shops, breweries and outdoor spaces like the ICT Pop-Up Park, an urban park and gathering place in downtown Wichita," says Moji Rosson, vice president of sales at Visit Wichita. "A feature visitors love is Wichita's free trolley, which runs through the heart of downtown and connects several trendy districts—making it easy to get from their hotel or venue to restaurants, shops, breweries, attractions and more."
A New Life in Detroit
Ten years ago, Detroit faced a dire economic crisis when the Great Recession left the auto industry—and the city's housing market—devastated. Yet in the decade since, investment has poured into Motor City, and many old buildings that sat empty for years have been resuscitated and turned into new hotels and restaurants.
"We've become somewhat of a model for adaptive reuse, with all the redevelopment that's taken place here over the last eight or nine years," says Dave Beachnau, senior vice president of sales, marketing and sports for Detroit Metro Convention & Visitors Bureau. "We've got new boutique hotels and more than 100 restaurants have opened in the downtown area. A lot of those are adaptive reuse structures. We're getting a lot of accolades for the development that's taking place."
Among the most notable projects is Foundation Hotel, a 100-room independent property housed in the historic Detroit Fire Department Headquarters, located directly across the street from the Cobo Center, Detroit's convention center. Another is the luxury boutique Siren Hotel, which opened in 2018 inside the historic Wurlitzer Building. The Siren has unique retail and restaurant spaces—including a barber shop and a diner—with a design inspired by the building's old-school vibe.
Some of the Detroit's coolest spots for cocktail events and private meals are in adaptive reuse buildings. Gold Cash Gold, a farm-to-table restaurant and bar, was built inside a former pawn shop; the Grand Army of Republic Building, a castle-like structure that once was home to a fraternal organization, now houses two restaurants; and Grand Trunk Pub is a fashionable bar inside what was once the ticket station for Grand Trunk Railroad.
Thanks to all this development, Detroit is squarely back on the road map as a destination for tourism and business meetings alike: Lonely Planet named Detroit one of the destinations to visit in 2018. The trend of redevelopment shows no signs of slowing, particularly in neighborhoods such as Corktown, where the Ford Motor Company recently purchased an old train depot that it intends to redevelop into an R&D campus for autonomous vehicles.
"That will be a game-changer for the city, and will likely be a destination in and of itself," Beachnau says. "Meeting planners and visitors in general are now looking for something more authentic and nontraditional. Every city has chain restaurants, but when you look at the variety of fare that is now offered in Detroit, it's a unique experience that you can't get elsewhere."
Chuck Kapelke is an award-winning writer who has covered travel, food, history and preservation for a variety of print and online publications.