Where else can you surf, snow ski and marvel at molten lava being spewed into the sky, all in the same day?
Extremes are the norm here. Within its boundaries can be found tropical to temperate to subarctic. This is where the original Polynesians first arrived, declaring this spectacular island the home of Pele, the goddess of volcanoes.
Dine
BY THE NUMBERS
7,184
hotel rooms
24,702 sq. ft.
largest meeting space
186,738
residents
93
miles long
76
miles wide
13,800 feet
highest point
Peter Merriman is the godfather of Hawaii-grown. You sense it the moment you walk into his temple of aloha gastronomy, Merriman's. His flagship restaurant in picturesque upcountry Waimea has drawn appreciative fans since 1988 (and has been named Best Big Island Restaurant by Honolulu magazine for 15 consecutive years).
The menu proclaims that Merriman's features organically grown produce and chemical-free products. Fish are local, troll-boat caught. Grass-fed beef and lamb are from Big Island ranches. Everything seems effortlessly artful—from the skillful, knowledgeable servers to the non-fussy presentations on the plate that let the flavors speak.
Merriman encouraged local farmers and ranchers—all organic or low-impact sustainable operations—to try things just for him: varieties of fruits, vegetables, and grass-fed meats not seen before on the Big Island. If you can't experience this fount of Hawaii Regional Cuisine there, check out Merriman's restaurants on Maui and Kauai.
Sip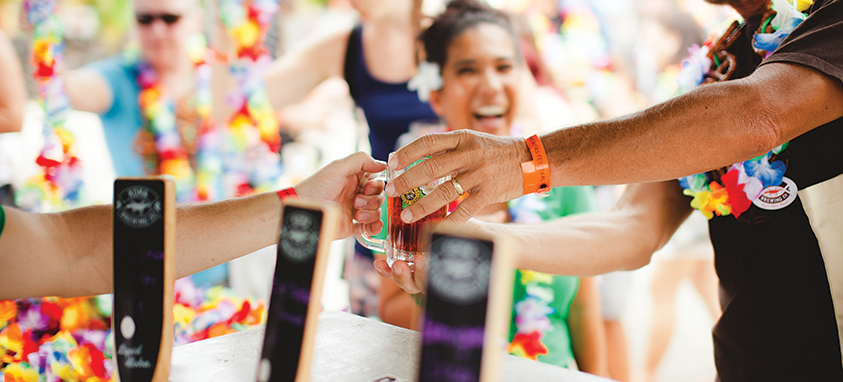 2016 Kona Brewers Festival, Kailua-Kona
Eco suds? Why not? At Kona Pub & Brewery in Kailua-Kona, just belly up to the bar and order a cold one. Kona Brewing Company, Hawaii's largest brewery, is a green pacesetter among Big Island businesses. It has a sustainability coordinator whose job is to research, develop, and monitor company-wide recycling and sustainability programs.
In 1996, to celebrate its first year and promote recycling, the brewery launched Kona Brewers Festival. The event has grown more awesome each year, becoming one of Kailua-Kona's premier events. Each March, it continues in its mission of encouraging professional brewers and chefs to have a positive economic, educational and environmental effect on the island. Over the years, the festival has raised nearly $1 million for worthy causes such as tropical reforestation and ecosystems education.
Stay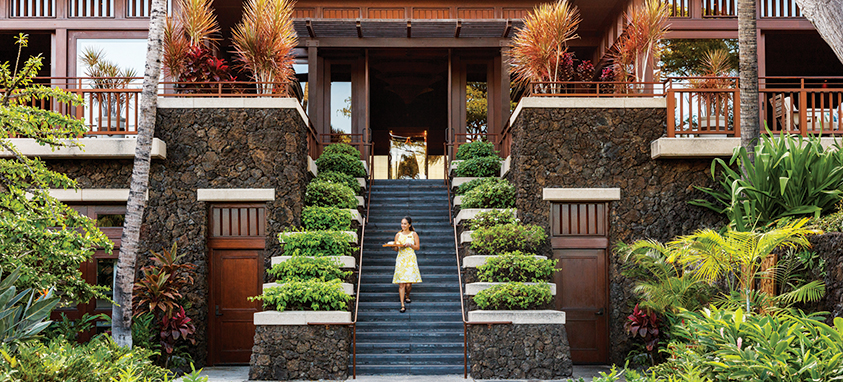 Four Seasons Resourt Hualalai
Refined taste and a lack-back tropical elegance prevail on the 32 gorgeous, beachfront acres that are Fairmont Orchid, Hawaii in Waimea. Happily, so does an eco-awareness. Fairmont's Green Partnership program aims to minimize the hotel's footprints in areas including water and energy conservation, waste management and habitat protection. The resort has joined Hawaii Hotel Reef Stewardship Project to protect the ecosystem off its near-shore waters. Eco-Meet, a Fairmont program, minimizes environmental impacts during meetings, conferences and similar events. The resort offers 540 guest rooms and 30,000 sq. ft. of indoor meeting space.
Other noteworthy Island of Hawaii hotels are:
Four Seasons Resort Hualalai, also on the Kona-Kohala coast, which offers 243 guest rooms and 29,325 sq. ft. of indoor meeting space. Many green practices are in place, as well as support for Marine Mammal Center's Hawaiian monk seal hospital, Ke Kai Ola. Guests can also participate in a reforestation initiative to plant native koa trees.
Hapuna Beach Prince Hotel's evolution continues this fall. Resort upgrades will include a new lobby, a refresh of 563 guest rooms and suites, new dining concepts, and an adults-only pool with enhanced amenities. The majority of the hotel's $55.4 million transformation will conclude in January, with the hotel remaining open throughout. It participates in Hawaii Hotel Reef Stewardship Project and other green initiatives. Its 14,800 sq. ft. of indoor meeting space will be augmented by a new 3,000-square-foot ballroom.
Hilton Waikoloa Village is the island's biggest employer and main consumer of resources. So, it is welcome news that Waikoloa Village's efforts to reduce, reuse, recycle and recover have been rec-ognized with a Hawaii Green Business Award. Kitchen waste, for example, goes to a local pig farm and biofuel production. The resort features 1,240 guest rooms and 235,000 sq. ft. of indoor meeting space.
Mauna Lani Bay Hotels & Bungalows, in Waimea, produces more solar power than any luxury resort in the world and was named one of the world's Top Luxury Eco Friendly Beach Destinations by CondeNast Traveler. The resort was also selected as one of only 10 golf resorts in the world as a leader in environmental stewardship by Golf magazine. It features 336 guest rooms and 21,922 sq. ft. of meeting space.
Wailkaloa Beach Marriott Resort & Spa has redesigned its 295 guest rooms and has a renovated lobby, and new culinary and cocktail experiences. The corporate parent participates in 17 United Nations initiatives to tackle climate change and fight inequality and injustice. The resort offers 14,991 sq. ft. of meeting space.
? Hawaii Island Insider Tip
Beware the frog that roared. As you explore Hawaii Island, be alert for road signs that declare Coqui Free Zone. Ever since these undeniably cute Caribbean critters found their way into the state—hitchhiking on imported tropical plants, most likely—they've caused a huge furor. The coqui are nonpoisonous and about the size of a quarter. They climb up trees at night to sing their mating song. Boy, do they ever. In the Puna district, especially, they've become the frog that roared. It's actually a felony to knowingly transport a coqui from one spot to another.
MAJOR MEETING VENUES ON HAWAII ISLAND

Courtyard King Kamehameha's Kona Beach Hotel
On 13 acres steps from Kailua-Kona town; 452 guest rooms; 20,000 sq. ft. of flexible indoor and outdoor meeting spaces; luau three nights a week.

Fairmont Orchid, Hawaii
AAA Four Diamond, 32-acre oceanfront hotel; 540 guest rooms; 30,000 sq. ft. of meeting space; spa; six restaurants; hands-on volunteerism program.

Four Seasons Resort Hualalai
On Kona-Kohala coast, with 243 guest rooms; 29,325 sq. ft. of meeting space; 26,600 sq. ft. of outdoor space; 28,000-square-foot spa.

Hapuna Beach Prince Hotel
Located on 32 acres on the Kohala coast; 350 guest rooms; 14,800 sq. ft. of indoor space; 18-hole golf course; fitness center.

Hilton Waikoloa Village
Largest hotel property on the island, with 62 oceanfront acres; 1,240 guest rooms; 235,000 sq. ft. of meeting space; two golf courses.

Mauna Kea Beach Hotel
Luxury property on Kohala coast; 252 guest rooms; 59,864 sq. ft. of meeting space; luau; golf course; tennis courts; fitness center.

Mauna Lani Bay Hotels & Bungalows
On Kohala coast; 336 guest rooms; 21,922 sq. ft. of meeting space; spa; largest solar of any luxury resort; two golf courses; five dining options.

Sheraton Kona Resort & Spa at Keauhou Bay
22 acres on Kona coast; 508 guest rooms; 127,760 sq. ft. of meeting space; pool has 200-foot waterslide; spa with salt room for halotherapy.
Read more about the islands: