Think you're a pretty good negotiator? Deborah Gardner will be the judge of that.
"Our industry is not introduced to advanced negotiations," says Gardner, an award-winning speaker and competitive performance expert known in Fortune 500 circles as the "Pit Bull in a Skirt." She says many planners and suppliers may have the skills and technique, but don't necessarily know how to put them into practice.
Gardner has developed an interactive session on advanced negotiation that can change this, and will present it at the Smart Meeting Los Angeles on March 10. But it won't be pretty. "I challenge people," she says. "I'm not a warm and fuzzy, 'Here's 10 bullet points' person. I make people work. I love it when they disagree with me."
Gardner says she'll teach participants a formula to know what to do with what they already know, and offer strategies and simple processes to become an advanced, competitive negotiator—or maintain your position as one.
She notes that negotiation skills are not just beneficial on a professional level, but personally as well, and can help you get ahead in life. Most of the time, she says, "you compete with yourself. You are your main competitor."
Competition is the crux of Gardner's work. She has said before that "competition is a healthy, fun and real way to be successful. Improve your understanding of competition and you will move forward faster."
Gardner knows both the planner and supplier sides. "I have 27 years on the supplier side, but my mom worked as planner with Billie Jean King," she says. "I can say what [both sides] want to say to each other but can't. Everybody gets stuck in their areas."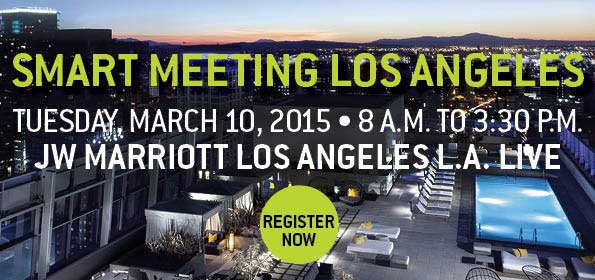 Phoenix-based Gardner has a lifetime of competitive experience from which to draw, from her childhood as a Marine brat and Olympic trial swimmer to a two-time Senior Olympic gold medalist, one of the first female sports broadcasters, and a sales representative for 27 years in the hospitality industry.
She is a Certified Meeting Planner, and is responsive to industry trends and needs. As a speaker, she has received accolades from Meeting Professionals International, Professional Convention Management Association and others.
One thing is for sure: You won't be bored. Gardner's session "is a program on steroids," she says. "It's a double espresso with a sassy presenter."
---
For more information on Gardner's "Advanced 'Win-Win' Negotiations for Success", qualified planners can register for the Smart Meeting Los Angeles, where she will be speaking on March 10 at JW Marriott L.A. LIVE.