Editor's Note: How do you keep an annual event fresh? Smart Meetings asked Sharon Bonner, founder of British Columbia, Canada-based Bright Ideas Events, after she staged the award-winning, 30th anniversary Black & White Ball for 1,500 employees and guests in a 20,000-square-foot train station.
Business Goal
Celebrate a milestone anniversary for NorLand Limited, a corporation that operates 15 separate companies and stresses the importance of treating people like family. Because the event had been held in the same space the previous eight years, Bonner had to make this event stand out.
Solution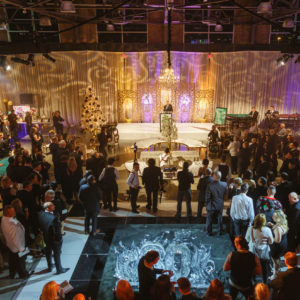 A custom-built NorLand Manor House, featuring a majestic Gone with the Wind-style staircase leading to a second floor; it was the jaw-dropping highlight of the event. The dramatic elevated landing acted as a focal point and added needed extra seating—120 seats with views of the rest of the space, which included a game-room, library and parlor. "We needed to create, from scratch, a setting that would immerse guests immediately into the celebratory feeling of this milestone. A night of grandness was needed," Bonner said.
A family-reunion-themed activity organized around a "tree" required guests to interact with others to fill a card for entering to win $300, and it also ensured that everyone met new people. Actors in period clothing mingled with the elegantly dressed attendees, and an ice-carver etched the number 30 in the frost during the event.
Success Measurement
More than 45 percent of attendees participated in the family-tree activity, and a survey of the record-setting audience resulted in almost all 10-out-of-10 grades—with not a single complaint.
Lesson Learned
Never say anything is impossible. Weeks before staging any event, Bonner "plays attendee," from arrival through the entire event space, to see where holes might need plugging in her planning.