It's easy to see why Mauians are so proud of their island home
From its glorious, still-unspoiled natural wonders to diverse, sophisticated choices in green lodging and dining, to a bounty of organic farms and earth-friendly activities, Maui rocks.
Be Awed
BY THE NUMBERS
12,676
hotel rooms
26,700 sq. ft.
largest meeting space
154,834
residents
3
inhabited islands in Maui County (Maui, Lanai, Molokai)
10,023 feet
highest point
Suspended above the Pacific, with uninterrupted views of Lanai and Molokai islands through floor-to-ceiling windows, Cliff House was built overlooking Namalu Bay in 1940 for the managers of historic Honolua Plantation. Now this unique seaside house, operated by Montage Kapalua Bay, can accommodate two to 40 guests for celebrations, corporate events or incentive gatherings, and is considered Maui's finest and most sought-after event venue. Conference-style seating is available, and a kitchen makes catering easy.
Hold On
On nearby Molokai, which is in Maui County, a 90-minute mule ride takes you down 3 miles of sheer cliffside trail (with 26 switchbacks) to sea level and Kalaupapa National Historic Park, site of perhaps the most remote settlement in Hawaii. This special community was once kapu (forbidden) to outsiders and home to Belgian missionary Damien, who gave his life to victims of Hansen's disease (leprosy). The park is preserved as a fascinating memorial to those who lived there and a reminder of a bygone era in Hawaii's history.
Stay

Sheraton Maui Resort & Spa, Lahaina
Surrounded by 40 oceanfront acres on glorious Kaanapali Beach, Hyatt Regency Maui Resort and Spa (806 guest rooms) was Hawaii's first resort to achieve LEED Silver certification. It features 100,000 sq. ft. of newly renovated indoor-outdoor meeting and event space.
Monarchy Ballroom now boasts a clean, upscale design and more than 18,000 sq. ft. of flexible function space, a new connecting outdoor terrace and floor-to-ceiling windows to invite in the light and landscape of Maui. There's also a rooftop astronomy program and a new cocktail menu inspired by local ingredients at Grotto Bar, in a rustic cave setting between two waterfalls.
Other noteworthy Maui hotels include:
Andaz Maui at Wailea Resort, on Mokapu Beach, is also LEED Silver-certified. Wailea's newest resort features 300 guest rooms, 70,000 sq. ft. of indoor and outdoor meeting space (including the oceanfront lawn) and award-winning Kaana Kitchen, with farm-to-table cuisine.
Fairmont Kai Lani, Maui was recently named Fairmont Hotels & Resorts' Hotel of the Year following a $70 million renovation, and is Hawaii's only all-suite (413) and villa (37) luxury oceanfront resort. It offers 36,000 sq. ft. of dedicated indoor and outdoor function space. Sustainability measures include installation of 1,528 solar panels.
Grand Wailea, A Waldorf Astoria Resort has received numerous green accolades. Its over-the-top amenities include nine interconnecting pools. The resort has 780 guest rooms; 22 banquet, meeting and boardrooms; and 17 breakout rooms. The largest event space is the 28,000-square-foot Haleakala Ballroom and Garden.
Montage Kapalua Bay follows green operating principles that encompass purchasing; waste, water-quality and energy management; and green housekeeping initiatives. Its 24-acres of beachfront includes 50 guest rooms and suites and 52,215 sq. ft. of meeting space.
Sheraton Maui Resort & Spa, in addition to an impressively long list of sustainability initiatives, welcomes groups to honor the local environment, Hawaiian culture and music, and living pono (right) with cultural advisor Jack Stone, who works with in-house groups to organize authentic cultural experiences and teach about ancient Hawaii. The resort offers 508 guest rooms and 25,000 sq. ft. of meeting space.
The Ritz-Carlton, Kapalua hosts Jean-Michel Cousteau's Ambassadors of the Environment program, has an on-site organic kitchen garden and many more eco-friendly practices. It features 463 guest rooms, 50,000 sq. ft. of indoor-outdoor meeting space and 173,120 sq. ft. of outdoor event space.
Travaasa Hana, the ultimate unplugging in luxury on Maui's remote eastern coast, recently completed a $12 million refurbishment with largely sustainable materials. The kitchen buys from local organic farmers and fishermen. It features 70 guest rooms and bungalows on 71 acres. Indoor meeting space totals 5,000 sq. ft., plus an additional 10,000 sq. ft. of outdoor function space. Buyouts are encouraged.
Uncle Larry's Sustainability Show Place: Four Seasons Resort Lanai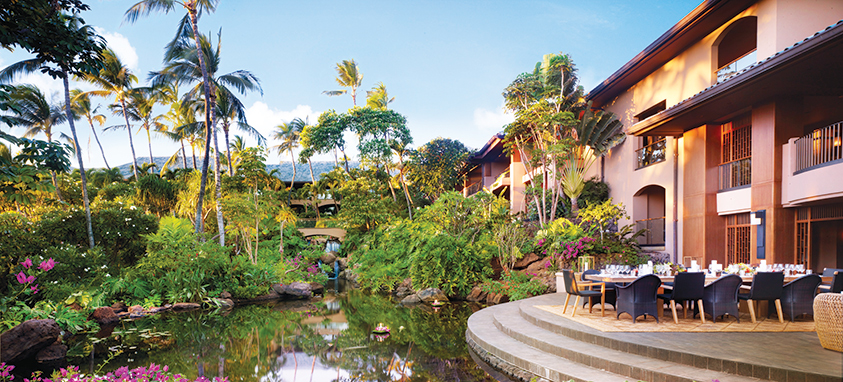 Four Seasons Resort Lanai
Lanai, officially part of Maui County, is easy for planners to overlook. The 140-square-mile island has but two hotels for meetings and events, and one of them is currently closed for renovation. But the other one? Well, Bloomberg has suggested it may be the best new hotel resort on the planet.
Tim Roelens, the general manager who oversaw the reinvention of Four Seasons Resort Lanai, told the business publication that Isadore Sharp, chairman of the board at Four Seasons, called it the "best room product we have in our company today."
Four Seasons has excellent Supporting Sustainability and Green Meetings programs, so there is no doubt this property will also be a model of environmental stewardship. But there's more to the story.
That "more" is tech billionaire Larry Ellison.
In 2012, Ellison made headlines by snapping up 98 percent of Lanai, including the two luxury hotels. (The other one, The Lodge at Koele, a Four Seasons Resort, will reopen in 2018.)
The island, privately owned since 1870s, has seen wealthy overseers before. It was a vast cattle ranch, then Dole grew pineapples until Los Angeles industrialist David Murdock bought the Dole holding company. He saw tourism as Lanai's economic engine, and built the two hotels. They lured incentive, event and meeting business, as well as tourists curious to see what it's like on a Hawaiian island with no traffic lights and a renowned Jack Nicklaus golf course (where Bill and Melinda Gates were famously wed on the 12th tee).
Now, the island's 3,000 residents have "Uncle Larry," as he's called, without irony. And as Bloomberg put it, Ellison's Lanai is "testing the waters as a sustainable society-building experiment steered by luxury tourism." In Lanai City—a charming little town where a piercing siren once awoke the pineapple workers—he's built what has been described as the state's finest movie theater (he's hoping to attract events, too) and an Olympic-sized public swimming pool, and he's made sure the local grocery stocks more organic items. He's announced he wants to build a huge solar farm to supply a significant portion of the county's electricity.
In its reconstruction, Four Seasons Resort Lanai was taken down to the concrete, and Ellison was involved to the max—"making the designer Todd Avery Lenahan and hundreds of workers redo the lobby from scratch four different times, until the ocean views on entering were framed just right," according to Bloomberg. He added Hawaii's most expensive suite, three bedrooms with a rack rate of $21,000 a night. In all, the hotel offers 213 guest rooms and more than 10 event spaces, and the largest ballroom provides 7,552 sq. ft. The resort is available for buyouts.
? Maui Insider Tip
Be bio-fueled. Since 1996, Pacific Biodiesel, in Kahului near the airport, has been helping Hawaii lessen dependence on fossil fuels by creating clean-burning, renewable biofuel. It began by collecting used kitchen grease from restaurants—to keep it out of landfills—and now also grows acres of sunflowers in central Maui to transform the seed oil into fuel.
Willie Nelson is an investor and a big fan. So, ask your transport company for biofueled vehicles. Or rent one (or an electric vehicle) at Bio Beetle Eco Rental Car, which offers free pickup from Kahului Airport (OGG) and several other locations.
MAJOR MEETING VENUES IN MAUI
Andaz Maui at Wailea Resort
On 15 acres with a 1.2-mile beach; near Haleakala National Park; 300 guest rooms; 15,000 sq. ft. of meeting space; several dining options; spa.
Fairmont Kea Lani Maui
On 22 acres on Wailea coast; recent $70 million renovation; 450 suites and villas; 36,000 sq. ft. of meeting space; four restaurants; award-winning Willow Stream spa; three pools; fitness center.
Four Seasons Resort Lanai
Completely rebuilt luxury resort; 213 guest rooms; more than 10 event spaces, with largest ballroom 7,552 sq. ft.; Nobu Lanai, Malibu Farm and other restaurants; available for buyouts.
Four Seasons Resort Maui at Wailea
Forbes Five Star, AAA Five Diamond property overlooking Wailea Beach; 376 guest rooms; 28,876 sq. ft. of meeting space; three restaurants, including Wolfgang Puck's Spago; fitness center.
Grand Wailea, a Waldorf Astoria Resort
AAA Four Diamond resort on 40 acres; 780 guest rooms; 100,000 sq. ft. of meeting space; five restaurants, including redesigned Humuhumunukunukuapuaa (the state fish) on a lagoon; 50,000-square-foot spa.
Hyatt Regency Maui Resort & Spa
AAA Four Diamond property on 40 acres of Kaanapali Beach; 806 guest rooms; 100,000 sq. ft. of indoor-outdoor meeting space; tennis courts; four restaurants; luau; spa; 2016 Hawaii Green Business Award.
Lahaina Civic Center
Multipurpose facility between Kaanapali and downtown Lahaina; 25,000 sq. ft. of event space, including amphitheater that can seat 2,200.
Read more about the islands: