Four ways convention centers and their cities are enhancing meeting experiences.
You want size?
Orange County Convention Center in Orlando and Anaheim Convention Center in Southern California have ambitious projects in the works that will add to their already impressive girth and prestige.
Do your attendees like to party?
Convention centers near major entertainment districts in Phoenix, Los Angeles and Nashville will probably be to their liking. For those who are partial to the arts, Colorado Convention Center in Denver and Walter E. Washington Convention Center in Washington, D.C., boast impressive collections for creative vibes that can enhance meetings.
Convention centers also have become training grounds for green meetings, thanks to guidelines created by the venues, to help planners and attendees make their events as eco-friendly as possible.
With an ask-and-ye-shall-receive credo at convention centers across the United States, meeting professionals are definitely getting a say in the way venues are remaking themselves.
"The team has listened to client and stakeholder feedback, and is responding," says Kathie Canning, executive director of Orange County Convention Center. "This gives Orlando a competitive advantage as meeting planners today are pressured in selecting the absolute best facility for their guests."
So speak up. Convention centers are readying for the future and your input is valued.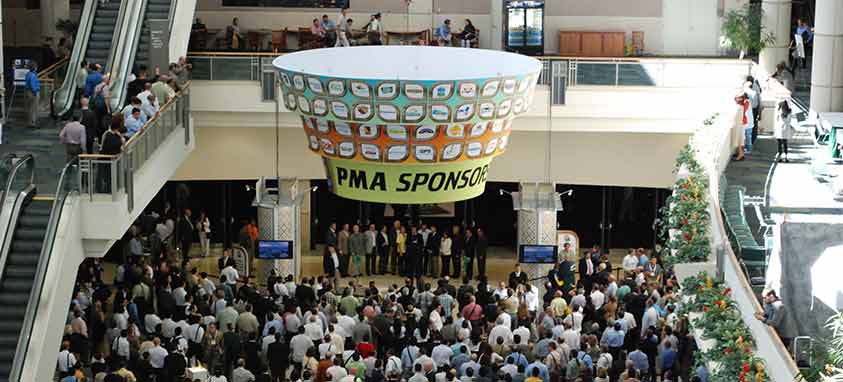 Renovation & Expansions
Anaheim Convention Center (ACC) broke ground in April on its seventh expansion, which calls for a new glass building with 200,000 sq. ft. of event space that will be completed in two years. The $180 million new building includes a 10,000-square-foot patio that will connect to the existing building. The LEED certified ACC is already one of the largest convention centers in the United States, with 1.6 million sq. ft.
"Anaheim has an almost 50-year history of expanding to meet the needs of the convention and meeting industry, and the seventh expansion continues in that legacy," says Tom Morton, ACC executive director. "This expansion speaks to Anaheim's commitment as a convention and tourism destination. This is what we do."
The expansion will accomplish three goals: The new 200,000 sq. ft. of leasable, flex space allows ACC to grow with its large annual events; it provides meeting space capacity to attract meeting-intensive conventions; and it allows ACC to host concurrent conventions.
---
---
By fall, ACC will rank as the first West Coast convention center with 10-gigabit Internet connectivity due to a $2.5 million investment by Smart City Networks. As one of the first convention centers to offer free wireless connections throughout its facility, ACC is installing a new Cisco-based high-density network that will provide faster, more streamlined wireless service and better accommodate mobile users and devices. There will be nearly 700 access points thanks to the Cisco network.
Orange County Convention Center (OCCC) in Orlando is embarking on its largest renovation project since opening in 1983. The $187 million capital improvement plan reflects recommendations from meeting professionals, including safety upgrades, roof replacements, enhanced technology and repurposing of underused event spaces. Besides a new ballroom, the most noticeable changes will be new digital and static sign-age, and a bridge being built over busy International Drive.
The new ballroom, board and meeting rooms, and signature rooms with outdoor terraces will be complete in August. The bridge project will wrap up in 2017. Already the second-largest convention center in North America, OCCC currently offers more than 2 million sq. ft. of exhibition space and 74 meeting rooms that total 479,190 sq. ft.
"This is a time of great transformation and reinvention for the OCCC," Canning says. "The OCCC facility has proven itself time and again to be a world-class venue capable of accommodating events from across the spectrum."
Albuquerque Convention Center in New Mexico completed a $23.3 million renovation last year. During the first phase, the ballrooms were redesigned, including new carpeting, and wall and ceiling finishes. There's a new kitchen, an updated loading dock, and a new service corridor and freight elevator for the ballrooms. Phase two featured a new entertainment deck off the ballroom, huge windows with great views and remodeling of an atrium. There's free Wi-Fi and new LED lighting. With 270,000 sq. ft. of meeting and exhibit space and recent renovations, Albuquerque Convention Center is one of the premier venues in the Southwest.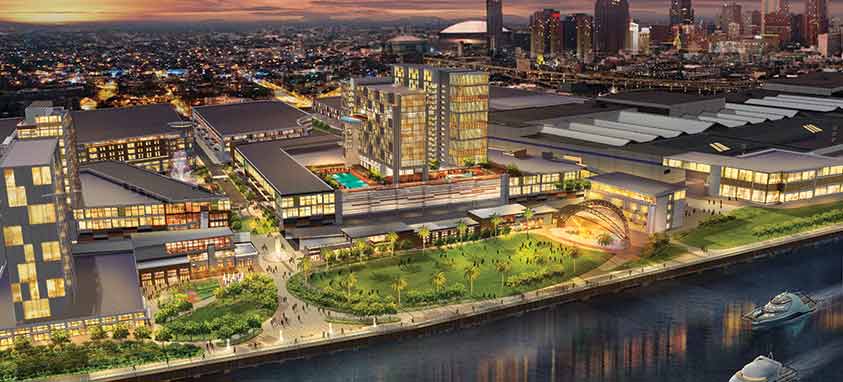 Let Us Entertain You
Just as expansive, creative space and tech upgrades are key convention center features in demand, entertainment districts are becoming a staple for meetings, providing made-to-order offsites and attendee enthusiasm.
The 47-acre plot along the Mississippi River near New Orleans Ernest N. Morial Convention Center is expected to get a complete makeover by 2018, when the city celebrates its 300th birthday. The project calls for a park along Convention Center Boulevard, outdoor entertainment, arts and cultural venues, as well as new retail shops and housing. Besides convenience for delegates meeting at the convention center, the new entertainment district will help relieve the stressed tourism infrastructure in the French Quarter.
"This Convention Center District Development Project will be a demand generator that will benefit the local hospitality industry and economy for years to come," says Melvin Rodrigue, chair of the Ernest N. Morial Exhibition Hall Authority.
There's a similar project in the works near Irving Convention Center at Las Colinas, outside Dallas. The Irving Music Factory complex, which has a $165 million price tag, is slated to open mid-2016. There will be an 8,000-seat indoor-outdoor concert venue; a 50,000-square-foot outdoor event plaza; 100,000 sq. ft. of office space; and more than 25 restaurants, shops and entertainment venues. Construction on a headquarter hotel will begin later this year, with a completion date set for 2017.
Besides being adjacent to the convention center, the Irving Music Factory is near the new stop on the Dallas Area Rapid Transit's (DART) Orange Line and the Las Colinas Area Personal Transport (APT) people-mover system.
"This is an exciting and important next step for Irving as we continue strengthening our destination development vision," says Maura Allen Gast, executive director of Irving Convention and Visitors Bureau. "Adding an entertainment district and convention center hotel to our visitor offerings has always been a part of the plan and has clearly remained a high priority for us."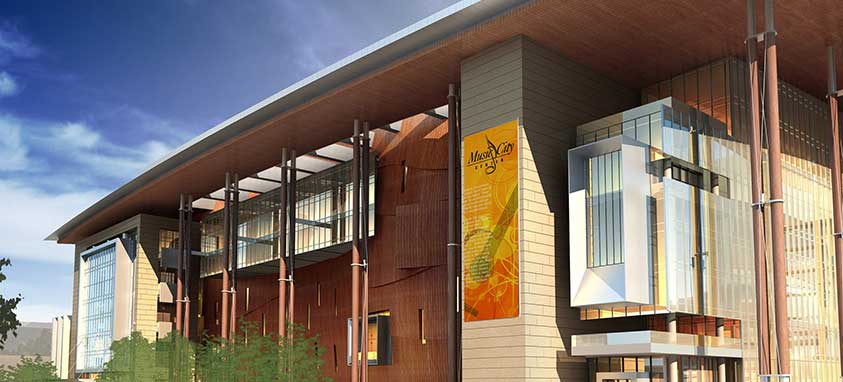 Music City Center, Nashville's LEED Gold certified convention center that opened in 2013, has helped invigorate the pre-existing South of Broadway District, which used to be dotted with empty buildings. Today, bar after bar has live music day and night, giving attendees all the entertainment they need, plus dining and shopping. Offsite space for receptions is everywhere, but The Big Bang dueling piano bar and Wildhorse Saloon are sure bets. Music City Center features a 353,143-square-foot exhibition hall and a 57,000-square-foot ballroom.
The LEED Silver certified San Diego Convention Center has one of the most attendee-friendly locations in the world by virtue of its proximity to the 16-block Gaslamp Quarter. The neighborhood features Victorian-era buildings that house 100 restaurants, pubs, nightclubs and shops. The convention center offers 525,701 sq. ft. of exhibit space, 90,000 sq. ft. of column-free exhibit space and 72 meeting rooms.
The entertainment scene near Los Angeles Convention Center has been invigorated by L.A. Live, the 4 million-square-foot, $3 billion downtown entertainment district developed over the past decade. L.A. Live, adjacent to Staples Center arena and the convention center, is credited with fueling convention growth. It features Club Nokia, a 2,300-capacity music venue, the 7,100-seat Nokia Theatre L.A. Live, and 1,000 guest rooms at The Ritz-Carlton, Los Angeles and JW Marriott Los Angeles at L.A. Live.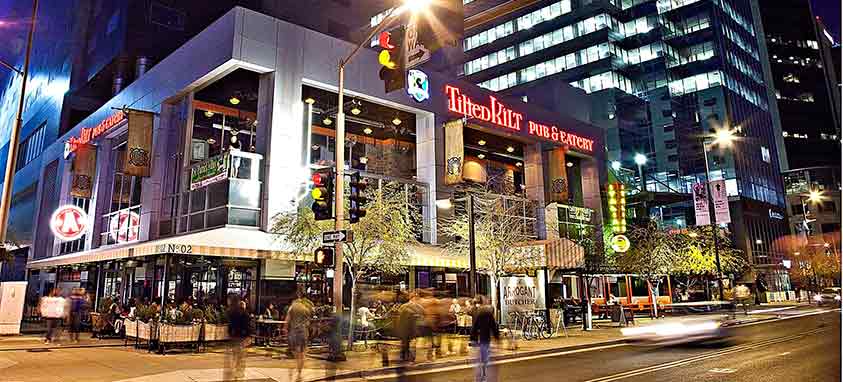 The proximity of Phoenix Convention Center to a vast collection of entertainment options contributes to this meeting city's popularity. The key addition has been CityScape Phoenix, a $500 million mixed-use project completed in 2012. CityScape offers lots of live-music venues, including the new Valley Bar featuring underground space that can hold up to 250 people. The entertainment menu in a five-block radius of the convention center includes Talking Stick Arena, home to the NBA Phoenix Suns, and the 5,000-seat Comerica Theater. Chase Field, home to Major League Baseball's Arizona Diamondbacks, has a new $200,000 suite that can accommodate 20.
Lexington Convention Center in Kentucky offers 66,000 sq. ft. of exhibition space and 40,000 sq. ft. of flexible meeting space. It's adjacent to The Shops at Lexington Center and 23,000-seat Rupp Arena. The complex is known as Lexington Center and includes the 366-room Hyatt Regency Lexington.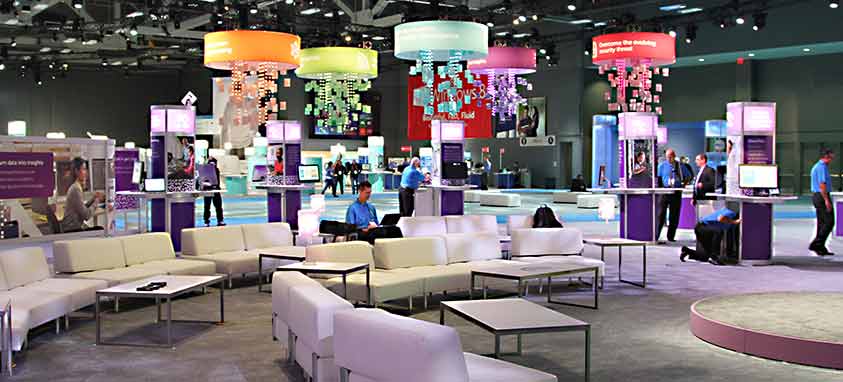 When it comes to green meetings, convention centers are certainly setting noteworthy standards, not only implementing sustainable practices, but also helping educate attendees during conferences.
Portland's Oregon Convention Center, the largest convention center in the Pacific Northwest, is LEED Platinum certified. Featuring 255,000 sq. ft. of contiguous exhibition space and a 35,000-square-foot ballroom, it hosts 650 events a year. This venue is so proactive about green meetings that it has devised a guide to help meeting professionals reduce waste at events.
Here are five ways to reduce waste, compliments of Oregon Convention Center:
Choose signs made from paper products that can be recycled.
Know what's recyclable at the venue where your event is taking place.
Develop a list of all materials that your event might generate to help the venue provide the best recycling services possible.
Donate leftover goods and materials, including unused food, decorations and office supplies.
Educate exhibitors, decorators and attendees about waste reduction.
Austin Convention Center is LEED Gold certified and is a key player in the Texas state capital's goal to become carbon neutral by 2020. Its sustainability strategy includes educating clients and attendees. It has a compost, re-use and recycling program that diverts up to 70 percent of waste from landfills. There are two bike-sharing stations at the convention center.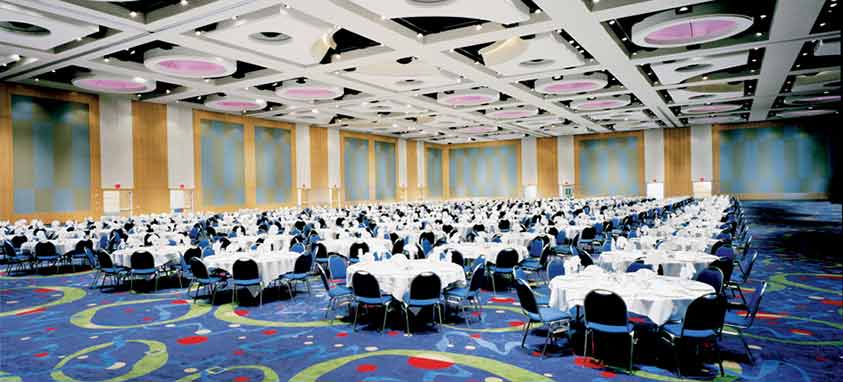 Georgia International Convention Center is the world's only convention center directly connected to a major airport. It takes only two minutes for attendees to get from Hartsfield-Jackson Atlanta International Airport (ATL) to Georgia International Convention Center in College Park thanks to the free ATL SkyTrain. There are two LEED certified convention center hotels: 403-room Marriott Atlanta Airport Gateway and 147-room SpringHill Suites Atlanta Airport Gateway.
Santa Fe Community Convention Center in New Mexico is LEED Gold certified, and its commitment to green started from its origins: 88 percent of the materials were salvaged and recycled from the demolition of the city's old convention center; 75 percent, by weight, of the waste generated during construction was recycled. Today, among many sustainable practices in place, a garden roof eliminates heat collection and provides insulation.
Lied Lodge & Conference Center in Nebraska City, Nebraska, has some very cool green practices, including a bio-mass system that uses wood chips made from pallets to heat and cool the hotel. The center was designed to serve as a resource for the Arbor Day Foundation, forestry professionals and other conservation organizations. Naturally, the center is renowned for its environmental and stewardship programs.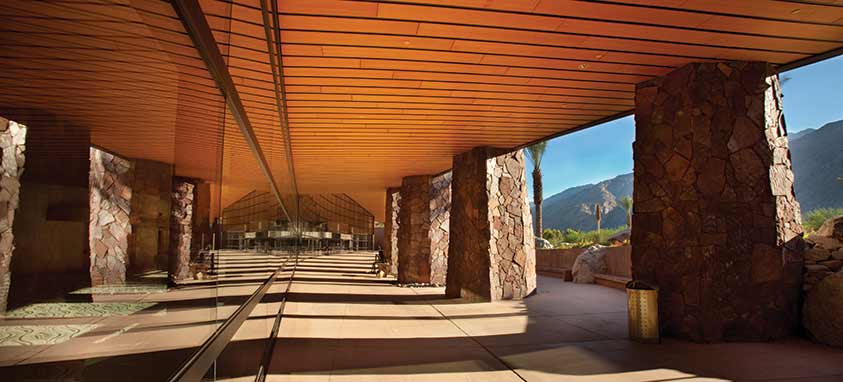 The Arts & Creativity
Colorado Convention Center is among the growing number of meeting venues that is emphasizing artwork. Already this year, the LEED Gold certified convention center has acquired six new pieces of artwork, including Beau Carey's series of paintings inspired by Denali National Park, a Sandra Kaplan's 360-degree painting of Denver's Japanese Garden and Yoshitomo Saito's nature abstraction series. The city's Imagine 2020 initiative calls for full integration and amplification of arts, culture and creativity throughout Denver.
"Art should be unavoidable; it should be accessible to people and be sort of unexpected," says Kent Rice, executive director of Denver Arts and Venues. "The more you do that, the more unavoidable it is, the higher the profile of the city and the more people just come to expect it."
Walter E. Washington Convention Center features a $4 million art collection. With 130 pieces, it is the largest art collection outside of a museum in the District. Created by local and international artists, the sculptures, paintings and photography help bring a human scale to the venue. "Shaw Wall," for example, celebrates one of the District's oldest African-American neighborhoods and is where the convention center is located.
Palm Springs Convention Center is a work of art in itself. The design by Fentress Architects reflects the contrast between the local desert and powerful San Jacinto Mountains. The convention center is also part of the City of Palm Springs Public Arts Program and displays pieces such as the "Crouching Cougar" bronze sculpture by Steve Tyree and a mural by Tony Berlant entitled "A Personal History of Palm Springs."
The convention center has been home to the annual Palm Springs International Film Festival Gala since 1997. The arts take center stage in February, when the convention center hosts the annual Palm Springs Modernism Show and Palm Springs Fine Arts Fair. Of course, there are numerous galleries near the convention center and Palm Spring's free trolley can take attendees to others for those in the mood to explore.
Ontario Convention Center in Southern California is a popular backdrop for movies, television shows and commercials. Featuring state-of-the-art architecture, it offers 70,000 sq. ft. of exhibition space that can be transformed for a variety of projects, and an expansive lobby. This venue was used in the 2008 movie Yes Man starring Jim Carrey and Bradley Cooper. Due Date, the 2010 film featuring Robert Downey Jr. and Zach Galifianakis, was also shot at the convention center.
Just 400 feet from the Atlantic Ocean, Ocean Center in Daytona Beach, Florida, features $400,000 in artwork that celebrates sun, sand, surf and speed. The venue's 100,000-square-foot art gallery, supported by Volusia County's Art in Public Places program, includes sculptures and oil paintings by nine artists from throughout the United States.
Ocean Center offers more than 200,000 sq. ft. of indoor and outdoor meeting space, including a 98,028-square-foot exhibition hall and a 9,300-seat arena. Florida's fifth-largest convention center has an 11,904-square-foot ballroom.
International Convention Centers Made to Order
ExCeL London unveiled a new generation of meeting rooms earlier this year as a direct result of client demand for high-end executive suites. As part of its International Convention Centre, which opened in 2010, ExCel now offers six boardrooms with state-of-the-art features once reserved for boutique meeting hotels.
"Last year, 52 percent of new corporate contracts won at ExCeL represented a switch from a traditional hotel environment to a flexible venue format, such as our International Convention Centre," says James Rees, executive director for ExCeL London. "Our new ICC Capital Lounge Rooms will further enhance our offer, with initial bookings reflecting the demand for this type of facility. We've already seen a 40 percent increase in bookings of this type in what will be our busiest ever year for conferences at ExCeL London."
Clients requesting executive meeting space at ExCeL include LinkedIn, Amazon Web Services, Adobe, Salesforce and Microsoft. The self-contained suite of boardrooms has a private entrance and reception area for events and registration. Intelligent glass provides privacy and blackout solutions at your fingertips. The boardrooms include 65-inch LED curved screens and the capability to stream content to two screens simultaneously in double rooms.
"We recognized that we needed a five-star facility for smaller events, including private briefings and senior-level one-to-one meetings," Rees says. "The opening of our new ICC Capital Lounge provides the ideal high-end facility to complement our existing event space."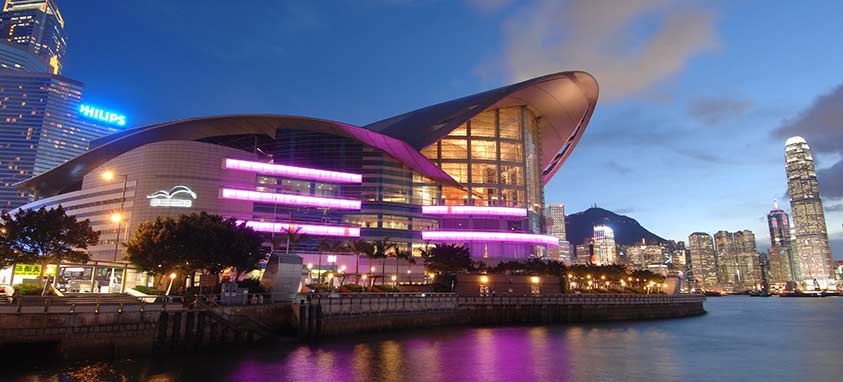 Hong Kong Convention and Exhibition Centre (HKCEC) has its own helicopter pad. How's that for catering to the unique needs of today's international business travelers? Not everyone has a helicopter, but everyone needs to eat and HKCEC has that covered, too, with award-winning chefs overseeing its seven restaurants. The HKCEC catering team coordinates every aspect of dining experiences, from menu design to table settings.
As soon as attendees step inside the magnificent HKCEC, they will feel that they're visiting a world-class venue. There is 979,050 sq. ft. of rentable space spread out on six levels with spectacular views of Victoria Harbour. Capable of holding multiple events simultaneously, HKCEC features six exhibition halls, two theaters that seat 336 and 637, respectively, and 52 meeting rooms. Proximity to the train and ferry service makes getting there a breeze, too. (The five-minute walk from the train to the convention center is via a covered walkway.)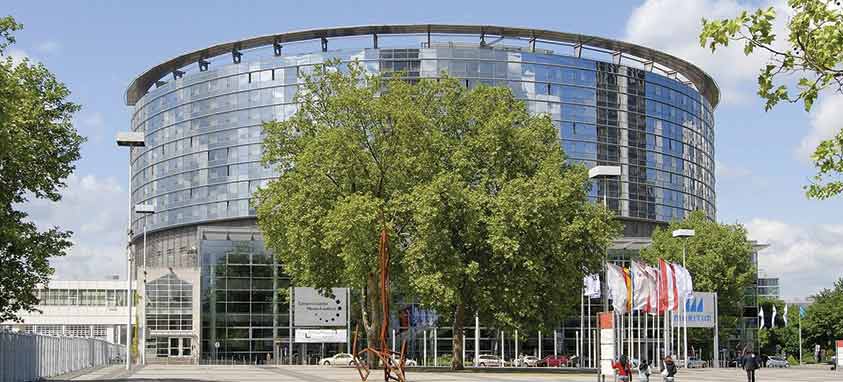 If Germany is on the docket for your next international meeting, the country's convention bureau has developed a shared service that gives planners access to seven major venues, dubbed the Seven Centers. The venues are CityCube Berlin; CCD Congress Center Dusseldorf; Congress Frankfurt; CCH Congress Center Hamburg; Congress-Centrum Koelnmesse-KolnKongress; ICM Internationales Congress Center Munchen; and ICS International Congress Center Stuttgart.
"Seven Centers provides a unique-to-the-industry approach of shared marketing and service," says Laura d'Elsa, New York-based regional director, USA and Canada, for the German Convention Bureau. "In essence, it is one-stop shopping for the meeting planner."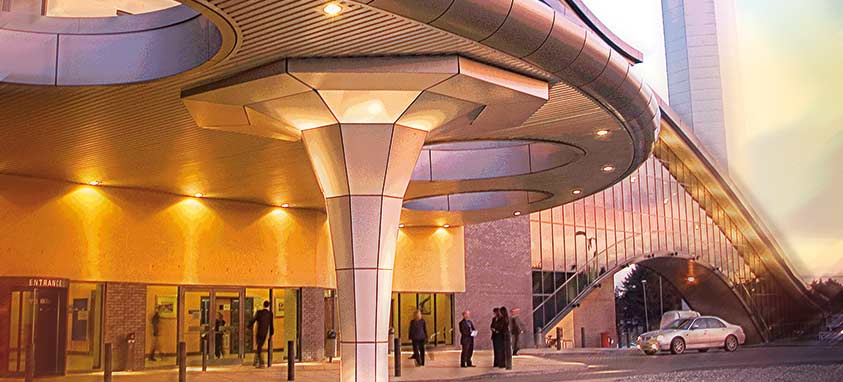 Aberdeen Exhibition and Conference Centre (AECC) in Scotland is helping set the standard for sustainability in the United Kingdom. It recently retained a Gold accreditation from the Green Tourism program following an extensive audit of the venue's sustainability practices. AECC is the first event venue in Aberdeen to hold this prestigious Gold Award. In addition to training convention center staff members about sustainable practices, AECC is committed to educating suppliers and attendees.
Cartagena de Indias Convention Center is a major player in the meetings revolution taking place in Colombia. With space for more than 10,000 delegates, Cartagena's major event venue is near its historic walled town, which is a UNESCO World Heritage Site. New hotel development is underway to enhance meeting experiences.