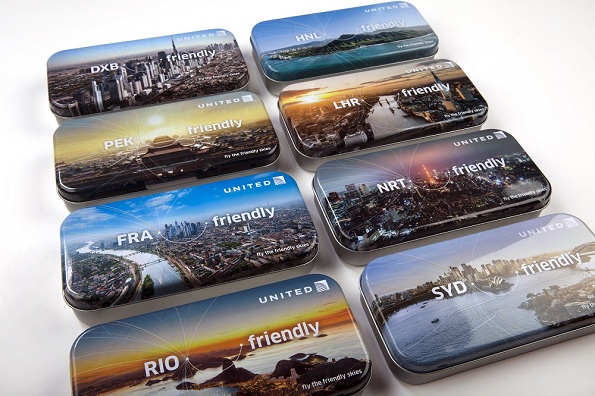 Starting this month, United Airlines is offering its GlobalFirst and BusinessFirst international customers specially designed commemorative amenity kits, available through late spring.
The kits will come in two different varieties. The first commemorative tin, available through the end of March, will contain skincare products, comfortable socks, eye masks, earplugs, toothbrushes, toothpaste and tissues. Each tin will be decorated with the skyline of London, Frankfurt, Tokyo, Beijing, Sydney, Dubia, Honolulu or Rio de Janeiro. These tins will be available for passengers departing from United's seven mainland U.S. hubs, but passengers arriving in the United States will continue to receive a traditional amenity kits.
Beginning in April, United will offer both arriving and departing passengers amenity kits themed around the PGA Tour. These bags, available through June, will come in the form of shoe bags and will contain United-branded golf balls and tees in addition to the usual items. United is the official airline of the PGA Tour, which begins this month.