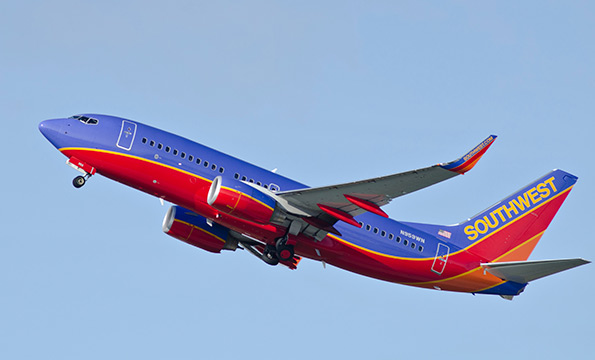 While other airlines are shrinking seats and leg space, Southwest Airlines is bucking the trend by giving passengers extra space in economy class. Yesterday, the budget carrier announced it will provide more than one-half inch of extra width in its new aircraft seats.
The seats will measure 17.8 inches, compared to current seats that are 17.1 inches wide. They will include an adjustable headrest, increased legroom and more personal stowage space. The new seats will roll out mid-2016 on a new fleet of Boeing 737-800s, and by 2017 on the brand-new Boeing 737 MAX aircrafts.
In a statement, Bob Jordan, Southwest's executive vice president and chief commercial officer said, "The new aircraft seats are the widest economy seats available in the single-aisle 737 market, and offer a unique design that gives our customers what they asked for: more space."
Southwest partnered with B/E Aerospace Inc., who designed and built the seats, which were unveiled at the Aircraft Interiors Expo in Hamburg, Germany. The roomier arrangement will also benefit fuel efficiency by taking 200 pounds off each aircraft.
The new design will be the largest seating arrangement in its class. However, older airplanes will not be outfitted with the larger design. Cabin interiors will also receive an upgrade on Boeing 737-700 airplanes later this year. Southwest Airlines has the largest fleet of aircrafts in the world.