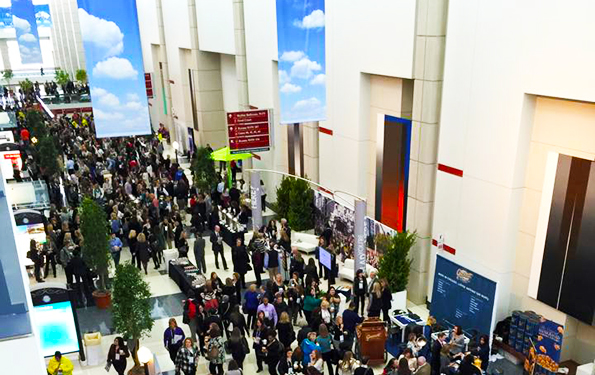 The 2015 Professional Convention Management Association "Convening Leaders" conference got off to a rousing start today, with more than 4,000 in attendance at McCormick Place in Chicago. PCMA President and CEO Deborah Sexton said that while final figures were not yet available, attendance was expected to exceed last year's conference in Boston.
At a press conference, Sexton spoke about "risks" that PCMA has taken with its annual conference over the years, many of which have resulted in what's considered standard conference programming today. "For example, the Learning Lounge came about three years ago because of a need to fill extra space [at the venue]," she said. The Learning Lounge, with TED-style sessions, has become hugely successful with attendees for its educational content and networking opportunities.
Similarly, Sexton said, when PCMA tried a hybrid conference, many told her she "was destroying our industry"; hybrids are the norm now. And PCMA's popular daily e-newsletter "News Junkie" bucked conventional wisdom at the time that held that people wanted less, not more, of an organization's presence in their inbox.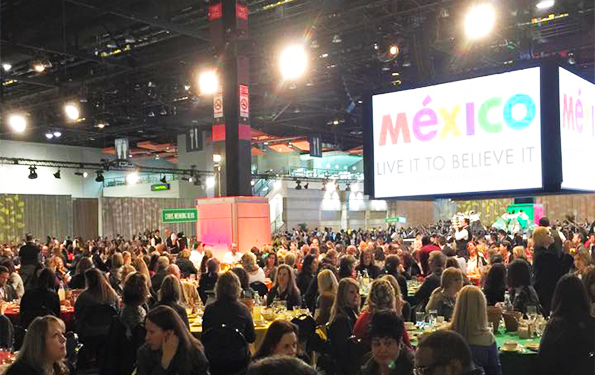 Risks this year, Sexton said, include a Hybrid Mash-Up Studio, with live broadcasts by a single camera on a simple set streaming to the virtual Convening Leaders audience throughout the conference. Also, the Wednesday session "Five Speakers to Watch" is new, and features speakers on motivation and leadership who have been vetted by industry experts, delivering 15-minute segments. Sexton said they are both smart AND affordable–an important issue with many planners.
Planners make up about half of conference attendees, Sexton said, with the other half suppliers. "Sixty to 70 percent of our membership comes to PCMA," noting that members currently number about 6,500. She said that Convening Leaders is attracting a growing global contingent–"not just suppliers but qualified planners." In addition to in-person attendees, Sexton anticipates virtual registration "in excess of 1,000."
But "Convening Leaders is not about the numbers," Sexton said. "It's about education, engagement and the quality of attendees."
Sexton spoke along with Chris Wehking, immediate past chair of PCMA's board of directors, Gary Schirmacher, chairman of PCMA's Education Foundation, and Ray Kopcinski, PCMA board chairman.