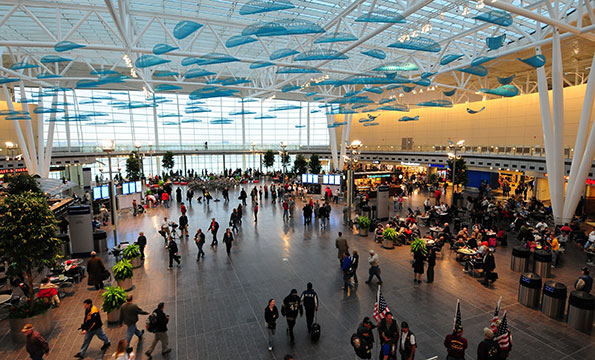 For the fourth time in the past five years, Indianapolis International Airport (IND) was voted No. 1 in North America for airport service quality. Airports Council International (ACI) annually surveys passengers to report on customer satisfaction at airports throughout the world.
IND officials were quick to applaud Hoosier hospitality as a difference-maker. Among the qualities that are taken into consideration in the survey are courteousness of airport staff, the comfort of waiting areas, cleanliness and general ambience.
"This award is a reflection of the people who work here," says Mario Rodriguez, executive director of IND. "They are the heart of the Indianapolis International Airport. There may be larger terminals but the secret formula for IND is not the facility, not the bricks and mortar. It's Hoosiers, the Hoosier work ethic and Hoosier hospitality. We also have a great community of people in Central Indiana who fly in and out of our airport and they convey a kindness that travelers, worldwide, notice."
IND is the first airport in the U.S. to win LEED certification for an entire terminal campus. The only other U.S. airport mentioned in the results of the ACI survey was San Antonio International Airport, which was noted for making the most improvement to service among North American airports.
Here are the other airports recognized for service quality by the ACI:
Best Airports for Service Quality by Region (First Place)
North America: Indianapolis International Airport, Indianapolis, Indiana
Africa: Sir Seewoosagur Ramgoolam International Airport, Port Louis, Mauritius
Asia-Pacific: Seoul-Incheon International Airport, Seoul, South Korea
Europe: Keflavik International Airport, Reykjavik, Iceland
Latin America-Caribbean: Jose Joaquín de Olmedo International Airport, Guayaquil, Ecuador
Middle East: Queen Alia International Airport, Amman, Jordan
Best Airports for Service Quality by Size (First Place)
2 to 5 Million: Jose Joaquin de Olmedo International Airport, Guayaquil, Ecuador
5 to 15 Million: Haikou Meilan International Airport, Haikou, Hainan Province, China
15 to 25 Million: Seoul Gimpo International Airport, Seoul, South Korea
25 to 40 Million: Indira Gandhi International Airport, Delhi, India
More than 40 Million: Seoul-Incheon International Airport, Seoul, South Korea
Best Airports for Service Quality for Improvement by Region (First Place)
North America: San Antonio International Airport, San Antonio, Texas
Africa: Sir Seewoosagur Ramgoolam International Airport, Port Louis, Mauritius
Asia-Pacific: Netaji Subhas Chandra Bose International Airport, Kolkata, India
Europe: Pulkovo International Airport, St. Petersburg, Russia
Latin America-Caribbean: Las Americas International Airport, Santo Domingo, Dominican Republic
Middle East: Queen Alia International Airport, Amman, Jordan