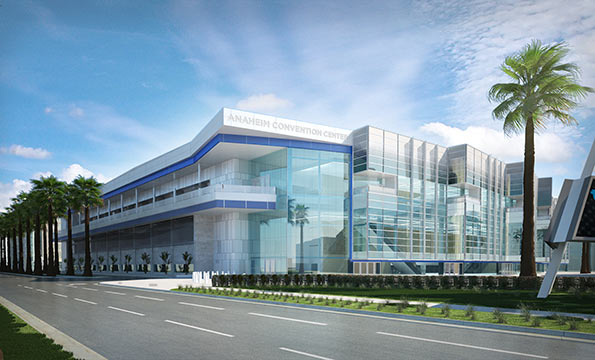 Representatives from the city of Anaheim and Anaheim/Orange County Visitor & Convention Bureau (AOCVCB) were hand for a ground-breaking ceremony at the Anaheim Convention Center (ACC) on Tuesday. The expansion, which calls for a new glass building with 200,000 sq. ft. event space, is expected to be complete in the summer of 2017.
This marks the seventh expansion since ACC opened in 1967. The new building will include 100,000 sq. ft. of column-free space. There also will be 1,350 new parking spaces, a new main entrance and a new climate-controlled pedestrian bridge that will connect to the existing facility.
According to information distributed by AOCVCB, the expansion is necessary for the convention center to retain major events that are growing in popularity and well as increase space for new events. Among the 18 groups that have already booked the new space are Keller Williams, American Heart Association and American Wind Energy Association.
The LEED certified ACC is already one of the largest convention centers in the United States, with 1.6 million sq. ft.