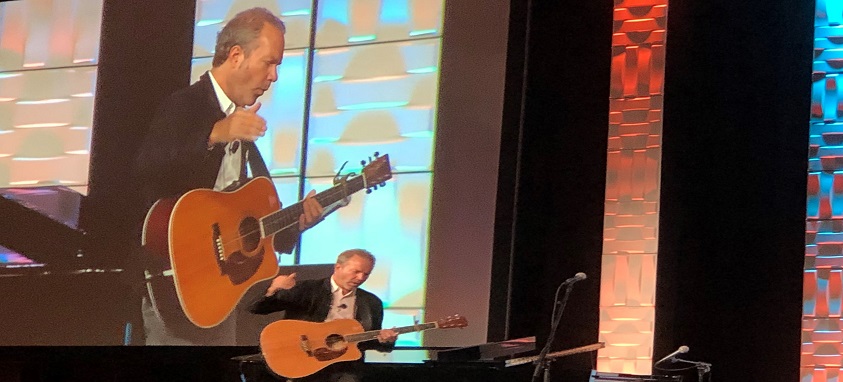 The largest-ever PCMA EduCon conference kicked off on a high note this week at JW Marriott Los Angeles L.A. Live. 
R&B legends En Vogue dropped in on the opening reception at The Novo in L.A. Live. But even before they took the stage with their classic "You're Never Gonna Get It" at the popular concert venue, guests were starstruck by the residential-style offerings of pot pies and baked potatoes from Wolfgang Puck Catering. The surprise and delight led to lots of connections being made and some pretty impressive dance moves. 
Fresh Ideas
That harmonious theme continued at the opening session, when songwriter John Ondrasik, the talent behind the songs "Superman (It's Not Easy)" and "100 Years," shared the secrets for creating inspired songs and events.
How do you follow a success while avoiding being part of the one-hit-wonder club? "You can't just regurgitate the same event," he said. His tricks for repeating the 45 minutes it took to write the song that put him in the limelight 25 years ago also work for event planners trying to up their game for the next annual conference.
"Every great idea starts as a thought, and you never know when it will come," he said. Ondrasik advocates putting yourself in different environments, where you don't feel comfortable.
Combined with collaboration (think of the competitive and productive magic of two of the world's most talented songwriters in the room coming up with Beatles songs), listening and trusting your gut, that new perspective is a path to creating the kind of event you would want to attend.
More: PCMA Pulled Back Curtain on Attendee Behavior
Hacking Homelessness
In a city where $8 billion is being spent on infrastructure, thereby expanding the convention center and the hotel where the event is taking place, PCMA invited Jamie Murdock and Donna Kastner to share their hackathon process to tackle an issue that plagues many cities—homelessness. Groups were broken into teams and spent a day with experts on the topic, brainstorming ways the industry can be part of the solution.
Proposals included an app that would allow women and children to access hotel rooms before they end up on the street, a toolkit with resources planners can access to develop meaningful CSR programs and supporting hospitality employees who may be at risk so they can advance their careers.
"This is just the start of the conversation," Murdock pledged as he announced that 5,000 Bombas socks would be donated to the homeless after the company participated in the hacking session.