IMEX America draws the world's biggest (and smallest) exhibitors to the show floor
Anyone who has been to one of the previous IMEX America trade shows knows that this is where the biggest names on the supplier side of the industry come out in force. The opportunity for direct business with the array of buyers at the show brings so much potential for return on investment that they roll out with not just property managers and general managers, but often people with titles like chief marketing officer, vice president, president and CEO.
"Combining a strong business environment, top-notch education and a powerful lineup of networking events, IMEX delivers business, connections, opportunities and knowledge sharing that last long after the show closes each year," Bauer says.
Hot Hotels
The list of hotel brands that exhibit reads like a worldwide who's who of the hospitality industry. AM Resorts, Melia, Loews, Ritz-Carlton, Hyatt, Marriott, Omni, Sheraton, Caesars Entertainment and Disney Destinations doesn't even begin to scratch the surface.
"We show planners how they can show off their capabilities," says John Washko, vice president of group marketing and sales at Atlantis Paradise Island, which will be represented for the third year running. "So we make sure to not just meet, but exceed expectations."
Smart Destinations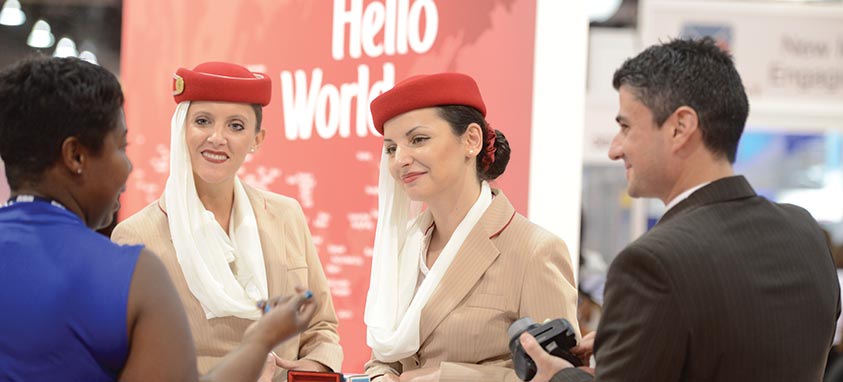 The world's top meeting destinations are plentifully represented at IMEX America. Visit Orlando, boasting the most popular meeting city in the United States, is expanding its presence for 2015. Visit Mexico highlights the country's all-inclusive resorts, such as Nizuc Resort & Spa, and Visit Scotland showcases the best Scottish hotels and convention centers. Visit Tucson will bring a taste of desert meetings to the show.
The industry's biggest trade show isn't just for the biggest destinations. The Greater Palm Springs Conventions and Visitor's Bureau represents nine resort cities in Southern California, including La Quinta, home to the posh La Quinta Resort & Club. Realize Colorado will be representing properties such as The Broadmoor in Colorado Springs, in addition to the state's array of convention centers and attractions, and South Carolina's Hilton Head Island Visitor and Conventions Bureau is bringing Director of Sales Jack Reed to tout the area's beachfront meeting properties.
Venues of All Sizes
Because you can never give enough touches—or pitches from great venues—convention centers and other venues get in on the IMEX America game as well. Venue representatives from Pennsylvania Convention Center (with the most contiguous exhibit space in the Northeast United States) to London's 11,000-square-foot Barbican arts and events space make the trip.
Naturally, city organizations also chip in on behalf of their venues. Quebec City Business Destination has an easy sell on its hands with the 294,000-square-foot Quebec City Convention Centre located in the heart of the historic city's downtown district, and Visit Sacramento will likely be touting its state-of the-art convention center complex and the citywide farm-to-fork initiatives—including the variety of restaurant venues available for buyouts in the Northern California city.
A database of IMEX America 2015 exhibitors can be found at portal.imeamerica.com/vex/vexsearch.php.