Smart Meetings National 3-Day Experience proved there is no place like Nashville for starting productive business relationships. One of the fastest-growing cities in the country was a compelling draw for meeting professionals looking to learn new skills and meet the fresh faces at hotels and destinations with open dates for groups. The gathering at Grand Hyatt Nashville was an efficient way to learn tricks for doing business better, and experience creative approaches to catering, gifting and team building.
Armed with Nashville-branded gear from Boundless Network, Revo sunglasses from Wet Paint Group and sustainable hydration from Heart Water, the conversations focused on solutions to the biggest problems facing the successful execution of events today.
How to Counteract the Quiet Quit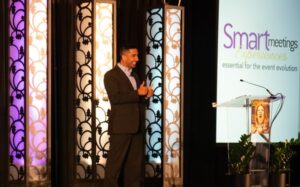 After the last two tumultuous years, some organizations may be burnt out, exhausted or worse. Keynote speaker Sunjay Nath shared the secret to motivating teams to perform at higher levels by making a conscious choice to empower the top 10% of employees by spending more time, energy and attention on them and neutralizing the bottom 10% by not allowing it to pull your thoughts from the desired result. That will, in turn, shift the middle 80% of the group toward the productive state you need to deliver the best meetings possible.
"That is counterintuitive as we naturally tend to focus on the problem, but if, instead, you put your energy toward the people who are on board, the others will either convert to the new way of doing business or leave. Either way, they will no longer be a negative influence," Nath said when explaining his 10-80-10 rule.
One way to motivate teams? Surprise and delight them. The final evening reception was in Nissan Stadium, home of the NFL Titans. When an energetic drumline entered the VIP lounge, everyone was on their feet, ready to move.
Another sure-fire motivational exercise, a corporate social responsibility activity in Music City that paints guitars for military families and crowns the most creative group with artistic bragging rights. HeartStrings Foundation helped this group band together for a cause.
How to Search Better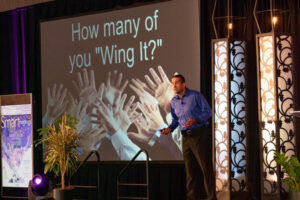 Many meeting professionals are finding themselves struggling to find their trusted hotel partners after the great reshuffling that has happened in the hospitality industry. To help answer the "Where has everyone gone?" question, keynote and Intel Engine founder  Sam Richter, shared tips for searching smarter. Applying advanced Google search techniques both helps to locate potential partners and learn more about them so you can show up to conversations prepared. "When you can demonstrate that you have done your research, it shows that you care," he explained.
Richter created a custom SearchLink.ai for the meetings industry to make it super-easy (and fun) to locate decision makers and learn more without wasting valuable time. Now the meetings industry is a few degrees of separation closer. You are welcome.
How to Love Your Authentic Story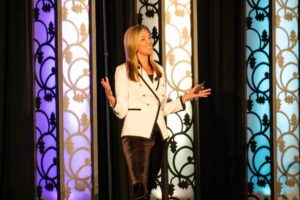 Meeting professionals have been trained to put on a brave face for the world, regardless of what is going on behind the scenes. But after the last two years, learning to tell the story of what it took to overcome is a powerful tool to move forward. Keynote Lauren Sisler bravely told her story from promising athletic roots through tragedy to Emmy award-winning ESPN sports broadcaster. She lost both of her parents in a devastating way as a freshman in college and struggled for years to come to terms with the circumstances while all the while smiling for the cameras. "I learned that success is often defined by defeat and our approach to life must include viewing circumstances through a lens of purpose and gratitude," she said.
After overcoming her shame about her family's sad secret, she decided her purpose was to share what she learned about the power of falling in love with your true story—whatever that may be.
Resiliency can look like tears, humor, grit or all of the above. But when you own your story, you unlock abilities and opportunities you may not have thought possible before.