Top meeting professionals and dignitaries met this week at Lansdowne Resort and Spa in Loudoun County, Virginia, to celebrate the return to business at Smart Meetings' first face-to-face event of 2021, Mid-Atlantic Experience. The energy at the opening reception and ribbon cutting in Lansdowne Pavilion and in the completely redesigned ballroom was one of relief as many discovered that they could feel safe, comfortable and connected at a meeting again.
"It feels so right to be seeing all of you again in person and getting business done safely," said Marin Bright, CEO of Smart Meetings, before cutting the ribbon on opening up to groups again with the first major meeting in the area since coronavirus precautions shut meetings down.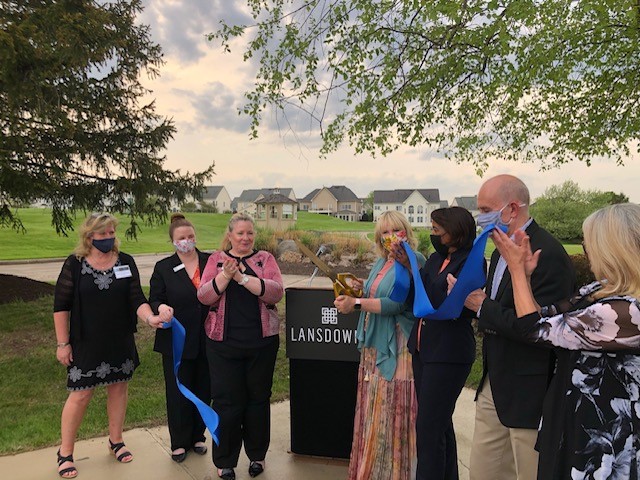 That responsible return is essential to the economic future of this dynamic county. Commissioner Phyllis Randall explained that the county 45 miles from Washington, D.C., drew thousands to the technology powerhouse in the rolling hills of Virginia that serves as the wine country for the capital. The county boasts 350 miles of bike trails, 85 miles of hiking trails, and for after hours, 40 wineries, 30 breweries and a new distillery. It is also home to the largest concentration of dinosaur footprints in the world.
Ashburn District Supervisor Mike Turner, noted that the region will soon be more accessible than ever as Metrorail is slated to open a 23-mile extension that will streamline bringing some of the top speakers in the world to Loudoun conference rooms. "It makes it easy and even more efficient to recruit the crème de la crème," he said.
In 2019 alone, meetings brought in $17 million in revenue to the area. To bring life back to meeting rooms at the three jewels in the hospitality crown of Loudoun County—Lansdowne, Salamander Resort and Spa and The National Conference Center—Randall stressed the importance of following CDC guidelines while getting business done.
Carol Smith, director of sales and marketing at Lansdowne, who happened to be first employee hired in 1989 before the 296-room property opened in 1991, returned a few months ago to lead the return to meetings in the 55,000 sq. ft. of meeting space. While Lansdowne never closed because it continued to serve its golf club members outdoors on 45 greens, it took the opportunity during the meeting slowdown to add a fully equipped broadcast studio to the completely remodeled conference and ballroom wing. At the same time, the spa focused on wellness offerings at the noted spa in partnership with Dejia Harmony immune support programs.
Smith noted that nearly 30,000 hotels in the country shut down over the last year and some will not reopen. She pointed to Safe Stay practices from American Hotel and Lodging Association and partnerships like the one with Smart Meetings will help bring properties and employees back. "We are ready and excited," she said.
Beth Erickson, president and CEO of Visit Loudoun took the moment as an opportunity to toast the upcoming National Travel and Tourism Week and "better days ahead."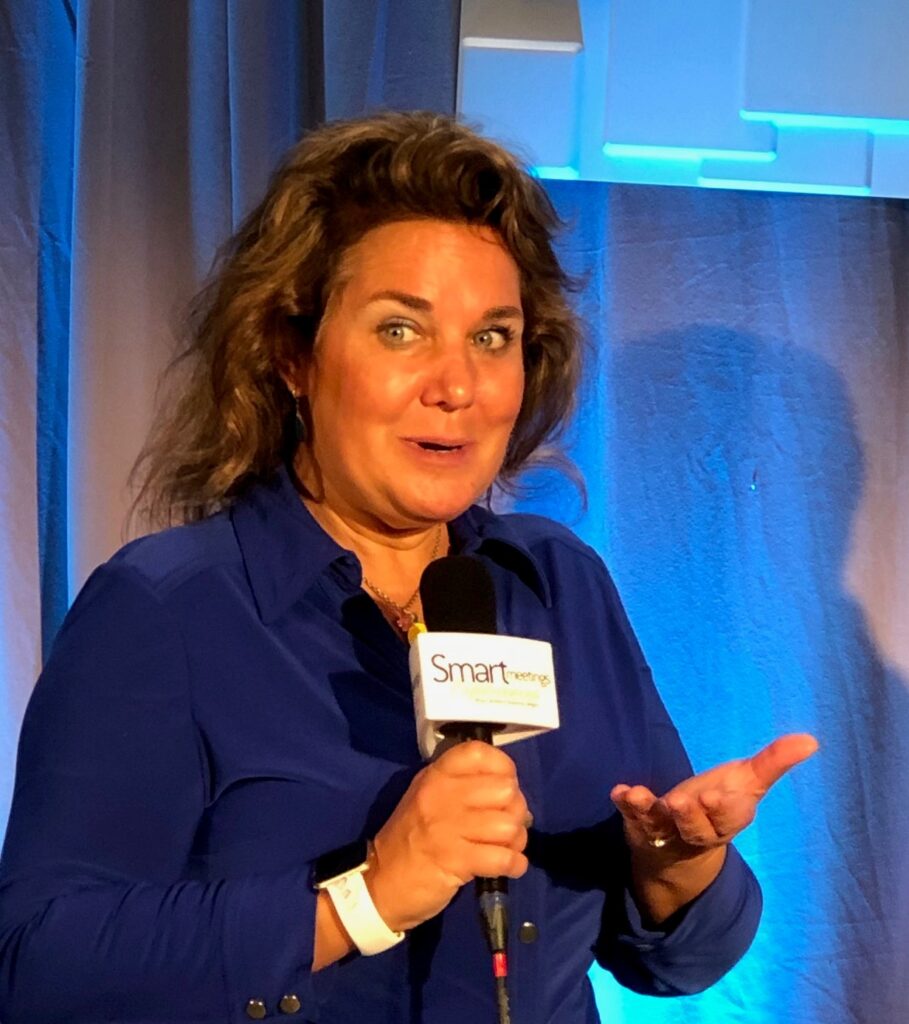 Be the Exception
Author, keynote speaker and optimist extraordinaire Annie Meehan, shared tips for living "The Pineapple Poem."  That means standing up straight (rather than glancing at our phones constantly) and looking people in the eye so they feel valued. Imagine wearing a crown like a pineapple to remind yourself to take care of yourself and honor the crowns on others. Finally, if you are sweet on the inside, that will show up at meetings and through the keyboard. "Let's spread that," she said in preparation for a day of one-on-one business meetings before sharing her tips for "living your extraordinary."
Be honest. We all tell stories that doctor reality a bit, but if we tell it enough, we start to believe it. Too often we tell negative stories about ourselves, our abilities and our prospects. Then we go on to live out those damaging stories. "We have to take care of ourselves, especially if we have the privilege and responsibility of taking care of people," she said.
Be open. Often mothers and fathers are a child's first hero, but beyond that, ask "who mentored you?" "Who poured into you" and "who do you pour into?" When you make yourself available to mentor others—and those cross-mentorships can be with three-year-olds through 103-year-olds—we can light the path for others.
Be healthy. That includes physical, spiritual, emotional, mental, cognitive, relational and financial health. "How will you change your life to make all those health areas better?" she asked. Commitment plus consistency over time changes things. "You get to choose how you show up," she reminded the room.
Be flexible. Leaders are learners. If every day you look for new ways to approach the world, you will go from good to great.
Be grateful. But go the next step and intentionally give something back every day. It can be coffee or a smile or just being willing to listen. "Being generous helps you get beyond yourself," she explained.
Be authentic. "After the year we have had, acknowledging the journey we have all taken together will bring us together," said Meehan, before Bright released the group to get business done.