At the MPI keynote kicking off the opening day, IMEX Group Chair Ray Bloom noted that this year's show floor is larger, with a record number of hosted buyers. His good news was followed by Four Day Weekend, the improv "corporate comedy" group whose upbeat message is that "it's not important what I know; it's what we know together." The group believes that the word "no" stops progress in its tracks, and that "mistakes" can actually be the jumping-off point for the best solution to any challenge.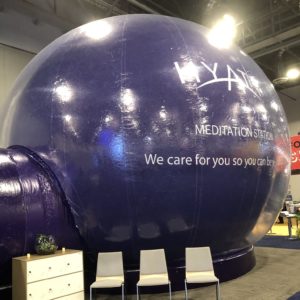 Instead, they espouse responding to any suggestion with a positive "yes, but…" or "yes, and…"
Yes, and attendees at IMEX America 2019 bring home more than swag after touring the destination experiences and tech solutions and hitting as many of the receptions as possible on opening night. Many companies take the opportunity of having thousands of event professionals and the attention of industry media to make announcements.
Smart Meetings roamed the floors and attended the briefings so you didn't have to. Here is what we found.
Solid Growth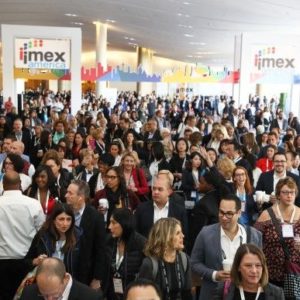 Three studies released at IMEX painted an optimistic outlook for the future of the industry. CWT Meetings and Events' 2020 Future Trends Report pegged growth in the meetings and events industry at 8 percent in the coming year despite looming geopolitical economic headwinds and an outlook of rising average air (1.2 percent) and hotel prices (1.3 percent).
The authors pointed to the protracted trade war between the United States and China, the future of Brexit, protests in Hong Kong and concern over the impact of climate change for feelings of general uncertainty in the global business community heading into 2020. However, CWT M&E is still projecting that 30 percent of marketing budgets will be spent on live events in 2020.
Additionally, the report called out the evolution of mobile event tech as a positive influence that will result in greater personalization and participation. A growing young audience is demanding authentic experiences and socially and environmentally friendly initiatives.
Similarly, American Express Meetings & Events' 2020 Forecast predicted moderate growth. "Reports of economic and political instability have not dampened the outlook of the meetings industry. Meeting professionals are bullish about 2020, as steady growth across all meeting types is predicted for the fifth consecutive year," the report concluded.
In addition to the emphasis on experiential elements and interactive technology, the American Express Meetings & Events report warned of a lack of available space, an emphasis on compliance management and safety and security measures.
In the incentive travel industry, the IRF 2019 Trends Study found "a great deal of market volatility with some of the largest U.S stock market swings to date," something that can have a profound impact on incentives, rewards and recognition programs.
Net optimism was measured at 3 percent. The report, which was a partnership of SITE Index, IRF Outlook and FICP, and conducted by Oxford Economics, showed that internationally, almost a third of planners (32 percent) said the national economy was having a positive impact on programs, while 29 percent saw it as having a negative impact. North America was notably more positive in comparison to the rest of the world.
Sustainable Everything
Events Industry Council (EIC) announced the launch of Center for Sustainable Events, a resource for planners and events venues that will offer webinars, a "robust" website, face-to-face elements and a sustainability certification program. At a press conference announcing the launch, EIC officials shared the dais with executives from IMEX Group, MGM Resorts and the United Nations Climate Change Secretariat.
Amy Calvert, CEO of EIC, said, "We don't want to be daunted by the enormity of the issue."
Yalmaz Siddiqui, vice president for corporate sustainability for MGM Resorts, added, "In the last two years, we've seen a sudden and dramatic interest in sustainability and sustainable events." He called these interested parties "a small but growing subset of the events industry."
Carina Bauer, CEO of IMEX Group, said, "Our vision is to be a showcase for the industry." Her vision is to position the events industry on the global stage as "a beacon of sustainability."
Miguel Naranjo, program officer for United Nations Climate Change Secretariat, sounded the most urgent note. "Sustainability is the only way to ensure that your business will continue to exist—it's not just something that's nice to do anymore." He said that, given the current rate of temperature rise, the planet has only a dozen years left to avoid irreversible consequences.
Good Works Recognized
ICCA and BestCities Global Alliance, have selected three winning associations as part of their Incredible Impacts Programme. The winners—European Lung Foundation in conjunction with European Respiratory Society, International AIDS Society and the International Society for the Prevention of Child Abuse and Neglect were called out as being, "leading examples of excellence within the global meetings industry." Events were praised for excelling in legacy development, diversity and accessibility. Each initiative will receive a $7,500 grant toward future projects.
Technology Announcements
Marriott International announced the launch of a new Marriott Bonvoy Events MarriottBonvoyEvents.com platform for meeting and event planners. For those who have bookmarked Meetings Imagined, the concept is similar. Visitors will find detailed information about meeting infrastructure at the brand's portfolio of more than 5,700 participating. The platform will also serve as a source for inspiration, including articles on the industry, tips and trends from meetings experts, success stories, destination highlights and promotions from hotels around the world. Planners can even submit RFPs for participating hotels.
A Points Calculator makes it easier to estimate the number of Marriott Bonvoy points earned for each meeting or event held at participating hotels.
Bishop McCann announced a partnership with Immersion Neuroscience to offer Return on Experience technology that pairs an app with a neurosensory worn by attendees on a wristband to give real-time feedback about engagement so planners can modify in the moment and plan better for future events. The system is available as a license and trainers can help to optimize implementation.
Destination Reports
News came from a number of CVBs.
Jason S. Gannon, managing director of LA Stadium and Entertainment District at Hollywood Park, reported on behalf of Discover Los Angeles that the first phase of the 298-acre entertainment complex for the Los Angeles Rams and Los Angeles Chargers is on schedule and on budget to open summer 2020 with lots of areas big and small for meetings experiences. The facility is booked to host Super Bowl LVI in 2022, the College Football Championship Game in 2023, and the Opening and Closing Ceremonies of the Olympic Games in 2028.
Discover Puerto Rico announced record high visitation and occupancy spending, with more hotel openings planned for the remainder of the year and a five-acre entertainment venue, District San Juan, scheduled to open in 2020 next door to Puerto Rico Convention Center.
Mike Waterman has returned to the sunshine state, where he started 30 years ago to serve as chief sales officer for Visit Orlando. He reported that in addition to an ongoing expansion at Orange County Convention Center and additional gates at Orlando International Airport (MCO), the city is expecting more hotel openings over 2019 and 2020 than it saw in the last 20 years.