A record number of business cards changed hands at the eighth annual IMEX America in Las Vegas as some 70,000 formal appointments took place at Sands Expo in a complexly refreshed Venetian Palazzo experience. That number included 64,000 individual appointments, an increase of 7 percent. A total of 70 percent of those appointments had RFPs attached, according to reports from the closing press conference of the three-day event this week.
Overall, 13,000 people donned the IMEX badge, including 3,300 hosted buyers. As part of a partnership with Meeting Professionals International (MPI), 850 people arrived a day early to attend educational sessions at Smart Monday. Additionally, MPI Foundation raised $400,000 for scholarships and programs, thanks in large part to the successful Rendezvous event at Drai's Nightclub. Association for Women in Events hosted five 2018 Women in Events Hall of Fame inductees on the trip and honored them with the help of IMEX Group CEO Carina Bauer at a Women in Events Happy Hour.
Partnerships were the order of the week as ASAE drew 120 association executives for The Association Leadership Forum and SITE Young Leaders Conference brought 1,000 meeting professionals with the goal of advancing their careers.
More: 2019 ASAE Preview: 8 Ways to Enjoy Columbus, Ohio
As IMEX founder Ray Bloom explained, the numbers don't tell the entire story. IMEX America is just as much about the connections and the legacy left by the experiences that occur when that many people come together to brainstorm new ways to touch audiences. A partnership with C2 International brought Cloud Lab—an example of a human-centric design that C2 Executive Director of Business Development Jessica Gibbons uses to help people learn, connect and "have one hell of an experience."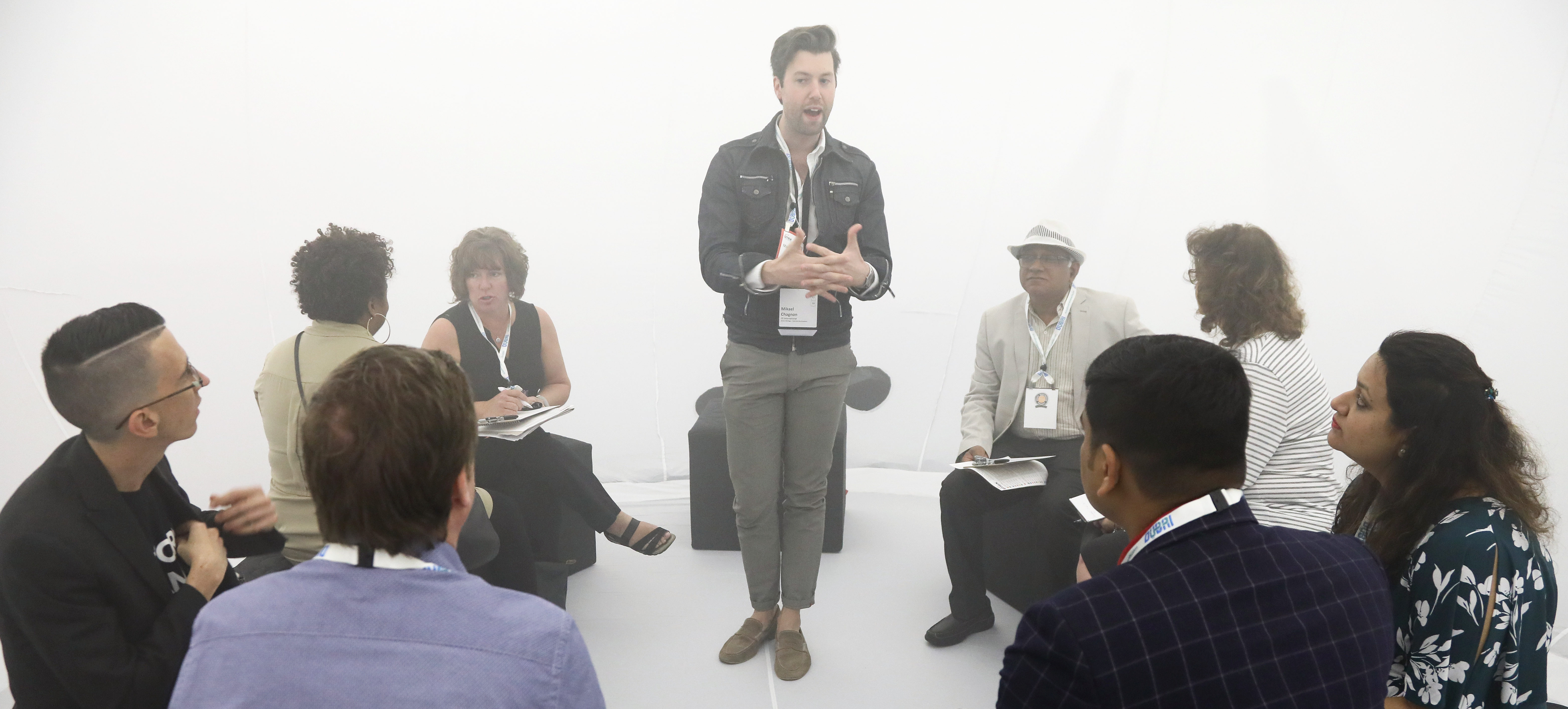 The Live Zone, Zen Space and interactive Tech Zone were also added to the expanded event floor to offer more inspiration to planners looking for new ways to interact with attendees and streamline processes. Intimate educational sessions were housed in blow-up igloos, with participants wearing headsets and asking questions through the Slido platform.
All of this business being done meant that the announcement at the gathering by the Events Industry Council of a new report showing that the meetings business generates more than $1 trillion worldwide in direct spending—a number on par with the consumer electronics industry—probably didn't come as a shock to anyone in the building. However, Bloom called it the "best kept secret that needs to get out."
See you next time—Sept. 10–12, 2019.