Smart Meetings CEO and founder, Marin Bright.
What happens when you gather some of the most inspirational women in the meetings industry on a bracing April day in Chicago and ask them what they think are the most important issues the industry needs to face today? The Smart Woman Summit did just that in a ballroom at Wyndham Grand Chicago Riverfront—with the goal of harnessing the superpowers in the room to inspire action.
Let Hospitality Lead the Way
Smart Meetings founder and CEO Marin Bright opened the discussion with memories of the state of the industry for women when she started Smart Meetings magazine 17 years ago. "I was often the only woman in the room," she said. "I didn't emulate the men in the room. I was all woman, and I owned it."
Today, more women are taking their place in business on their terms, and that is a good thing for families and businesses.
Bright pointed out that numerous studies have shown that when more women are in leadership positions, their companies outperform all-male boards and executive teams, have higher sales and better return on capital—66 percent better in some cases. The reason is simple. More diverse points of view result in more insight into what customers want, how problems can be solved and new ways to communicate.
Bright challenged the women in the room to lead the way to this more integrated and productive future. "The hospitality industry—which anyone who has stood in line for the ladies' room at IMEX knows is 70 percent women—can be the perfect example for the rest of the world by finally moving more representative faces into management roles," she said.
How to Get to More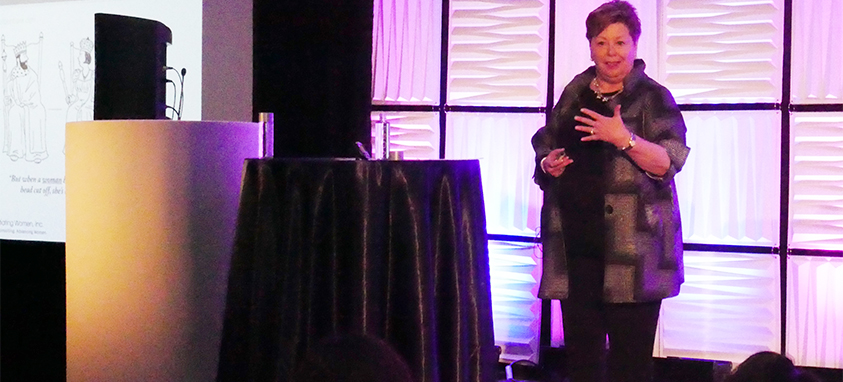 For tips and strategies on reaching the goal of a more integrated hospitality C-suite, Bright introduced master negotiator Carol Frohlinger, co-author of Her Place at the Table and Nice Girls Just Don't Get It.
Frohlinger advocated behaviors that reinforced a right to be heard and respected—powerful body language, for instance. When negotiating everything from kitchen duty to raises, she advised avoiding a questioning tone that indicated lack of confidence. She also talked about what is worth negotiating for. The surprisingly comprehensive list includes stretch assignments, advocating for yourself, asking for resources, boundaries, compensation, respect, time and flexibility. "Sometimes being able to control our schedules is the most valuable thing," she said.
Pledging Action
Frohlinger's list mirrored the one developed hours later when a panel of Smart Woman Award winners—Shameka Jennings, education and events manager, National WIC association; Mariles Krok, senior director of meeting sales, Visit Anaheim; Shelley Williams, director of sales, Caesars Entertainment; and Megan Tate, vice president, meeting and event manager, Wells Fargo—led a brainstorming session to itemize the priorities of the illustrious women gathered that day.
The list included:
Being more positive (influence at least one person a day for the better and attempt to be a better person today than you were yesterday);
Pursuing professional growth (including formal and informal education and working toward promotions);
Mentoring others (giving opportunities to those who have been denied those chances in the past helps everyone);
Taking risks (as expressed in calls to "be scared but do it anyway" and "use the haters to fuel the fire");
Self-care (finding balance and taking care of personal needs to have enough energy to take care of others);
And live with passion (that one seemed self-explanatory).
Now it is your turn to play along at work or home. What action will you pledge to take after reading the inspiring stories of this year's Smart Woman Award winners? Share it with us at #SmartWomanSummit, and let's cheer each other on in this important work.