Photo of Bangalore Palace, Bengaluru 
Bengaluru
Good to Know: Located in southern India, Bengaluru is the capital of Karnataka. Formerly known as Bangalore, it's called the Garden City because of a relatively temperate climate (generally 59 to 97 degrees) and high altitude (3,000 feet above sea level).
Business: The city of more than 8.5 million people is home to many of India's IT and defense industry contractors, including Infosys, Bharat Electronics and Hindustan Aeronautics. Nearby Bengaluru International Airport (BLR) is India's third-largest airport. Bengaluru, which is attracting biotech firms, is among the nation's best cities for universities, including Indian Institute of Science, National Law School of India and Indian Institute of Management.
Attractions: Palakkad "Tipu's" Fort, Nageshwara Temple, Karnataka Folk Museum, Lalbagh Botanical Gardens, Bangalore Palace, and Visvesvaraya Industrial and Technological Museum offer captivating experiences.
Meeting Space: Bangalore International Exhibition Centre has more than 430,556 sq. ft. of event space, four conference centers and 12 meeting rooms. MLR Convention Centre Whitefield offers six meeting rooms, including an auditorium/theater that seats 800, a banquet hall for 500 and an indoor area for 300. Manpho Convention Centre provides 100,000 sq. ft. of event space and 26 meeting rooms, with the largest being 32,000 sq. ft.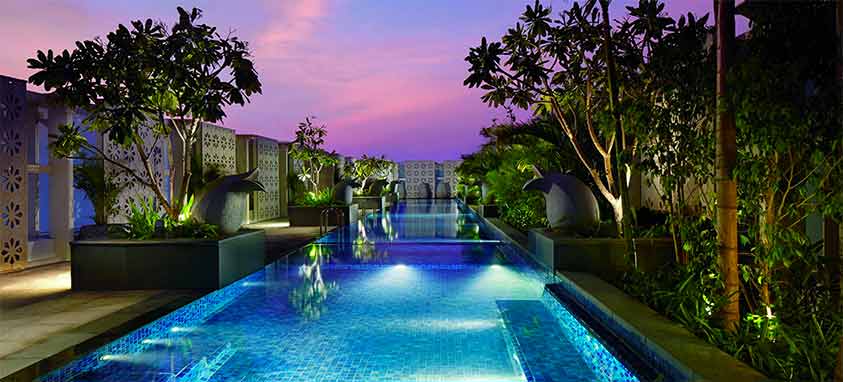 Photo of The Ritz-Carlton, Bangalore, Bengaluru 
Hotels: Bengaluru has 388 hotels. The Ritz-Carlton Bangalore offers 277 guest rooms and 18,000 sq. ft. of meeting space, accommodating up to 1,000, as well as four ballrooms for 84 to 700 guests, depending on seating configurations
Chennai
Good to Know: Located along India's southeastern coast near the Bay of Bengal, Chennai is India's fourth-most-populated city. It's the capital of Tamil Nadu. It is a popular tourist destination, and Chennai International Airport (MAA) is India's fourth-largest airport. The climate is tropical, with average temperatures ranging from 66 to 104 degrees.
Business: Hyundai, Renault, Nissan, Daimler, Ford and BMW have operations in Chennai, as does Caterpillar. India's film industry has a strong presence there. IT and computer companies are prolific, with Samsung, Lenovo, Dell, Flextronics, Siemens and Ericsson all doing business in Chennai. Financial institutions include Barclay's, Credit Suisse, Citibank, Deutsche Bank and many others.
Attractions: Fort St. George, Government Museum, The National Art Gallery, Shore Temple, Marina Beach, Express Avenue and Ampa Skywalk shopping malls serve visitors and locals.
Meeting Space: Chennai Trade Centre offers three conference centers, totaling nearly 114,000 sq. ft. of total air-conditioned space. In addition to banquet facilities, the center has exhibit halls that can accommodate up to 2,000 attendees in configurations of 20,000 sq. ft. It can accommodate groups of 150 to 250 and has a 500-seat theater. Total meeting space is 100,000 sq. ft., with the largest meeting room at 47,344 sq. ft.
Photo of Hyatt Regency Chennai
Hotels: Chennai has 202 hotels. Hyatt Regency Chennai is one of the most modern and impressive. It offers 325 guest rooms and more than 20,000 sq. ft. of functional meeting space, including multiple breakaway rooms, a ballroom and outdoor space.
Further Reading: