As the global headquarters for hip, Washington's Puget Sound is more than the birth place of Amazon, Starbucks Coffee Company and grunge music. The cities surrounding the base of the Space Needle are home to a state of mind with all the moods of the famously shifting Northwestern weather.
Whether your group is looking for airport-adjacent meeting space, water views from downtown Seattle or the high rises of Bellevue, be prepared to be surprised. We took the liberty of putting together a packing list for your next trip, based on all the options for making the destination a meaningful part of your next event.
Pack your Roller Bag to Navigate an Expanding Airport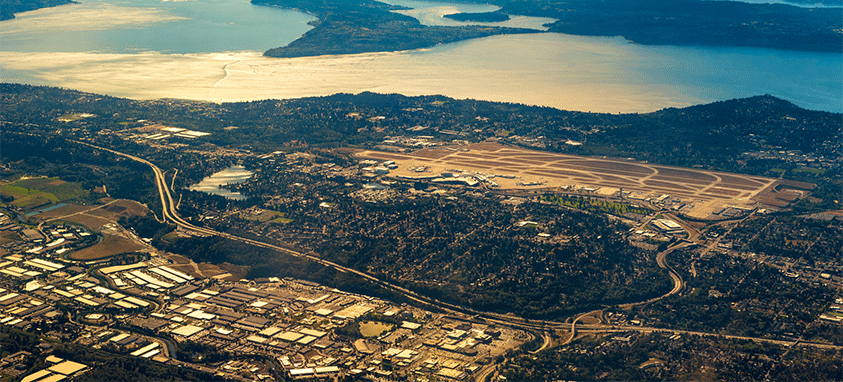 Visitors may want to schedule extra time to hang out under the biplane in Gina Marie Lindsey Arrivals hall with a cup of locally roasted coffee, watching the aeronautic action through a curving wall of 70-foot-tall and 300-foot-long glass. Seattle-Tacoma International Airport (SEA) is ranked ninth in the United States by passenger volume, with 46.9 million travelers last year, a figure boosted by the addition of four new international routes, including flights to London-Heathrow Airport (LHR) and Mexico City. To make room for projected growth, Port of Seattle is adding 180,000 sq. ft., doubling space for eating and shopping, and adding eight more gates by 2021.
Almost 40 million visitors overnighted in King County in 2017, an increase of 2.6 percent from the previous year, according to Visit Seattle President and CEO Tom Norwalk. A big chunk of that business was for conferences. More than 300,000 convention center hotel room nights were booked. With almost 2,500 new hotel rooms planned for opening this year—an increase of 20.5 percent from 2017—you can bet even more groups will find their way to Seattle next year.
An easy gathering place for arriving guests is a quick shuttle ride to Seattle Airport Marriott, where 14,537 sq. ft. in 14 event rooms awaits. Alternatively, check into Aloft Seattle Sea-Tac Airport hotel and plan to hang out in the lobby by the fireplace, or outside on the patio.
Bring Your Appetite to a Downtown Seattle Meeting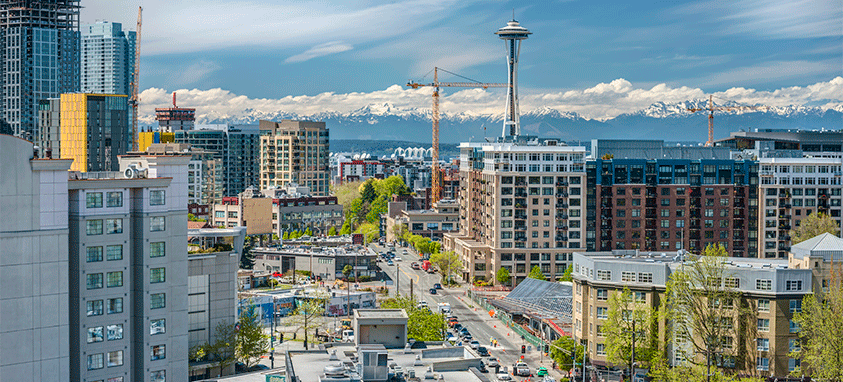 You can pack your umbrella, but you may not need it. Despite its reputation, Seattle, Tacoma and Bellevue average fewer rainy days (92) than cities in the country as a whole (102). You may need comfortable walking shoes, however, as there is a lot of ground to cover.
Washington State Convention Center has 252,166 sq. ft. of exhibition space on two levels, including 59,500 sq. ft. of ballroom space. Construction of an additional, similar-sized convention center facility a block north is scheduled to break ground this year and be completed in 2021.
Even the infamous Space Needle, a landmark since the 1920 World's Fair was in town, is undergoing an update. Half-walls and safety caging have been removed from the 520-foot revolving disk housing 3,755 sq. ft. of reception space and replaced with a floor-to-ceiling viewing experience.
And when it comes time to wine and dine your group downtown, the options for fresh, local cuisine are more than we could pack into this article. Convenient to Renaissance Seattle Hotel (27,940 sq. ft. of event space), W Seattle (10,000 sq. ft. of event space) and Sheraton Seattle (75,000 sq. ft. of event space) are Metropolitan Grill (75 for a reception in an elegant steakhouse setting), Flying Fish (70 for a reception featuring fresh Northwest seafood) and Tulio (660 sq. ft. of private dining space linked to Kimpton Hotel Vintage Seattle).
If the meeting is planned closer to Pike Place Market and the waterfront, Seattle Marriott Waterfront (17,962 sq. ft. of event space) is home to Hook & Plow, a gastropub with local craft beers, bounty and bay views. The Edgewater (10,000 sq. ft. of event space on the bay) boasts the signature Six Seven restaurant. Or go out to the tip of Pier 70, where award-winning meals for up to 400 come with a side of scenic views.
For an intimate experience, the new boutique property The Charter Hotel, part of the Curio Collection by Hilton (6,0000 sq. ft. of meeting space), boasts 229 guest rooms, including 12 one-bedroom suites and an indoor-outdoor rooftop lounge with inspiring Northwest views.
? Smart Tip: Bring Pike Place Market to the meeting room. Jeff Ouradnik, director of sales and marketing at Hyatt Regency Lake Washington (60,000 sq. ft. of event space, with views of Seattle) suggests setting up stations like the famed fish-throwing venue and offering fresh oysters, vegetables and desserts, without the tourists.
Stash a Lot of Business Cards
Home to Microsoft, Honeywell and Aerojet, Redmond is 18 miles from downtown Seattle and a place where things get done. In fact, you might want to include visits to the Microsoft and Nintendo visitor's centers for inspiration and a little shopping. Or stop by Redmond Town Center where bocce, shuffleboard and retail therapy are in the bag.
In the middle of it all is the freshly remodeled Seattle Marriott Redmond (8,591 sq. ft. of total event space). Because it is steps from the consumer electronics giant, this property features M Space, an innovative conference venue featuring ergonomic, collaborative workspaces with Wi-Fi powerful enough for the flashiest PowerPoint presentation.