Event planners look to Western Canada for backdrops that add a natural, multicultural glow to meetings
What is red and white and world-renowned for embracing visitors of all creeds and colors in natural beauty and cosmopolitan style? Western Canada—specifically, British Columbia and Alberta—has increasingly become the destination of choice for event planners looking to blend Olympic-level amenities, stunning scenery and easy airlift with a West Coast vibe.
From Victoria, Vancouver and Calgary's urban, multicultural energy to Edmonton's rich history and the high-altitude luxury of Whistler, Banff and Lake Louise, events staged in the northern air are infused with a more relaxed, spacious feeling.
All of this grandeur is now on sale thanks to the strong U.S. dollar, and made even more attractive to international travelers because it is seen as relatively more welcoming to those beyond the borders of its southern neighbor. And the even better news for event planners is that there are now more options for places to stage memorable events that take advantage of that famous Canadian hospitality.
Victoria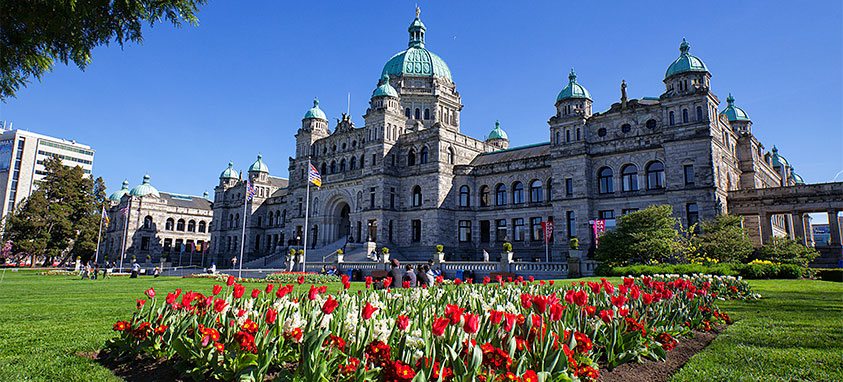 As capital of British Columbia, Victoria reigns in green splendor from the extreme southern end of Vancouver Island. Awash in Victorian architecture and lush landscaping, it's the perfect setting for meetings.
The crown jewel of this colonial heritage, Fairmont Empress, completed a $60 million transformation in May that included a new lobby and grand entry way, renovated Willow Stream Spa and upgrades to the 23,000-square-foot Crystal Ballroom. Combined with adjacent Victoria Conference Centre, groups have access to 96,000 sq. ft. of stately meeting space. Even the tradition-bound Q at the Empress, where 1 million high teas have been hosted, was refreshed with what it calls "a modern twist on royalty."
Standing by the Grand Dame is The Butchart Gardens, 55 acres of year-round floral displays, water features and a delicately painted carousel ideal for Instagram moments. In the middle of this beauty is meeting space for up to 400 people in view of garden pathways.
MAJOR MEETING VENUES IN VICTORIA

Delta Victoria Ocean Pointe Resort
Waterfront resort; 240 guest rooms; 14,363 sq. ft. of meeting space; 14 event rooms; outdoor patio with water views.

Fairmont Empress
464 guest rooms; 33 meeting rooms; 23,000 sq. ft. of conference space; 96,000 sq. ft. of flexible meeting space; Willow Stream Spa; afternoon tea.

Hotel Grand Pacific
304 guest rooms; 13 meeting rooms; 10,000 sq. ft. of flexible space; Victoria Athletic Club; private dining room.

Victoria Marriott Inner Harbour
AAA Four Diamond property; located in downtown Victoria; 236 guest rooms; 10 meeting rooms: 5,000 sq. ft. of meeting space; Fire & Water restaurant; indoor pool.

Victoria Conference Centre
73,000 sq. ft. of meeting space; 25,000-square-foot Crystal Garden; 20 multipurpose rooms; 400-seat lecture theater.
Vancouver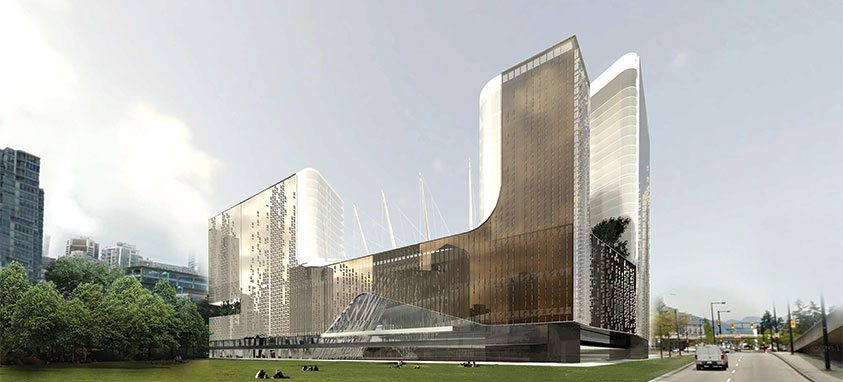 At almost 2.5 million people, the Vancouver metropolitan area is the most densely populated stretch of British Columbia. It is also known as one of the most ethnically diverse. More than half of the people living there primarily speak a language other than English. Dave Gazley, vice president of meetings and convention sales for Tourism Vancouver, says the urban, multicultural mix is a boon for visiting groups because it translates into the chance to find authentic cuisine of all types at almost all hours of the day. It also has a welcoming, open feel—with something for anyone—that is unique to the Pacific Northwest. In fact, the city also known as Hollywood North welcomed more than 10 million people for overnight visits in 2016, according to Tourism Vancouver.
"Canada is easy and close to the U.S. and a good value on the dollar for Americans," Gazely explains. He is also seeing more corporate and incentive travel from Asia-Pacific this year. "I have heard some say there is a hesitancy from international groups to hold meetings in the U.S. right now because of travel policies there. That might be contributing to the uptick in business from Mexico and South America." In 2016, British Columbia as a whole saw an increase of 10.5 percent in visitors from the United States, 12.9 percent from Asia-Pacific and 54.6 percent from Mexico, compared to 2015.
With all this new international popularity, the biggest challenge can be finding hotel space. Enter the brand-new Parq Vancouver (pictured above), steps from BC Place. Developed by Paragon Gaming Holding Co. (of Hard Rock Hotel & Casino Lake Tahoe and Westgate Las Vegas fame), this $640 million resort is actually two hotels under one undulating roof—Western Canada's first JW Marriott Hotel and an Autograph Collection boutique hotel, The Douglas (a nod to the full-size fir tree replica in the lobby). This glass-clad "dialogue of nature and city," as Marriott literature describes it, is now the city's largest hotel ballroom, with 60,000 sq. ft. of total meeting space outfitted with floor-to-ceiling windows to let in the uniquely British Columbian light.
The complex includes eight diverse restaurants and lounges that channel the Pacific Northwest attitude toward mixing cultures and natural ingredients. Its total of 459 guest rooms and 58 suites exude cosmopolitan elegance. A two-level, natural-light-filled, separate casino area offers 600 slot machines and 75 gaming tables, including baccarat and Sic Bo (an ancient Chinese dice game that is gaining in popularity). All of this luxury is topped by a 30,000-square-foot park (known as The Parq and available for rental) on the sixth floor, an outdoor oasis with native trees, waterfalls and breathtaking views, as befits the development's LEED Gold certification.
The large green space also fits nicely with Vancouver's approach to event planning. Gazely says residents of his city love taking "it" outside. The "it" in this reference is to meetings, of course. While the summer climate in this coastal city could fool some into thinking they had been transported to a Mediterranean seaport, October through March can be wet. That is why the great outdoors, with its mountain views and clean air, is often the first choice for staging an event, but contingency plans are highly suggested.
BC Place Stadium, home of the BC Lions CFL team and one of the venues expanded for the 2010 Olympics (that was where Canadians Bryan Adams and Nelly Furtado performed during the opening ceremonies), is an example of embracing the outdoors—but with a plan B. It is topped by the world's largest cable-supported, retractable fabric roof for year-round comfort, whether it is a football game, concert or corporate event.
Even the Vancouver Convention Centre is designed to embrace the outdoors. It is 466,500 sq. ft. of meeting space, including a glass-fronted ballroom with breathtaking views of the water and snow-capped mountains, that welcomes more than 500 events a year. It was built in 1986 for the World's Fair Expo and has since tripled in size. It is anchored by a 33-foot-tall Olympic Cauldron statue and topped by a 6-acre, grass-topped living roof, making it the world's first LEED Platinum-certified convention center. The communication system was pumped up for the Olympic games, when more than 10,000 journalists made it their home for the duration; now conference attendees enjoy the digital power left behind.
In collaboration with The British Columbia Institute of Technology, it will be home to more than 1,000 green researchers from 30 countries in October 2019, for a debate about Socially Just and Sustainable Cities. When Kirstin Miller, executive director of Oakland-based Ecocity Builders announced the choice of venue, she called the city a case study in ecologically and socially healthy city planning and said the event would set up "a legacy project and contribution that can continue to have an impact after the conference has concluded."
Also new to downtown Vancouver in 2017 is Trump International Hotel and Tower Vancouver. The $360 million, twisting tower opened in February as one of the tallest buildings in the city, with 69 stories. It boasts 147 guest rooms with views of the coast and city. The 15,000 sq. ft. of meeting space sports glass walls and doors to allow the natural Pacific light to flow.
MAJOR MEETING VENUES IN VANCOUVER

Fairmont Hotel Vancouver
557 guest rooms; 55,000 sq. ft. of conference space; 17 meeting rooms; Notch8 restaurant; landmark location.

Fairmont Waterfront
489 guest rooms; 24,000 sq. ft. of meeting space; Arc restaurant; 2,100-square-foot herb garden and apiary.

Rosewood Georgia Hotel
156 guest rooms; 9,847 sq. ft. of meeting space, including rooftop terraces, garden courtyard and jazz lounge; Forbes Four Star hotel.

Trump International Hotel & Tower Vancouver
147 guest rooms; 15,000 sq. ft. of meeting space; Mott 32 restaurant; tallest tower in the city.

Vancouver Aquarium
Set in Stanley Park; 100,000 sq. ft. of meeting space for groups as large as 2,400; Ocean Wise initiative supports conservation, education and research with every event.
Whistler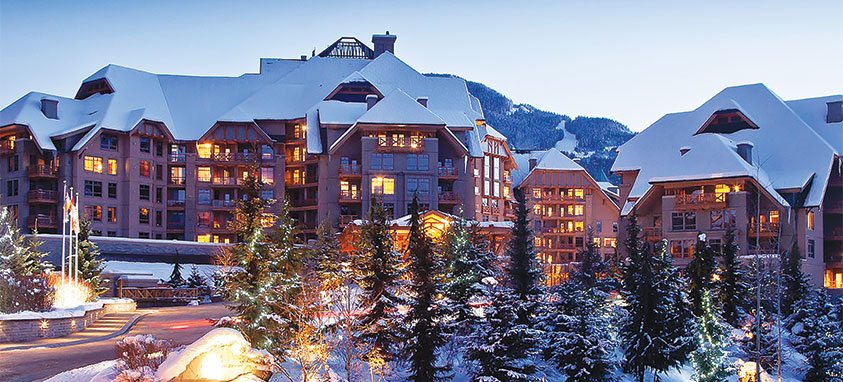 A short 1.5 hours away, visitors to Whistler also enjoy the bounty of event space and highway infrastructure left behind by the Olympic building frenzy. The resort community is now home to more than 3,000 total hotel guest rooms, with more planned. Groups can regularly be seen year around on Canada's longest zipline, holding biathalon team-building exercises and event picnics at the top of the ski jump chute. New this year: an expanded Roundhouse Lodge patio area at Whistler Blackcomb ski and mountain bike area opens up 10,000 sq. ft. of heated outdoor seating as part of the restaurant's award-wining restaurant experience. More improvements are in the planning stages. Last year, developers announced a $345 million expansion that will include more year-round activity space plus, in future phases, One Blackcomb Place, a property being billed as a "six-star luxury boutique hotel, residence and club."
Those planning an event this year can choose from a number of recently renovated escapes. Five-star Four Seasons Whistler (pictured above) is already the largest ski resort in North America. With almost 300 guest rooms, more than 12,500 sq. ft. of meeting space and access to a pedestrian village of shops and restaurants, the options for creating memorable experiences are vast. New this year is Audain Art Museum, a prime location for an event highlighting the spirit of First People and contemporary artists.
Fairmont Chateau Whistler recently completed an extensive five-year, $23 million renovation with a modern alpine aesthetic. It included all 32,000 sq. ft. of meeting space in the 539-room, ski-in/ski-out hotel, which can host up to 1,500 people in the conference center, rooftop terrace and three ballrooms.
Preston Miller, director of conference sales and services for Tourism Whistler, says the world has definitely discovered this mountain escape. "The groups are getting more diverse each year," he says. Like Vancouver, Whistler has seen an increase from Mexico, but also from the United Kingdom and Asia. It is also a convenient destination for Midwest associations and financial and insurance groups coming from New York and elsewhere along the East Coast. While Seattle-based companies have always seen it as a hop over the border, Silicon Valley is also discovering the destination. "They appreciate the campus-like feel of the destination and the networking moments you don't get in other places," he says. "You just don't get lost here."
Whistler Welcomes Peptide Symposium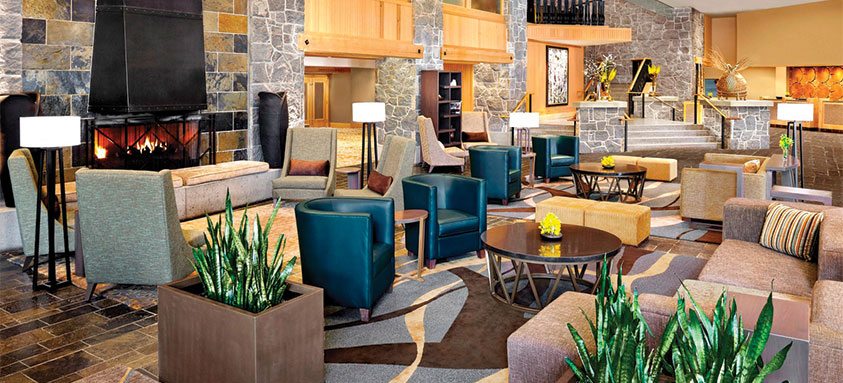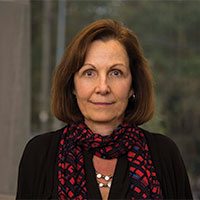 When Judy Warner (pictured right), senior conference manager at Indiana University Conferences, was looking for a western location for 600 people who would be attending the American Peptide Symposium, a biennial conference on peptide research, she quickly settled on Whistler Conference Center as the ideal location.
Attendees stayed across the street at The Westin Resort & Spa (pictured above) and Hilton Whistler Resort & Spa. She described it in the marketing materials this way: "The pedestrian-friendly Whistler resort combines the charm of an alpine village with the outstanding accommodations and restaurants of an urban center. It offers numerous opportunities for mountain sports, wildlife watching and hiking."
Three months later, she reported the event had been a huge success. "Not one complaint," she says. "The setting just made everyone happy. It is not like being in a convention center. This felt more like a cozy lodge." She planned a tight program, and the centralized conference center helped because everything was onsite.
MAJOR MEETING VENUES IN WHISTLER

Fairmont Chateau Whistler
Ski-in/ski-out hotel and golf resort; Aububon-certified championship golf course; fine-dining The Grill Room; 539 guest rooms; 32,000 sq. ft. of attractive meeting space; 12 meeting rooms; rooftop terrace; three ballrooms.

Four Seasons Whistler
273 guest rooms; 12,695 sq. ft. of meeting space; part of pedestrian village; award-winning spa with eucalyptus steam room and glacier rain showers; Taste of Whistler dining experiences.

Hilton Whistler Resort & Spa
287 guest rooms; nine meeting rooms; 10,400 sq. ft. of meeting space; Cinnamon Bear Grille and Cinnamon Bear Bar; Javanese-style Taman Sari Royal Heritage Spa.

The Westin Resort & Spa, Whistler
400 guest rooms; 20,000 sq. ft. of meeting space; ski-in/ski-out and Whistler Village access; three restaurants, including regionally inspired Grill & Vine.

Whistler Conference Centre
More than 40,000 sq. ft. of conference space; drive a car into the ballroom; conveniently located in The Whistler Conference Centre.
Calgary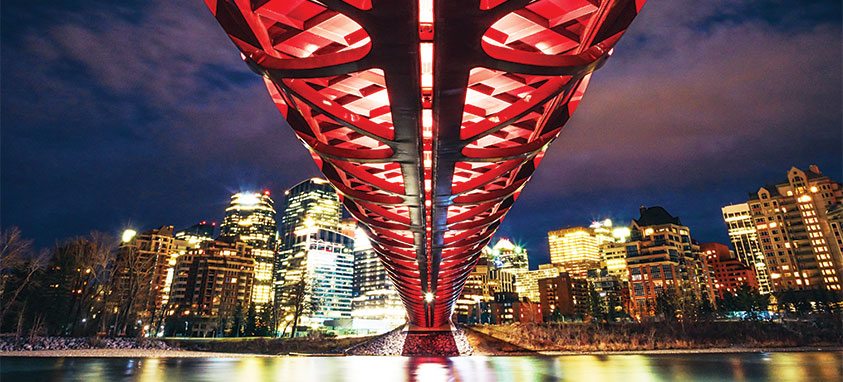 Kyla Knudson, business development director at Travel Alberta, says that, apart from residents of Canada, the United States is still the largest market for meetings and incentive trips into this destination. California, in particular, is huge because of the number of direct, nonstop flights into Calgary International Airport (YYC), which recently doubled in size, thanks to a $2.6 billion investment in a new runway and international terminal.
"Texas remains a strong market because Alberta is the energy capital of Canada," she says. Overall, she reports, "Canada is seeing an uptick globally because it is seen as a safe, exciting destination—plus there is a 30 percent savings on the dollar because of the exchange rate."
Calgary and Edmonton offer more ways than ever to savor the unique flavors, sounds and sights of Alberta. The new $191 million Natural Music Center in Downtown Calgary celebrates the history of music across Canada in a big way. It is 160,000 sq. ft. of interlocking towers on five floors with interactive displays and a 300-seat performance hall. The building incorporates the former King Edward Hotel, the oldest continually operating hotel in Calgary, as the cornerstone of Studio Bell music programming. Boom Goes the Drum, an event-planning team based in Calgary, recently staged an All Stars reception there for 1,500 people.
Nearby, the new Hudson (naturally located on the sixth floor of Hudson's Bay's heritage building) is an 18,000-square-foot event center that combines spectacular views with historic architecture and modern conveniences. Bonus: It offers easy access to The Guild, billed as advancing "the finest traditions of butchery, cookery and bar-keeping in Canada."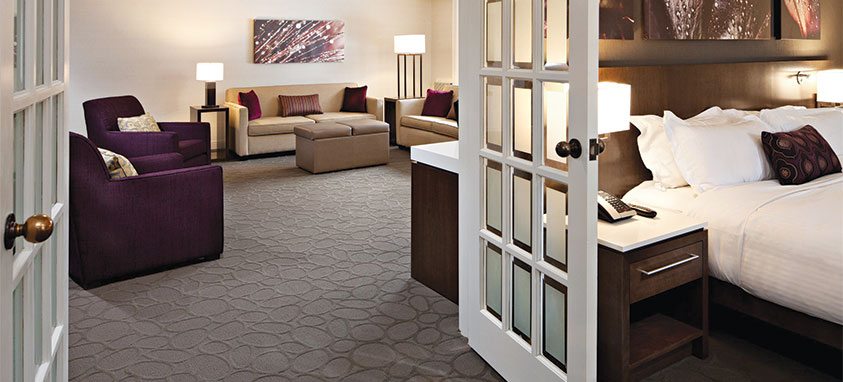 For those looking to really get away from it all, Delta Hotels Kananaskis Lodge (pictured above), a Marriott property built for the Olympic games near Barrier Lake, recently renovated its 16,517 sq. ft. of meeting space, 12 breakout rooms and 416 guest rooms at a cost of $26 million. As part of Kananaskis Village, events can leverage the options at five restaurants and bars, an ice-skating rink, a new Nordic spa and Rocky Mountain outdoor activities.
Edmonton
The coolest thing happening on the meeting scene in Edmonton is the Ice District, a mixed-use sports and entertainment district adjacent to Rogers Place, home of the Edmonton Oilers NHL hockey team. The stadium opened in September 2016 at a cost of $600 million. The 1.1 million-square-foot arena seats 20,000 for a concert and is connected to Grand Villa Casino, a $32 million, 60,000-square-foot gaming center that features seven restaurants. The facility is shaped like an oil drop to pay tribute to the energy sector that fuels much of the local economy, and the front door is a 34,000-square-foot Winter Garden space that can host events in a modern, artistic venue, connected to or separate from events in the stadium.
The first luxury hotel, JW Marriott Edmonton, is set to open in 2018. It will offer 356 guest rooms, more than 25,000 sq. ft. of meeting space and one of the city's largest ballrooms, a 10,000-square-foot stunner. It will also feature a Spa by JW and restaurant.
MAJOR MEETING VENUES IN EDMONTON

Fairmont Hotel Macdonald
198 guest rooms; 10,000 sq. ft. of meeting space; AAA Four Diamond, castle-like property dating to 1915; Fine-dining restaurant, The Harvest Room, overlooks North Saskatchewan River Valley; Confederation Lounge has expansive patio.

The Westin Edmonton
In downtown Edmonton near Arts District; 416 guest rooms; 24,000 sq. ft. of meeting space; 15 meeting rooms; largest hotel ballroom in Edmonton; minutes from Edmonton Expo Centre; Share restaurant features locally sourced cuisine.
Banff and Lake Louise
The historic Fairmont Chateau Lake Louise has been providing refined luxury to outdoor enthusiasts since 1890 by strategically improving what is now 552 guest rooms and 36,000 sq. ft. of meeting space. Most recently, Alpine Social, a gastropub, was added to the inventory of seven dining options. After all these years, the hotel still specializes in healthy outdoor experiences, including a signature Rocky Mountain Heritage Tour.
Similarly, Fairmont Banff Springs has a 125-year track record of welcoming guests to its castle in the Rockies. Its 764 guest rooms and 76,000 sq. ft. of meeting space combine the best of historic spaces and advanced technology. For a distinctive glacier-to-glass experience, Park Distillery in Banff offers group tours of small- batch brews made from Rocky Mountain water and Alberta-sourced grain that is hand-mashed and distilled. It is the perfect excuse to provide vodka goodie bags.
Banff Raises Expectations for Oil and Gas Conference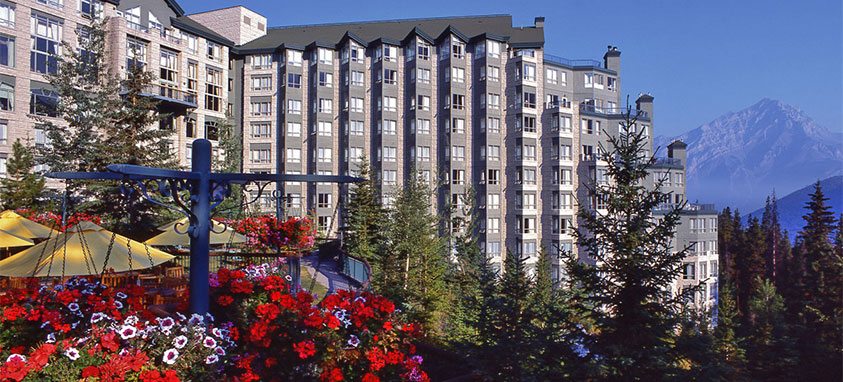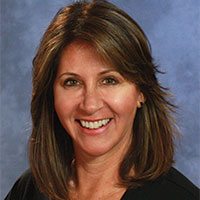 Avery Bank (pictured right), strategic events manager at New York-based Willis Towers Watson, said holding a Canadian Oil and Gas Conference in Banff for 100 people from Canada, the United States and United Kingdom was a logical choice. Calgary is still an energy powerhouse in Canada.
The group stayed at Rimrock Resort Hotel (pictured above) and rode the newly renovated Banff Gondola to 2,900-foot elevations at the top of Sulphur Mountain, and had dinner at Sky Bistro, with 360-degree views of the Canadian Rockies. "It was beautiful, with the snow just starting to fall and coat everything white," she recalls.
The group is considering going back in two years, but she knows she needs to book early. "There are limited hotel rooms, and it is a popular tourist destination, so we need to plan ahead," Bank says.
MAJOR MEETING VENUES IN BANFF & LAKE LOUISE

Delta Hotels by Marriott Banff Royal Canadian Lodge
99 guest rooms; 2,569 sq. ft. of meeting space; three meeting rooms; multipurpose Palliser Salon with natural light; Evergreen Restaurant and Lounge.

Fairmont Banff Springs
764 guest rooms; 76,000 sq. ft. of meeting space; full buy-out accommodates 1,400 people; Eco-Meet program simplifies sustainable meetings and CSR initiatives.

Fairmont Chateau Lake Louise
Century-old lakeside property surrounded by mountain peaks; 552 guest rooms; 36,000 sq. ft. of meeting space; Mount Temple Wing business center; guided mountain heritage programs; sustainability leader.

The Banff Centre for Arts and Creativity
433 guest rooms in two hotels; 70,000 sq. ft. of meeting space; 60 meeting rooms, including LEED-certified Kinnear Centre for Creativity and Innovation, 330-seat auditorium at Max Bell Building and Shaw Amphitheatre.
6 Great Ways to Infuse Western Canada Spirit in Your Next Meeting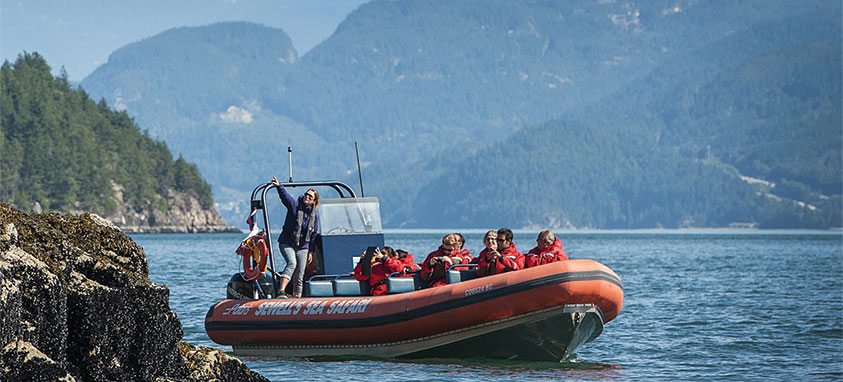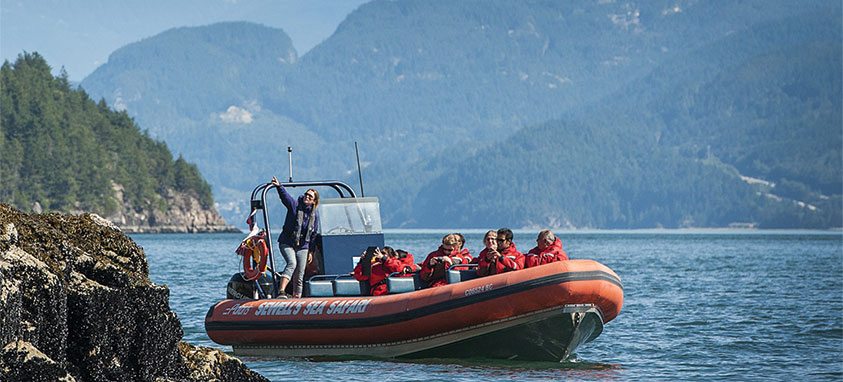 In Western Canada, the best meeting breakthroughs happen when you get outside the conference rooms. Here are some unique ways to bring a little bit of mountain magic into your next event.
1. Go for a bull's-eye. Engage in a little friendly competition and try your hand at the classic Canadian activity of axe throwing atop Grouse Mountain, just 15 minutes from downtown Vancouver. Skilled lumberjacks will show your guests the ropes and facilitate a tournament.
2. Cruise the Sound. North of Vancouver, Sewell's Marina (pictured) sits at the mouth of the Howe Sound fjord, and is home to whales, seals and huge communities of sea birds. Combine exploring this spectacular area with a competitive team-building activity with Sewell's Sea Quest Scavenger Hunt.
3. Make a clean sweep. Show your respect for Vancouver's waterfront by helping to keep it clean and safe for others to enjoy as well. Organize a shoreline cleanup through Vancouver Aquarium to bring your group together for a meaningful CSR team-building activity.
4. Tell a long tale. Fire Roasters Long Table Stories Dinners in Edmonton brings together innovative chefs preparing the freshest of family-style meals with the programming sensibilities of campfire storytelling—all to connect people with each other and the land.
5. Luge with a purpose. Traveling at speeds of almost 50 mph on the world's longest luge track will bring the best out of any group. Calgary's Winsport is home to Skyline Luge, a unique, wheeled gravity ride that provides riders full control over their descent. Plus, onsite catering and meeting space can accommodate up to 3,000 people.
6. Power through the Breakout. Urban Pedal Tours allow groups to cycle their way through Edmonton's craft beer scene while taking in the sights. The Old Strathcona Tour is a two-hour jaunt on a covered group bike through a center of art, culture and breweries.