The Lone Star State has reinvented itself for the 21st century
Texas never fails to impress, with its size, personality and hospitality. Six flags have flown over it, the independent Republic of Texas was a real thing and everyone knows not to mess with it. But if you think you know Texas, think again.
The state is growing so rapidly that change is inevitable. Per the U.S. Census Bureau, Texas was the fastest-growing state from 2010 to 2016, adding 2.7 million residents. San Antonio added more residents last year than any city besides Phoenix and Los Angeles—and Austin, Houston and Dallas aren't far behind.
Texas is also diversifying at an exciting pace: Two-thirds of its residents under the age of 19 are non-Caucasian. With the 11th-largest economy in the world and a skyrocketing population of 28 million, Texas is one of the most dynamic places on earth.
Outdoorsy Austin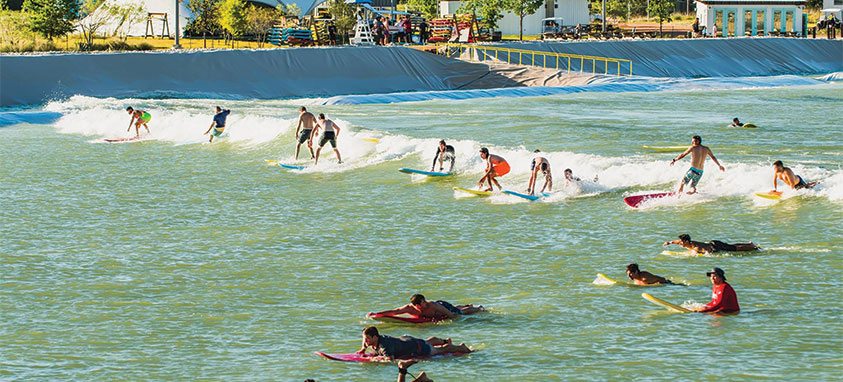 The Expected: University of Texas students swarm the state capital, while SXSW festival hipsters fill the music clubs.
The Unexpected: Year-round outdoor playground.
There's so much to like about Austin that U.S. News named it the No. 1 place to live in the United States in 2017. The music joints beckon, as do the plethora of bars and restaurants, but who wants to stay indoors? Austin is home to more than 300 parks, including 360-acre Zilker Park.
"One of the most underrated aspects of the Austin area is the beauty of the local outdoors," says Ryan Galvin, director of sales and marketing at Hyatt Regency Lost Pines. "In Austin, we have very mild falls and winters, making them a perfect time to get outside and explore. At Hyatt Regency Lost Pines Resort & Spa, guests can do everything from taking horseback rides to enjoying perfect golfing weather, to ziplining, to enjoying more than 18 miles of hike-and -bike trails."
Located just 2 miles from downtown Austin, Lady Bird Lake Hike & Bike Trail follows the edge of the lake for 10 miles in and around Zilker Park. Inside the park, groups can take advantage of Barton Springs Pool, a unique urban swimming environment. The massive, 3-acre swimming lagoon welcomes swimmers to spring-fed, 68-degree waters year-round.
Austin heats up in the summer—so, cowabunga, catch a wave! Landlocked Austin is nearly 400 miles from the nearest surf, at South Padre Island. Enter NLand Surf Park (pictured above), the only inland surfing destination in North America for surfers and wave sport enthusiasts, from grommets to big kahunas. The Wavegarden machine creates perfect 1-to-6-foot tubes every minute, and the lagoon is self-sustaining even in drought, by collecting and repurposing rainwater. Groups of 10 can reserve a reef or lagoon; local caterer Blue Prairie serves up farm-to-table fare for hungry surfers.
Prefer land-based thrills for a corporate hangout? Rock climbing is all the rage for team-building events. Climbing is not only great fun—it is also a great way to develop trust, cooperation, goal-setting and problem-solving. In Austin, even beginners can put themselves to the test at Reimer's Ranch, one of the top rock-climbing destinations in the country. Organizations such as Rock About will set it up and make it happen.
What's New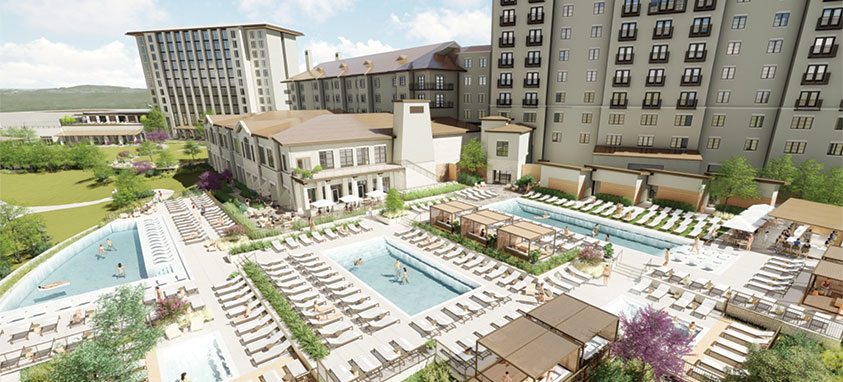 Venues continue to develop around the city, yet it still retains the small-town feel for which it is famous. The Yard is a brand-new, 150,000-square-foot, mixed-use space in the old warehouse district on South Congress with an eclectic mix of retail, manufacturing and office space. Beverages predominate, from beer—naturally—to coffee, whiskey and wine. Groups can enjoy some unexpected activities, as well. Wooly's Beach is all about beach volleyball, so groups should rent a court or several of them. Group lessons are part of the program, so brush up on those skills and hold a company tournament.
Just adjacent, the nascent Saint Elmo project will include a 40,000-square-foot, indoor-outdoor public market. Food and drink stalls will house local vendors plus 20 to 30 retail businesses, from bakeries to creameries. Other space will include offices, and indoor and outdoor communal seating— including rooftop—as well as a brewery and beer garden. The entire space is tailor-made for groups, so be the first on your block—the site opens next year.
Omni Barton Creek Resort & Spa's $150 million expansion (pictured above) will fully transform the iconic property into a 493-room Austin retreat, with a targeted completion date in mid-2019. In addition to redesigned guest rooms, the project will feature a new resort tower, conference center and ballroom, event pavilion, six dining outlets, a Mokara Spa, lobby experience, expanded pool scape, golf clubhouse, golf course renovations and tennis complex.
MAJOR MEETING VENUES IN AUSTIN

Austin Convention Center
Close to 8,500 hotel rooms in downtown area; 246,000 sq. ft. of event space; 5 column-free exhibit halls; seven ballrooms; Wi-Fi can move 1 billion bits of data per second.

JW Marriott Austin
Two-minute walk to Austin Convention Center; 1,012 guest rooms; three restaurants; fitness center; spa; sauna; rooftop pool and bar; 120,000 sq. ft. of meeting space, divided among 42 rooms.

Omni Austin Hotel Downtown
392 guest rooms; short walk to Austin Convention Center; Ancho's restaurant features Southwestern cuisine; horse-drawn carriage rides available; 20,000 sq. ft. of meeting space.

The Driskill
Built in 1886; oldest operating hotel in Austin; 10-minute walk to Texas Governor's Mansion; 189 smoke-free guest rooms; Driskill mezzanine cocktail bar features classic drinks; 24-hour fitness center.
Dallas: So Much More than the Cowboys
The Expected: The Big D, Dallas Cowboys and the JerryDome.
The Unexpected: Pick a sport…any sport—sports-mad Dallas has you covered.
Greater Dallas is one of 12 areas in America, and the only one in Texas, with a team in all four major sports. But fear not—the Cowboys aren't going anywhere, and a visit to AT&T Stadium, aka The House That Jerry (Jones) Built, and the JerryDome, is a must. The stadium has hosted the Super Bowl, the first-ever College Football Playoff National Championship Game and the Men's Final Four basketball championship.
Dallas was recently chosen the No. 3 sports city in the country by Fansided, and offers a diverse range of sporting activities guaranteed to satisfy any group. The Dallas area has two major college football teams—Texas Christian University and Southern Methodist University—and the Cotton Bowl hosts the traditional New Year's Day bowl game and the annual Texas versus Oklahoma Red River Shootout. The Texas Motor Speedway holds IndyCar and NASCAR events.
Even more sedentary competitive pursuits get the "Texas-size it" treatment. Groups will marvel at National Videogame Museum in the Frisco Discovery Center. Opened in 2016, the interactive museum contains more than 100,000 pieces of video game memorabilia—the result of 30 years of collecting by the founders. Game nerds will drool over more than 50 different video game consoles, the world's largest home Pong game on a 15-foot 1970s replica TV, an arcade filled with all the classics—from Asteroids to Donkey Kong—and a 1980s living room re-creation, replete with Intellivision. Cue up Duran Duran and get those quarters ready!
What's New
Soccer fans are expected to flock to the National Soccer Hall of Fame and Museum. A passion project for FC Dallas team owners Dan and Clark Hunt, the museum will house exhibits from the World Cup, Gold Cup, Olympics and more. It's scheduled to open next summer.
Bishop Arts Station, a new destination within the Bishop Arts District, will bring more than 25,000 sq. ft. of retail and restaurant space to the already-bustling district. The project is committed to staying true to the district's home-grown feel, with plans for an open plaza and pleasant walkways.
New in the developing neighborhood where Toyota just opened its North American headquarters is the Renaissance Dallas at Plano Legacy West Hotel. The Marriott property includes 30,000 sq. ft. of meeting space on one floor with abundant natural light and thoughtful art elements.
What was an endangered landmark is again a Dallas icon. Sixteen years and $230 million later, The Statler Hotel reopened recently with a group meeting to kick off opening day. The largest redevelopment in downtown Dallas to date—in square feet or dollars—includes 200 new condos.
Planners can choose from 10 spacious meeting areas with 33,000 combined sq. ft. Back in the day, Michael Jackson, Liberace and Frank Sinatra performed in the ballroom. Groups will get their groove on amid the memories of these greats.
Another way to rekindle a glorious past can be found in nearby Grapevine, known for its Main Street of graceful 19th- and 20th-century buildings housing restaurants, galleries and shops. The Cotton Belt Railroad District is home to artisans' workshops and Grapevine Vintage Railroad.
MAJOR MEETING VENUES IN DALLAS

Hilton Anatole
More than 500,000 sq. ft. of event space, including 11 ballrooms and 79 meeting rooms; 8 restaurants and bars; new Jadewaters Pool Complex with private sculpture part of outdoor events.

Omni Dallas Hotel
1,001 guest rooms; three restaurants; full-service spa; outdoor pool; rooftop terrace; 41 meeting rooms;, with 110,000 sq. ft. of versatile meeting space.

The Fairmont Dallas
545 smoke-free guest rooms; restaurant and bar; outdoor pool, 25 meeting rooms; 70,000 sq. ft. of indoor/outdoor meeting space.

The Statler Dallas, Curio Collection by Hilton
Reopened this year; $230 million restoration; 159 smoke-free guest rooms; five restaurants and two bars; nine meeting rooms; outdoor swimming pool; live music, ping pong, billiards and bowling.

The Westin Dallas Downtown
Near convention center; Grill & Vine regional cuisine; WestinWorkout fitness studio; New Balance gear lending and guided group runs; indoor heated pool; 326 guest rooms; 31,000 sq. ft. of meeting space
Galveston: Bring on the Birders
The Expected: Bright beaches and cruise ship central for the Gulf of Mexico
The Unexpected: Mecca for birders from around the country
Wipe that image of grandparents in waders from your brain: Bird-watching is on the rise among the young and hip. It's not just rock stars that travel to Galveston: More than 300 species of birds visit or reside in Galveston every year. Planners can take advantage of new birding tours offered by Galveston Island Nature Tourism Council. These tours feature the island's top birding hot spots to see, learn about and photograph rare and unique species.
Galveston is known for the famous 1902 seawall, a stretch of beautiful beaches and fourth-busiest cruising terminal in America. Galveston welcomed 4 miles of new beaches after a $19.5 million nourishment project this year. The new hottie on the block is "Babe's Beach," 15 blocks of brand-new sand for visitors to enjoy lounging and soaking in the sun. Royal Caribbean's Vision of the Seas will homeport in Galveston, and with four-day itineraries, planners can get creative with their group trips.
April is the month to be in Galveston next year. Tall Ships Galveston comes to the coast April 5–8, with a fleet of visiting tall ships to Galveston's historic waterfront. A new festival will include ship tours, sail-away excursions, music and food. After the majestic tall ships sail away, the music moves in. The Third Coast Music Festival will rock Galveston April 26–29 with 40 bands, 50 shows and multiple venues for a total concert experience.
What's New
More shops and eateries keep popping up downtown. Devil and the Deep Brewery has more than just an uber-cool name: It also has hoptastic tours for sudsophiles. Tremont House is building a new extended-stay option called the Quarters. Its grand presence is already known and respected by planners for its beauty and nearly 16,000 sq. ft. of flexible space.
What do tropical penguins and jellyfish have in common? A new home at Galveston's Moody Gardens. A $37 million renovation on its Aquarium Pyramid was completed in May 2017, offering new exhibits and marine life from four regions of the world. Groups love the tropical rainforest, aquarium, 3-D and 4-D theaters, ropes course and zipline. To take advantage of everything aquatic, a stay at Moody Gardens Hotel is recommended.
MAJOR MEETING VENUES IN GALVESTON

Hotel Galvez & Spa
On the beach; 224 smoke-free guest rooms; full-service spa with spa tub; bicycle rentals on site; swim-up bar; nine meeting rooms, with 24,217 sq. ft. of flexible conference space.

Moody Gardens Hotel
Resort with water park; 418 guest rooms; four restaurants; full-service spa; indoor and outdoor pool; water park; 103,000 sq. ft. of meeting space.

The San Luis Hotel, Spa and Conference Center
On the beach; four-minute walk to Galveston Island Convention Center; 250 smoke-free guest rooms; 22 meeting rooms; 40,000 sq. ft. of flexible meeting space; tennis, billiards, arcade room.

The Tremont House
Boutique-style hotel in the heart of downtown Galveston; 119 smoke-free guest rooms; rooftop bar; 11 meeting rooms; 15,800 sq. ft. of flexible meeting space.
The Greening of Houston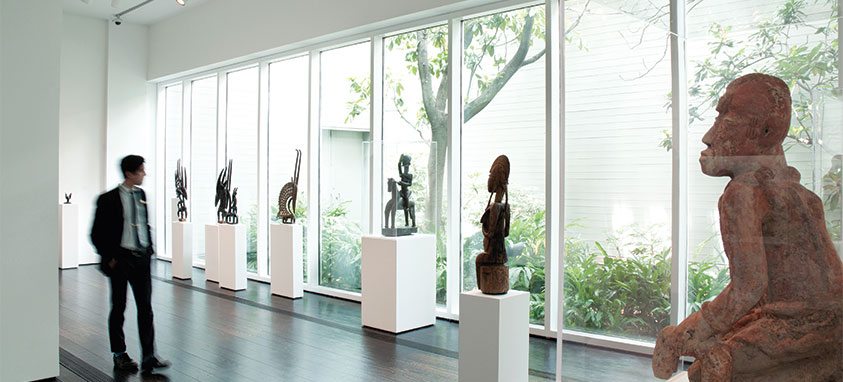 The Expected: Oil capital of the world
The Unexpected: Art capital of Texas, with the most green space of any big city in the country
Fossil fuels have driven Houston's economy for decades—that's no secret. But how will the city adapt when the oil money runs out? Pretty well, it turns out. The low price per barrel has forced Houston's leaders and thinkers to consider the issue, and their response has been to invest hundreds of millions of dollars in their future.
What are they spending it on? Sectors that will entice young people, makers, tech companies and anyone who values quality of life. The biggest ROI so far has been on green spaces and art.
None of Texas' big cities has undergone a bigger transformation than Houston this decade. The erstwhile concrete jungle is turning green faster than you can say "Sam Houston." Some 14,000 acres of parks have been added (17 times the size of Central Park), vaulting Houston to No. 1 in park area among the country's most populous cities.
While green spaces keep residents happy, the top-shelf art scene draws visitors from around the world. Pride of place goes to the Menil Collection (pictured above), the Renzo Piano-designed gem, which landed at No. 12 on Time Out's 2017 list of the best museums in America. Visitors should hurry, though—the museum will close at the end of February for an eight-month facelift. The bookstore, Dan Flavin Installation and award-winning Bistro Menil will remain open through the construction.
Downtown Houston recently added 10 public art installations by local Houston artists within the new Avenida Houston convention district (pictured below). The vivid artwork was placed throughout buildings as part of Houston First's "Houston Infusion" initiative. Works fabricated in a variety of media—and imagined by a diverse group of artists and collaborators—explore themes of space and technology, Houston's natural flora and fauna, reuse and recycling, the city's vibrant cultural diversity, and its entrepreneurial history.
What's New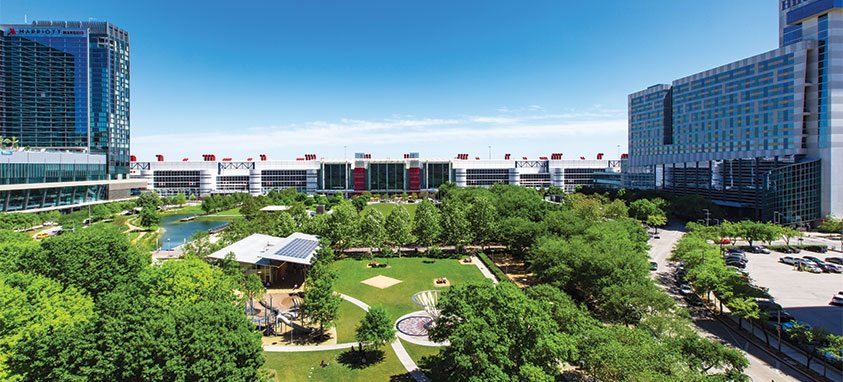 With so many positive advances happening in Houston, the theme for next year is to keep moving forward. Even Hurricane Harvey, with all its difficulties and loss, hasn't put a damper on progress.
Houston First wrapped up a major reinvention of the convention campus for the 2017 Super Bowl. "We are excited to continue that momentum into 2018, and showcase all of the new assets Houston has to offer," says Leah Shah, public relations director at Visit Houston.
"Avenida Houston and the revamped GRB Convention Center will showcase Houston's vibrant culinary and culture scenes," says Dawn Ullrich, president and CEO of Houston First Corporation. "It is unique for a convention district to offer such a comprehensive reflection of a city's personality, and we hope visitors will walk away with a positive sense of what Houston has to offer."
MAJOR MEETING VENUES IN HOUSTON

Hilton Americas-Houston
Three-minute walk to George R. Brown Convention Center; 1,200 guest rooms; full-service spa; 35 meeting rooms; 92,500 sq. ft. of meeting space.

Hyatt Regency Houston Galleria
Premier meetings hotel in the Galleria/Uptown area; 325 guest rooms; bar and restaurant; 10 meeting rooms; 19,189 sq. ft. of meeting space.

Marriott Marquis Houston
1,000 smoke-free guest rooms; restaurant and bar; outdoor pool with lazy river; rooftop terrace; 52 distinctive venues with more than 153,724 sq. ft. of conference space.

The Westin Galleria Houston
469 smoke-free guest rooms; restaurant and bar; outdoor pool; 24-hour fitness center; 20 meeting rooms, with 70,000 sq. ft. of flexible space.

The Whitehall Houston
Downtown boutique hotel; 259 guest rooms; two restaurants and two bars; outdoor pool; 24-hour fitness center; 14 meetings rooms; conference center.
San Antonio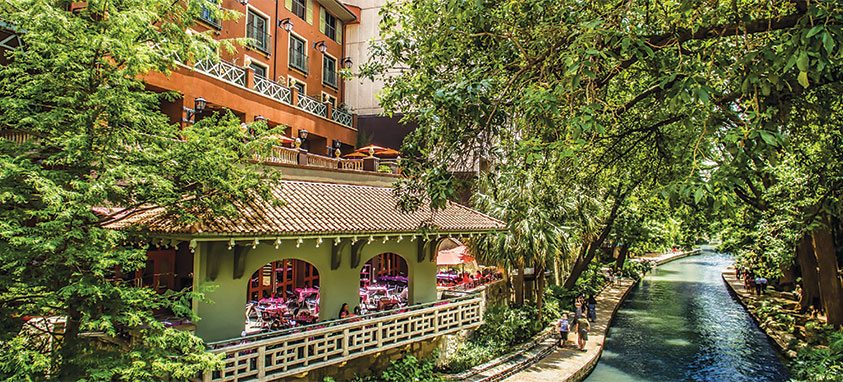 The Expected: Strolling the River Walk and remembering the Alamo
The Unexpected: San Antonio turns 300 next year
Anyone who's seen Pee-wee's Big Adventure knows the Alamo plays a leading role in San Antonio's legacy. But the city also offers 300 years of history, family-friendly experiences, outstanding shopping, modern meeting facilities and much more. San Antonio's vivid culture lives through the historic architecture, fantastic museums and art galleries—which range in focus from classic and modern art to life in the American West, to the dinosaurs that once roamed the area.
In 2018, San Antonio will mark its tricentennial, a commemoration of the city's 300 monumental years. San Antonio will ring in the anniversary in style with an unprecedented New Year's Eve celebration staged in the heart of downtown, at Hemisfair Park. The festivities will include a free outdoor concert, art installations, international cuisines and a spectacular fireworks show.
As Texas becomes more diverse, San Antonio is one step ahead. "San Antonio's popularity continues to grow as an exciting destination for both leisure and business travelers," says Casandra Matej, president and CEO of Visit San Antonio. "The amazing kaleidoscope of culture, innovation and tradition in San Antonio makes for an unforgettable experience. And with so many exciting recent developments, if you haven't been to San Antonio in a while, you don't know what you're missing!"
The foodie scene is exploding with the addition of the campus of Culinary Institute of America, San Antonio, and chef-driven restaurants are popping up in city neighborhoods. Adventurers can find spelunking, kayaking and hiking, while superstar concerts, major sporting events and theme parks such as Six Flags Fiesta Texas and SeaWorld San Antonio provide thrills of a different kind.
What's New
San Antonio's meeting industry is focused around the revamped Henry B. Gonzalez Convention Center, which debuted in March 2016. The center's $325 million expansion increased its footprint to 1.6 million sq. ft., with 514,000 sq. ft. of contiguous exhibit space and the largest ballroom in Texas. Sitting on the River Walk in historic downtown, the convention center is within walking distance of historic sites, restaurants, museums, theaters, shops and thousands of hotel rooms.
Hotel Valencia Riverwalk (pictured above) welcomes guests with its $10 million transformation, the first major renovation in its 14-year history. Long recognized for its sleek style, the renovation incorporates warm, rustic woods, elegant ironwork, handcrafted tiles and textiles that reflect the city's design sensibilities.
Canopy by Hilton will make its River Walk debut in time for San Antonio's tricentennial celebration. The hotel will incorporate the Civil War-era Alamo Fish Market building into its design. Canopy San Antonio River Walk will feature more than 3,000 sq. ft. of meeting space, 195 guest rooms and a restaurant with an outdoor terrace overlooking the River Walk.
MAJOR MEETING VENUES IN SAN ANTONIO

Grand Hyatt San Antonio
Near The Alamo; 24-hour health club; 1,003 guest rooms; Ruth's Chris Steakhouse; Bar Rojo cocktail lounge; outdoor pool; 115,000 sq. ft. of meeting space, including 31,000-square-foot Texas Ballroom.

Hotel Valencia Riverwalk
Downtown boutique hotel overlooking River Walk; 213 stylish guest rooms; open-air courtyard; Dorrego's Restaurant; 7,000 sq. ft. of meeting space, divided into four rooms.

JW Marriott San Antonio Hill Country Resort & Spa
AAA Four Diamond property; 1,002 guest rooms; seven restaurants; spa and fitness area; 6-acre water park; two 18-hole golf courses; 267,823 sq. ft. of meeting space, divided among 40 rooms.

San Antonio Marriott Rivercenter
Riverfront hotel near Alamo; Located on the River Walk, connected to Rivercenter Mall; 1,001 guest rooms; health club; pool; 60,472 sq. ft. of meeting space, divided among 37 rooms.
A Texas Two-Step Away from the Expected: The Woodlands and El Paso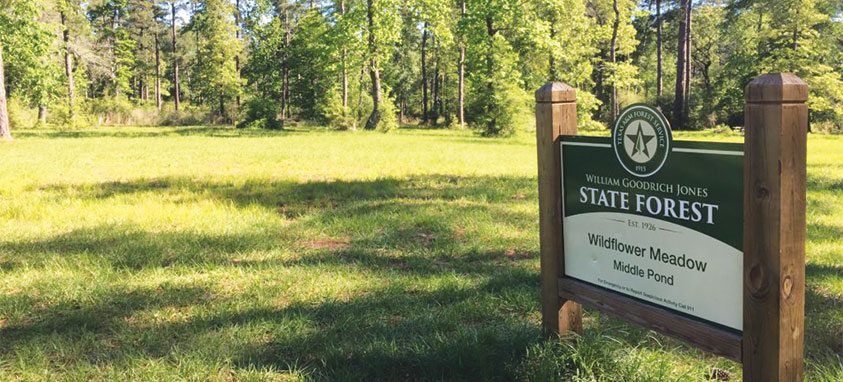 A half-hour's drive north of Houston, a "now for something completely different" awaits—The Woodlands, a serene, 28,000-acre master-planned community divided into eight "villages" that has been recognized with a Special Award for Excellence from the Urban Land Institute.
Home to important corporate campuses, lovely parks, nature preserves and WG Jones State Forest (pictured above), The Woodlands boasts several dozen hotels, more than 150 restaurants ranging from fine dining to Tex-Mex, a publicly accessible waterway, golf courses and Cynthia Woods Mitchell Pavilion, summer home of the Houston Symphony.
Among notable meeting hotels are The Woodlands Waterway Marriott & Convention Center (343 guest rooms, 66,532 sq. ft. of meeting space) and The Woodlands Resort & Conference Center (406 guest rooms, 60,000 sq. ft. of meeting space).
In the far western corner of the state, El Paso has a colorful past and big-picture future. A multimillion-dollar revitalization of downtown affords a multipurpose performing arts venue, Hispanic cultural center, public art and the country's first TouchCity Digital History Wall. It's all within walking distance of Judson F. Williams Convention Center (133,100 sq. ft. of meeting space).
Groups can journey through 400 years of history along the Mission Trail, witness the craftsmanship of Western bootmakers, or enjoy the city's collection of Western European masterworks. They can also spend an evening enjoying Triple-A baseball, the Downtown Arts District, or experience the magic of the historic Plaza Theatre with a performance of a Broadway touring show.