Art Alley 5.5, Bismarck
An immersive experience into the Native American and regional art culture
The Dakotas have long been known for their breathtaking landscapes, long roads surrounded by grassland and farms, large and captivating parks, and their history, rooted in native culture. Not as well-known is that in the past few years, the art industry has been flourishing in this wild place.
In Sioux Falls, for instance, national and international artists have joined forces to create a striking public installation downtown, Rapid City has an ongoing art project that honors American history, and Fargo, with its Plains Art Museum, highlights the contemporary history of Native-American artwork. Bismarck is dedicated to shining a light on hidden alleys by hiring local graffiti artists to design murals that capture the profound culture and heritage of North Dakota.
"We offer a change of pace—a destination with all the amenities of a big city, but without the hassles," says Sheri J. Grossman, CEO of Bismarck-Mandan Convention and Visitors Bureau. "Our safe and walkable downtown offers opportunities to experience local artists in a variety of forms. We are an affordable destination that can deliver meaningful meeting experiences. Almost every group that has come here for a site visit has chosen to bring their meeting here."
Investing in creativity and public attractions is one of the main aims for the Dakotas. Cities are working to familiarize planners with current offerings, as well as outstanding meeting spaces and other top features. Let's take a road trip to explore the artistic, eclectic and bohemian character of the region and why it may be just the right place for your group.
North Dakota
Bismarck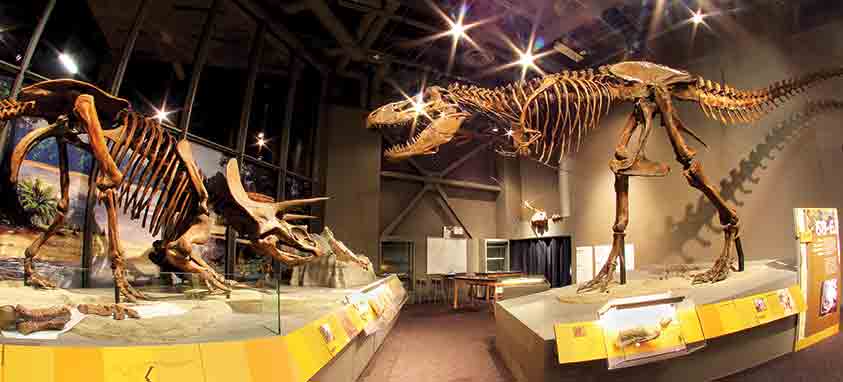 Located downtown in the historic Woolworth building and highlighting some 25 regional and national artists, The Capital Gallery offers attendees the opportunity to explore and discover works by Jessica Wachter, a local contemporary mixed-media artist; Gary P. Miller, long recognized as North Dakota's pre-eminent artist; Monte Yellow Bird, aka Black Pinto Horse, an international award-winning painter; and many others.
"In 2018, we facilitated a national conference in Bismarck, and among the highlights were visits to the North Dakota Heritage Center, with its world-class historical exhibits, and The Capital Gallery, which was featuring American-Indian ledger artists," says David Borlaug, director of the gallery. "The group was impressed with all that Bismarck and Mandan had to offer, including downtown alley art."
Artists can be seen creating pieces at Bismarck Downtown Artist Cooperative (BDAC), a working studio founded by eclectic residents for local-established and emerging artists. Paul Noot is one of the artistic forces behind BDAC. His artwork can be found in art galleries around the state as well as in the exhibit, The Horse in North Dakota, at North Dakota Heritage Center & State Museum through early 2020.
In April, BDCA will host a solo exhibition of the photography of Jonathan Campbell, a member of the cooperative. The show also will include the artwork of Angie Swiec Kambeitz, artist and supporting member of BDCA. An outdoor museum can be found at Alley 5.5, a vibrant alleyway located downtown between Fifth and Sixth streets. Alley 5.5 features colorful murals by more than 12 local and regional artists depicting the culture and heritage of North Dakota.
Top Meeting Venues
The city has some outstanding meeting spaces, including Bismarck Event Center, which offers 100,000 sq. ft. of meeting space and includes an exhibit hall, an arena and an auditorium. Heritage River Landing, scheduled to open this year, will offer another great option. The indoor event space will have room for approximately 125 people, and the outdoor patio will include additional 4,000 sq. ft. of meeting space.
The 2018 National Fur Trade Symposium took place in Bismarck in September. All meetings were held at North Dakota Heritage Center, and speakers and some other participants stayed at Radisson Hotel Bismarck, located downtown, which includes 215 guest rooms and 12,000 sq. ft. of event space.
"We were able to coordinate with the Bismarck-Mandan CVB to help visitors from around the world connect with lodging and get settled in," says Aaron Barth, executive director of Northern Plains National Heritage Area.
Fargo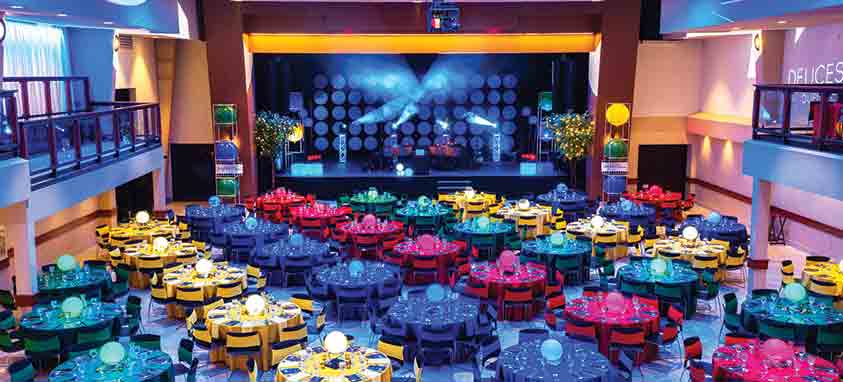 This city provides a variety of ways to take in its artistic beauty. Plains Art Museum includes three levels of exhibit space featuring contemporary, Native American, regional and national works from the 20th and 21st centuries. Currently on view (through July 21) is Waasamoo-Beshizi, a group exhibition that features pieces by 25 emerging and contemporary Native women artists.
A few steps away from the red river, The Rourke Art Gallery & Museum showcases two permanent collections. Housed in a neoclassical building, groups can wander around the pop art collection, which features the work of Robert Rauschenberg, Luis Jimenez, Andy Warhol and Joan Miro. If you are looking for a local touch, Old and New Makers of the Midwest displays paintings and sculptures by several artists, mainly from Minnesota and North Dakota. Hjemkomst Center is entertaining and unique, with an art gallery that circles around a full-scale Viking ship.
Top Meeting Venues
Planners can choose from among several properties. After a multimillion-dollar renovation, Holiday Inn Fargo now has 307 guest rooms, 27,000 sq. ft. of meeting space and public spaces. Delta Hotels by Marriott Fargo boasts 185 guest rooms, a new lobby and 28,430 sq. ft. of meeting space. Avalon Events Center gives a modern twist to historic elegance with its 23,000 sq. ft. of unique meeting space.
Grand Forks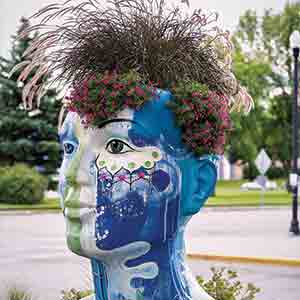 Within a diverse array of artwork, North Dakota Museum of Art includes an outstanding collection of contemporary American-Indian art. In 2013, the museum opened Barton's Place, a 21st-century artists' studio, where in addition to Barton's own artwork, groups can learn about the museum's extensive collection of African, Egyptian and Amazonian art.
Empire Arts Center, in partnership with University of North Dakota (UND), features UND Art Collections, which showcase creativity throughout the world in its multiple collections. Highlights include Asian art, Chinese clothing, American folk pottery and Indian art. Among these exhibitions, are also by notable artists including Robert Rauschenburg, Salvador Dali, Jasper Johns, Andy Warhol, Frank Stella and Elizabeth Murray.
Top Meeting Venues
Hilton Garden Inn Grand Forks-UND recently restyled its 105 guest rooms and hallways, and will complete renovations of the lobby, garden grill and bar, and 2,800 sq. ft. of meeting space by the end of 2019. Ramada by Wyndham Grand Forks Hotel has a new lobby, a breakfast area, a pool, a lounge, 100 guest rooms and 6,232 sq. ft. of meeting space. For large events, the top choice is Alerus Center Convention Center, which includes more than 145,000 sq. ft. of meeting space, 100,000 sq. ft. of football arena floor and a 25,000-square-foot ballroom.
South Dakota
Sioux Falls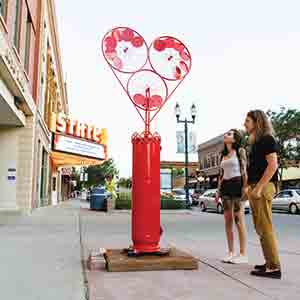 Most of the artwork in Sioux Falls can be found outdoors. SculptureWalk is a public exhibition of sculptures displayed downtown year-round in which national and international artists promote their works for sale at the end of each year. Since it began in 2004, SculptureWalk has become one of the largest and most recognized public installations in the United States. It has also earned the Tripadvisor.com Certificate of Excellence and is included in its hall of fame.
"Each year, over $1 million of sculptures go on display throughout the historic downtown area," says Jeff Hanson, SculptureWalk ambassador. "The range of styles appeal to a broad audience. They include modern, classical, abstract, adult figurative, children's figurative, nature and combined media."
The 2019 exhibit will be installed in May and will include 59 sculptures. Groups can join free walking tours in which the art—as well as the local culture and historic architecture—are explored. Arc of Dreams, a massive sculpture by South Dakota artist Dale Lamphere, will probably be one of the biggest installations worldwide. Made of stainless steel, it weighs 60 tons and is seven stories tall and 285 feet long. It will span the Big Sioux River in the middle of downtown.
Top Meeting Venues
By 2020, the area around Lake Lorraine will include a series of high-end properties with meeting spaces. Hyatt Place will consist of 112 guest rooms and 1,100 sq. ft. of event space. One of the city's largest private-public developments has begun to take shape along the riverfront in downtown Sioux Falls. Village on the River will be a new 15-story structure with two hotels, 515 parking spaces, five restaurants and lounges, three rooftop patio terraces, six breakout conference rooms and 20,000 sq. ft. of meeting space.
Already available to planners are Best Western Plus Ramkota Hotel, with 60,000 sq. ft. of meeting space and 225 guest rooms, and Denny Sanford Premier Center, with 139,000 sq. ft. of meeting space.
Rapid City
At Rapid City, groups visiting downtown will encounter the sculptures of Abraham Lincoln, Jimmy Carter and Ronald Reagan, all part of the City of Presidents installation, an ongoing series of life-size bronze statues of past U.S. presidents. Local artist James Van Nuys, owner of James Van Nuys Gallery, is currently sculpting a statue of President Obama that will be displayed by July.
Walking around the area, groups might run into the Passage of Wind and Water, a 21-granite sculpture installation designed by Japanese sculptor Masayuki Nagase that depicts the natural and cultural history of the Black Hills and Badlands. Not far from this public artwork is Art Alley, situated between Sixth and Seventh streets. There, groups will find free-form graffiti murals intermingling with pop art, abstract and cultural works in a constantly changing display of local and visiting talent.
Located a few steps away from the Alley, Dahl Arts Center boasts three rotating galleries and one permanent exhibit—a cyclorama mural, a 180-foot-oil-on-canvas panorama spanning 200 years of U.S. economic history, painted by acclaimed muralist Bernard P. Thomas. It is one of only four cycloramas remaining in the United States and the only one that attempts to capture 200 years of history through political, religious, military and economic imagery, according to Dahl officials.
Top Meeting Venues
Recently renovated Rushmore Plaza Civic Center includes 40,000 sq. ft. of attractive exhibit space and 400 new LED lighting structures, new ceiling tiles and a new sound system. Best Western Plus Rapid City Rushmore, which was unveiled in March, has 97 guest rooms and an indoor pool. Rushmore Plaza Civic Center plans to break ground in 2019 on a new $130 million arena, scheduled to be completed in 2021.
Must-Visit Spots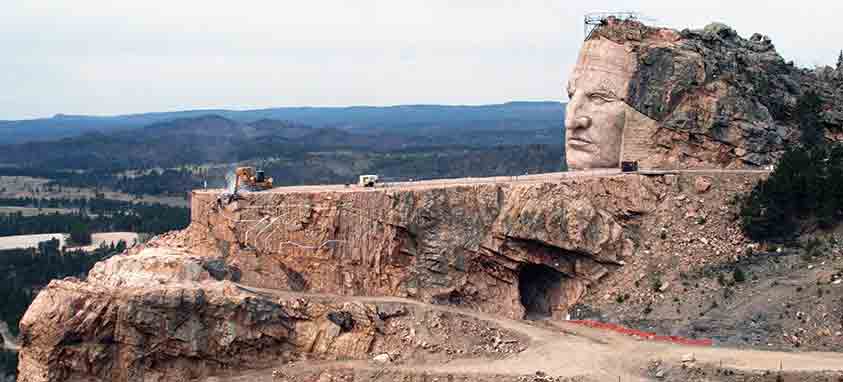 Landstrom's-Mt. Rushmore Gold Jewelry Factory, the only Black Hills Gold jewelry factory open to the public, offers fascinating, free tours. During the journey, groups will see the ancient process of lost-wax casting and the casting of diamonds in molten gold.
"During our 2019 Conference of Grand Masters, which brought 850 attendees, we offered several tour packages for the international group to embark upon," says Harold Ireland, a member of the conference planning committee. "One of those tours included a stop at Landstrom's-Mt. Rushmore Black Hills Gold Outlet. Tours are arranged to fit your schedule and they're conveniently located on your way to Mount Rushmore.
If groups are interested in discovering the spark of Native-American culture in the making, they should plan a visit to Crazy Horse Memorial, a massive installation that emerges from the mountainside, just a few miles from Rapid City. It's an ongoing mountain carving that will be the world's largest sculpture (563 feet tall) when complete. This artwork will pay tribute to the culture, tradition and living heritage of American Indians and the spirit of legendary Lakota leader Crazy Horse.
Planners organizing an event in Sioux Falls in September should include a visit to Sidewalk Arts Festival. It's a free outdoor event in downtown where some 300 vendors will showcase the region's fine art, as well as folk and craft artisanship.
Top Art Festivals
Bismarck celebrates August with Capital A'Fair, an art fair that features more than 130 artisans from across the country. Music, food and performing arts groups make it a not-to-miss event, located on the State Capitol Grounds. Art and wine lovers enjoy the Art & Wine Walk, a regular occurrence that takes place in downtown Grand Forks throughout the year. Local businesses display works by regional artists while offering samples of fine wine.
If your group is in the city during the beginning of June, it can enjoy Art on the Red, an outdoor festival that features more than 100 high-end artisan and quality crafters, tantalizing food concessions, music, live entertainment and more.
Music lovers will be uplifted during Grand Forks Blues on the Red, one of the region's most popular blues festivals. It is a three-part summer music series on one day in June, July and August that features top-notch musicians from around the country.
Happy Harry's Ribfest kicks-off Fargo's summer at the Fargodome parking lot in June. Groups can taste arguably the country's best ribs and barbecue while perusing the grounds and meeting vendors while listening to local bands.