Plate at Central BBQ, Memphis
"Some of the best times are spent over great food," says Kevin Triplett, commissioner of Tennessee Department of Tourist Development. And Tennessee food is legendary.
"As diverse as the landscape of our state, varying more than 6,000 feet in elevation, and the genres of music that have a home in Tennessee, are food choices in Memphis and Nashville. We have multiple styles of barbecue, or barbeque, some of which have been deemed the best in the country. Hot chicken in Nashville. Fried chicken in Memphis. Deep fried or blackened catfish. People pull off the interstate for our biscuits. We have multiple fresh farm-to-table options, or if meat-and-threes are more your style, those are as plentiful as the portions."
Surrounded by scenic natural beauty with country and bluegrass music filling the air, not to mention the most delicious offerings perched on a hot biscuit, Tennessee is where you want to kick back and relax after a productive day.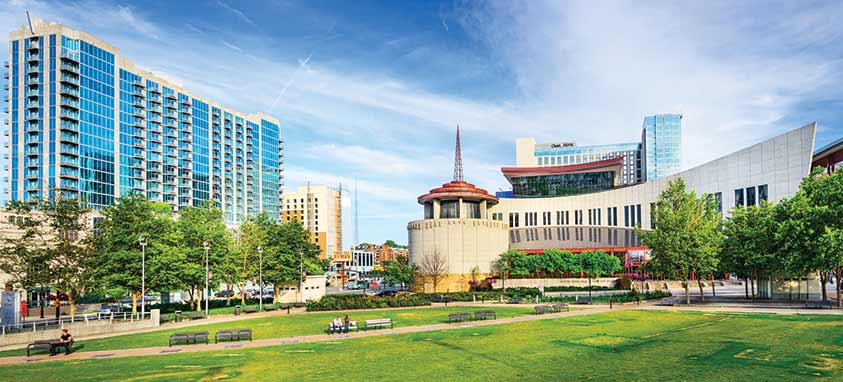 The Country Music Capital of the World, Nashville is home to the Grand Ole Opry, the $37 million, landmark Country Music Hall of Fame & Museum (available for buyouts, including a new 10,000-square-foot event hall), the Grammy Award-winning Nashville Symphony in the world-class Schermerhorn Symphony Center, and the Bluebird Cafe, a haven for songwriters. Music City is also the vibrant state capital, where folks love their tea sweet with bits of orange or pineapple, and a splash of lemonade.
Memphis is hard to imagine without world-famous barbecue and recollections of Elvis. Like Nashville, good food and music are around every corner. From the infamous Beale Street, lined with exciting clubs and shops, to Sun Studio's star-studded history, the vibe is energetic and appetizing. Where else would locals and visitors eagerly gather to see a parade of ducks marching into a fountain every day? This has been a twice-daily occurrence in The Peabody Memphis' grand lobby since 1932.
"If someone wants good food, Nashville and Memphis deliver," Triplett says. "But do not wait on delivery—visitors need to come try it for themselves."
With sweet iced tea in hand or a Tennessee whiskey cocktail nearby, settle in for an authentic adventure. Just be sure to leave some room for banana pudding or a slice of homemade pie while you're there.
Chattanooga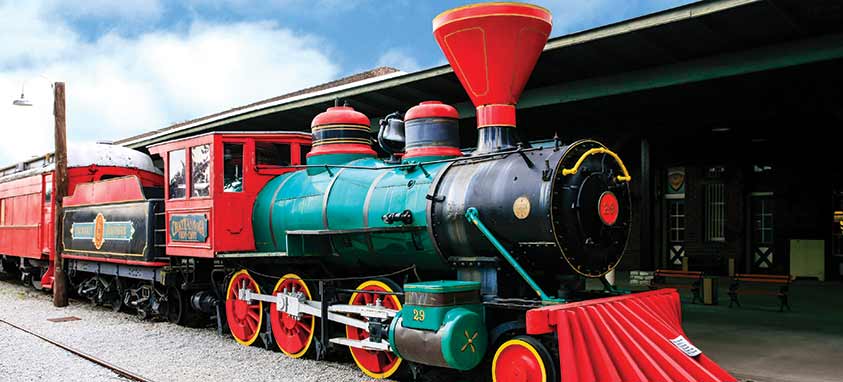 In a city that first slathered marshmallow on graham crackers before dunking in chocolate and calling them MoonPies, you know you're bound to eat well. Those famous snacks created over 100 years ago in Chattanooga are still devoured today, along with delicious fare from popular restaurants including the classic Public House. Start with deviled eggs and bacon brittle before making the big decision—shrimp and grits with red bell peppers, sauteed Carolina trout with squash casserole and pecan pesto, or red-wine braised pot roast with mashed potatoes. The Polo Room offers private dining space for up to 50 guests and can make room for 10 more guests for receptions.
With Culinard's outstanding chef-instructors passing on their culinary expertise at the Culinary Institute of Virginia College, the expanding social atmosphere is reaping the rewards. Professional chefs are creating new images on local plates while carving out a path clearly reflective of Tennessee's finest.
Chattanooga is filled with adventure for every taste, with award-winning cuisine, their picturesque Bluff View Art District, the legendary Choo train, Tennessee Aquarium and a plethora of natural outdoor adventures, such as the 10-mile Chattanooga Riverwalk along the Tennessee River, and the pedestrian Walnut Street Bridge. With Ruby Falls, Rock City, Lookout Mountain Incline Railway and numerous hiking and biking trails, no doubt your attendees will work up an appetite there.
Nashville
The sizzle factor is high in Nashville, not only in clubs and music venues, but also in restaurant kitchens that produce hits of their own.
"We recently held our annual meeting in Nashville with almost 600 attendees and were impressed with not only the quality of some really great restaurants, but also the wide variety of cuisine," recalls Betty Morris, travel manager at Crowe Horwath. "We held this same meeting there three years ago and were shocked at how many new dining venues had popped up in the area since.
"Nashville is one of the easiest cities to schedule a dine around because of the great restaurants and the fact that you can walk to many of these venues. They also offer great venues for full buyout for large corporate events. Whether you are looking for fine dining or a fun atmosphere with good food, Nashville is a great option."
A city-wide specialty is hot chicken that's breaded and heavily seasoned before deep-frying, often found alongside meat loaf and catfish on popular "meat-and-three" menu selections with Southern sides. Barbecue has also created a strong following there.
Nashville's plethora of award-winning, chef-driven restaurants have garnered national and international attention and several often make lists such as Bon Appetit's 2018 Top 50 New Restaurants.
Dining to the Beat
What started in 1951 as a place at the Loveless family table for famished travelers has since become a landmark. Loveless Cafe is a stand-alone attraction with two designated areas, the Barn and Harpeth Room, for meetings and events with up to 70 guests, and several artisan shops and outdoor facilities. Some 10,000 biscuits are baked daily and more than a half-million diners enjoy home-cooked Southern meals at the restaurant each year, and you'll understand why after just one bite of chicken and dumplings or smoked beef brisket. Sides include stone ground grits, fried green tomatoes and caramel sweet potatoes. Some favorite recipes, such as strawberry-and-brie waffle grilled cheese and Elvis pie, are shared on its website for you to re-create at home. It's definitely worth the visit.
Casual fine dining perfectly describes Urban Grub, a comfortable medley of rustic and trendy. Located in a old revamped car wash, this distinctive site offers five private dining areas for 10–300 guests as well as secluded outdoor space with a 10-foot fireplace for a unique experience centered around whole-animal dinners. From oysters and charcuterie to fresh seafood, prime in-house aged meats and handmade pasta, menu selections are tantalizing.
For upscale elegance in downtown Nashville, Husk offers elegant ingredient-driven dining by James Beard Award-winning chef Sean Brock, who has implemented heirloom gardening and techniques for untainted foods, in-house pickling and charcuterie as the basis of his cuisine. "If it doesn't come from the South, it's not coming through the door," Brock says.
Encased in a beautifully restored home with a storied past, circa 1880, guests enjoy meals created from the what is fresh and available, with much of the produce harvested from the restaurant's garden. The menu may feature sassafras-glazed pork ribs with pickled peaches, house-cured country ham with acorn griddle cakes or rabbit-pimento loaf with Husk mustard and rice bread. This establishment can accommodate 28–35 private diners in the Stables at Husk, an historic carriage house that also hosts Brock's "The Workshop Series at the Stables," featuring celebrated chefs from around the world for a culinary and educational experience.
Acme Feed and Seed provides a casual atmosphere with live music, contemporary bar and rooftop patio. Order the redneck lo mein noodles with smoked chicken, collard greens and black-eyed peas with optional shrimp, or the seasoned fried pork with black beans, plantains and sweet habanero slaw. The first floor is a casual "funkytonk" that shares space with the Farm Store, filled with regional artisan crafts and products. The second floor is a lounge with entertainment and a sushi bar, while the third floor is The Hatchery for private events and as a music venue for 200 seated guests, 350 standing and up to 499 for a live concert. There's even a rooftop with panoramic views of Broadway, the Cumberland River, Nissan Stadium and Riverfront Park.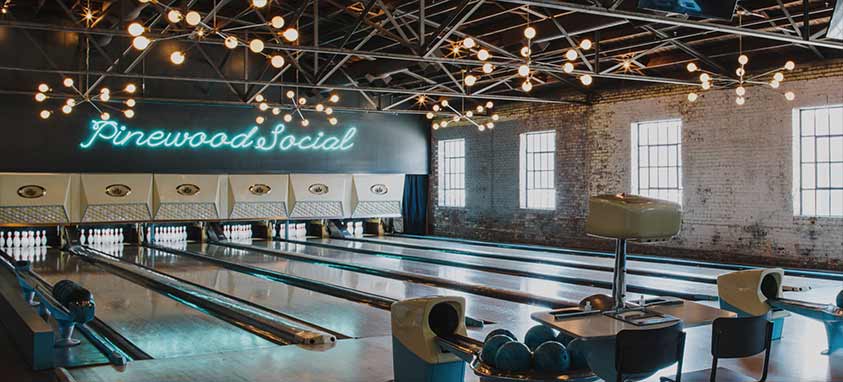 Pinewood Social is a trendy, industrial-chic bowling alley venue that can host up to 25 for private dining events in built-out warehouse space with designated play and lounge areas. Guests can imbibe craft cocktails, beer and wine, and gather at its award-winning coffee shop. The menu includes rigatoni with walnut pesto, heirloom tomatoes, and aged goat cheese, or a pastrami rib with jus and braised greens. Enjoy a pastry from Dozen Bakery and a coffee cocktail for dessert, maybe in the outdoor seating area.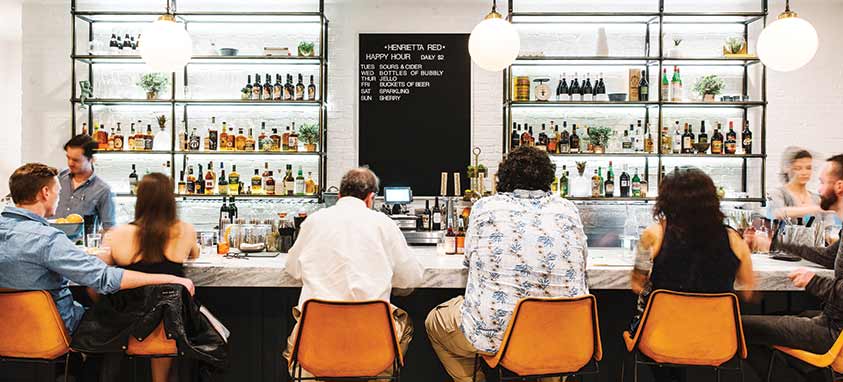 In Germantown, Henrietta Red is a sophisticated restaurant with casual dining and plenty of natural light. Well-appointed private dining space is available for 40–60 guests. The American-style restaurant focuses on seasonal fresh vegetables with an array of crudos, oysters and shellfish that drive the menu. Feast on potato gnocchi with braised pork, lamb meatballs, or beef tartare with preserved Meyer lemon, brioche and cured egg yolk. In 2018, Henrietta Red was nominated as a semifinalist for Best New Restaurant by James Beard Foundation. Chef Julia Sullivan was also recently recognized by Food & Wine as one of America's Best New Chefs.
With accolades across the board from Trip Advisor to regional and local nods, Kayne Prime is an innovative, upscale boutique steakhouse with spectacular views of downtown Nashville and Union Station. Defined as rustic-modern, the rich decor of wood and leather run parallel with the progressive menu of market-driven, fine-dining options, including visionary cocktails. Share a cheese plate or whet your appetite with a taco made with duck confit, whipped avocado and grape tomato salsa before savoring a Wagyu strip or a tandoori-spiced pork porterhouse. Kayne Prime offers sophisticated private dining with more than 20 flexible spaces that can be arranged for 14–100 guests.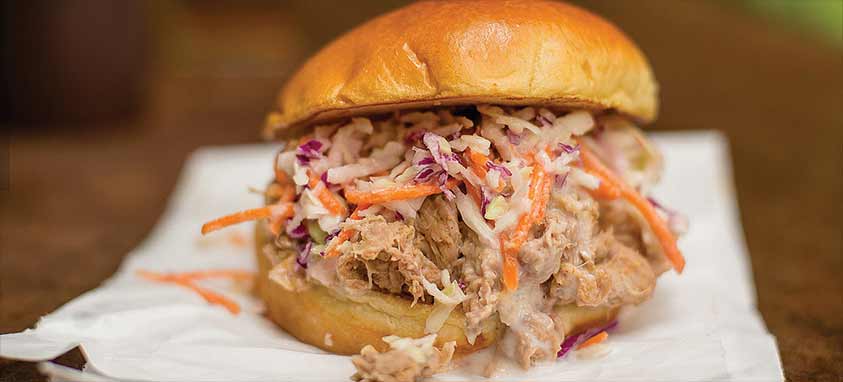 Martins BBQ Downtown takes you back to casual dining with bonus outdoor picnic seating. The colorful, eclectic facade is well-suited to the wholehog barbecues hosted by Pat Martin, nationally renowned pit master and owner. Martin's has been featured on the Food Network, Travel Channel, Cooking Channel, and The Today Show and in publications such as Bon Appetit, Esquire, Conde Nast Traveler, and Men's Journal. Enjoy this Southern sustenance at its finest as a fresh hog hits the pit every day! All sides—as well as desserts such as coconut cake and fudge pie are made from scratch from family recipes. There's plenty of flexible space for up to 110 private diners to stretch out and get a little messy.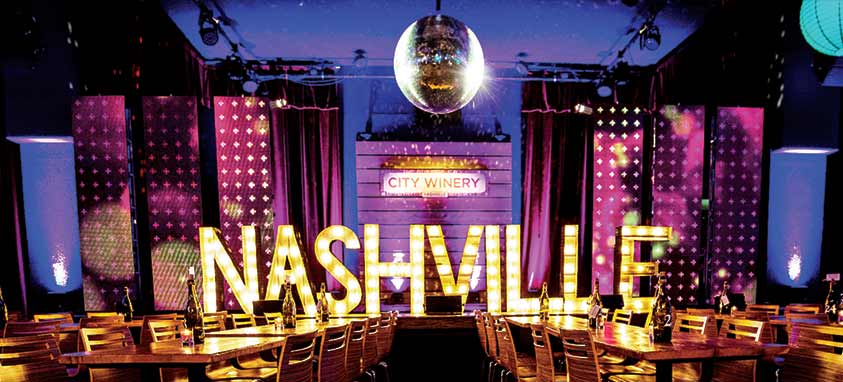 Midpoint downtown is City Winery, where food, wine, and music are celebrated as a cultural experience reminiscent of Mediterranean traditions. Menu items range from imported Italian burrata to porchetta with chevre smashed potatoes. This exclusive site with massive stone fireplaces can comfortably accommodate up to 1,200 guests for private concerts, corporate functions, seated dinners and cocktail receptions. With four private dining spaces, several patios and a concert venue featuring topname musicians with seating for 400 guests, City Winery remains a contender for large groups.
"Over the past five years, Nashville's food scene has grown and garnered prodigious attention worldwide," says Adrienne Siemers, senior vice president of sales with Nashville Convention & Visitors Corporation. "From traditional Southern fare to chef-driven restaurants and Nashville's very own hot chicken, there's no shortage of interesting and delicious options for meeting attendees. Our creative chefs know how to offer visitors a food and drink experience that lets them know they're in Nashville."
New and Improved
Last year, Nashville welcomed nine new hotels with 1,219 guest rooms along with 113 new restaurants and bars. This year, 17 hotels are scheduled to open with an additional 2,738 rooms.
Noelle opened in December with 224 guest rooms as an independent brand from Starwood Hotels & Resorts Worldwide. The original 1930 hotel has been restored and reimagined throughout and includes various elegant meeting spaces for up to 140 guests as well as a speakeasy and Rare Bird rooftop bar.
The 35-story JW Marriott Nashville opened in July with 533 guest rooms and 50,000 sq. ft. of meeting space. Amenities feature a rooftop bar, an exclusive spa, and an executive lounge.
Other full-service hotels that opened in 2018 are Wingate by Wyndham Nashville Airport with 123 rooms near the airport and Cambria Hotel Nashville, with 255 rooms a short distance from Music City Center. Boutique properties include Bobby Hotel, with 144 guest rooms and Fairlane Hotel, with 81 rooms. At least eleven more are expected to be completed in 2018, including a $120 million, 19-story Tri-brand Marriott (AC Hotel, Springhill Suites and a Residence Inn by Marriott) that will add 470 rooms, and Dream Nashville, a former 1891 hotel that is being meticulously restored.
The extravagant, Federal-style Germantown Inn, built in 1865, was completely revamped in 2016.
This year will introduce a new Carriage House and an addition to the property for a total of six luxury suites. With a lavish courtyard and rooftop terrace providing grand views, a caterer's kitchen and group rates, along with whole house rentals, these quaint quarters are well-suited to smaller meetings and retreats.
After a more than $15.5 million renovation, Union Station Hotel Nashville now has 125 guest rooms and 11,000 sq. ft. of flexible event space. The Autograph Collection hotel is sited in a 1900s building where Kentucky limestone meshes with extraordinary craftsmanship from years past. Group activities feature whiskey tastings and songwriter rounds.
Gaylord Opryland Resort's $16 million renovation included 483 guest rooms in the Garden Conservatory area, 18 meeting rooms and a ballroom.
One of just a handful in the "grand" category, the 28-floor Sheraton Grand Nashville Downtown underwent a $35 million renovation of 472 guest rooms and 30,000 sq. ft. of function space as well as a penthouse event space for up to 200 guests with panoramic views of downtown.
Expansions throughout Music City include major upgrades at Renaissance Nashville Hotel, Hotel Indigo Nashville (30 additional rooms in Phase 1), Hampton Inn & Suites Nashville/Airport, and Hutton Hotel's new 5,000-square-foot music venue, writer's creative spaces and a restaurant.
A major renovation is underway at Nashville International Airport (BNA). The $1.2 billion transformation will be completed in phases and add a new Concourse D, expand terminal wings, add four more baggage claim carousals, and new dining and shopping options. This phase of the project is anticipated to be complete by 2020. Added parking, TSA lines, international arrival facility and onsite hotel will complete the project by 2025.
Bake The South in to your Meeting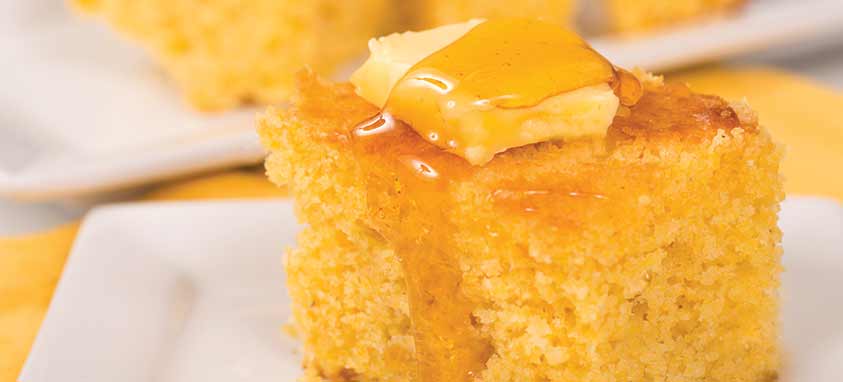 Nothing brings people together and gets them more riled up than cornbread. Savory or sweet? Butter or honey? Husk executive chef Sean Brock seems to have gotten it right as his restaurant is famous for its signature version featuring fresh lard and buttermilk. Now you can bring the flavor to your next gathering.
2 cups coarse yellow cornmeal

1 teaspoon salt

1/2 teaspoon baking soda

1/2 teaspoon baking powder

5 tablespoons fresh lard, melted but not hot (found at butchers or specialty shops)

1 large egg, lightly beaten

1 1/2 cups buttermilk

Large pinch of salt
Heat the oven to 450 degrees. Place a 10-inch castiron skillet inside.
Combine wet and dry ingredients until smooth batter comes together. Carefully move hot skillet from oven to a burner over high heat. Add remaining tablespoon of lard to the pan and pour in the batter. Swirl the batter around the hot skillet to make sure it's evenly distributed..
Return to oven for about 15 minutes, or until a toothpick inserted into the cornbread comes out dry. Enjoy.
Memphis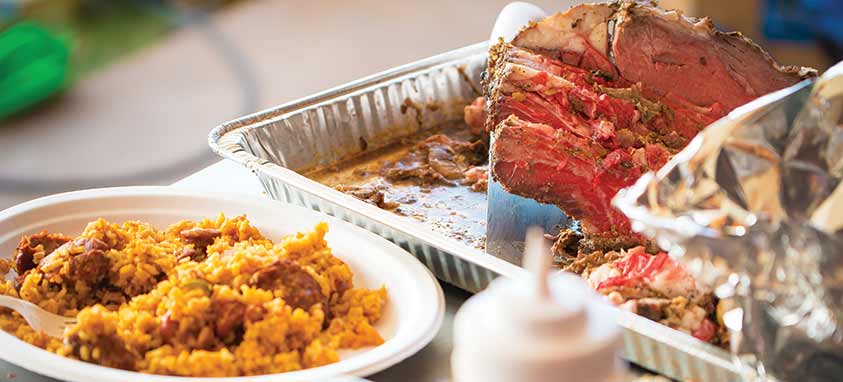 It's simple math—Memphis equals barbecue. With some 115 barbecue restaurants in the city and as host to the World Championship Barbecue Cooking Contest—with participants gathering from across the globe—it's undeniable.
Memphis is also a place where old meets new, such as with award-winning chefs Andy Ticer and Michael Hudman from Hog & Hominy, one of their four Memphis restaurants. These chefs successfully permeate their Italian culture with outstanding Southern cuisine. Dine on biscuit gnocchi, polenta or share a handmade pizza made with pork belly, egg, fontina, celery leaf, and sugo. Another favorite is tomato sofrito, mozzarella, calabrian chili and broccoli pizza.
"The selection of Memphis for our 2018 conference was one of the best decisions I have made in a long time. The experience was tremendous from start to finish," says Tim Moravec, chair of the 2018 Marketing Conference for Incentive Manufacturers & Representatives Alliance. "[We received] great pre-conference assistance from Memphis Tourism in recommending potential venues for events and hotels. Most of our attendees had not been to Memphis recently or at all. The feedback was overwhelmingly positive. Our location right off Beale Street was great, with the food, music and attractions terrific.
"But there is one thing that surpassed all—the graciousness of the people of Memphis. I have been in all 50 states and over 70 countries, and I can name few places where I felt a more genuine welcome and warmth than Memphis. This is a hidden gem of a conference location."
Bellying Up to The Blues
"From local brews to fine wines, downhome barbecue to haute cuisine, Memphis has a food scene that will delight your taste buds and feed your soul," says Kevin Kane, president and CEO of Memphis Tourism.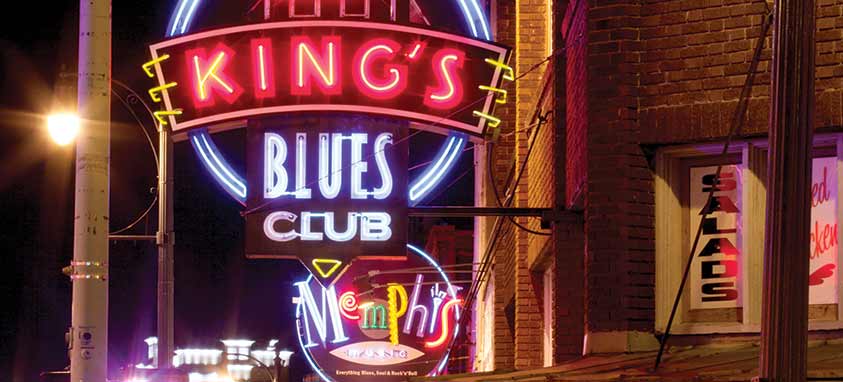 An anchor on Beale Street is the iconic B.B. King's Blues Club. The bottom floor is where the action is —live music and an elaborate bar serving signature cocktails. Guests can also dine on entrees, such as grilled salmon brushed with Carolina barbecue glaze and smothered with grilled shrimp over sausage and corn chowder. Groups may prefer sipping a drink and appetizing on a meat and cheese platter with creole mustard, barbecue sauce and dry rub while listening to the authentic sounds of Memphis soul and rock 'n' roll before heading upstairs for dinner.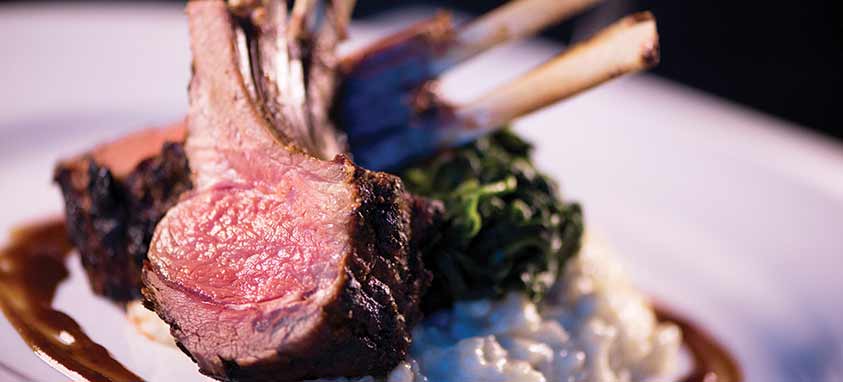 Perched above B.B. King's Blues Club is Itta Bena, a secluded dining venue named for the small Mississippi town where the blues master was born. With white tablecloths, low lighting, and a menu rich in taste and history, this is a Memphis must. Start with an appetizer of slow-braised, pressed pork belly and pan-seared foi gras with brioche and Southern slaw. Indulge with jumbo shrimp and Gouda grits, duck confit with jalapeno-cornbread waffles or grilled lamb chops with parmesan risotto and sauteed spinach. You may want to order the white chocolate bread pudding to go. This restaurant can host up to 130 guests for dinner or 200 for cocktails.
Rendezvous has been a Memphis tradition since 1948 and is recognized as the creator of the "Memphis style" dry-rub rib. You can't go wrong with pork ribs and brisket with all the trimmings. Same as always, you'll enter through the alley near Peabody Memphis and down several steps into a true Southern haven. Greeted by some of the original family, the smoky aroma of grilled meat and tunes of soul and blues, memories and friends are made at the Rendezvous. They can accommodate groups of 8–250 for a casual outing.
With dining rooms for groups of 15–110 and off-site catering, Central BBQ's downtown location beckons. The blue checkered tablecloths and handmade quilts draping the windows make this place feel like home. Folks line up for the ribs, marinated overnight and slow-smoked to absolute perfection and served wet or dry, validating its claim that "smoke is our sauce." Central BBQ is a Memphis tradition.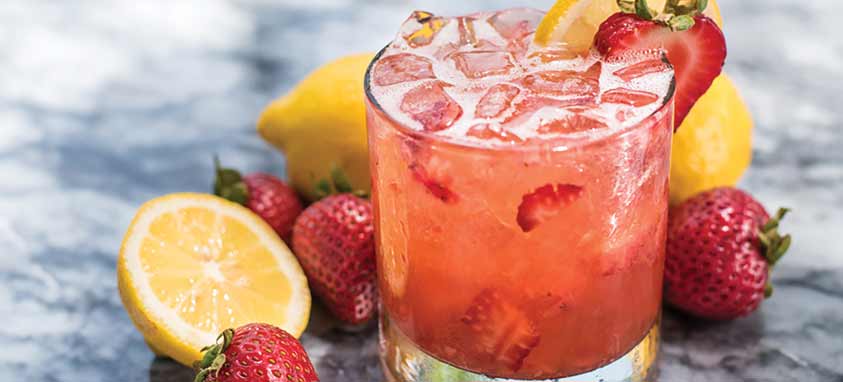 Located inside a 1913 movie theater is The Majestic Grille, where diners can step back into the era of silent films and glamour. These same movies, along with some classics, provide big-screen entertainment as guests enjoy chef/owner Patrick Reilly's award-winning cuisine. Other productions include arts shows and occasional theatrical and dance performers. Dine on creations including shrimp and scallop linguini with roasted tomato cream, asparagus and red peppers, or filet Oscar with lump crab and bearnaise as films roll and the trolley leisurely passes by the front windows. Private event space is available for 200 seated and 500 for cocktails at the Majestic Grille, recipients of national accolades for its overall concept.
One of Vogue magazine's most anticipated openings of 2018 was The Gray Canary, by restaurateurs Andy Ticer and Michael Hudman (of Hog & Hominy fame). This fine-dining venue is located in an old distillery in South Main Arts District. The dining experience begins with a craft cocktail and a selection of oysters and sashimi-style fish from the raw bar before moving to the main event in the wood-fired kitchen.
Opt for small plates or generous fare with entrees such as spinalis (ribeye cap, the tastiest part of a cow) prepared with sunchokes, rosemary, beef and olive oil vinaigrette, and black pepper confit. Pork is plated with kohlrabi, peaches and chanterelles, while fish-lovers will delight in Brazino and hominy. Desserts such as fig cobbler with caramelized honey are seasonal and never disappoint. This sophisticated restaurant with a powerful menu provides a private seating area for 24, while the dining room can generously seat 88 guests.
New and Improved
Memphis Cook Convention Center is undergoing a major revamp and renovation with completion scheduled for late 2019. Adding to the 28,000-square-foot ballroom and 125,000 sq. ft. of column-free space in the main exhibit hall, the new area will add a 40,000-square-foot ballroom that can be converted into flex space with 52 breakout rooms.
As part of the Memphis Cook Convention Center upgrade project, Loews Hotels will be developing a full-service property—a 26-story glass tower with 550 guest rooms.
A Marriott "experiential" hotel catering to millennial travelers who appreciate affordability, advanced technology and communal spaces, Moxy Hotel is scheduled to open late 2018 with 118 guest rooms.
Curio by Hilton at Central Station will also open in late 2018, with 124 guest rooms. The historic Central Station building will be converted to a top-notch facility embossed with the charm and personality of the 103-year old train station.
On the horizon are at least five hotels in planning stages.
Gatlinburg and Knoxville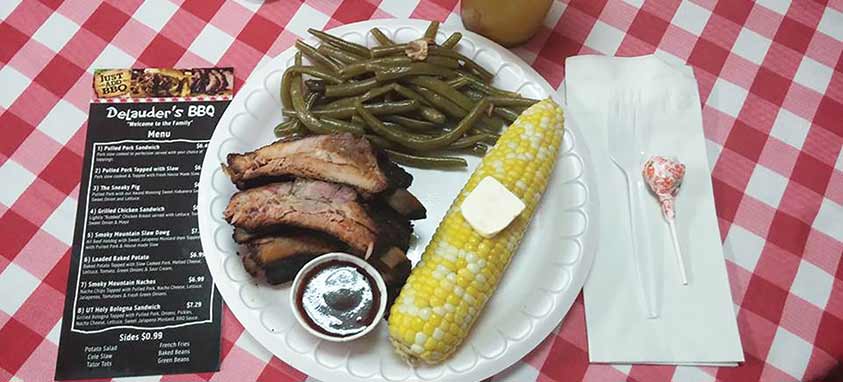 Tucked in the foothills of the spectacular Smoky Mountains, Gatlinburg is eager to greet you with a host of dining options from casual to elegant. Consider Delauder's BBQ, listed as No. 2 among The 25 Best Places for Barbeque in the U.S. in Travel & Leisure magazine (from a list compiled by Yelp). With its popular Holy Bologna signature sandwich made with fried bologna, pulled pork and nacho cheese, this is comfort-food paradise. Delauder's is located in the Great Smoky Arts and Crafts Community, so your meal easily becomes an experience.
A quick stop to tie you over is Maple Street Biscuit Company, creators of the Reinhold biscuit with a fried chicken breast, honey mustard sauce and dill pickles. Another customer favorite is the Farmer biscuit, made with fried chicken, smoked bacon, cheddar cheese and homemade apple butter.
Knoxville claims its own culinary vista with a strong concentration of locally sourced foods shaped by innovative chefs. With more than 75 restaurants within a square mile, some are award-winning, notably Pizza Palace, a drive-in pizzeria featured on Diners, Drive-Ins and Dives that boasts a memorable homemade meat sauce.
Wild Love Bakehouse is where local staples such as milk, eggs and flour are magically transformed into fist-sized biscuits topped with maple-glazed sausage and eggs. With plenty of indoor/ outdoor seating, lunch is just as popular with a feast of handmade pot pies, soups and imaginative flatbreads. Wild Love has been open only a couple of years and has already been named the Best Bakery in America by Afar magazine.
OliBea was a 2017 USA Today Reader's Choice winner for best biscuit sandwich in Tennessee, while The Tomato Head's cookies and milk cupcake was ranked a winning dessert by BuzzFeed.
If you're group is craving mountain air, toe-tapping music and great food between dynamic meetings, welcome to Tennessee!
---
Mona L. Hayden is an independent writer and an award-winning photographer. She publishes Louisiana Road Trips magazine.