Music Room at The Breakers, Newport, Rhode Island
Southern New England cities offer unique styles and fine designs
Southern New Englanders have always prided themselves on the fine design and workmanship of their goods, both edible and otherwise. There's hardly a city or town that doesn't boast handcrafted brews, locally made foods and works created by regional artists. But the skill goes beyond crafts and cuisine. The old mansions, colonial churches and hand-built wooden bridges from generations ago reflect the spirit of fine design that permeates the region.
The history of Southern New England is also the history of the nation. It's where the independent spirit was formed and the revolution started. Road trips in the region will take you from one end of U.S. history to the other. Groups can see where the pilgrims landed in 1620 and then visit the world's largest maritime museum.
Groups can also experience what life was like in the 1800s at Old Sturbridge Village in Massachusetts or Portsmouth, New Hampshire, where a living history museum covers four centuries and shows how styles have changed. Southern New England preserves whole towns as new ones emerge.
Cornish, New Hampshire, is home to the summer estate of America's famed Augustus Saint-Gaudens, spread over 150 acres. Not far away are Shaker villages, with buildings reflecting the inherent beauty and simplicity of the communities. Shaker Modern homes continue the tradition with contemporary twists. Artists also gravitate to the region.
Let's take a closer look at some of Southern New England's intriguing style and design features.
Rhode Island
For such an itty-bitty state (the smallest in the United States), Rhode Island boasts a wealth of eye-catching landmarks and attractions. Where else can you find gorgeous beaches, majestic mansions and historic towns in such a compact area? But the Ocean State also embodies all things progressive. There, your group will find an innovative arts scene, world-class cuisine and trendy shopping—all within a short drive.
Newport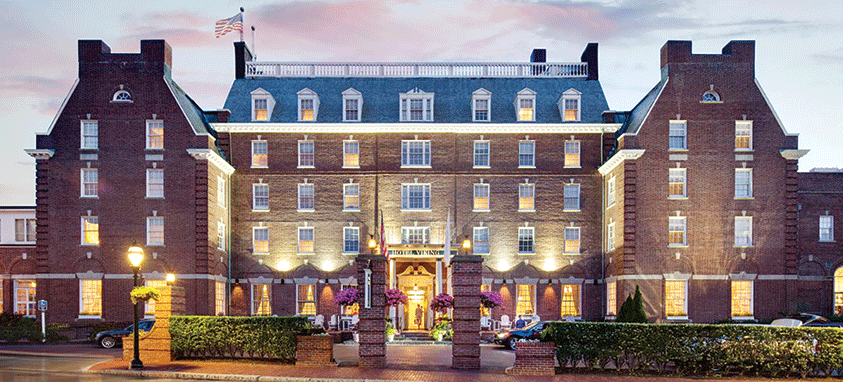 Start in Newport, founded in 1639 and dubbed the City of Summer White Houses. Newport has a flamboyant past, picture-perfect location and dozens of waterfront views along its strollable streets. The harbor was the site of the America's Cup for years and still attracts yachters with its colorful regattas.
"Newport offers exactly what we need, which includes a central location for our members to meet between the mid-Atlantic states and Northern New England," says Carol Turner, executive director of Coalition of New England Companies for Trade. "It's easy to get to and get around without any big-city traffic or parking problems. Its accommodations are diverse—from major hotels to resorts, inns, and bed and breakfasts.
"Off-site venues are plentiful and unique. How many cities offer private event space for 300 in a Gilded Age mansion or a resort on Newport harbor with lovely tented facilities, gardens and gorgeous water views? Our members tell us they feel like they've been on vacation after leaving Newport."
A first stop should be Bellevue Avenue to see the famed Gilded Age mansions, also known as Newport's "summer cottages." The most famous of the bunch is the 70-room The Breakers, commissioned in 1893 and patterned after an Italian Renaissance palazzo. It is the largest and most opulent of the "cottages" and was inspired by the 16th-century palaces of Genoa and Turin.
Just down the street is Marble House, another summer cottage inspired by the Petit Trianon at Versailles. This jewel was built to the tune of $11 million as the 39th-birthday gift for a Vanderbilt wife, who called it her "temple to the arts."
At Rosecliff, you can follow in the footsteps of Newport's elite. Featured in The Great Gatsby and High Society, Rosecliff was party central for the summer crowd, hosting magical dinners and entertainment, including Harry Houdini. Today, the mansion is again party central, with event space that includes a ballroom that can hold 180 for dinner and a terrace accommodating 300 for receptions.
More of the city's period architecture can be found at Newport Historic District, lined with Colonial, Georgian and Federal landmarks such as Trinity Church and Fort Adams, tracing its roots to the 19th century. It hosts summer concerts with a view of the water.
When it comes to hotels, the 257-room Gurney's Newport Resort & Marina is a hop, skip and shuttle from Newport—on its own private island. The waterfront property provides easy access to attractions plus the most event space in Newport: 27,000 sq. ft. of ballrooms and halls, and 50,000 sq. ft. of lawns and pavilions.
Just coming off a $6.2 million restoration is the 208-room luxurious Hotel Viking, opened in 1926. The hotel is perched atop Newport's Historic Hill and features rooms designed in Gilded Age style. Some 13,000 sq. ft. of function space is available.
Providence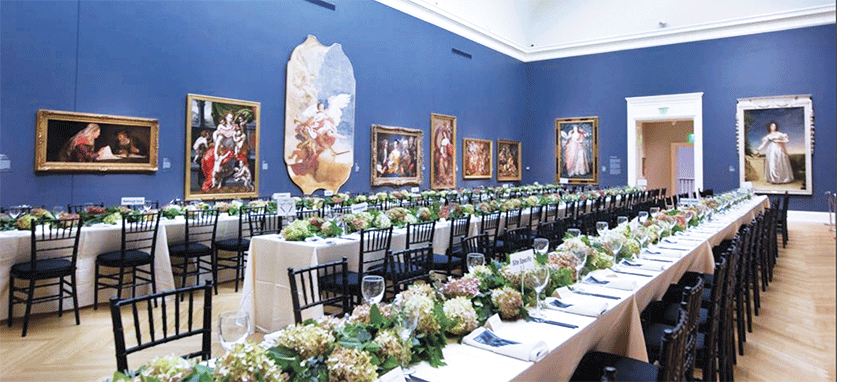 Dubbed "America's coolest city" by GQ magazine, Providence offers all things artsy: artsy design, artsy food and artsy culture. A good first stop is Rhode Island School of Design (RISD), incorporated in 1877 and with graduates including glass sculptor Dale Chihuly and fashion designer Nicole Miller. No limits on innovation there. Students have designed everything from backpacks to a space suit for astronauts to wear on a mission to Mars. RISD museum is a must-see for its world-class collections. The Grand Gallery holds 200 guests, who can enjoy cocktails while browsing 17th- and 18th-century European art.
Well-established as a foodie frontier, Providence is home to Providence Johnson & Wales College of Culinary Arts, where some of the world's culinary leaders have fired up the grill. Alumnus David Kinch of Michelin-rated Manresa in Los Gatos, California, was awarded Michelin's coveted Outstanding Chef award.
With a culinary school smack-dab in the middle of the city, it's no surprise that dining downtown can be a feast. Nick's on Broadway is managed by James Beard-nominated chef Derek Wagner and Birch has Benjamin Suki, also a James Beard nominated chef, at the helm.
Offering 5,500 guest rooms, Providence is an ideal destination for conventions. Some 2,100 of the rooms are within walking distance of Rhode Island Convention Center, which offers 100,000 sq. ft. of exhibition space, 20,000 sq. ft. of ballroom space and 30,000 sq. ft. of prefunction space. A skybridge connects the convention center to the 564-room Omni Providence Hotel.
"Junior Volleyball Camps and NERVA [New England Regional Volleyball Association] chose Providence to host our two-weekend Rhode Island Rumble tournament and several future events, as the downtown has so much to offer," says AJ Joseph, president of Joseph Volleyball Camps and AR Courts. "The large number of hotel rooms within easy walking distance of the convention center, the mall connected via skybridge, the events at the Dunk (Dunkin' Donuts Center) and so many restaurants open late provide numerous activity options for our teams and their families off the court."
One of the city's top hotels, the landmark Providence Biltmore is rehanging its shingle as Graduate Providence. Designed in 1922 by the same firm behind New York City's Grand Central Station, the hotel has renovated its 294 guest rooms and common areas while retaining original features such as the ornate lobby ceiling and glass-and-brass elevator. The new owners added plaid, tweed and leather to create the feel of a post-grad bachelor pad. Some 18,000 sq. ft. of meeting space is available.
The 351-room Marriott Providence Downtown offers more than 17,000 sq. ft. of flexible space, including 13 meeting rooms, three ballrooms and outdoor event venues.
If ocean views and the sound of the surf are at the top of your list, head less than an hour outside Providence to the luxurious, 67-room Ocean House, a Victorian-style hotel set on a bluff overlooking the ocean. Built just after Civil War, it shuttered for a $146 million makeover to recreate itself as an Old World summer estate. One of 11 Forbes Triple Five Star resorts in the world, Ocean House offers a 12,000-square-foot spa, Secret Garden lounge pouring Veuve Clicquot champagne and more than 10,000 sq. ft. for events.
Connecticut
The third-smallest state in the United States, Connecticut still manages to pack a wallop when it comes to art, history and culture. Visitors will find colonial meeting houses, country churches, old farmsteads and dozens of 19th-century buildings, reborn as restaurants and shops.
"We were looking for a special meeting venue with sophisticated technology to accommodate our group, but in a more personal setting than a big-city hotel or conference center," says Kimberly Durden, membership and advertising coordinator for Cryogenic Society of America, who chose Heritage Hotel Golf, Spa & Conference Center in Southbury for her group. "We especially liked the convenience for off-site experiences—it is less than an hour from the Connecticut shoreline and scenic Litchfield County, and easy for daytrips to New York, Boston and other parts of New England."
Hartford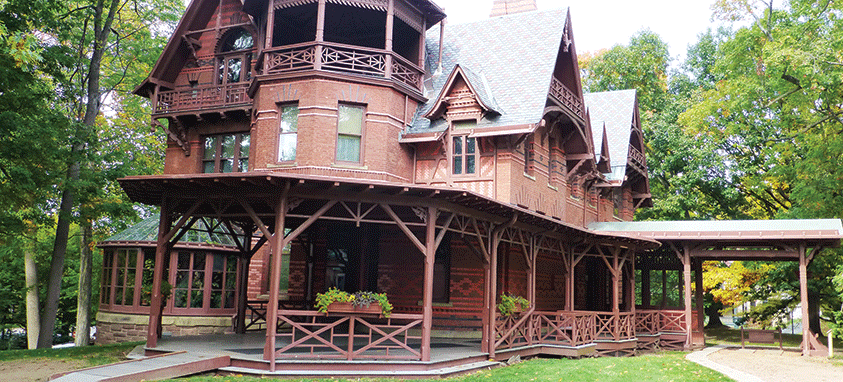 The capital of Connecticut is Hartford, founded in 1635 and home to the nation's oldest public art museum, oldest publicly funded park and oldest continuously published newspaper in the United States. It is also home to Mark Twain House & Museum, often acclaimed as one of the best historic homes in the world.
This 1874 mansion provides a glimpse into the writer's life. You can see the desk and billiards room where Twain (aka Samuel Clemens) wrote his best works, including Adventures of Huckleberry Finn, The Adventures of Tom Sawyer and A Connecticut Yankee in King Arthur's Court. No roughing it there: The house had all the modern amenities of its time, including seven bathrooms, hot water, flushing toilets and a burglar alarm to alert the staff of any prowlers.
Rub elbows with Twain's spirit in Webster Bank Museum Center at The Mark Twain House & Museum, where a theater shows Ken Burns' highly acclaimed mini-documentary on Twain and you will find meeting space for 540, including a reception area in the Hal Holbrook hall.
If your group visits a historic city, it's fitting for it to stay in a historic hotel. Goodwin Hotel is a stylish jewel housed in an 1800s terracotta building just a short walk from Bushnell Park. Built as an upscale apartment complex, with JP Morgan as a resident, it was converted to a hotel in the 1980s, retaining the original stone fireplaces and mahogany woods. In addition to elegant restaurants and lounges, there's a 1,192-square-foot ballroom with panel molding and vintage chandeliers.
The 114-room Delamar West Hartford is the newest downtown property. Packed with luxurious offerings, the LEED-certified hotel features a full-service spa, fine dining and meeting space for up to 400 guests. The 409-room Hartford Marriott Downtown connects to Connecticut Convention Center and offers 13,089 sq. ft. of event space.
New Haven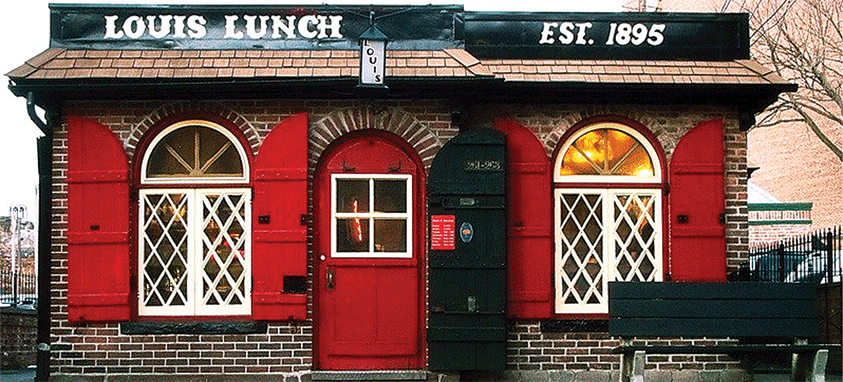 College and culture go hand in hand in New Haven, home to Yale University, built in 1701 and boasting a world-class collection of art and antiques. Lesser claims to fame include being home of the first hamburger (1895) at Louie's Lunch, still in operation.
If you love art, head to Yale University Art Gallery, the first commission of famed architect Louis Kahn. It is the oldest university art collection in the nation, with works that rival any world-class museum. Look for paintings by Van Gogh, Rubens, Hals and Picasso.
Book lovers should check out Beinecke Rare Book & Manuscript Library, which features original manuscripts by Charles Dickens, Goethe, Gertrude Stein and Benjamin Franklin. It also displays one of only 48 Gutenberg Bibles still surviving, plus an enormous repository of literary items ranging from medieval to Western Americana. It's the world's largest building designed for housing books.
For a fun afternoon excursion, groups can hop onboard an open-sided antique trolley, the oldest continuously running suburban trolley in the country. Follow along River Street to Short Beach, then allow time to tour Shore Line Trolley Museum, with its well-maintained carriages. A 1911 "party" trolley is available to rent.
Hotels are varied in New Haven, but for sheer convenience, the 306-room Omni New Haven Hotel at Yale can't be beat. Centrally located, it offers 22,000 sq. ft. of meeting space. The 108-room Blake Hotel is the latest boutique hotel to roll out the red carpet. It is named for Alice Blake, the first woman to graduate from Yale Law School, and features a New England bistro run by a Michelin-starred chef.
One unique venue is the new Boathouse at Canal Dock, a $43 million property that has function space, a boat launch and an ongoing exhibit of the history of the waterfront. Parties and meetings can be held in a 3,600-square-foot room that opens to a balcony, with views of the harbor.
Massachusetts
Massachusetts is one of those states that offers the best of everything, including mountains for ski buffs and oceans for water warriors. History fans can relive Paul Revere's Ride, while birders can bask in the Berkshires with their binoculars. If you're just hoping to relax, surf and sand of Cape Cod await.
Boston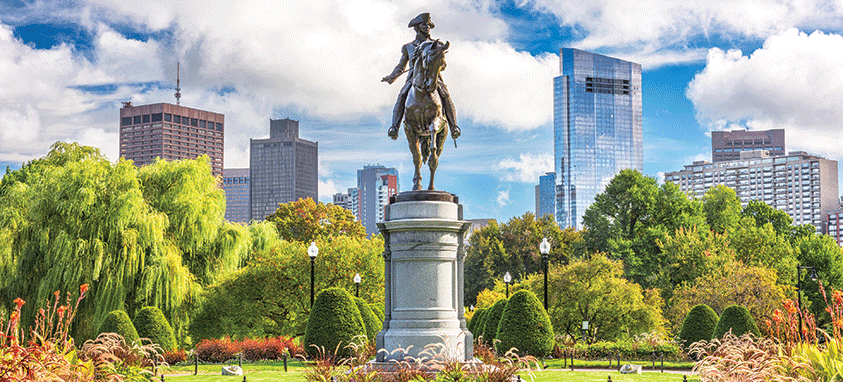 A good home base for any meeting is Boston, with its cobblestone streets and the iconic landscape of Harvard University. Founded in 1636, its's one of the oldest cities in the country, with a rich history and a legacy of arts and culture.
Newbury Street has long been a popular destination for upscale shops housed in buildings dating to the city's founding. Known for its European design elements, such as wide sidewalks, the street has been exclusive ever since its beginnings as a residential neighborhood. Today, the street reigns supreme as the place in Boston for fashion and style.
At Faneuil Hall Marketplace, you can eat, stroll and shop 'til you drop. The marketplace is actually four places in one—Faneuil Hall, Quincy Market, North Market and South Market—all surrounding a cobblestone courtyard. It has been a marketplace since the 1700s and is beloved for its food stalls, boutiques and nonstop entertainment.
For peace and quiet, make your way to Boston Commons, America's oldest city park, dating to 1634. Play in the splash pool or just soak up the rays on a wide swath of grass.
The hotel scene in Boston is just as busy as the city itself, with 35 new hotel projects planned and a potential for 5,000 new guest rooms within the next five years. More than half of the rooms will be at the south Boston Waterfront, near the convention center. One of these, Boston Harbor Hotel, is just wrapping up a redesign of its 230 guest rooms, with colors and textures inspired by the nautical setting.
Also near the harbor is the 671-room Encore Boston Harbor, America's first five-star urban gaming resort, scheduled to open this summer. Look for 29 floors housing 13 restaurants and lounges, and 50,000 sq. ft. of meeting space. Water ferries and water taxis shuttle guests to other sections of the harbor.
Boston Park Plaza has completed a $100 million renovation, revitalizing the historic hotel's 1,060 guest rooms and six in-house restaurants and bars, as well as transforming 55,000 sq. ft. of meeting space. For sheer history, there's Taj Boston, which has plunged into a redesign of the 90-year-old building, including relocating the main entrance and updating all 273 guest rooms. The hotel is slated to reopen in 2020.
Springfield
Head out of Boston to Springfield and your attendees might find a cat in a hat, or ham and green eggs at The Amazing World of Dr. Seuss Museum, the only museum celebrating the life and work of the ingenious author and Springfield native Theodor Seuss Geisel. Besides interactive experiences, the museum has artwork, furniture and exhibits emphasizing literacy.
Equally innovative is Hoop Hall at Naismith Memorial Basketball Hall of Fame, located on the banks of the Connecticut River. This landmark museum pays tribute to the game, invented in the city more than a century ago, and exhibits share the court with basketball history. Besides the monumental building, the draw is live clinics where you can test your dribbling and shooting skills.
Springfield seems like an unlikely place for a Titanic museum, but it's there for the finding. Among the items on display at Titanic Museum are the life jacket worn by crash survivor Madeleine Astor, a menu, a dining chair, and sections of carpet and railing removed from the wreck. The museum also showcases a model of the Titanic that details every inch of how the ship looked in 1912.
In addition to its exhibits, the museum hosts experts discussing maritime disasters. Members of Titanic Historical Society, Inc. were extras in the blockbuster Titanic film starring Leonardo DiCaprio and Kate Winslet.
One of the largest properties in the city, MGM Springfield Resort Casino, has 250 guest rooms, a luxury spa, gaming, 55,000 sq. ft. of retail and dining, and 34,000 sq. ft. of meeting space.
Unusual Buildings Reincarnated into Hotels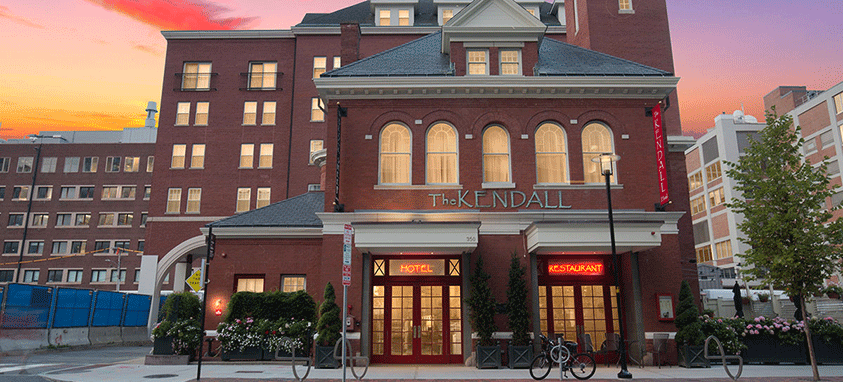 Southern New England holds onto its historic buildings like a mother cherishes her child. But no place is sacrosanct from the imagination of an innovative hotelier. Where else can you find unusual structures reformed and reworked as destinations for guests to rest their weary heads?
At The Liberty, a Luxury Collection Hotel, Boston, you get out of jail every morning and go free. The 298-room, AAA Four Diamond property was originally a prison that housed notables such as Malcolm X and the Boston Strangler. Today the metal bars are gone, and the interior has been rehabilitated into a comfy retreat for guests who like luxury away from the hubbub of downtown. Clink, one of several restaurants and bars, includes the remains of an old jail cell, and Alibi was the city's drunk tank.
Providence, Rhode Island, brings new meaning to the word re-use. Take the city's historic Masonic temple, dating to the 1920s, once abandoned and occupied by squatters until Marriott took over the Greek Revival-style structure and restored it as the luxurious Renaissance Providence Downtown Hotel. There is function space for 500.
You'll thank your lucky angel if you're staying at Belfry Inn & Bistro in Cape Cod. This 22-room property spread over three structures was once a Catholic church before it was desanctified into a hotel and restaurant. Built in 1901, the abbey and neighboring Victorian house, which served as the church rectory, retain their large fireplaces and stained-glass windows. The hotel accommodates 110 for receptions.
The Kendall Hotel in Cambridge, Massachusetts (pictured) dates to the 1890s when it was the Engine 7 firehouse. Two Rhode Island School of Design alums renovated the site into an artsy mix of old and new. The hotel restaurant, Black Sheep, is named for the firefighters who once called the site home. A new tower has meeting space for small groups.
Southern New England Trails with Tales
Southern New England is chock-full of good hiking trails not far from downtown, and most take you along a path of history. Here are a few routes worth stretching your legs.
Newport's 3.5 miles of style is its Cliff Walk, which takes you past the famed Gilded Age mansions. Despite the glitz blitz, it's a serene walk with panoramic views of the water. For a sunset stroll, make your way to Fort Adams Bay Walk. The west side of the walk runs along the East Passage of Narragansett Bay, with stunning views of the sun setting over Jamestown. The east side overlooks the harbor and Brenton Cove, a pretty place to anchor a boat.
Boston has a bevy of good walks, and one jewel is Emerald Necklace, a system of parks covering more than 7 miles, starting at Fens in Back Bay and working its way along the Riverway, Olmsted Park, Jamaica Pond and Arnold Arboretum. Scenery ranges from sailboats to a zoo.
There is no shortage of walks in Connecticut, but the tour of art at Yale in New Haven is a rich source of sculpture and architecture that includes works by Maya Lin, Alexander Calder, Roy Lichtenstein and others. Group tours can be arranged at Yale Visitor Center.
If you grimace at gravestones, you haven't toured Grove Street Cemetery in New Haven, resting place of Yale luminaries such as Eli Whitney and Noah Webster. Rumor has it that Yale med students would creep in after dark and dig up bodies for dissection. Established in 1797, the cemetery is set behind a stone wall and iron fence, and its beauty is enhanced by the Egyptian Revival-style gate.
Kristine White is a California writer who spent many years attending off-site meetings and now enjoys writing about them.