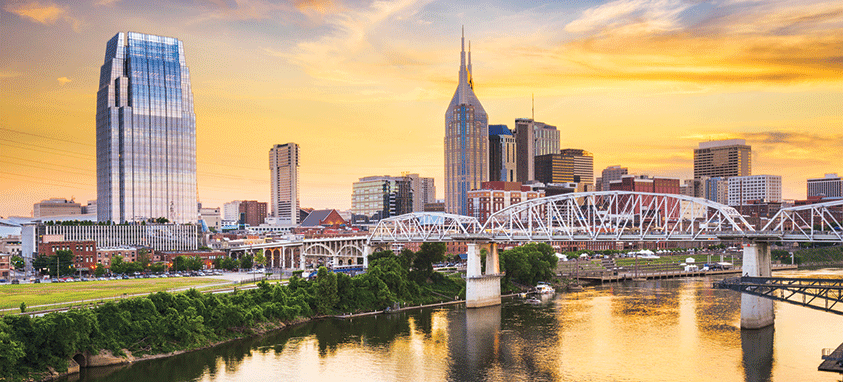 New hotels near convention center welcome more convention action
Music City has become a meetings industry darling, with new hotels rising from The Gulch to Germantown and East Nashville. New ways to celebrate the Tennessee capital's live music, down-home food and special characters are opening faster then a three/four-time chorus.
Charles Starks, president and CEO of Music City Center, pointed to all the cranes in the air as a sign that the city's investment five years ago in meetings infrastructure was a smart one. "Our best convention days are still ahead," he said.
Nashville was originally envisioned as the Athens of the South, and education has been a central part of its focus from the beginning. Multiple world-class institutions—Vanderbilt University, Belmont University and Tennessee State University—have fueled the robust medical and music production industries in the city.
That diverse background has proven attractive to businesses locating there and companies choosing to hold their meetings in the city, where attendees have so many options for entertainment.
Arrive
From its central location, Nashville International Airport (BNA) is expanding to serve a population that is expected to reach 2.5 million people by 2041. The seven-year project includes a new, six-story parking garage that opened this year, expanded ticketing and baggage areas, a new concourse, retail and dining, and, by 2023, a renovated international arrivals terminal.
Meet and Stay
Within two-stepping distance of Music City Center, Country Music Hall of Fame and Bridgestone Arena in SoBro district (South of Broadway), new hotel properties under construction include Margaritaville Hotel Nashville, billed as an urban retreat for serious music fanatics, set to open in December. Expect lots of tropical plants and places to grab a cocktail in addition to 217 guest rooms and 10,000 sq. ft. of meeting space.
A couple of blocks over, the fences are still up for The Joseph Nashville, a Luxury Collection Hotel with 297 guest rooms, a full-service luxury spa and 18,000 sq. ft. of banquet and meeting space, with a 5,000-square-foot eighth-story terrace to take advantage of the city views. Look for creative visual and performing arts touches. In between the two, Marriott recently opened its first tribranded property—the integrated AC Hotel Nashville Downtown, SpringHill Suites and Residence Inn. It includes more than 9,000 sq. ft. of meeting space, 470 total guest rooms and a swimming pool with a massive showerhead water feature. Just off Broadway, a new, 168-guest room Moxie Hotel will greet guests with a bar, rather than a front desk, so guests can start off with a drink.
Eat, Drink and Do
Is it even a trip to Nashville if you don't go to a honky-tonk? It would be easier to name the country music stars who have not opened joints in Nashville, but a couple to note are Kid Rock's Big Honky Tonk Rock N' Roll Steakhouse and Luke's 32 Bridge Food & Drink, Luke Bryan's six-story tribute to the city that features different food on each level, including sushi and multilevel rooftop bars. Dierks Bentley's Whiskey Row Nashville may be familiar to those who have visited his gastropubs in Scottsdale, Tempe and Gilbert, Arizona. In addition to the live stages, this one adds a DJ booth and dance floor.
AJ's Good Time by Alan Jackson was one of the first to put his name on a honky-tonk, and set the stage for nightly multilevel music celebrations. Blake Shelton's Ole Red Nashville offers 26,000 sq. ft. of restaurant, bar and music space. Jason Aldean's Kitchen & Rooftop Bar features a 1961 John Deere tractor as a tribute to his hit song, "Big Green Tractor." Tyler Hubbard and Brian Kelley stock the supersize FGL House with their Old Camp Whiskey brand and four stories of new country music. Three stages at Tootsie's Orchid Lounge have hosted everyone from Willie Nelson to Taylor Swift.