Beach and sunshine access spots for optimal learning
Team building on a sunny California beach is a popular technique for relaxing groups and creating fun shared experiences, but research shows there may be a scientific reason that coastal exposure leaves attendees feeling smarter.
The study, "Moderate UV Exposure Enhances Learning and Memory by Promoting a Novel Glutamate Biosynthetic Pathway in the Brain," published in the journal Cell in June of 2018 by Hongying Zhu, et al. found that sunlight leads to increased release of neurotransmitters, which can enhance motor learning and long-term memory, at least in mice.
To celebrate confirmation of the effectiveness of what we are calling Sandy Toe Treatment, we are highlighting some top California coastal properties where attendees can stock up on glutamate so the training sticks in memories longer than the beach residue in the nooks and crannies of those cute Olukai sandals gifted at the opening reception.
Santa Cruz
This coastal destination, 30 miles from Silicon Valley's downtown San Jose, boasts an average of 300 days of sunshine a year, mild summer temperatures in the mid-70s and lots of unique meeting and team building infrastructure.
Venue Updates
Dream Inn Santa Cruz (165 guest rooms and 3,500 sq. ft. of indoor meeting space) recently launched Beach Feast, a complete ocean-totable private dining experience on Cowell Beach, steps from Santa Cruz Beach Boardwalk. The customizable menu created by Executive Chef Gus Trejo integrates fresh seafood, grilled steaks and paella as options.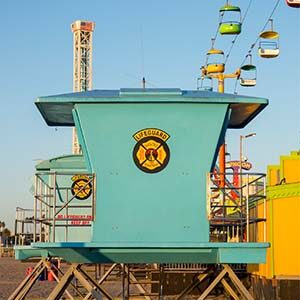 A renovation of the whimsical retro-surfer-themed property includes Jack's Patio, an outdoor dining venue with live music from local musicians and heat lamps for chilly coastal evenings.
Boutique Hampton Inn Santa Cruz West (60 guest rooms) recently opened on trendy Mission Street (also known as California's iconic Highway 1). The former fruit-processing industrial area on the north coast is now a hip, stylish destination with a laid-back vibe and a cluster of breweries, wine tasting and restaurant options.
South of the city, tucked in rolling hills lined with award-winning wineries, a new Hampton Inn & Suites (112 guest rooms and 792 sq. ft. of meeting space) with access to Sunset State Beach recently opened its doors. It features Hilton's Connected Room amenities, which give guests the power to control the temperature, lighting and television from the Hilton Honors app on their phone.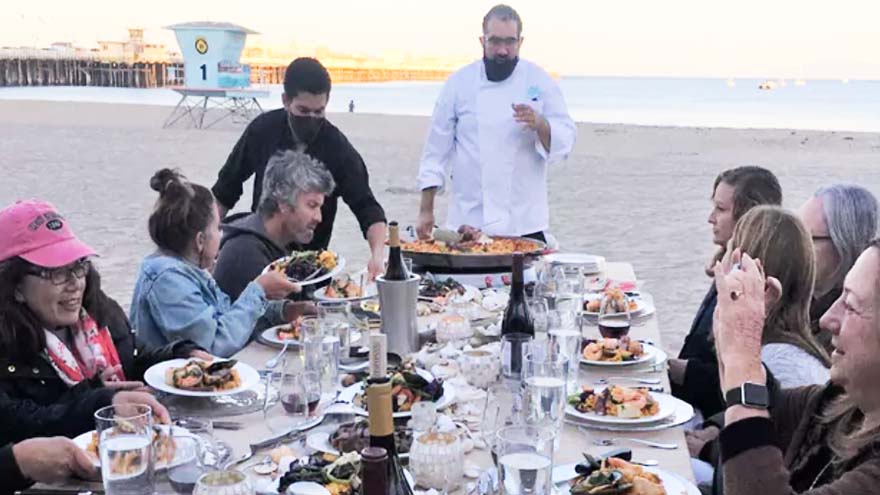 Monterey
In 2020, when in-person meetings were paused, Monterey County CVB rethought its approach to meetings and conferences. The intentional efforts visible at the 224 area hotels were meant to maintain awareness and communications with meeting planners throughout the pandemic, paving the way for an even stronger return when restrictions were lifted in California. New Vice President of Business Development Teresa Savage shared that the organization has brought on some veteran staff based across the U.S., including Richard Hud, who will work with Midwest and East Coast groups.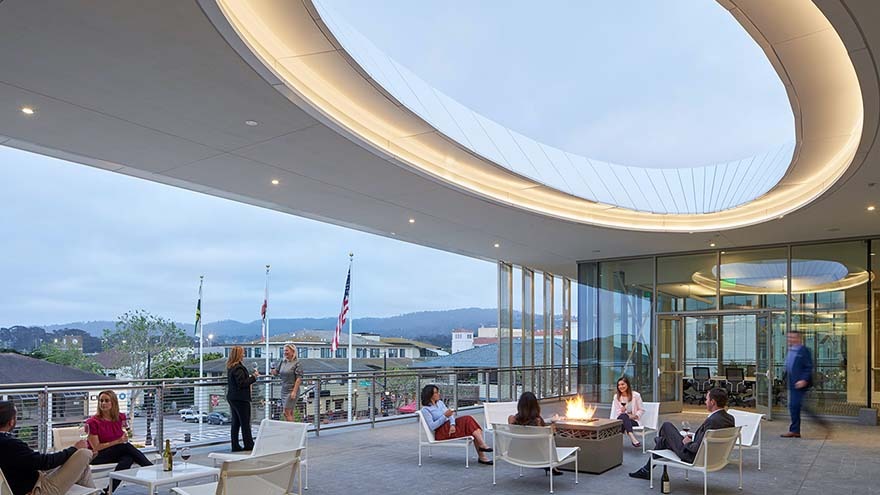 Monterey Conference Center (40,000 sq. ft. of meeting space), a proud LEED Platinum property, received its GBAC STAR facility accreditation and features CANVAS technology's Immersive Design Studio to leverage larger, more engaged hybrid programs. "Now more than ever, we are all looking forward to reconnecting with family and friends and seizing the moments we have missed out on over nearly two years," said Rob O'Keefe, president and CEO in a statement. "There is no better place to surround yourself in natural beauty and awe-inspiring landscapes than in Monterey County, which continues to add new reasons for travelers to visit."
Venue Updates
One of the largest convention hotels in the area, Hyatt Regency Monterey (40,000 sq. ft. of meeting space, including a new outdoor lounge with firepits, hammock garden and walking paths) recently revealed the completion of a 560-guest-room renovation. General Manager Kevin Ellis described the exercise as a restoration of the legacy of the iconic hotel. "Honoring the rich history of the property, Hyatt Regency Monterey pays homage to California's natural beauty, golfing culture and Route 1 drive for the quintessential Monterey experience."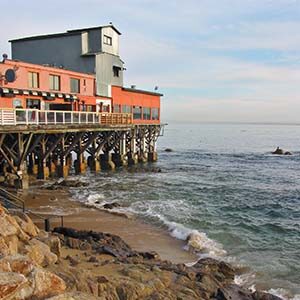 At The Lodge at Pebble Beach (more than 10,000 sq. ft. of indoor meeting space with tent-primed area outside), the Sloat Building's 26 new guest rooms overlook Stillwater Cove and the 18th hole. Suites encompass more than 1,300 sq. ft. of entertaining space with sweeping ocean views.
Also overlooking the Pacific Ocean, Monterey Plaza Hotel and Spa (more than 30,000 sq. ft. of meeting space, including waterfront terraces) is in the midst of reimagining its 290 guest rooms and launching a new high-end restaurant concept, Coastal Kitchen, which will offer a pre-fixe dinner menu with wine pairings.
Laguna Beach
This walkable artist community boasts 22,000 acres of protected land, including Laguna Wilderness Park, seven miles of oceanfront and the most beachfront lodging options in California. The location halfway between Los Angeles and San Diego means John Wayne Airport Orange County (SNA) is an easy access point.
Venue Updates
Montage Laguna Beach (20,000-square-foot Spa Montage, with 253 guest rooms and more than 13,000 sq. ft. of meeting space) has completely reopened this 30-acre beachfront sanctuary. The view over the main pool looking out on the Pacific is the ultimate Instagram spot.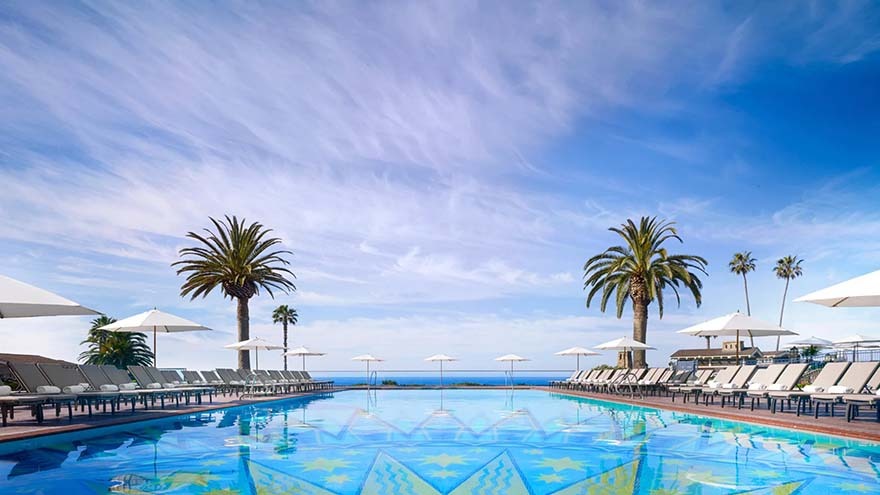 A classic retreat option is The Ranch at Laguna Beach (6,000 sq. ft. of meeting space and 97 guest rooms), where Grill N Glow rentals facilitate fire pit gatherings on Aliso Beach.
Hotel Laguna recently reopened the ground floor with two signature restaurants after an extensive, four-year reinterpretation of the 1930 building fronting the coast highway. Upgrades to the 65 guest rooms and more than 5,000 sq. ft. of meeting space are awaiting permit approval.
Itinerary for a Southern California Return to Business
Meeting professionals looking for a mix of beach, urban, mountain and theme park have discovered that heading to Ontario and Rancho Cucamonga in the heart of Southern California is one way to stretch budgets and availability options that might be limited in more western zip codes, without giving up quality of experience.
GBAC STAR-accredited Ontario Convention Center boasts 225,000 sq. ft. of column-free exhibit space, two miles from Ontario International Airport (ONT), and supported by 6,000 hotel rooms. Toyota Arena (home of NBA's Agua Caliente Clippers) is three miles away, and a one-hour sprinter ride to Santa Monica State Beach. Disneyland is less than an hour in the opposite direction.
Smart organizers will negotiate shoulder days as guests will want to plan on some bleisure time before and after, to take advantage of all the entertainment in the area.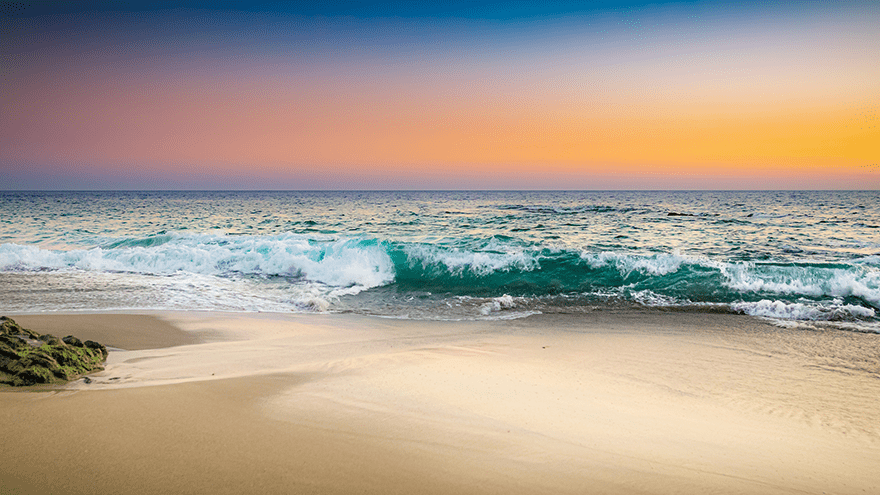 Sample Agenda
Thursday 7:00 p.m.: Welcome reception at Universal Studios Hollywood, where a buyout means guests get the red-carpet treatment and unlimited rides on popular favorites such as Despicable Me and Harry Potter and the Forbidden Journey.
Friday 8 a.m.-11 a.m.: All-hands Town Hall at Ontario Convention Center with interactive DS3 audio-visual experience.
Noon-3:00 p.m.: Catered lunch and competitive kite-building at Santa Monica State Beach.
5:00 p.m.: VIP wine tasting and rustic barn dinner at Galleano Winery in the Cucamonga Valley (the Inland Empire's oldest wine region). Also an hour away is the famed wine region of Temecula, where Pechanga Resort Casino is home to 15 bars and restaurants, along with 275,000 sq. ft. of meeting space and 1,090 guest rooms.
Resources
Greater Ontario California
Convention and Visitors Bureau
See Monterey County
Visit Laguna Beach
Visit Santa Cruz County