No longer a staid city, it's booming with multicultural options
On July 4, 1847, when Brigham Young said, "This is the place," he saw Salt Lake Valley as a haven for his persecuted Mormon followers. But he most likely never foresaw it would one day become an ethnically diverse capital with a multifaceted cultural scene and thriving technology sector that attracts talent from all over America.
Now, newcomers are staking out a new identity for this city. Today, nearly 100 languages are spoken by the 1.25 million residents of the Salt Lake City area. Surrounding cities such as Ogden and Provo are booming.
More than 100 galleries and museums showcase the creativity of myriad cultures who call this high-elevation state capital home. Among the hundreds of restaurants, many have made a name for themselves by bringing sophisticated international cuisines and widely heralded young chefs to Utah.
As a hub for Delta Air Lines, Salt Lake City International Airport (SLC) makes getting there easy.
What's in it for meeting planners? Well, this rebirth has also helped create a plethora of unusual meeting spaces indoors and out that will spark increased productivity and forge memories that will withstand the test of time.
Brand New Places, Unusual Spaces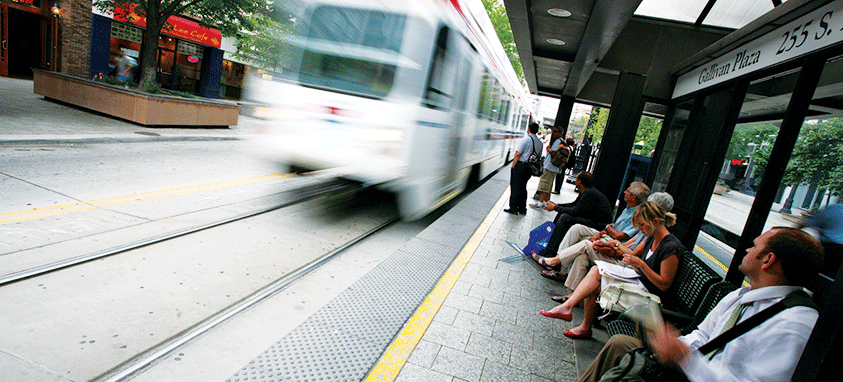 Salt Lake City grabbed the attention of the world when it served as transportation hub and official site of the 2002 Winter Olympics. The games can test the infrastructure of cities many times the size of Salt Lake, but the city came through with flying colors, showing off the beauty and industry that have attracted groups for years.
Any doubts about Salt Lake's ability to host large numbers of visitors were dispelled by its efficient (and friendly!) transportation and ability to accommodate 80,000 visitors a day for 17 days.
Salt Lake is lean and compact, and surrounded by jaw-dropping mountain scenery. It's always been known for its friendly people. Now that it's become a diverse community with a booming economy, it's also more urban and "cool" by the day. And beyond the city lights, the surrounding mountains offer more four-season recreational options than almost anywhere else in America…and better skiing than almost anywhere else on Earth.
Niaz Siasi is a meeting planner for Hearing Loss Association of America (HLAA), based in Bethesda, Maryland. She brought 750 attendees and exhibitors from the United States and abroad to Salt Lake in June for the HLAA2017 Convention. Like many of her attendees, she was happily surprised by Salt Lake City.
"Our people loved seeing the mountains everywhere they looked," Siasi says. "They loved the walkability of the city, and the accessibility of the TRAX light rail when something was too far to walk. They were impressed by the beautiful shopping areas such as City Creek, and by the wide variety of restaurants.
"We like cities where our attendees can really get out and explore, so the meeting becomes fun as well as educational. And Salt Lake fits that bill perfectly. The people made us feel genuinely welcomed, and the CVB is one of the best we've worked with."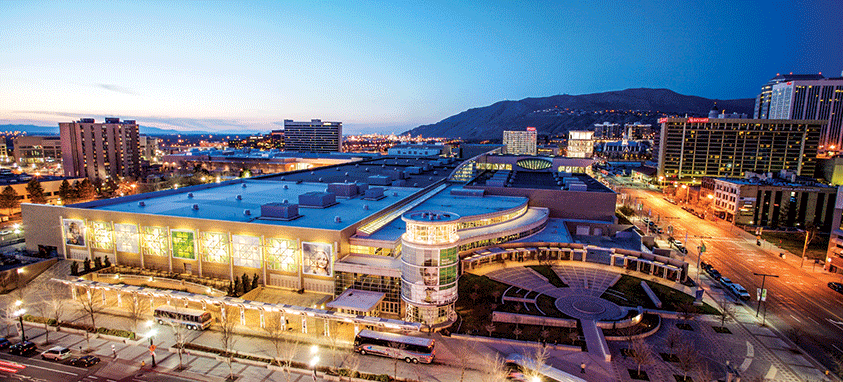 The meetings infrastructure, always important there, has been in the vanguard of the recent positive changes. Yes, the city has the world-class, 679,000-square-foot Calvin L. Rampton Salt Palace Convention Center (pictured above), boasting one of the world's leading solar-panel systems, and large windows that let the Rockies in. Two new, full-service hotels will open late next year, each only a block from the convention center. The AC by Marriott hotel will boast 164 guest rooms, and Regent Street Hotel will offer 190; both will have meeting space.
Existing hotels are spiffing up. Radisson Hotel-Salt Lake City Downtown, with 381 guest rooms and 15,000 sq. ft. of meeting space, just completed a $1 million renovation of meeting spaces, with new carpeting, wall coverings and light fixtures. DoubleTree Suites by Hilton Hotel Salt Lake City Downtown, with 241 guest rooms and 5,000 sq. ft. of meeting space, just finished a $2.5 million upgrade that included public spaces, the boardroom and ballroom.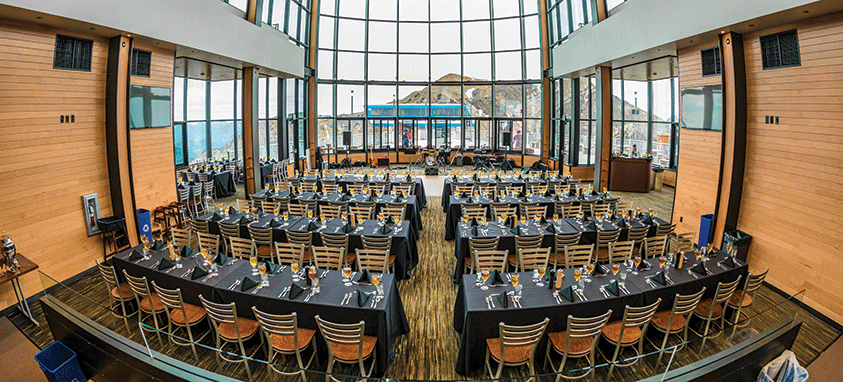 Just outside the city is Snowbird Resort (pictured above), with 829 guest rooms, 50,000 sq. ft. of meeting space and $50 million in renovations over the past two years—principally to the meeting facilities and 350 guest rooms at mountain-side Cliff Lodge.
Salt Lake City offers planners a ton of out-of-the-ordinary off-sites to accommodate your meeting or event, many of which will spark both excitement and creativity among attendees.
George S. and Dolores Dore Eccles Theater, which opened just a year ago, houses two theaters, a grand lobby, outdoor terraces and private lounges among its meeting spaces, along with various concessions and an on-site restaurant. The theater is a state-of-the-art glass structure with spaces such as Delta Performance Hall, with seating for 2,400; the Grand Lobby, which can seat 240 for functions; and the Outdoor Terrace, which can seat 87. Just outside the theater is McCarthey Plaza, with 11,167 sq. ft. that can be used for private functions, and connects the theater to the upscale restaurants of Regent Street.
Janet Quinney Lawson Capitol Theatre, only a block from the convention center, cannot be classified as state of the art. That's because it was originally built as a vaudeville house in 1913. This beautiful Neo-Classical building with ornately sculpted windows is now home to Ballet West and Utah Opera, and seats 1,876. The Rooftop Terrace offers seating for 200, standing for 250, and memorable views of city and mountains.
At The Leonardo, the views will be just as interesting. There, however, rather than city and mountains, they'll be of unique museum galleries where your attendees can explore the intersection of science, technology, art and creativity. The museum offers the opportunity to choose from among spaces accommodating from 25 to 400 people.
Pierpont Place was built specifically for meetings and events; it's a blank canvas on which you can paint your own picture. It's modern, urban and… well, chic. Within a block of the convention center, it can accommodate 200 seated and 500 for a standing reception. It's a place where a planner can really let imagination run free.
Have you ever held a meeting in the middle of a unique urban park? At Gallivan Center, you can. Set in the middle of downtown, it contains ice rinks, stages, meeting facilities, waterfalls, patios and terraces, and just about as many options for those spaces as you can think of, with rentable spaces ranging from 1,300 to 12,652 sq. ft.
McCune Mansion affords you the opportunity to hold your event in the style of the Great Gatsby. This was one of America's grandest early-20th century homes, and it retains the gilded aura of those days. Its period architecture, workmanship and design make it an important part of Utah's history. At the same time, its modern amenities make it a great place to hold meetings, and its varied spaces and design make for a very flexible facility.
Let's not forget, though, that Utah offers dramatic vistas unrivalled in America. Accordingly, consider holding your event outside. Attendees can enjoy views to make your meeting memorable at University of Utah' s Red Butte Garden (pictured below). A botanical garden, an arboretum and a 3,000-seat amphitheater are surrounded by red buttes. There's also a terrace accommodating 190 seated or 350 reception-style.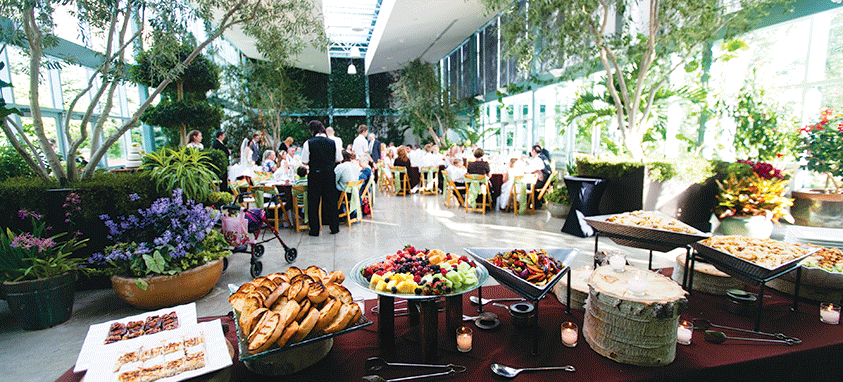 Salt Lake City's event venues are so varied they even include a trip into the heavens. At Clark Planetarium, your attendees can not only reach for the stars, but they can also utilize 10,000 sq. ft. of event space beneath the stars, as well as special shows at Hansen Dome Theatre and Orbital ATK IMAX Theatre.
At the other end of the spectrum is The Depot, where attendees gather in one of the West's classic old railroad stations. Once a showpiece for the Union Pacific Railroad, which helped complete the Transcontinental Railroad at nearby Ogden in 1869, The Depot is now used for business, social gatherings and meetings. Its capacity of 1,200 and four floors give you a lot of room to play with.
Another trend in which Salt Lake City is an urban leader is craft beer. Squatters Pub Brewery is the headquarters of a fast-growing microbrewery chain known for its seasonal and year-round beers, and its funky takes on pub-grub favorites. Located in the heart of downtown, the brewery has a private loft for meetings and events, where 175 lucky attendees can enjoy memorable views of the city, along with great suds. Pub crawls are another popular way showcase the area for groups of all sizes.
If you're a college football fan, you've probably seen Rice-Eccles Stadium (pictured below) many times on TV. Rice-Eccles is the home of the University of Utah Utes (named after a local tribe of Native Americans). The views of the Salt Lake Valley will stop attendees in their tracks, and event spaces include the Scholarship Room, accommodating 350; the Mezzanine, 80; and the Varsity Room, 350.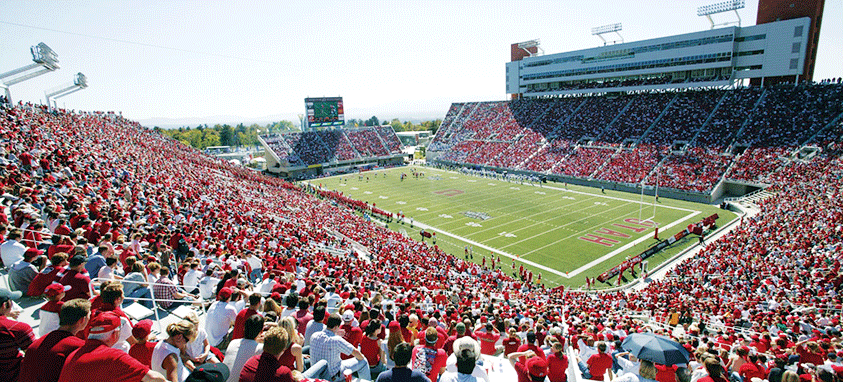 Ellen Snipes brought 1,400 people from around the world to Salt Lake City in May of 2016 for the Annual Meeting & Expo of AOCS (American Oil Chemists Association, which is involved in food/dietary and cleanser research). Snipes says she had 1,400 very happy attendees.
"We've been to Salt Lake City before," Snipes says. "And that's the reason we came back again—our people love it! The downtown is fantastic, with so much to see and experience. We offered our attendees trips to restaurants, nightlife spots, cultural spots and historical sites, and they really took advantage of the opportunities.
"Local residents are extremely friendly, and very helpful. The CVB is great; they're very professional, and they go out of their way to ensure the success of your meeting. As a planner, what else could you ask for?"
A Shout Out to Davis County
Between vast Great Salt Lake and the majestic Wasatch Range lies Davis County, smallest but third-most populous county in Utah. Due to its proximity to Salt Lake City, it offers easy access and a dynamic but less urban alternative for meeting planners. Davis Conference Center has 70,000 sq. ft. of flexible meeting space, and is in Layton, the county's largest city; it is also just 20 minutes north of Salt Lake International Airport. Legacy Events Center is a county-owned facility with an indoor arena of 38,400 sq. ft. with fixed seating for 2,200. Both venues are surrounded by hotels, restaurants and shopping districts. Davis County includes Antelope Island, Great Salt Lake's largest island, a state park with bighorn sheep, pronghorn and bison. Other attractions are in the county seat of Farmington. These include Pioneer Village, a reconstruction of a typical frontier community of the 1800s, and Lagoon Amusement Park.
World, Meet Salt Lake City!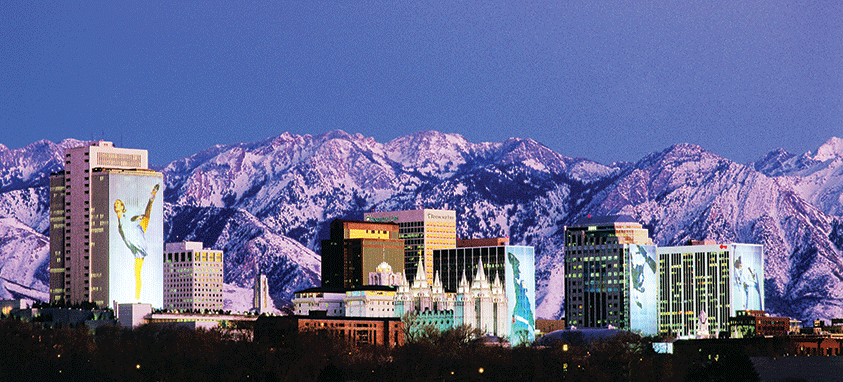 The exciting metamorphosis of Salt Lake City may be news to the rest of the country—but not to local residents. They've known it is a big-time metropolis since they welcomed hundreds of thousands of visitors from all over the world to the 2002 Winter Olympics.
In fact, many of the venues constructed for those games are still in use, with users ranging from world-class athletes to weekend warriors and families.
The 2002 Games generated some 35,000 job-years of employment, as well as more than $1.5 billion for local workers. And the benefits to the region are ongoing. Since hosting the Olympics, the Salt Lake area has played host to numerous international competitions, generating another $1.5 billion. In addition, athletes from all over the world now go there to train, generating not only increased revenues, but also increased exposure on the international stage.
In the years since the games, various ski areas have generated up to a 50 percent increase in ski visits.
One of the best things about the infrastructure improvements made for the Games is that they're still benefitting residents—and meeting planners—today. As a direct result of Salt Lake's exposure on the world stage, future visitors now have more hotel rooms, increased ski-resort amenities, better highways, two light-railway lines and a new utility grid.
"We view legacy not so much as memorials and museums," said Colin Hilton, president and CEO of Utah Olympic Legacy Foundation. "For us, it's a living legacy."
MAJOR MEETING VENUES IN SALT LAKE CITY

Calvin L. Rampton Salt Palace Convention Center
Silver LEED-certified, with one of America's largest rooftop solar systems; downtown location amid restaurants, hotels, entertainment and light rail; versatile grand ballroom can be divided by 10; 679,000 sq. ft. of total space.

Courtyard Salt Lake City Downtown
Attractive lobby features Bistro for breakfast or dinner; free Wi-Fi throughout; fitness center; indoor pool; hot tub; close to convention center; 175 guest rooms; 5,000 sq. ft. of meeting space.

Crystal Inn Hotel-Suites
Central downtown location; free hot breakfast; free Wi-Fi throughout hotel; free airport shuttle; fitness room; 24-hour business center; 175 guest rooms; 2,526 sq. ft. of meeting space.

DoubleTree Suites by Hilton Hotel Salt Lake City Downtown
Close to Temple Square and light-rail station; all-suite hotel; Stephen's American Bistro is highly regarded; indoor pool; fitness center; 241 guest rooms; 5,000 sq. ft. of meeting space.

George S. and Dolores Dore Eccles Theater
Brand-new showpiece symbolizing the "new" Salt Lake City; 2,400-seat main theater; variety of event spaces seat up to 240.

Grand America Hotel
Salt Lake City's only AAA Five Diamond hotel; Garden Cafe Restaurant; two lounges; Grand America Spa; business center; indoor pool; 775 guest rooms; 75,000 sq. ft. of meeting space.

Hilton Salt Lake City Center
Downtown location is convenient to convention center, Mormon Temple, state capital and light rail; fitness room; business center; 19 breakout rooms; 499 guest rooms; 24,000 sq. ft. of meeting space.

Holiday Inn Express Salt Lake City Downtown
Contemporary hotel with high-tech touches; across from Salt Palace Convention Center; 24-hour pool/hot tub; fitness center; complimentary breakfast; 212 guest rooms; four meeting rooms, with total capacity of 100.

Hotel RL By Red Lion, Salt Lake City
Victrola Coffee Roasters; entertainment venue; heated outdoor pool; fitness center; Cafe Olympus serves breakfast, lunch, and dinner; 394 guest rooms; 8,500 sq. ft. of meeting space.

Janet Quinney Lawson Capitol Theatre
Neo-Classical link between Old Salt Lake and dynamic emerging city; built in 1913; seats 1,876; rooftop terrace with dramatic views can accommodate 250 standing.

Kimpton Hotel Monaco Salt Lake City
Blocks from Salt Palace Convention Center, walking distance to Vivint Smart Home Arena, less than a half-hour to Park City skiing; 225 guest rooms; 3,100 sq. ft. of meeting facilities; 1,961-square-foot Paris Ballroom; catering from chef Nathan Powers at Bambara.

Little America Hotel
A Salt Lake landmark since 1930s; fitness center with whirlpool; indoor/outdoor pool; business center; retail shops; sustainable practices in meeting rooms; 870 guest rooms, 25,000 sq. ft. of attractive meeting space.

Marriott Salt Lake City Center
AAA Four Diamond hotel close to many top attractions and convention center; fitness center; indoor pool; great mountain views; restaurant serves continental cuisine; 359 guest rooms; 15,309 sq. ft. of meeting space.

McCune Mansion
A glamorous ode to the gilded era of early 1900s, yet with amenities desired by today's planners; event spaces are flexible and memorable.

Radisson Hotel-Salt Lake City Downtown
Adjacent to convention center, on fare-free light rail line; close to Temple Square, Energy Solutions Arena; indoor pool; business center; 381 guest rooms; 15,000 sq. ft. of meeting space.

Salt Lake City Marriott University Park
Location in stunning Salt Lake Valley foothills; easy walk to attractions, natural beauty; adjacent to University of Utah football stadium; Allie's American Grille; 246 guest rooms; 11,922 sq. ft. of meeting space.

Salt Lake Marriott Downtown at City Creek
City Creek dining and entertainment district is adjacent; excellent Elevations Restaurant; great room/lobby inspired by natural elements; 515 guest rooms; 21,030 sq. ft. of meeting space.

Salt Lake Plaza Hotel at Temple Square
Modern, comfortable accommodations across street from Salt Palace Convention Center; microwave and refrigerator in every room; free Wi-Fi; 150 guest rooms; 6,408 sq. ft. of; meeting space.

Sheraton Salt Lake City Hotel
Three blocks from convention center; free airport shuttle; fitness center; sustainability practices throughout hotel; 5th Street Grill serves distinctive American cuisine; outdoor pool; 362 guest rooms; 33,000 sq. ft. of meeting space.

Snowbird Resort
$50 million renovation in past two years; 15 restaurants; fitness center; renowned Cliff Spa; 829 guest rooms; 50,000 sq. ft. of meeting space.

The Leonardo
Combination museum/innovation center/adult playground; First Floor Curiosity Corner and Third Floor Creativity & Innovation Room offer meeting spaces; event center seats 280, auditorium seats 200; museum buyout accommodates 2,000.

The Peery Hotel
Built in 1910; near convention center; free Wi-Fi; restaurant; fitness center; business center; gift shop; 73 guest rooms; 4,000 sq. ft. of meeting space.

Zermatt Resort & Spa
AAA Four Diamond, Swiss-style lodge in Midway, outside Salt Lake City; all-seasons recreational opportunities; spa; fitness center; pool; hot tub; two restaurants; IACC-certified conference center; 400 guest rooms; 65,000 sq. ft. of meeting space.
---
Steve Winston is an award-winning writer who has traveled extensively and writes for national and international magazines.