Landlocked and bordered by eight different states—Iowa, Illinois, Kentucky, Tennessee, Arkansas, Oklahoma, Kansas and Nebraska—Missouri's culture is an intriguing blend of Midwest and Southern elements, strongly influenced by the distinctive heritage of the Ozark Mountains.
At the beginning of the 19th century, early settlers in Missouri were American pioneers from the Southern Appalachians, and the state was a jumping-off point for people traveling west from all over, due to its accessible location. Those people, along with the state's colorful sociopolitical history, have left their marks on Missouri's development.
Yet the state has a vibrant character all its own. Its cultural relevance is obvious when we listen to ragtime music, and it's where St. Louis blues and Kansas City jazz were born. It's also home to Anheuser-Busch, one of the largest beer producers in the world, and it's the birthplace of Route 66 (in Springfield). Some of the most notable names in history—such as Mark Twain, Walt Disney and Harry S. Truman—have called it home.
Little wonder, then, that its three most populous cities—Kansas City, Springfield and St. Louis—each sport their own unique styles in just about everything they do. Let's explore a bit of what each has to offer.
St. Louis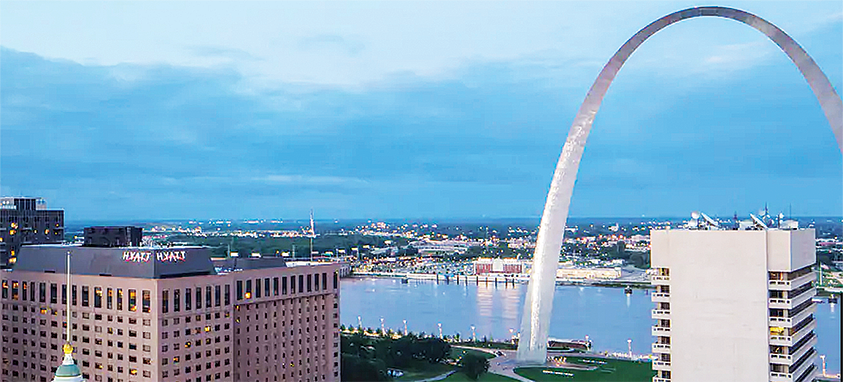 St. Louis, Missouri's independent city, beckons groups with its array of attractions, such as its iconic arch, myriad parks and active nightlife. But the real St. Louis can be found where locals tend to gather time and time again.
Fabulous Festivals
It wouldn't be a trip to St. Louis without music and barbecue. Gather your group around the pits while the titans of barbecue smoke 18,000 pounds of meat at Q on the Lou, the city's yearly festival celebrating the culinary craft. Attendees can learn tricks of the trade from champion pit masters while savoring their perfectly smoked ribs or steak. Add some live music and a little lager, and you've got the perfect setting for a team-bonding experience that attendees will not forget.
Smart tip: Grab pit passes to secure a spot in the lounges along pit row so you and your group can eat your way through the festival while enjoying pit master-inspired cocktails, uninhibited.
Mention Mardi Gras to St. Louisians and they'll likely think of Soulard—a lively neighborhood known for its active nightlife, blues scene, restaurants serving Southern fare and a beloved farmers' market. It's also home to Soulard Mardi Gras, thought to be one of the biggest Mardi Gras festivals in the United States (second to New Orleans' Mardi Gras festival).
Festivities run the gamut and include a winter carnival, a snowman softball tournament, a 5-mile run, a Cajun cook-off and a chance to experience music, drinks and food from the 1920s through the future at the brand-new Bacchanalian Ball. Celebrations culminate with the Bud Light Grand Parade.
Rent a climate-controlled, 20-by-20-foot tent for up to 50 people at Corporate Village VIP Experience to share unobstructed views of the parade with your attendees. The experience includes a staffed bar, an all-you-can-eat creole lunch and lots and lots of beads.
Plan for some team bonding at The Blues Alumni Experience, where blues legends gather in a private tent along the parade route to share tales from the road. Or give attendees an unforgettable parade experience with a spot on the Mardi Gras, Inc Float.
Delicious Local Flavors
St. Louisians do interesting things with food: They deep-fry ravioli, use Provel cheese on pizza and deep-fry foo young, then eat it between sliced white bread (a St. Paul sandwich), for example. While St. Louis' twists on traditions might seem odd to some, they're part of what makes St. Louis unique—and give The Gateway City's food a fun, flavorful flair.
St. Louis has its own take on barbecue, too. Instead of dry-rubbed and slow-smoked cuts of meat, it's all about the grill—and the sauce. The sauce is so important to St. Louis-style barbecue that residents consume more barbecue sauce per capita than people anywhere else in the United States. The grilled substance can be just about anything, but it's usually spareribs, trimmed to a rectangular shape and doused in a sweet, sticky, tomato-based sauce.
Groups can share a rack at Salt & Smoke, a favorite among locals. Both modern, bright and airy locations—one with plentiful outside seating—serve half- or whole racks, as well as pulled pork and brisket burgers, a falafel burger for vegans and vegetarians, and shareable delights such as hush puppies with maple butter, fried house pickles and toasted ravioli, a St. Louis staple. If you can't bring your group to the restaurant, don't despair: It will cater just about any event and can serve five to 500.
Missouri has its share of Ozark Mountain influence. Traditional Ozark cuisine varies and has been colored by 200 years of history, influenced by indigenous and enslaved peoples, and the land on which they lived. It's a marriage of the Midwest and the South rooted in local game, pork, wild mushrooms, berries and greens. Groups can get a taste of this tradition with an upscale flair at Bulrush STL.
Located in the Arts District, Bulrush STL provides contemporary interpretations of historic Ozark recipes. Rob Connoley—a James Beard semifinalist chef, cookbook author and Missouri native—features fresh, locally sourced and foraged organic food, steeped in local tradition. The menu is created daily, but groups can expect fare to include staples such as bacon, venison, collard greens, beans and okra. Bonus: The restaurant is committed to a waste-free philosophy.
Perfect Meeting Spots
Overlooking the iconic Gateway Arch, the 910-room Hyatt Regency St. Louis at the Arch is within walking distance of several downtown attractions, such as Enterprise Center, America's Center Convention Complex and the Mississippi Riverfront. Groups can comfortably collaborate in more than 83,000 sq. ft. of meeting space, including dedicated boardrooms, terraces, expansive ballrooms and prefunction space.
For planners interested in landmark properties, the historic Mayfair Hotel, originally opened in 1925, was completely renovated in 2014 as The Magnolia St. Louis. The Mayfair was the site of many firsts, including the first female general manager in St. Louis, and it is the birthplace of "chocolates on a pillow," thanks to the legendary Cary Grant. Today, the boutique hotel continues its tradition of sophistication, from its 182 luxurious guest rooms and suites to its 8,000 sq. ft. of elegant meeting space.
Another property with a historic past, The Marriott St. Louis Grand Hotel sits on the site of the Statler Hotel, built in 1917 as one of the grandest hotels in St. Louis. After several iterations, the building was renovated in 2014 to its present state, with 874 chic guest rooms, 43 luxury suites and more than 55,000 sq. ft. of versatile event space, including the 20,000 square-foot Majestic Ballroom, one of the largest event facilities in St. Louis.
The property is ideally located across the street from St. Louis Convention Center.
Springfield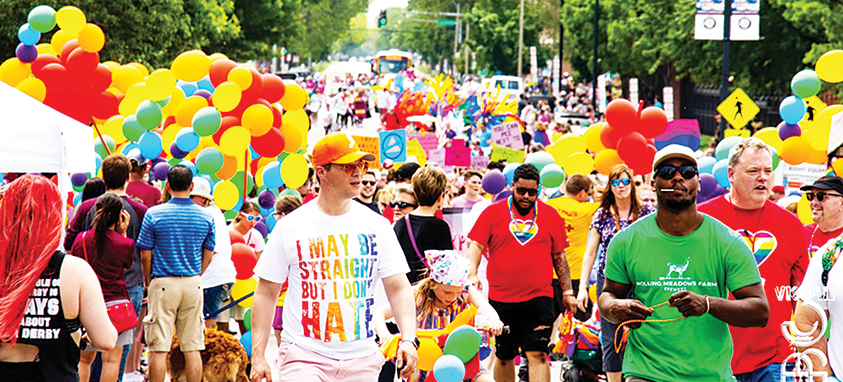 Far from a small, sleepy town, Springfield—aka The Queen City of the Ozarks and the Birthplace of Route 66—is Missouri's third-largest city. It is home to a growing hospitality industry as well as thriving businesses. While Springfield has all the amenities of a big city, it welcomes groups with its friendly, laid-back charm.
Fabulous Festivals
Groups can get a taste of Missouri at Springfield's annual Food Truck Festival. The best and brightest street-food stars park their gourmet food trucks, carts and trailers downtown, ready to feed hungry foodies. Attendees can sample a variety of cuisines, satisfy sweet cravings and browse vendors while enjoying live music performances. Trucks compete in four categories: finger food, sweet treat, main dish and people's choice. The event is held next to Springfield Expo Center, which provides 45,000 sq. ft. of configurable event space, as well as seven breakout rooms.
PrideFest makes its way to the Ozarks in October. Billed as the largest LGBT event in Southwest Missouri, the annual festival attracted more than 4,500 people in 2018. Attendees can celebrate equality and diversity together while enjoying live music, vendors and activities.
Get attendees moving in support of Springfield nonprofits during Bass Pro Shop's Fitness Festival in the fall. Groups can Run Across Springfield together, team up for a relay or race to the finish line in a 15K, 25K or 50K run in Dogwood Canyon Nature Park. Proceeds from these events are shared by Big Brothers Big Sisters, Ozark Greenways and Wonders of Wildlife.
Delicious Local Flavors
When you think of quintessential Springfield cuisine, you probably don't think of Chinese food. But Springfield-style cashew chicken is a thing, thanks to David Leong, who invented it in 1963 at his restaurant, Leong's Tea House. His son, chef Win Yee Leong, keeps the dish alive at Leong's Asian Diner.
The regional favorite is a twist on traditional Cantonese cuisine—a blend of Midwestern-style cooking and traditional Asian flavors, featuring a local staple: fried chicken. Groups are welcome to try it along with other freshly prepared items, such as teriyaki salmon, Land and Sea (bacon-wrapped beef tenderloin and jumbo grilled shrimp), pork belly sliders and classic fried rice dishes.
Another Springfield staple, Lindberg's Tavern, the oldest pub in the city, is steeped in local history dating to 1865, Today, it is popular with locals for its live entertainment and artfully crafted burgers, such as The Lindburger, a double-beef patty seared in duck fat and topped with mayonnaise and Provel cheese. The brunch menu showcases Southern-style favorites, such as poutine, biscuits and chicken, and waffles. The Lindberg Bloody Mary is a must-try for its fresh herbs, smoked sea salt and house-made beef jerky.
Perfect Meeting Spots
Built in 1906 as a Masonic temple, Springfield Historic Site and landmark Hotel Vandivort was reinvented in 2015. The 50-room, boutique property pays homage to the past in its design, while it is decidedly contemporary with high-efficiency LED lighting, water conservation fixtures, and locally sourced food and beverages.
Smaller groups of up to 160 will find inspiration in the 2,800-square-foot, flexible ballroom, which has more than 100 years of experience hosting events. Space also includes the 850-square-foot, adjustable Cornerstone Room and the 250-square-foot Pillar Room. Stay tuned: The hotel plans to unveil 48 more guest rooms and a rooftop bar this year.
Oasis Hotel and Convention Center, an Ascend Hotel, was made for meetings. The 173-room property can accommodate 10 to 1,500 in more than 30,000 sq. ft. of flexible meeting space, including six ballrooms and a fully equipped convention center. The experience is heightened by an indoor and an outdoor pool; and private dining rooms at Fire and Ice, the hotel's restaurant and ice bar.
Another property perfectly suited for meetings is University Plaza Hotel & Convention Center, which offers groups 46,818 sq. ft. of versatile space, including 35 meeting rooms, a business center and two ballrooms for up to 2,000. Nearby Springfield Expo Center provides an additional 123,182 sq. ft. of space for extra large groups.
Great Historic Venues for Groups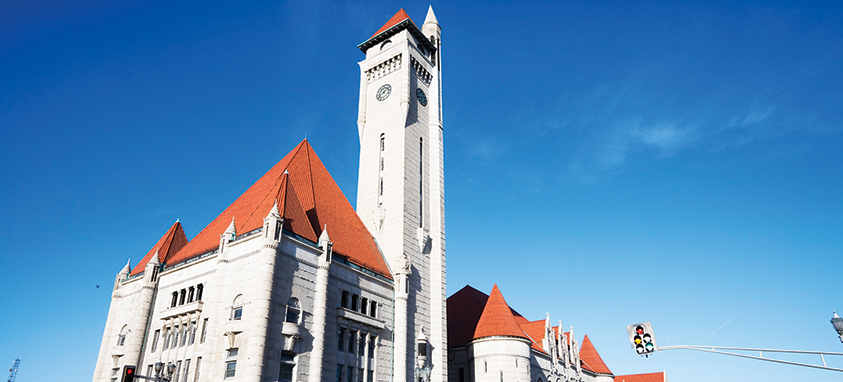 Kansas City, St. Louis and Springfield also feature some great historic venues that provide meeting space for groups.
Kansas City: Built in 1914, Union Station Kansas City is an 850,000-square-foot marvel of historic preservation. The venue provides several options for meetings and events, which include: Arvin Gottlieb Planetarium (hosts 150), Bank of America Gallery (100 seated, 250 standing), Grand Plaza (2,000 standing, 1,300 banquet) and Regnier Extreme Screen Theater (400 seats).
St. Louis: Opened in 1894, St. Louis Union Station soon became one of the largest and busiest passenger rail terminals in the world. Today, the station houses attractions such as a historic carousel and the dazzling Light and Fire Show, The venue is undergoing renovations to some of its features and will soon house the 120,000-square-foot St. Louis Aquarium. Next door, The St. Louis Wheel will open this fall to take groups 200 feet over the city's skyline in 42 glass-enclosed gondolas. The station has its own AAA Four Diamond Hotel, Union Station Hotel, Curio Collection by Hilton, which boasts 130,000 sq. ft. of flexible space.
Springfield: Constructed in the early 1900s after the original firehouse burned down, Historic Firehouse No. 2 operated as a firehouse until 1987. Now, it functions as an event venue with indoor and outdoor meeting space. Two gardens feature graphic art and sculptures, while an on-site "saloon" provides everything a planner needs to set up a custom pre- or post-function service.