Sponsored by Villas of Grand Cypress Resort
In Greater Orlando, you burn a lot of calories walking through theme parks and the 2.1 million-square-foot Orange County Convention Center (OCCC). Your waistline will be grateful for every single one of these steps because you also eat a lot of great food. Orlando was ranked the No. 1 foodie city in 2016 and No. 6 in 2017 by Wallethub.com.
"Orlando's dining scene has shown incredible growth over the last few years," says George Aguel, president and CEO of Visit Orlando. "Our destination has caught the attention of a dozen notable celebrity chefs who have opened or have plans to open restaurants, including Iron Chef Morimoto, Rick Bayless and Jose Andres. In addition, our talented homegrown chefs are blending their culinary talents and diverse backgrounds to further shape Orlando's culinary landscape. This gives planners a wide range of venues to choose from and attendees get to enjoy an authentic taste of Orlando."
More: Site Inspection: Orlando's Main Squeeze
Read on for a sampler platter of all the tastes Orlando and Kissimmee have to offer. Bon appetit!
Walt Disney World Resort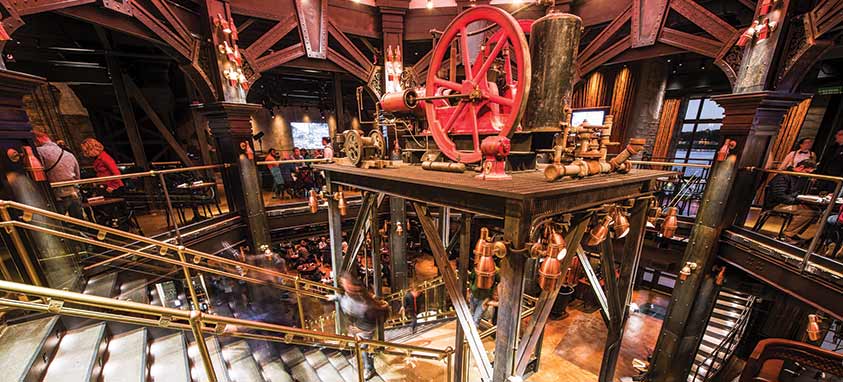 Walt Disney World Resort in Lake Buena Vista has become synonymous with great food. The Instagram generation rejoices in photogenic seasonal offerings such as this spring's line of millennial pink products, summer's purple slushie that matches a wall inside Magic Kingdom and fall's pumpkin spice delights. There's also a bioluminescent frozen cocktail served at Pongu Pongu inside Pandora: The World of Avatar at Disney's Animal Kingdom. Remember to give your body time to digest before getting on Space Mountain, Splash Mountain, The Twilight Zone Tower of Terror and all the other thrill rides that will have your stomach doing somersaults.
Disney World is nearly as large as San Francisco and twice the size of Manhattan, so visitors are given plenty of opportunity to walk off all those calories consumed, but groups might need a bit of assistance to get around, especially when in a hurry to attend a scheduled event. Last year, the new Minnie Van service debuted. These SUVs are custom painted in red with white polka-dots to resemble Minnie Mouse's signature look.
Coming soon, Disney Skyliner gondolas will take guests between select resorts, Epcot and Disney's Hollywood Studios. The monorail transports attendees to parks and Disney's Contemporary Resort, where they can snack on a cupcake from Contempo Cafe among the hotel's more than 650 guest rooms and 115,000-square-foot convention center. In July, the company announced its commitment to reduce single-use plastic waste by eliminating straws, using refillable in-room amenities and reducing plastic shopping bags in the near future.
That's what makes Disney not only the happiest, but also one of the yummiest, places on Earth. Eat up and satisfy that rumbly in your tumbly, just like Winnie the Pooh.
Disney Springs
Orlando visitors can still enjoy the magical Disney experience without a theme park ticket. Disney Springs, which replaced Downtown Disney in September 2015, is the place to go for food, shopping, entertainment and plenty of free parking, day and night. Paddlefish, which was named the best seafood restaurant in Orlando in 2018 Orlando Magazine Readers' Choice Awards, has private event spaces for groups of 30 to 250.
George Miliotes brought Wine Bar George, the only master sommelier-led wine bar in Florida, to Disney Springs in May. More than 130 wines are available by the ounce, glass or bottle. The 6,000-square-foot space can accommodate up to 300 guests. Another popular eatery, Morimoto Asia, is owned by chef Masaharu Morimoto of Iron Chef America fame, and serves Pan-Asian cuisine.
Keep the party going until the wee hours at The Edison, open since January. This 1920s-themed restaurant features an aerial act and live musical performances to entertain guests. Cap off the night with one of its delectable milkshakes or lollipop tree with bubble-gum whipped cream.
A fun group activity at Disney Springs is The Void, which debuted Star Wars: Secrets of the Empire last December. Guests go undercover as Stormtroopers in this multisensory hyper-reality experience. A galaxy far, far away is closer than ever with the much-anticipated late fall 2019 launch of Star Wars: Galaxy's Edge. In the meantime, groups can enjoy Star Wars: A Galactic Spectacular Dessert Party at Hollywood Studios. A fully immersive Star Wars-inspired hotel is also under development. Guests will check in to the starship for a multiday adventure, dress in character attire and view space from all windows.
Epcot
Disney guests can float around the globe on It's A Small World ride inside Magic Kingdom, but at Epcot, visitors eat their way around the world. More than 30 international cuisines are showcased at the 23rd Epcot International Food and Wine Festival, running through Nov. 12. Some new offerings this year include Sunday Brunch with the Chef series featuring celebrity chefs, and butternut squash ravioli, chimichurri skirt steak, kombucha flights and pancake milkshakes.
Planners can give meetings an international flair, no passport required, at private event spaces throughout Epcot. Host a Parisian breakfast in France Courtyard or a dinner reception at The Great Hall of China, World ShowPlace Pavilion, American Adventure Rotunda or Canada Terrace, or alongside Mickey Mouse scuba diving at Living Seas Salon. During the spectacular Illuminations: Reflections of Earth fireworks spectacular, arrange for guests to nibble on desserts from Italy, Japan, Mexico, United Kingdom and more.
Hotels
Two of Disney's many official hotels are undergoing exciting renovations. Disney's Coronado Springs Resort is adding a new two-story lobby, boardroom and multipurpose rooms to its current 220,000 sq. ft. of meeting space. A new 15-story tower will contribute more than 500 guest rooms to the inventory, and a new rooftop restaurant and lounge will offer panoramic views. Expected to open next year, Villa del Lago will be a floating bar and grill connected to the resort grounds by bridges. It will accommodate up to 150 guests.
More: Disney Swan and Dolphin Resort Promotes DOSM, Hires Replacement
The 1,190-room Disney's Yacht & Beach Club Resort tacked on an additional 28,000 sq. ft. of meeting space, including a 16,000-square-foot ballroom that can be divided into eight sections. Once complete, it will have almost 100,000 sq. ft.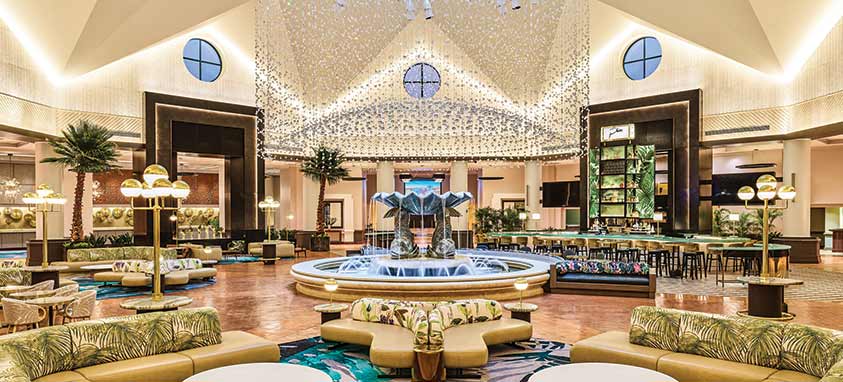 Conveniently located on Disney property although not owned by the mouse, Walt Disney World Swan and Dolphin Resort is fresh off a $150 million renovation that included redesign of all 2,270 guest rooms and 331,000 sq. ft. of meeting space, plus the addition of Lake View, offering 2,800 sq. ft. of meeting space. An expansion due by late 2020 will add a new tower with more than 22,000 sq. ft. of additional meeting space. Guests are greeted by a shimmering chandelier comprised of almost 10,000 crystals inside the new Dolphin lobby, where they will find Phins bar and grab-and-go restaurant Fuel.
Laurent Branlard, the hotel's executive pastry chef who is a two-time champion in world pastry competitions, has some of his sugary sculptures on display inside Fuel. The pieces look like edible blown-glass artwork. He can create custom sculptures for meetings to incorporate themes and logos. Private dining is available at the hotel's Shula's Steak House, where the menu is printed on a football, making it fun to pass it around the table. Modeled after the hotel's annual Swan and Dolphin Food & Wine Classic, Causeway Party—a custom outdoor food festival—can be booked by meeting professionals.
Toy Story Land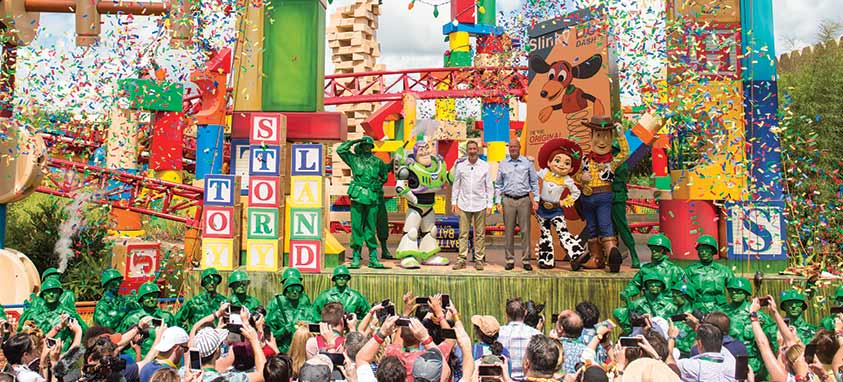 Think outside of the toy chest for your next themed event. There's no private event space inside Toy Story Land, which debuted June 30 in Disney's Hollywood Studios, but green army men can march to a ballroom for a character appearance. Take your imagination to infinity and beyond by decorating with oversized blocks, crayons and more. Customize a menu to include alien macaroons.
Woody's Lunch Box has a menu full of nostalgic childhood favorites, such as s'more French toast, tarts and sandwiches, including grilled cheese, brisket, turkey and Monte Cristo. "Everyone has a special food memory, so it can be tricky putting a modern spin on the favorites," says Lenny DeGeorge, concept development culinary director for Walt Disney World. "We honored these classic dishes by using the best ingredients to elevate the flavors. How we constructed the sandwiches was important, such as layering the ingredients in a specific order to maximize textures and flavors."
Universal Orlando Resort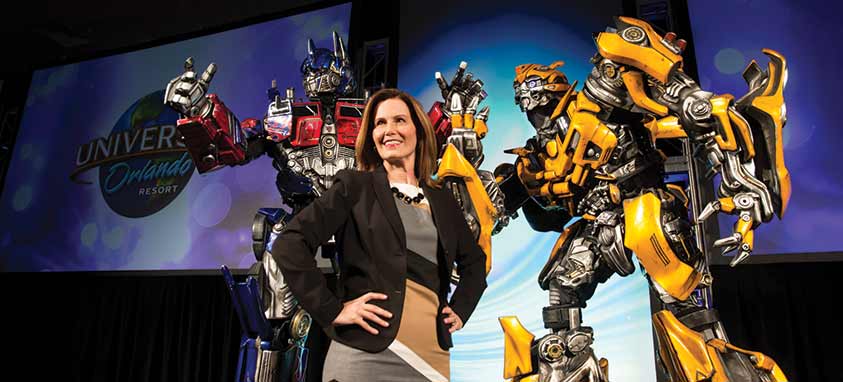 Feed your need for speed on the new Fast & Furious-Supercharged ride or cool off at Universal Orlando Resort's new water park, Volcano Bay. Only available for meetings taking place at on-site hotels, Universal Orlando's Meeting Enhancements program hypes up attendees by having a character, such as a Minion from Despicable Me or a Transformer, introduce the CEO or keynote speaker on stage. Other perks for staying on-premise are access to the theme park an hour before gates open to the public and Universal Express Unlimited skip-the-line passes for expedited wait times (at select hotels only).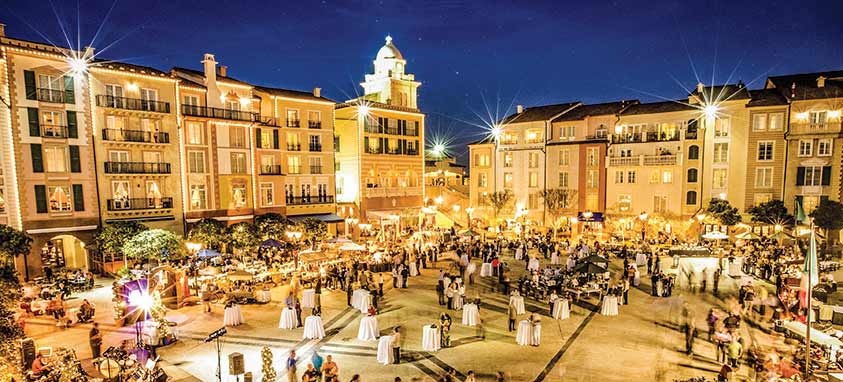 Universal's Loews Meeting Complex consists of Loews Sapphire Falls Resort and Loews Royal Pacific Resort, together offering more than 247,000 sq. ft. of meeting space and 2,000 guest rooms. Orlando Magazine named Strong Water Tavern, located inside Sapphire Falls as Critic's Pick: Best Hotel Restaurant in 2017 and Critic's Pick: Casual Dining in 2018. A third Loews property, Loews Portofino Bay Hotel, with 750 guest rooms and 89,000 sq. ft. of indoor and outdoor event space, also resides on-property. The Italian-themed harborside piazza features a nightly opera show at sunset.
In April, the brand launched Flavor by Loews Hotels to showcase local artisanal food products such as bread, Cabernet gelato, lemon basil cider, craft beer, honey, mushrooms and more.
More: A Scribble on a Napkin Changed Meetings Forever
"Two of the most important ingredients in any great dish are passion and creativity," says Leon Teow, executive chef for Loews Portofino Bay Hotel. "Our local partners are passionate about growing and producing fantastic, high-quality products that help our culinary teams create unforgettable dining experiences for our guests…without ever having to step off property."
HelmsBriscoe Annual Business Conference utilized several Universal Orlando hotels to accommodate its 1,800 attendees April 30–May 2, and treated guests to a private block party at Universal CityWalk. Located just outside of the theme park gates and connected to the hotels via water taxis, CityWalk is a mecca for dining, especially for dessert or an afternoon snack. Voodoo Doughnut and The Toothsome Chocolate Emporium & Savory Feast Kitchen are two popular stops.
SeaWorld Orlando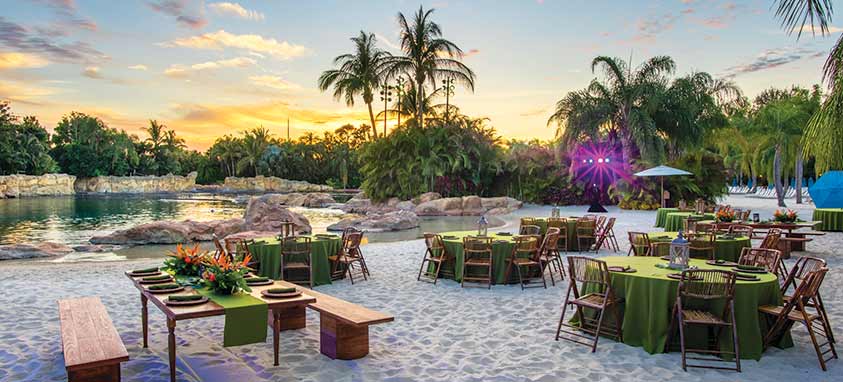 Nothing feels better on a hot and humid Florida day than getting splashed by a dolphin and whale, but SeaWorld Orlando is so much more than trained marine mammals performing flips and tricks. There is a 12,000-square-foot ballroom with a covered patio and garden area. Sharks Underwater Grill, Sea Harbor Pavilions, Key West & Manta and Antarctica: Empire of the Penguin are other rentable areas for groups of various sizes. A portion of proceeds from events held at SeaWorld go toward rescue and rehabilitation efforts. As of 2017, it has helped more than 31,000 sick, injured, orphaned and abandoned animals.
SeaWorld can also be transformed into a park-wide food festival, such as the annual Seven Seas Food Festival each spring. Attendees purchase punch cards to redeem food and beverage samples from a wide variety of vendors who set up booths along the pathways. At sister facility, Discovery Cove, take off your shoes and sink your toes in the sand for a private evening reception for up to 550 guests and flippered dolphin friends.
Adjacent to SeaWorld's Aquatica water park, DoubleTree by Hilton at SeaWorld is the aquarium's official hotel. The 28-acre property added outdoor lawns and 40,000 sq. ft. of conference space earlier this year, bringing their total to more than 100,000 sq. ft. Its 1,020 guest rooms were also part of this multimillion-dollar renovation. Food trucks can park at the hotel's pavilion for private food festival events.
Nearby, Orlando World Center Marriott debuted the world's first HyCube hydroponic vegetable production system to supply its nine restaurants and 450,000 sq. ft. of meeting space with fresh produce.
The new Harvest Terrace event space surrounds the vertical hydroponic garden and has space for 250 attendees. An additional 500 people can be accommodated by expanding into the newest restaurant, Latitude & Longitude. The world's largest Marriott's new World Finder app helps visitors navigate the tremendous resort, which has 2,009 guest rooms.
Convention District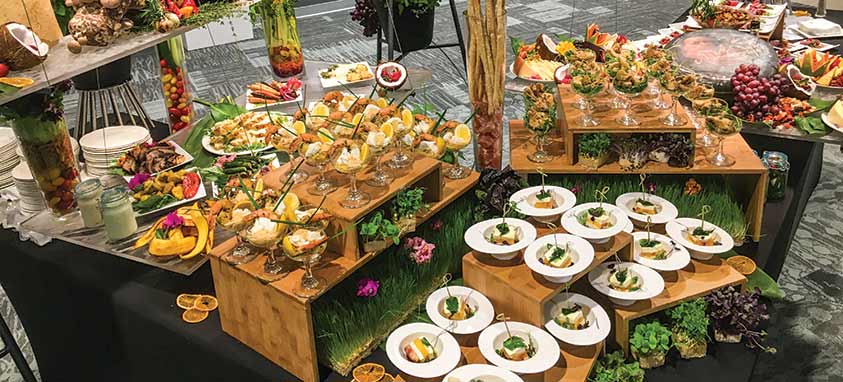 As the official caterer of OCCC, the second-largest convention center in the United States, Centerplate has a lot of mouths to feed. There are more than 50 food concepts available throughout the sprawling complex. Upon entering Westwood Lobby, guests can view Center-to-Table Gardens, 81 aeroponic towers that provide the culinary team with plants.
"Nowhere is this bounty on greater display than in the Living Greens presentation, featuring assorted freshly harvested greens—many in water with their roots still attached—with an array of fresh crudites, in-house pickled items and dressings, so guests can create their own fresh salads," says Doug Conner, Centerplate general manager. "Often positioned prominently in the display is a living mushroom log, with the chef slicing away still-growing mushrooms to add to guests' salads. Guests have stated that they have never experienced this type of service in a convention center."
Earlier this year, way-finding kiosks were installed throughout the convention center to provide guests with directions of the complex and adjoining hotels. Using a QR code, directions can be downloaded and saved to users' cell phones.
Convention Center Hotels
Pedestrian bridges connect OCCC to four hotels. Hilton Orlando, which recently added a 13,000-square-foot poolside event patio, has 249,000 sq. ft. of meeting space and 1,424 guest rooms. Hyatt Regency Orlando provides 315,000 sq. ft. of meeting space and 1,641 guest rooms.
All nine of the properties in Rosen Hotels & Resorts collection can be found in Orlando and offer a combined 700,000 sq. ft. of meeting space and 6,694 guest rooms. Rosen Plaza Hotel and Rosen Centre Hotel are connected to OCCC.
Boasting 524,000 sq. ft. of meeting space and 1,501 guest rooms, Rosen Shingle Creek, the largest of the brand's hotels, will fill your belly. "It's so gratifying to hear from our guests and visitors how pleased they are with Orlando's evolving culinary scene and variety of restaurants," says Jorge Oliveira, executive chef at the property. "We specialize in creating one-off dining options that can't be found anywhere but at our hotels. We are truly local market experts and carry this through in our restaurants. We source the freshest local ingredients, with many of our menus incorporating a taste of the South and Florida regional cuisine."
Named after a novel written by author Patrick Smith, the hotel's steakhouse, A Land Remembered, tells the story of Florida's early frontier days. Interesting menu items are Gator Creek Stew and the restaurant's own microbrew, Gator Drool Beer.
Executive pastry chef David Ramirez is just as passionate about the resort's chocolatey treats. "Chocolate brings a smile to your face, conjuring nostalgic childhood memories," he says. "Whether in desserts, pastries, beverages or one of our specialties for groups and special events—artfully arranged edible chocolate sculptures themed to an event or corporate logo—chocolate never goes out of style."
International Drive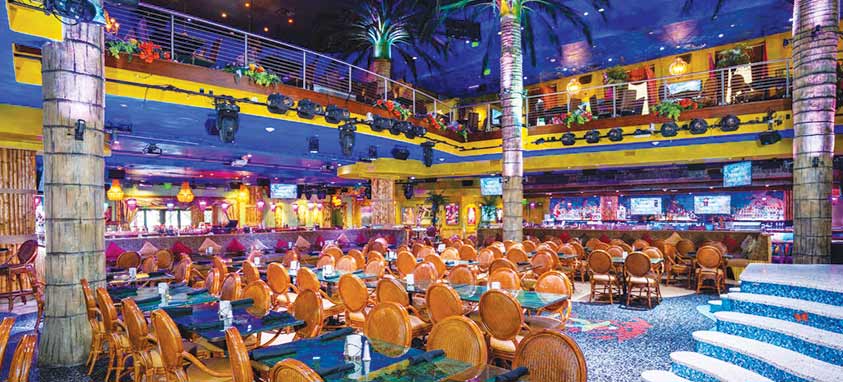 Looking for food, live music and dancing all under one roof? Mango's Tropical Café, located next to Visit Orlando's Official Visitor Center, has vibrant colors, $4 million worth of artwork on display, sequined and feathered costumes, delicious catering and a buy-out capacity for up to 2,000 people. Private areas for smaller groups are also available. Mango's plans to construct a third-floor rooftop band shell to accommodate an additional 1,000 patrons. This Orlando location is more family- and business-friendly than its counterpart on South Beach in Miami.
"Mango's talented culinary team offers an extensive menu of gourmet Floribbean fare—a unique blend of Caribbean and Latin-inspired dishes, as well as custom menus for private parties," says Janet Bryan, director of sales and marketing for Mango's. "Come mix business with pleasure—Mango's offers a full-service team of event management experts that can help you plan a one-of-a-kind experience."
Get behind the wheel at Andretti's Indoor Karting & Games. Aside from multilevel go-kart tracks and a high-tech arcade, Andretti's offers bowling, dining and more than 10,000 sq. ft. of event space, including a ballroom and breakout rooms. Attendees can enjoy a glass from Andretti Winery, the namesake of race car driver Mario Andretti.
Orlando's three-story TopGolf has 102 hitting bays. A buyout for up to 1,500 guests is one of several options. The 3,000-square-foot Signature Room, 2,695-square-foot Rooftop Terrace, and smaller spaces, such as Chairman's Suite and lounges, are available for meetings and gatherings. TopGolf has an extensive catering menu. Make sure to order injectable donut holes! "The game was awesome, even though we weren't 'golfers,' and the food was out of this world!" says Melanie Kepler of Allstate in an online testimonial.
Home to the East Coast's tallest observation wheel and the brand-new Orlando StarFlyer ride, which opened in June, Icon Orlando 360 is a shopping, dining and entertainment complex. Madame Tussauds Orlando, Sea Life Orlando Aquarium and more can also be found there. Wyndham Orlando Resort International Drive is the official hotel of Icon Orlando 360. It has 613 newly renovated guest rooms, 60,000 sq. ft. of meeting space, and Gatorville Poolside Bar and Grill.
One mile from I-Drive lies Caribe Royale, encompassing 1,215 suites and 120 villas. This resort boasts a convention center with 40,000-square-foot and 26,000-square-foot ballrooms, as well as a reception building housing a 6,400-square-foot ballroom. Cut into a juicy steak or fresh seafood at The Venetian Chop House, the hotel's AAA Four Diamond steakhouse. The resort has lighted tennis courts and bicycle rentals, and started offering catch and release fishing last month.
Kissimmee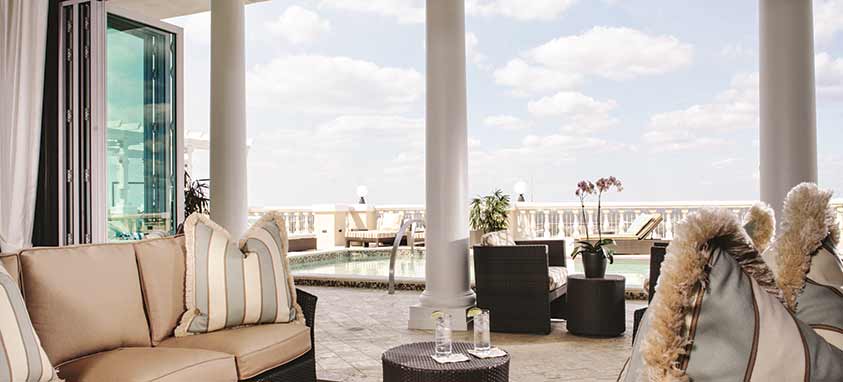 Coined the Vacation Home Capital of the World, Kissimmee boasts 22,000 vacation homes and what's referred to as "The Big Four" meeting hotels—Embassy Suites by Hilton Orlando Lake Buena Vista (300 guest rooms and 40,000 sq. ft. of meeting space), Gaylord Palms Resort and Convention Center (1,416 guest rooms and 406,662 sq. ft.), Reunion Resort (270 guest villas and 25,000 sq. ft.) and Omni Orlando Resort at ChampionsGate (862 guest rooms and 248,111 sq. ft.)
"Reunion Resort's award-winning rooftop restaurant, Eleven, offers a unique group setting with fully customizable menus and bar packages," says Darin Riggio, director of sales and marketing for Reunion Resort. "Eleven's professional food and beverage team is equipped to create unforgettable events and culinary experiences for groups of all sizes."
A fifth property is set to open late this year. Margaritaville Resort Orlando will add a 187-room hotel, in addition to 1,000 vacation homes and 300 timeshare units to Kissimmee. There will also be 30,000 sq. ft. of meeting space, shopping, dining, entertainment, a water park, fitness options and water taxi service.
"One of the many reasons Kissimmee stands out as a meetings destination is our easily accessible location in Central Florida," says Michelle Moore, director of sales at Experience Kissimmee. "It's far enough away from the crowds, yet just minutes from all the major theme parks and Central Florida attractions, making planning and transportation stressfree for attendees and meeting planners alike. Plus, we offer unique local dining options and attractions that make for memorable meeting experiences."
Island Grove Wine Company at Formosa Gardens has a two-story, sustainable fruit winery with about 3,000 sq. ft. of meeting space where guests can enjoy small bites, wine and cheese pairings, and vegetarian options.
Meet Sweet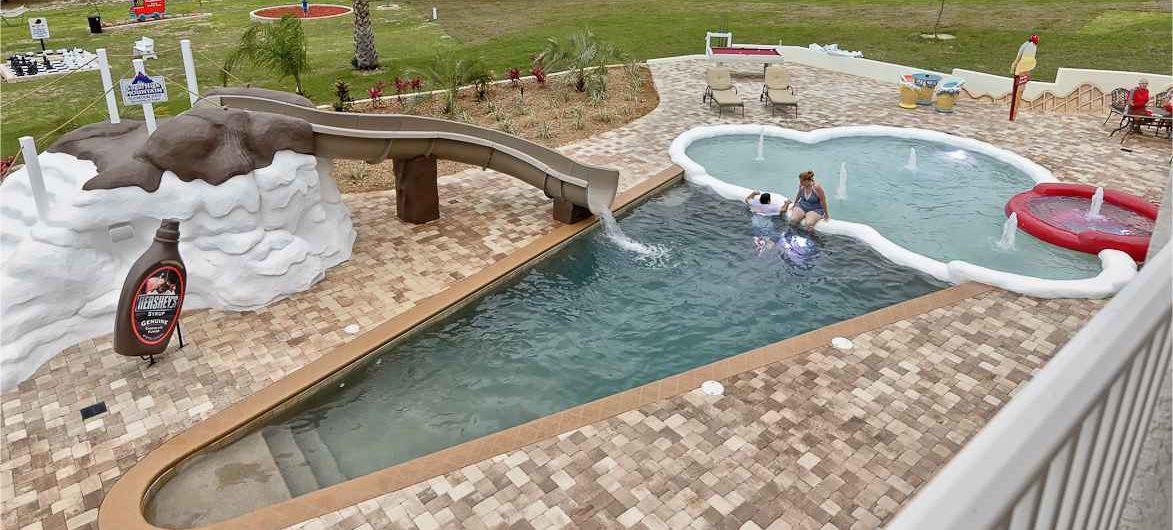 Dessert isn't only for eating at The Sweet Escape Mansion vacation home rental in the Orlando suburb of Clermont. The expansive 10-bedroom, 8,300-square-foot estate sleeps up to 52 guests. The estate's pool is shaped like an ice cream cone with a chocolate syrup water slide and cherry-on-top hot tub.
It also features a life-size Candyland board game, and bedroom themes include Milky Way Galaxy Bar, Hershey Kisses, Oreos & Milk, LifeSavers, M&M Mania and Classic Coke. It's a fun place to hold a company retreat, team-building experience or incentive trip…unless you're planning for a dental conference.