Where to mix business and pleasure in 2019
The Orange County enclave of Irvine is a bleisure paradise. The home of University of California, Irvine, as well as Allergan, Edwards Lifesciences and CoreLogic is an economic heavyweight. A meeting in these year-round sunny climes also offers easy access to Disney roller coasters, Pacific Ocean rolling waves, top spots for swinging clubs and ideal launching pads for unicorn pool floaties.
Arrive
Access to the city of Irvine is a breeze through John Wayne Airport (SNA)—a gateway regularly ranked as one of the easiest to navigate in the country. However, the destination's prime location in the center of Orange County also makes it an easy drive-in location for one of the largest creative and business centers in the world.
Meet and Sleep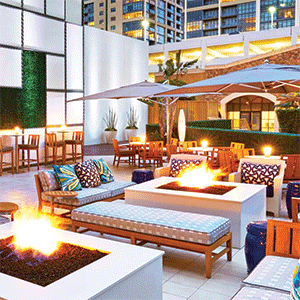 Those looking to get down to business quickly don't have to go far. Some 14 hotels are runway-close. A product launch at Hilton Irvine Orange County Airport is both convenient and drenched with SoCal energy. With 20,000 sq. ft. of indoor and outdoor space spread over 23 meeting rooms and 306 guest rooms, 6 miles from the beach, there is a lot to love. Or how about an awards banquet at stunning lifestyle property Hotel Irvine, where programs often spill out of the 15,000 sq. ft. of meeting space—including the largest ballroom in OC—and onto the 10,000-square-foot Backyard plaza for a toast under the stars? It boasts 520 guest rooms and an entourage of poolside cabanas.
A trade show is more than the sum of its booths when staged in Irvine Marriott's recently redesigned 27,000 sq. ft. of meeting space, where a seat near the fire pit at Floe Lounge is never far away. Although the property offers 496 guest rooms, booking your VIPs on the M Club level grants them access to even more "wow" factor. When it is time to get the board together for a working lunch, Wyndham Irvine Orange County Airport can provide California cuisine and 7,500 sq. ft. of light-filled meeting space. With 336 guest rooms and access to Copper Chef Kitchen and Bar, there is always room at the inn.
Eat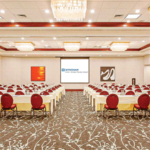 Why isolate your attendees in a ballroom with a choice of chicken or steak when you could leverage the exotic variety available at only-in-Irvine Diamond Jamboree? From Ajisen Ramen and The Kickin' Crab Cajun seafood to Kura Revolving Sushi Bar, there is something to please any taste. Or, head over to Irvine Spectrum for culinary experiences at Dave & Buster's, Kabuki Japanese Restaurant or Habana.
Do
Beyond the manicured business parks of the world's leading life science and tech companies is 16,000 acres of natural habitat for biking, hiking and team building. Orange County Great Park is home to Great Park Balloon, a 118-foot-tall helium balloon that offers new perspectives on Southern California.