Cbus leads with business-friendly climate
When PCMA Convening Leaders brought 3,300 meeting professionals to Columbus, Ohio for Convening Leaders, the city showed off the flexibility and advances in art-filled 1.8-million-square-foot Greater Columbus Convention Center (GCCC). The main stage included a dynamic laser light backdrop and a mezzanine above the stage where a DJ performed to keep the energy level high. In the 373,000 sq. ft. of exhibit space, a world of destinations and event tech experts set up shop to inspire the future of meetings.
Hosts at Experience Columbus convinced local singer-songwriter and pianist John Legend to perform at Nationwide Arena, home of the NHL Columbus Blue Jackets, around the corner from the Convention Center.
Travel Secrets
The 14th largest city in the United States and the fastest-growing one in the Midwest is within a one-hour flight through John Glenn Columbus International Airport (CMH) from more than half of the U.S. population. It is also home to 16 Fortune 1000 companies, including Nationwide, AEP and Cardinal Health. The Biggest Small Town in America also checks DEI boxes with a Diversity Apprenticeship Program that is bringing new voices to the industry and a CBUS Soul collaborative platform for multicultural experiences that supports diverse businesses.
GCCC was also the first convention center in the world to be certified sensory-inclusive. To accommodate guests with sensory processing challenges and provide an inclusive and seamless experience, GCCC teamed up with KultureCity to provide sensory bags filled with noise-canceling headphones, fidget tools, verbal cue cards and weighted lap pads for people with autism, dementia or Post-Traumatic Stress Disorder who might be affected by noise and overstimulation. Staff was trained by medical professionals on how to recognize guests with sensory needs and authorized to escort them to quiet zones if needed.
Upgrade Your Stay
Downtown Columbus has more than 5,000 hotel rooms, 2,700 of which are connected or adjacent to the convention center, including the sleek new Hilton Columbus Downtown tower, which now totals 995 guest rooms and 75,000 sq. ft. of its own meeting space. A couple of blocks away, a new Graduate Columbus flies the colors of nearby Ohio State University.
Eat This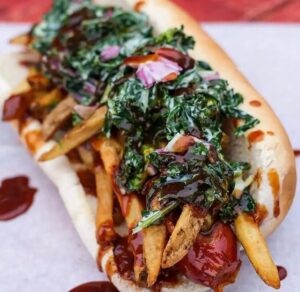 The city was named one of the 32 Places to Go and Eat in 2019 by Food & Wine magazine. Celebrity chefs and local favorites are advancing the farm-to-table movement with a Midwest twist.
One of the city's oldest and liveliest gathering spaces is North Market in the original downtown location or in Bridge Park to meet local farmers, merchants and makers.
This article appears in the March 2023 issue. You can subscribe to the magazine here.