Simon Pearce Flagship Store, Restaurant, Bar and Glassblowing Workshop, Quechee, Vermont
Lessons from New England's artisan community
People meet in order to make something. The product in question varies, but the simple truth holds that when groups clear their schedules and travel to a designated place, they do so with constructive intentions. When attendees arrive for meetings, conferences and events, they are ready to make plans, connections, memories and progress.
What better inspiration for such an open-minded audience than the community of craftspeople in Northern New England, a region with a centuries-long tradition of entrepreneurial spirit, resourcefulness and free thinking? Seeing an artisan at work during a group excursion can show attendees the value of commitment to technique and a strong brand identity, translating passion into product and connecting with customers. The area's hospitality sector also mines this vast reserve of local ingenuity by incorporating local products, materials, artists and artisans into their facilities and experiences.
Whether planners send their groups to witness the genius of a Vermont glassblower, a New Hampshire basket weaver or a Maine landscape designer, trust that the trip will expand attendees' imaginations.
Massachusetts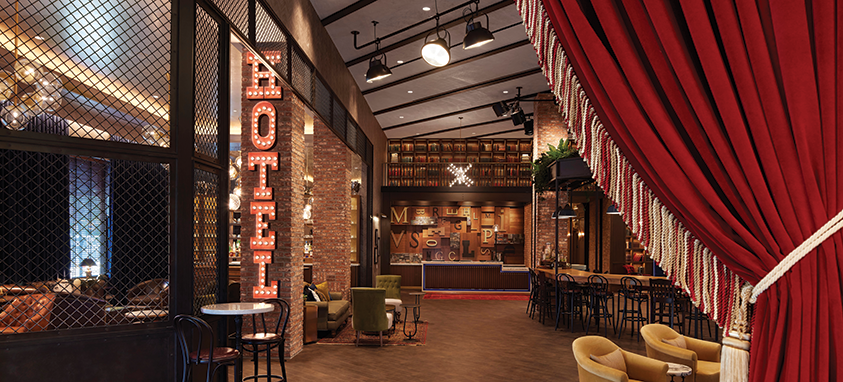 The opening of MGM Springfield in late August injected energy and excitement into the western Massachusetts meeting market. While its casino is a big draw, to call the 250-room hotel a gaming resort shortchanges its greater goal: to offer everyone in the region somewhere to go and something to do, any day of the week.
"MGM Springfield has ignited a cultural and economic renaissance in downtown Springfield," says Gregg Skowronski, executive director of hotel operations. "We have great casual and fine dining; lounges; entertainment; a spa and salon; attractions like TopGolf Swing Suite, Kringle Candle and Indian Motorcycle; a luxury cinema; and a plaza where we will host myriad activities—yoga, movie screenings, beer festivals, farmers markets, sports viewing parties and much more."
The resort features nearly 34,000 sq. ft. of event space and easy access to MassMutual Center convention facility, just a block away. Planners and attendees will encounter local influences throughout the property, in elements old and new. The Flying Tidings Whirled, a sculpture by Brooklyn artist Mia Pearlman commissioned to hang in the lobby entrance, celebrates resilience in the wake of a 2011 tornado that struck the city's South End. The resort has reinvented several historic Springfield structures, including part of the Armory, notable for producing Revolutionary War ammunition.
"The trend in the industry is to think outside of the ballroom, and the Armory fits that trend perfectly. It was the ideal location for us," says Annamarie T. Grise, association and event management executive at TCORS Capitol Group, who brought 50 meeting professionals to the resort for an educational event in November. "MGM Springfield brings incredible uniqueness to the conference and meetings experience. We were able to have a fun educational session in the Armory, followed by a more elevated dining experience in Cal Mare, which was just a few steps away."
Planners can further enhance the variety of attendees' western Massachusetts experience by booking a one- or two-day retreat at Snow Farm in Williamsburg, where experienced creative artists and instructors teach classes for groups of eight to 80 in subjects such as woodworking, painting, ceramics, fiber arts, print-making and glassblowing. Snow Farm customizes retreats to meet your team's needs, whether the goal is team building, improved creative thinking or enjoying a shared activity.
Matt Mattus, formerly a creative director at Hasbro, attended a Snow Farm retreat several years ago with members of Hasbro's design and development team. The beauty of Snow Farm is that attendees can choose workshops to match their creative personalities, from the physical to the meditative. Mattus, as a plant expert always looking to enhance his gardens, picked blacksmithing and rustic garden furniture.
"It's nice to let frustrations out with a sledgehammer in a blacksmithing class, or a blow torch in a welding class," he says. "One of our designers sat out on the lawn all day, seemingly confused, as he tried to assemble a pile of driftwood into something." By day's end, the designer had created a running dog sculpture.
Maine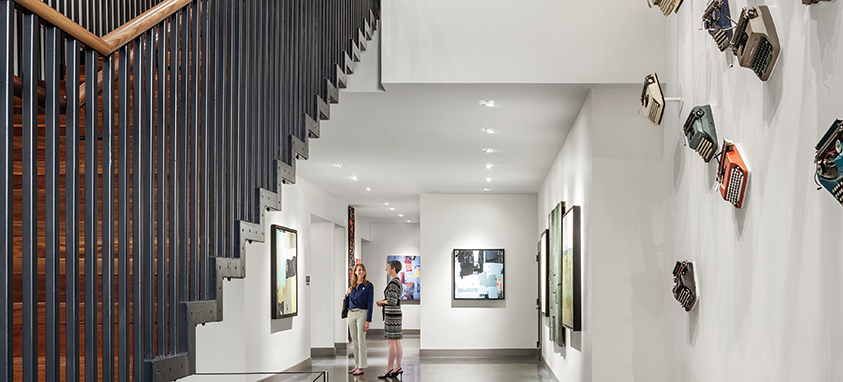 Thanks to their state's extreme winters, short growing season and remote location, Mainers are adept at making efficient, creative use of the resources available to them. Within that context, a property or business that no longer fulfills its original purpose is simply awaiting its next act. This phenomenon is especially true in Portland.
"Adaptive reuse is prevalent throughout the city, across industries," says Robert Witkowski, creative director and media relations expert at Visit Portland. "Most notable is the Portland Regency Hotel and Spa, reborn from the former Maine State Armory into a luxury hotel in the heart of the Old Port District."
With three on-site restaurants that source local ingredients from the hotel's own farm, an eco-friendly footprint, and excellent accommodations and meeting space, it is a case study in achieving innovative modernization without compromising the historic integrity of the building. The hotel's largest meeting room measures 1,900 sq. ft., and the new 1,012-square-foot Portland Room features a domed ceiling, mahogany walls and a cutting-edge audiovisual system.
In a similar vein but a wholly distinct style, The Press Hotel, an Autograph Collection property, transformed the former offices and printing plant of the state's largest newspaper into an independent boutique hotel. Event spaces ranging from 300 to 975 sq. ft. reference the building's past through name and decor, and the hotel's 2,350-square-foot gallery of locally produced art makes for a stimulating reception space.
Two new Portland hotels are targeting 2020 debuts: The 105-room Shipyard Brew-tel, by the owners of Shipyard Brewing Company, will cater to craft beer devotees, and furniture retailer West Elm selected an eastern waterfront site for a hotel outpost.
Larger groups need not sacrifice ambience. Set in the former Eastland Park Hotel, which opened in 1927, The Westin Portland Harborview provides 16,006 sq. ft. of meeting space; views of downtown, the harbor and Casco Bay; and proximity to museums and theaters ideal for off-site outings.
One off-site destination well worth the 30-mile drive to Kennebunk is Snug Harbor Farm, an enchanting enclave full of fanciful topiaries, boisterous gardens and decorative peacocks. Once the home of a retired Dutch sea captain, the property became a hotbed for interesting plants and garden accessories under the direction of founder and award-winning landscape designer Anthony Elliott. The one-of-a-kind cultural salon also hosts workshops and art openings, and creates custom-designed floral arrangements for events. Groups that enter this fairy-tale dreamscape will not want to leave.
Vermont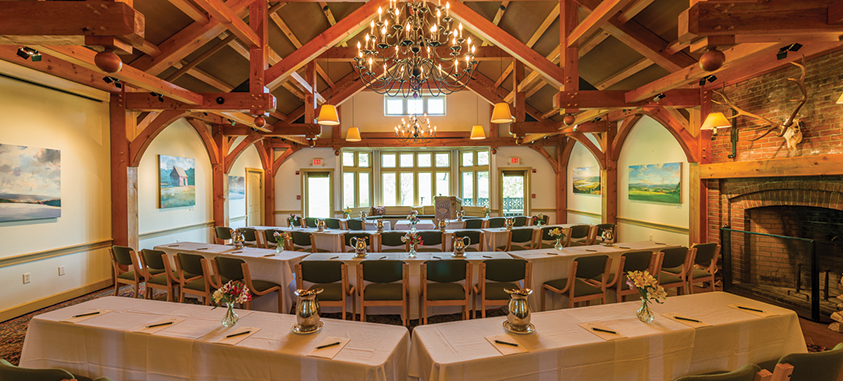 Home to as many passionate craftspeople as memorable meeting venues, Vermont's most enviable attributes include its uniquely charming small cities and towns, and proximity to major metropolitan areas of the Northeast, such as New York City, Boston and Montreal.
"We're an easy escape, yet a world away for groups traveling from these cities," says Jeff Lawson, director of Vermont Convention Bureau (VCB). "While we have an exposition center capable of serving up to 1,800 and numerous smaller venues with more focused, intimate settings, Vermont's sweet spot for meeting and event size is between 75 and 350 attendees."
Woodstock Inn and Resort offers groups a Green Mountain getaway that embraces both local history and modern amenities throughout its 142 guest rooms and 10,000 sq. ft. of event space, such as Woodstock Ballroom, which accommodates up to 220, and South Garden, an outdoor playground for up to 300 attendees.
A short distance from the inn, two additional event spaces amplify the variety of resort's offerings. At Billings Farm and Museum, available for evening gatherings of up to 225 attendees, groups can enjoy a seated dinner beside an heirloom vegetable garden and explore exhibits of 18th- and 19th-century farm tools and home furnishings. Suicide Six Lodge, complete with fieldstone fireplaces and an outdoor deck, provides four-season mountainside recreation for up to 300 attendees.
Engaging with Woodstock's artisan community brings groups into contact with a foundational facet of local life. Group experiences available via Woodstock Inn and Resort include furniture-building and King Arthur Baking School.
Other opportunities for attendees to witness the region's artisans in action—and try out the techniques themselves—lie close at hand.
Inspired by classic American farmhouse design and the lifestyle and landscape of Vermont, Farmhouse Pottery creates wares with the functionality and durability to withstand everyday use and the minimal beauty of a handcrafted heirloom. The company's Vermont Wheel Workshops invite groups of 3 to 30 to take a turn behind the potter's wheel. Workshops last one to two hours and include a tour of the store, studio and warehouse; a wheel-throwing demonstration; a personal pottery lesson; wine and cheese; and shipping for the souvenir each participant crafts using 1.25 pounds of clay.
Seven miles outside Woodstock, in Quechee, Simon Pearce Flagship Store, Restaurant, Bar and Glassblowing Workshop occupies a renovated mill building perched atop the falls of Ottauquechee River. From the exquisite simplicity of the glass, pottery and wood barware in the retail outlet to the mixture of local ingredients and global flavors on the restaurant menu, to the artistic command on display in a glassblowing workshop, each element of the Simon Pearce experience encourages people to gather. A visit can easily fill half a day. Private dining is available in the Loft, which can accommodate 70 for a seated meal and 100 for a standing reception.
Groups interested in exploring the outdoors continue to seek out destinations in the Northeast Kingdom, such as Burlington, on Lake Champlain's eastern shore. VCB can help planners who need help zeroing in on the best fit for their groups. Recently, VCB helped the Antique Classic Boat Society book off-site excursions for its 2021 annual meeting in Burlington.
"Working with member attractions, we helped them schedule 15 different outings, including visits to Shelburne Vineyard and Shelburne Museum, and a cruise on Lake Champlain with the Spirit of Ethan Allen," Lawson says.
The mountains surrounding Stowe make the town feel simultaneously vast and secluded, like the best possible kind of contradiction. "Stowe is the perfect destination for meeting and incentive group outings," says Sharon Harper, marketing manager at Stowe Area Association. "With stunning scenery, full-service resorts, a variety of indoor and outdoor venues, and a premier ski resort, meeting guests will have an unforgettable experience in Stowe. It's hard not to relax and unwind here."
Last year marked the 50th anniversary of Stowe's Trapp Family Lodge, a 2,500-acre, European-style mountain resort run by the family on which the film The Sound of Music is based. It provides 96 guest rooms and suites in the main lodge, 18 luxurious villas and 100 guest house chalets. In an ideal embodiment of the cultural mash-up, the resort's von Trapp Brewing and Bierhall Restaurant pours lagers made from authentic Austrian ingredients and Vermont spring water.
New Hampshire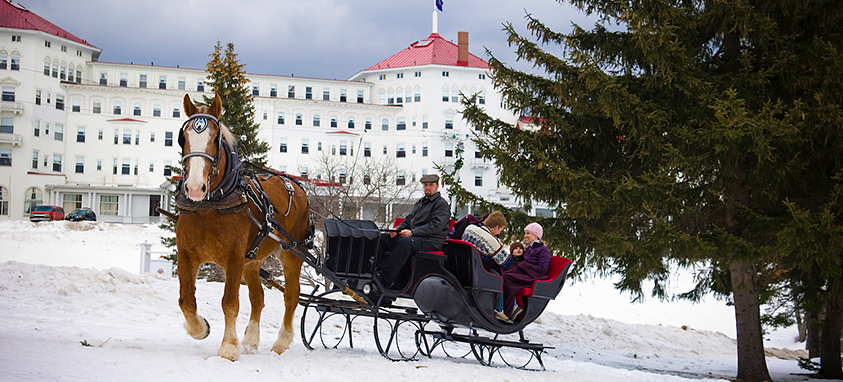 "Live Free or Die," New Hampshire's state motto, succinctly conveys how highly residents value autonomy. Planners bringing groups to the Granite State can choose their own paths, too. Whether your group prefers a seaside setting, mountain retreat or lakeside leisure, New Hampshire offers an ideal location.
Midway between Boston and Portland, Maine, sits Portsmouth, the hub of New Hampshire's 18-mile seacoast, renowned for its walkability, historic character and modern mix of dining, retail, parks and culture. Many craft breweries also populate Greater Portsmouth, and Granite State Growler Tours stands ready to guide groups of seven to 70 through a sudsy sampling, with the option to add in a shopping stop or a catered dinner.
Less than 3 miles from downtown Portsmouth, on the island of New Castle, Wentworth by the Sea, a Marriott Hotel & Spa, provides a grand setting for gatherings of up to 500. The oceanfront property contains 161 guest rooms and 14,156 sq. ft. of flexible event space—the largest ballroom is 3,744 sq. ft.—as well as a full-service spa, indoor and outdoor pools, and a tennis court.
Groups in need of more space can book Omni Mount Washington Resort in Bretton Woods. Its 30,000 sq. ft. of event space sprawls across 15 meeting rooms, the largest being a 6,900-square-foot ballroom. Resort amenities and activities include a 25,000-square-foot luxury spa, nine- and 18-hole championship golf courses, fly-fishing on Ammonoosuc River, horseback riding and carriage rides.
At Peterboro Basket Company Factory Outlet in Peterborough, groups can visit the only manufacturing facility of the nation's oldest continuously operating basket maker. Tours are not offered, but visitors can view an eight-minute video explaining the intricate process of transforming Northeast hardwood into strong and beautiful woven baskets. The retail shop stocks a wide selection of handcrafted baskets, including exclusive styles and slightly imperfect factory seconds, in addition to gift items and locally made food products.
Sweet Side Trips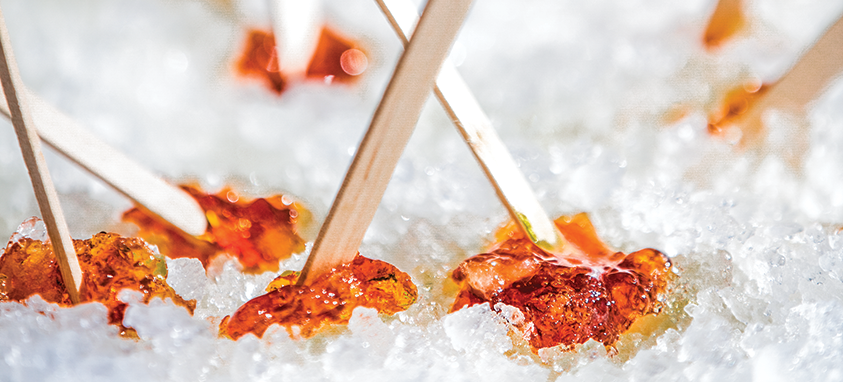 Snow sports aren't the only rewards of a Northern New England winter. March is celebrated as Maple Month throughout the region. For four to six weeks, usually from late February to early April, temperatures climb above freezing during the day and plummet back below overnight, signaling the annual harvest of the region's sweetest, stickiest specialty. Here are three sugar houses where groups can experience maple mania firsthand.
Morse Farm Maple Sugarworks in Montpelier, Vermont, qualifies as an agritourism pioneer, having made the switch from dairy farm to maple sugar works a half-century ago. Now, more than 250 tour buses visit each year. Crowds of up to 110 can roam the site's woodshed theater, nature trail and outdoor museum of Vermont farm life. Each March weekend offers a chance to sample sugar on snow, a traditional treat made by pouring boiling sap onto a bed of clean snow, resulting in maple candy with a taffy-like chew. The on-site shop offers maple in many forms, from maple cotton candy to a half-pound block of maple sugar (pictured above).
For Fadden's General Store and Maple Sugarhouse in North Woodstock, New Hampshire, seven generations of practice makes perfect. Nearly two centuries of maple syrup mastery has resulted in a recent run of Carlisle Awards, the trophy given annually to the state's standard-bearing syrup maker. Tours, available for groups of at least 20, include a maple syrup tasting and stops at the sugar house, maple museum and general store, open since 1896.
Groups visiting Balsam Ridge Christmas Tree Farm in Raymond, Maine, get a double dose of Northern New England magic: The farm's main crops are Christmas trees and maple syrup. The signature sap takes center stage during Maine Maple Weekend. This year's celebration, set for March 23–24, includes sugar house tours, live music, a pancake breakfast and a snowshoe trek through the Christmas tree farm (conditions permitting). The farm and gift shop are open on weekends during March and by appointment throughout the year.
Courtney Peter is an award-winning writer who has covered travel, food, history and preservation.