Rich variety of rousing entertainment fuels meeting groups
Nicknamed the Silver State because of the importance of silver to its history and economy, Nevada features a highly diverse landscape that includes arid plains and snowcapped mountains, as reflected by its two major areas, Las Vegas and Reno/Tahoe, respectively.
The vast majority of the state's residents live in those two areas, which are also major meeting destinations. Both offer outstanding hotels and restaurants.
"Las Vegas truly offers something for everyone, at almost every budget level," says Amy Riley, senior director of business sales for Las Vegas Convention and Visitors Authority. "Whether your group is looking for high-end luxury, unique adventure, or unforgettable interactive experiences, you won't find another destination with the variety of options you'll find in Las Vegas."
The Reno/Tahoe area is a recreational paradise, with plenty of water sports available on Lake Tahoe in the warm months, bookended by world-class skiing and other winter sports venues sprinkled in the hills and valleys. Tahoe also has long been known for its vibrant, trendy offerings, and Reno recently has followed suit as exciting downtown development has broadened its appeal.
"Here in Reno/Tahoe, we find that the great brewpubs and restaurants, the fantastic hotel and spa product, and the beautiful outdoor amenities all greatly contribute to the convention experience," says Mike Larragueta, vice president of sales for Reno-Sparks Convention & Visitors Authority. "Many visitors will come early or stay a few days after their event, just so they have some time to really enjoy what northern Nevada has to offer as a four-season, resort destination."
Perhaps above all, Las Vegas and Reno/Tahoe are known for their rich entertainment, which ranges from shows featuring the world's most legendary performers to a slot-machine inspired zipline attraction.
Las Vegas
Planners don't have to search very hard to find enjoyable activities for their groups in Las Vegas, the self-proclaimed Entertainment Capital of the World.
"Las Vegas is a vibrant, thriving entertainment destination, and our options are always growing and evolving," Riley says. "We work closely with our resort partners to continually track travel trends as well as the needs of both business and leisure travelers in order to provide a world-class experience."
Providing a major boost to planners, Avenue Live works out of its Las Vegas office and two other cities to create live-event experiences by combining creativity, technology and a passion for an unforgettable attendee experience. It disrupts the typical audiovisual production model by offering a onestop, service-first solution.
Exciting Indoor Options
The most rapidly developing type of entertainment in the city is professional sports. Las Vegas has hosted many top sports events—including hundreds of championship boxing matches, PGA golf tournaments and the NBA All-Star Game—and recently has been adding major professional teams in a expanding variety of sports.
This year, the Las Vegas Golden Knights, which play at T-Mobile Arena, reached the NHL's Stanley Cup Finals, an unprecedented achievement for a first-year expansion team. The United Soccer League's Las Vegas Lights FC also debuted in 2018, playing outdoors at Cashman Field. The NFL's Oakland Raiders are set to move to the city in 2020 and play in a new, domed stadium in Paradise, an unincorporated town adjacent to Las Vegas. Professional sports are now a much more popular option for groups meeting in the city, and the Raiders' new stadium will offer plenty of rentable spaces.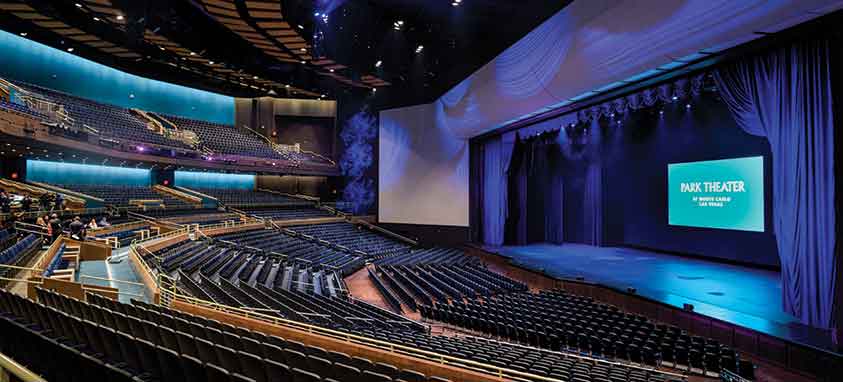 One of the most exciting new venues is Park Theater at the new MGM Park Las Vegas.
"The Park Theater awakens concert-goers' senses in a 5,200-seat venue with cutting-edge projection video and intimate views of Bruno Mars, Cher, Ricky Martin and Lady Gaga, who will kick off her two-year residency beginning in December," Riley says.
Construction begins this year on 360-foot-tall MSG Sphere Las Vegas, an arena to be located behind the Venetian and the Palazzo, and connected to the casino complex via a pedestrian bridge. MSG Sphere will host concerts, residencies, award shows, corporate gatherings, product launches and a wide range of other events, including next-generation attractions such as mass gaming that enable audiences to be a part of the experience.
A 170,000-square-foot, high-resolution screen will stretch across the arena's roof, providing a visual experience similar to a souped-up, 360-degree IMAX display. The venue could open by late 2020.
Stimulating Outdoor Choices
Vegas always has had a knack for offering the outrageous, as is clearly evident at some of its outdoor attractions.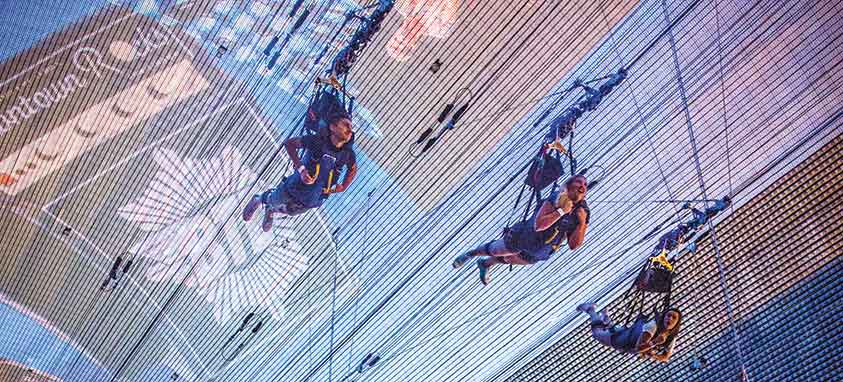 One of the signature Las Vegas experiences, SlotZilla, is a 12-story, multimillion-dollar downtown attraction. It is the world's largest slot machine and features Las Vegas icons such as two show girls, over-sized dice, a martini glass, a pink flamingo, coins, video reels and a giant arm. SlotZilla offers a zipline adventure that starts at an altitude of 77 feet. Participants are in a seated position and land halfway down the Fremont Street Experience (a light and musical show) pedestrian promenade, between the Four Queens and Fremont casinos.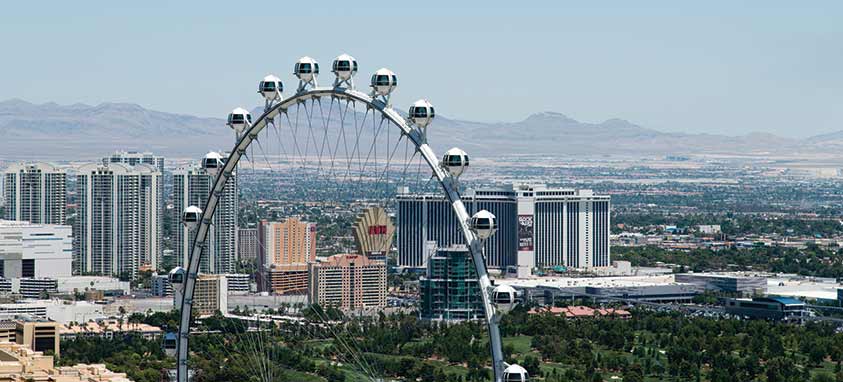 High Roller, which, at 550 feet, is the world's highest observation wheel, features 28 large, glass-enclosed cabins that each hold up to 40 people and offer panoramic views. It has been used for a variety of purposes, including Yoga in the Sky sessions, which include six guests per cabin, plus an instructor. The ride includes a video presentation with sound. Private group sessions are available.
Exotics Racing provides heart-pumping team-building options. Attendees choose from more than 50 exotic cars and 23 race cars. The staff creates a customized itinerary that includes friendly and safe driving experiences, enjoyable thrill rides with professional drivers and unique take-away gifts. Sophisticated turn-key corporate programs can be offered that include catering, transportation, branded super cars and more.
Dig This Las Vegas, billed as America's first-ever heavy equipment playground, offers attendees a chance to drive a track-type bulldozer or a hydraulic excavator around a 5-acre "sandbox" area. Options include digging trenches, riding over tall mounds, pushing gigantic boulders, and lifting 2,000-pound tires and stacking them into a pyramid.
In nearby Bootleg Canyon, Flightlinez exposes attendees to the thrill of flying. Over the course of 1.5 miles of ziplines, guests descend thousands of feet down the mountain and reach speeds of up to 65 mph. Along the way, they enjoy stunning desert views and fresh mountain air.
Reno/Tahoe
The Biggest Little City in the World, as Reno calls itself, isn't so little anymore, literally and figuratively. Reno boasts a population of some 225,000, and now offers a burgeoning art scene, innovative farm-to-table restaurants, trendy cocktail bars and exciting entertainment that is about to get even better.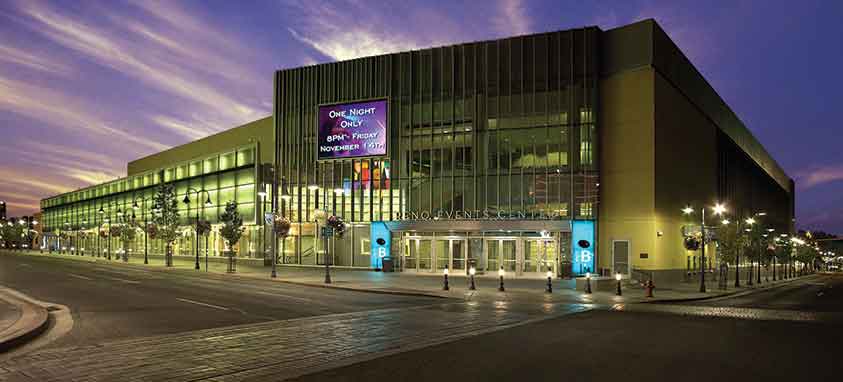 "Reno-Sparks Convention and Visitors Authority (RSVCA) recently turned to SMG [a worldwide venue-management group] to manage operations at our facilities, including the Reno Events Center in downtown Reno," says Mike Larragueta, vice president of sales for RSCVA. "This partnership is going to improve the efficiencies at our regional meetings and event spaces, but it will do much more than that. SMG has a great relationship with Live Nation, and will be bringing in the biggest names in touring entertainment at a much higher frequency than we've had in the past."
Groups that meet in South Tahoe are almost inevitably lured back by its spectacular setting, featuring a deep, blue lake—the largest Alpine lake in North America—and the majestic Sierra Nevada Mountains that surround it.
"South Shore is recognized as a leader in outdoor recreation, combined with scenic beauty, nightlife and entertainment," says Carol Chaplin, CEO and president of Lake Tahoe Visitors Authority. "The recent trends of 'unmeeting' and leisure options for meeting groups is a great fit for the destination."
Exciting Indoor Options
Like Las Vegas, the Reno-Tahoe area features plenty of indoor entertainment venues, including some that are new or have recently been renovated. Grand Sierra Resort's newly renovated Grand Theatre offers plush seating, excellent acoustics and top performers.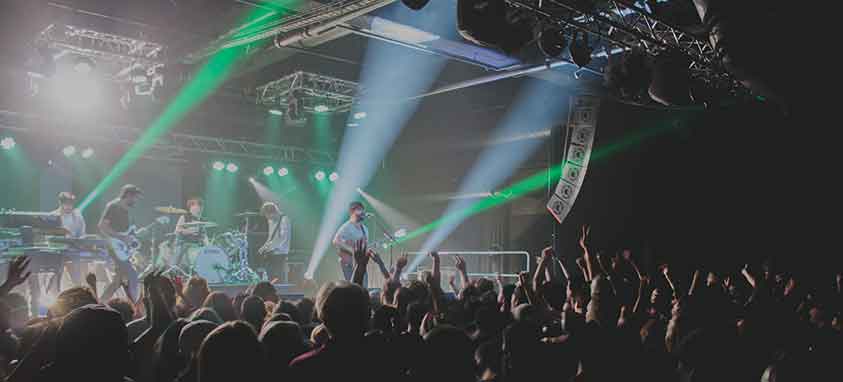 Cargo Concert Hall at Whitney Peak Hotel features an eclectic mix of award-winning touring bands and local talent. The venue, with a capacity of 1,000, can be rented for private events. Fitness enthusiasts love the hotel's Basecamp, which features a world-class climbing gym and fitness center. The main attraction is the outdoor, 164-foot-tall Big Wall, the world's largest climbing wall, according to Guinness World Records. Basecamp also houses a 7,000-square-foot indoor, competition-level bouldering park. Climbing and fitness classes are available to groups.
Reno also boasts several other entertainment venues, including Reno Events Center, a downtown facility that attracts national and international artists. It has 118,000 sq. ft. of space that can be rented for conventions and conferences. The Saint, a bar and tap room on South Virginia Street, boasts a music hall that hosts live performances (some free of charge) featuring emerging and national artists, as well as dance parties. It can be rented for group events.
Crystal Bay Casino, located on the north shore of Lake Tahoe, offers a variety of entertainment, including bluegrass, jazz, alternative rock and comedy.
Every third Saturday of each month, The RiverWalk District hosts Reno Wine Walk. By showing a valid photo ID and buying a $20 wine-tasting ticket, attendees receive a wine glass, map and a wristband that allows them to sample wine at any participating merchant. Reno Wine Walk was voted Best Monthly Event by Reno News & Review.
Stimulating Outdoor Choices
The Reno Aces, a Pacific Coast League baseball team that is the Triple-A affiliate of MLB's Arizona Diamondbacks, play at Greater Nevada Field—a 9,100-capacity venue in the heart of downtown—from April to early September. The stadium is part of the Freight House District, an exciting year-round entertainment complex that offers dining, nightlife and retail options.
Reno 1868 FC, a United Soccer League team affiliated with Major League Soccer's San Jose Earthquakes, plays its games at Greater Nevada Field from March to September, with playoff games in October.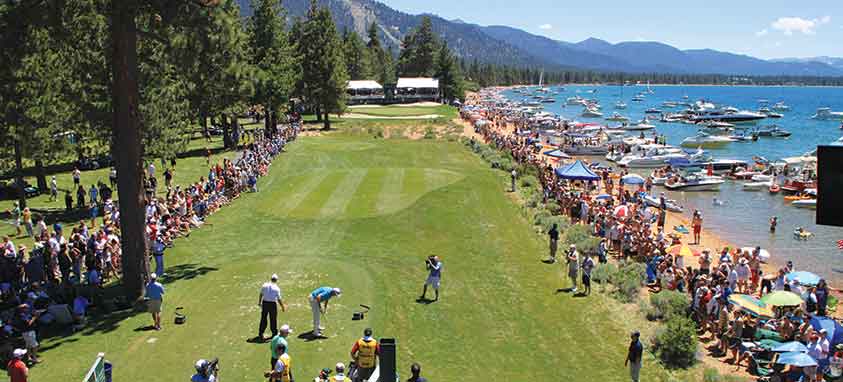 The American Century Celebrity Golf Championship, which takes place each summer at Edgewood Tahoe Golf Course in Stateline, Nevada, is arguably the most prestigious and richest celebrity tournament in the sport. A highlight of the festivities is the Tahoe South Celebrity-Am, which partners four amateurs with a celebrity from the field of stars. Former professional athletes and entertainers compete, as well as interact with attendees during autograph and photo sessions. This year's tournament will take place July 10–15.
Midtown Mural Tours take groups on guided tours of Midtown Reno's street art, consisting of more than 80 murals painted by local, national and international artists. Many of the murals are hidden gems, located in alleys. The tour takes about two hours, including time to check out local cafes and shops along the way. Docent tours are available every second Saturday at 11 a.m. starting at Blue Whale Coffee Company, and cost $10 per person. Group tours on other dates can be arranged.
Heavenly Mountain Resort, located just west of the California-Nevada border, features Epic Discovery program, which offers a summer East Peak Zip Line Tour that takes attendees from tree to tree at speeds of up to 40 mph.
"Overlooking the high desert of the Carson Valley, the last zipline allows guests to gaze over the waters of East Peak Lake," Chaplin says. "The experience concludes with an ATV ride back to the top of the gondola."
Harveys Outdoor Arena, an open-air venue with a mountain backdrop, is located behind Harveys Lake Tahoe hotel in Stateline, Nevada. It features top entertainers: This summer's lineup includes Pitbull, Keith Urban, Janet Jackson and Dave Matthews Band. The arena has the feel of an intimate venue, but it seats more than 7,000 people.
Hotels That Thrill

Many of the hotels in Las Vegas and Reno/Tahoe offer premier entertainment, including residencies and individual shows by some of the world's leading performers, as well as Cirque du Soleil offerings and other theatrical performances.
South Point Hotel and Casino (pictured above) in Las Vegas recently added a 25-story third tower that included 830 guest rooms and 10,000 sq. ft. of conference space. The property now has 2,080 guest rooms, a 75,000-square-foot conference center and an 80,000-square foot exhibit hall. Plans call for an additional 60,000 sq. ft. of casino and restaurant space. Entertainment options include an 80,000-square-foot casino, a headliner room featuring top-name performers, a movie theater complex and a 64-lane bowling center.
One of Las Vegas' iconic properties, Caesars Palace Las Vegas has 3,960 guest rooms, divided among five hotel towers, including Japanese-themed Nobu. It offers 300,000 sq. ft. of meeting space, and the 4,300-seat The Colosseum features entertainers such as Celine Dion, Jerry Seinfeld and Mariah Carey.
Wynn Las Vegas/Encore Las Vegas is planning a $1.5 billion expansion, Wynn Paradise Park, a family-friendly attraction similar to Disneyland and Walt Disney World Resort. It will include 1,500 to 2,000 guest rooms as well as a white, sandy beach and boardwalk—with a variety of entertainment—on the site formerly occupied by Wynn Golf Club. It could be completed as early as 2020.
In adjacent Henderson, M Resort Spa Casino offers 390 guest rooms and more than 92,000 sq. ft. of meeting space, including 25,000-square-foot M Pavilion. Its Ravello Lounge features live entertainment and UFC viewing parties.
The 824-room Atlantis Casino Resort Spa, a AAA Four Diamond resort in Reno, is surrounded by sweeping views of the majestic Sierra Nevada. A recent $100 million expansion earned Atlantis recognition as an award-winning conference facility. Entertainment options include headliner and cabaret shows, casino tournaments and the Fun Center & Arcade. The resort's 50,000 sq. ft. of flexible meeting space includes two ballrooms.
MontBleu Resort Casino Spa features stunning views of Lake Tahoe, 438 guest rooms, four restaurants and 16,000 sq. ft. of meeting space. Its MontBleu Showroom offers world-class entertainment: This summer's performers include Melissa Etheridge, the Temptations and Boz Scaggs.
Hard Rock Hotel & Casino Lake Tahoe's recently renovated velvet rope venues boast 14,300 sq. ft. of meeting space with a hip vibe. Vinyl showroom features music, comics and room for after-hours mingling.
Eldorado Resorts, Inc. is in the midst of a $100 million rebrand that is transforming Eldorado Resort Casino, Silver Legacy Resort Casino and Circus Circus Reno. They are being united as The Row, an area stretching over four city blocks that includes more than 4,000 guest rooms, 25 restaurants, 22 bars and lounges, 227,000 sq. ft. of casino space, 11 nightspots and 180,000 sq. ft. of meeting space. The recently renovated, 500-seat Eldorado Showroom hosts entertainers from every musical genre in an intimate atmosphere.