Pele still wants your business. The Hawaiian fire goddess has not lost her ability to awe, as the billowing plumes of smoke and rivers of red lava that explode out of Kilauea volcano on Hawaii Island attest. Yet a month after she began to unleash her latest terrible display of power on May 2, only 8 square miles (of Hawaii Island's more than 4,000 square miles) had been directly affected.
The resorts and beaches of the island's Kona and Kohala coasts—more than 100 miles away—are unscathed and as glorious as ever. The cattle grazing the upland ranch lands around Waimea in the north are contentedly unaware of the eruption. The tropical bays south of Captain Cook on the island's western shore still abound with pods of dolphins and paddling sea turtles.
Life and business on the other six inhabited islands open to visitors proceed without pause.
Pele has dramatically demonstrated why the Hawaiian Islands are unlike anywhere else in the United States. She has, indeed, reminded us why meeting professionals should keep the Aloha State high on their short lists of future sites: Hawaii's stunning natural splendor, when coupled with exceptional meeting venues, world-class lodging options and famous aloha spirit, are unmatched.
You can make the case that, as with Puerto Rico after Hurricane Maria and New Orleans after Katrina, planning your next gathering in Hawaii is the right thing to do. One in five dollars in the state's economy is tied to tourism, which is the state's leading employer, revenue producer and growth engine. The 500,000 visitors who come to Hawaii each year for meetings, conventions and incentives spend an average of $200 a day.
Whatever your gathering on these fabled isles, though, schedule time to get outdoors. Your attendees will raise a chorus of mahalos (thank yous) as they discover for themselves what the first Hawaiians did 1,600 years ago, newly arrived by canoe: Hawaii is truly a place of wonder.
Pele's fire rages—and deserves our respect. She teaches us that nature's power is more beautiful and mightier than anything humans can, or ever will, devise. But Hawaii's seas, mountains and jungles are equal marvels to be explored, enjoyed and learned from.
As travel author and long-time resident Paul Theroux once put it, "Hawaii is not a state of mind, but a state of grace."
Oahu
Kualoa Private Nature Reserve
Honolulu is a lei-bedecked meetings magnet with more than 30,000 overnight rooms in Waikiki alone, as well as an up-to-the-minute convention center with 1.1 million sq. ft. of space. Many meeting-goers never venture beyond the city limits, with its frothy Waikiki surf and Diamond Head's emerald peak. But that's a shame. Au naturel, Oahu offers so much more.
Sea
Polynesian Cultural Center
There's plenty to do and learn at nonprofit Polynesian Cultural Center, which sits on the eastern seashore of Oahu. Its 42 acres offer groups a fascinating variety of outdoor experiences as they travel through a half-dozen South Seas island villages to experience the culture of different Polynesian peoples. The Hukilau Marketplace is a throwback to the 1950s, where groups can explore shops and dining options decorated with tastes and flavors of the past. For a full day of Oahu immersion, one tour begins in Waikiki and includes a lengthy visit and luau at the center. A theater seating 2,700 people can be booked for events.
Jungle
Kualoa Private Nature Reserve
These 4,000 lush acres, a sacred Hawaiian site, are a 40-minute drive from Waikiki. The nature reserve offers horseback tours and team-building activities, as well as group venues such as a private beach, gardens and a concert pasture. Attendees seeking a cinematic thrill—think Jurassic World, Hawaii Five-0 and Godzilla—can clip into its zipline and set out on a jaw-dropping overview of the rain forest; a pair of suspension bridges and three mini-hiking trails complete the tour. Takeaways include learning about Hawaiian traditions and the history of Kaaawa Valley—including its filming history—while traversing native flora and streams.
Manoa Chocolate Factory
Cacao beans, the source of all chocolate, grow in jungles, so this counts as a jungle adventure, right? Hawaii is the sole state to grow cacao, and any group's longing for velvety chocolate is amply satisfied by a visit to the only bean-to-bar factory in Oahu. It's in Kailua, about a half-hour's drive from Honolulu. Manoa, in Hawaiian, means "solid, vast; depth, thickness." An hour-long tour covers the chocolate-making process and ends at the tasting room for a delicious finish.
Meet & Stay
Aulani, a Disney Resort & Spa, west of Honolulu in Kapolei, was the state's first resort to earn LEED Silver certification, for its environmentally friendly construction and building systems. Aulani guests can snorkel with hihimanu (brown stingrays) and check out the loi kalo (taro field), a conservation project planted and harvested by community volunteers. The resort has 832 guest rooms, 76,685 sq. ft. of outdoor event space and a 21,258-square-foot conference center.
DoubleTree by Hilton Alana-Waikiki Beach
A warm chocolate chip cookie awaits guests when entering the 317 guest rooms and suites—a sweet welcome to a noteworthy hotel. For a special view of the shimmering Pacific at sunset, take the elevator to the 19th floor. The hotel also offers 10,746 sq. ft. of flexible meeting space.
Four Seasons Resort Oahu at Ko Olina
This luxury resort on Oahu's western shore offers 370 guest rooms and suites. It has 16,874 sq. ft. of indoor meeting space, including 5,530-square-foot Ocean Ballroom.
Hawaii Convention Center in Honolulu contains 1.1 million sq. ft. of total meeting space, including a 200,000-square-foot exhibit hall, 147,000 sq. ft. of meeting space and a 35,000-square-foot ballroom. It wins kudos from meeting planners and environmentalists (due to multiple Green Event Awards from the state as well as similar recognition from the city and county of Honolulu).
Hilton Garden Inn Waikiki Beach
Located two blocks from Waikiki Beach, this recently renovated property offers 623 guest rooms and suites, and has a 500-square-foot event space for small groups. There's also a rooftop pool.
Hilton Hawaiian Village Waikiki Beach Resort
Situated on 22 acres along Waikiki Beach, this sprawling resort has 2,860 guest rooms and more than 150,000 sq. ft. of indoor and outdoor meeting space across three conference centers.
Hilton Waikiki Beach
Be engulfed in the aloha spirit in the 601 guest rooms and suites, which feature memorable views of the Honolulu skyline or glistening waters. The hotel boasts 17,000 sq. ft. of meeting space, including a grand ballroom and garden gazebo. For sweeping views of the ocean, the 37th floor offers the perfect event venue.
Hyatt Regency Waikiki Beach Resort and Spa
A recent $100 million renovation refreshed its 1,230 guest rooms and 19,550 sq. ft. of flexible meeting space. Japengo restaurant features Hawaiian regional cuisine.
Moana Surfrider, a Westin Resort & Spa
Known as Queen of Waikiki Beach, the resort dates to 1901. There's no more wondrous spot from which to be inspired by the golden sand and sea than at its outdoor bar, beneath an ancient, harboring banyan tree. The hotel offers 793 guest rooms and suites, a 10,782-square-foot conference area, several dining options and a state-of-the-art spa.
Pacific Beach Hotel Waikiki
This beachfront Waikiki property with 839 newly renovated guest rooms and suites offers 21,784 sq. ft. of meeting space. Also new are the oceanarium aquarium and lobby bar, and two signature restaurants by chef Masaharu Morimoto.
Sheraton Princess Kaiulani is steps from Waikiki Beach and its glam shopping and nightlife. Guest rooms number 1,000, and meeting space totals 14,000 sq. ft. The property is known for its Hawaiian cultural activities.
Sheraton Waikiki sits on the beach and offers 1,636 recently renovated guest rooms and 40,000 sq. ft. of meeting space, including 26,000-square-foot Hawaii Ballroom. RumFire Waikiki restaurant and lounge highlights global cuisine and has killer views.
The Kahala Hotel & Resort
Located in a peaceful neighborhood away from the Waikiki tourist zone, this Honolulu classic has been a favorite of visiting celebs and dignitaries for generations. In addition to 338 guest rooms and more than 24,000 sq. ft. of event space, the property features the allure of a secluded beach, tropical garden and private lagoon.
The Modern Honolulu
This sleek, stylish AAA Four Diamond lifestyle hotel offers 353 guest rooms and more than 20,000 sq. ft. of flexible indoor meeting space, including a 9,200-square-foot ballroom.
The Ritz-Carlton Residences, Waikiki Beach has added sleek, new meeting space in its second tower. In downtime, attendees will be tempted by the eighth-floor infinity pool and impressive dining options that include a sushi bar overseen by a Tokyo chef and an outpost of Manhattan's Dean & DeLuca.
The Royal Hawaiian, A Luxury Collection Resort
The landmark Pink Palace of the Pacific opened in 1927. It offers 528 guest rooms and suites and 12,000 sq. ft. of indoor meeting space, including 7,800-square-foot Monarch Room.
Turtle Bay Resort
A North Shore property situated on 850 acres, the resort has 410 guest rooms and 42 beach cottages, plus 25,000 sq. ft. of indoor meeting space. There are also two championship golf courses.
Kauai
Kauai is nature up close and personal. The least populated of the major islands, it richly deserves its nickname of Garden Isle. Northward, the rugged, remote Na Pali coastline is a tropical movie set come to life. On the island's leeward coast, majestic Waimea Canyon is often compared to Grand Canyon, though it alone has Mount Waialeale, one of the wettest places on Earth, towering above it. Sunny, southern beaches are the stuff of a tropical fantasy.
Sea
Na Pali Coast by Sea
The legendary 17-mile Na Pali Coast ("the cliffs," in Hawaiian) in northwest Kauai can best be experienced by groups of up to 50 at sea. Choose an operator with eco-friendly boat engines. Explore sea caves and see waterfalls, playful dolphins and other sea creatures. Snorkeling is another inviting option. A Na Pali excursion is a totally immersive half-day experience.
Mountain
Na Pali Coast by Air
The other great way for smaller groups to glory in Na Pali Coast is by air. Soar over needles of rock covered in endless hues of green in a tour offered by Blue Hawaiian Helicopter, in a six-passenger American Eurocopter Eco-Star. Its fuel-efficient engine limits flight noise over Kauai's delicate ecologies as passengers glide over "Jurassic Park Falls"—the hidden waterfalls of Waimea Canyon—and mist-shrouded Mount Waialeale.
Lihue Plantation Mountain Tubing
An exhilarating rush and a unique look at the island's natural beauty awaits with Kauai Mountain Adventures, which has exclusive eco-tourism access to the 17,000 acres of Lihue Plantation. Grab a tube, don a headlamp and jump into the canals—hand-dug more than a century ago—that once irrigated sugarcane fields. Get a rare point of view and an exclusive look at these historical engineering feats floating through dark tunnels and narrow flumes. Get refreshingly wet, too. Groups of up to 20 at a time can be booked, with several departures daily.
Jungle
Limahuli Garden & Preserve
As part of National Tropical Botanical Gardens, this 1,000-acre, horticultural wonderland was named Best Natural Botanical Garden in the United States. It features taro gardens and a lava-rock terrace system dating back to the earliest Hawaiians. Limahuli Stream, one of the last pristine waterways in the islands, is a habitat for indigenous aquatic life. Guided tours encompass Hawaiian history, culture, natural history, sustainability and native plants.
Meet & Stay
Aqua Kauai Beach Resort
Located on 25 acres near Lihue Airport (LIH), it offers 350 guest rooms and more than 26,000 sq. ft. of meeting space. Immersive Hawaiian cultural activities are a highlight of this oceanfront property.
Grand Hyatt Kauai Resort & Spa
In sun-drenched Poipu, this luxury property boasts 604 guest rooms, 24,000 sq. ft. of meeting space and 40,000 sq. ft. of outdoor event space. In addition to its twice-weekly luau, there are four award-winning dining options, including thatch-roofed Tidepools. For outdoor adventure, kayak the saltwater lagoons.
Hilton Garden Inn Kauai Wailua Bay
This beachfront hotel with Wailua Bay views has 216 guest rooms and 7,460 sq. ft. of event space, including a 4,150-square-foot ballroom. It offers access to a protected swimming beach, and a walking and biking path.
Kauai Marriott Resort
Situated near the airport and the town of Lihue, this meetings mecca on peaceful Kalapaki Bay features 356 guest rooms and 27,758 sq. ft. of meeting space. A Jack Nicklaus golf course, handsome spa and four restaurants round out the appeal.
Koloa Landing Resort at Poipu
This Marriott Autograph Collection property recently completed a massive $100 million expansion and renovation. Guest rooms total 306, and indoor meeting space rings in at 18,000 sq. ft. There's a new, 18,000-square-foot conference center and 16,000 sq. ft. of event lawn. The 350,000-gallon main pool is the state's largest.
St. Regis Princeville
An iconic luxury property on the North Shore overlooking Hanalei Bay, the resort has 251 guest rooms and suites. Meeting space totaling 43,494 sq. ft. includes a 6,616-square-foot grand ballroom. Other amenities include Makana Terrace restaurant, a Robert Trent Jones Jr. golf course and an 11,000-square-foot spa.
Sheraton Kauai Resort
On 20 acres on lovely Poipu Beach, this property has completed a $16 million renovation to its 391 guest rooms and 25,000 sq. ft. of indoor meeting space. RumFire restaurant and a weekly luau are among dining options.
Maui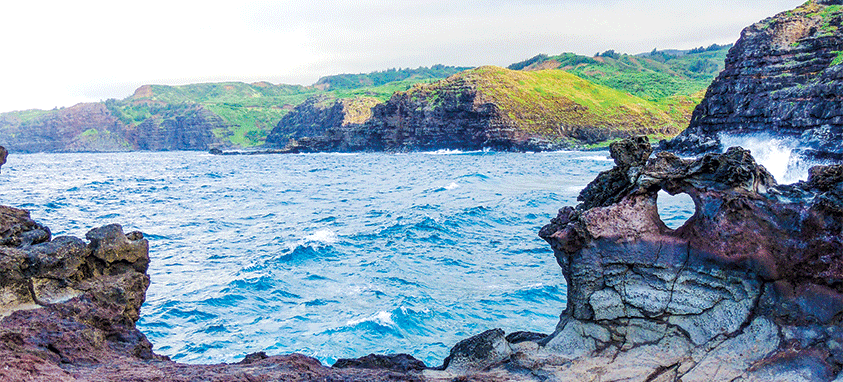 Maui has it all, from unspoiled natural wonders to every type of gathering place a planner could want. The road less traveled (but totally worth it) is famed Road to Hana, with scenic flora and other wonders around every bend.
At the island's center is Mount Haleakala, with its moonscape crater that is flanked by verdant jungle, organic gardens and lush grazing lands. Maui is an island on which to lose—and find—yourself in beauty.
Sea
Submarine to a Sunken Ship
Of course, Hawaii is known for its beaches—and the clear, warm ocean that invites visitors to swim, snorkel and scuba dive. But attendees can still experience the beauty beneath without dipping a toe in the water—by boarding a submarine that dives 100 feet below Maui's coastal waters. Atlantis Submarines (which also offers tours in Waikiki and in Kona on Hawaii Island) features narration throughout the trip, educating your group on island history and its undersea life. Portholes give glimpses of schooling fish, manta rays and the occasional green turtles as they interact with colorful reefs. The ultimate reward: a look at The Carthaginian, a sunken-ship-turned-sanctuary, caked with coral and a living laboratory of marine life.
Nakalele Point Blowhole
This one is for small groups that are reasonably fit and more than a little adventurous. Located 8 miles north of Kapalua, the trail starts at mile-marker 38.5. The first landmark is a light beacon used for navigation by passing ships, where views are worth the trek. A ladder attached to a cliffside leads to tide pools and Acid War Zone, a fancifully named jumble of boulders balanced and eroded by years of surging tides. Then comes the main destination: a heart-shaped hole in rock that is the blowhole. Reminiscent of a geyser, bursts of sea water shoot up into the sky—occasionally only seconds apart. Feel the ground tremble in anticipation of the next eruption.
Hana Town
Far from heavily touristed western Maui, Hana Town on the island's northeastern shore is Maui's most authentically native Hawaiian enclave. Surrounded by emerald-green ranch lands, rain forest and sea cliffs edged by beach coves, Hana is a living monument to harmony between the human and natural worlds. Life is slower, simpler and, seemingly, more beautiful. Yet nearby is a luxury hotel that was named No. 1 Boutique Hotel and No. 1 Experiential Hotel in Hawaii Magazine's 2018 Readers' Choice Awards. Travaasa Hana Resort is an immersion into Hawaiian culture, and it offers groups everything from ukulele lessons to lei making, to bamboo pole fishing for those looking to try their luck while learning about its history as a cultural practice.
Mountain
Haleakala National Park
Legend has it the demigod Maui stood upon Haleakala Crater's summit and lassoed the sun, stopping its orbit and making the days longer. A towering 10,023 feet above sea level, this crater is actually a dormant volcano, perfect for Instagrams. But Haleakala National Park offers more than one scenic view. A variety of trails will guide your group through barren landscapes and lush greenery—depending on the path. Pipiwai Trail is a 4-mile trek that boasts a graceful waterfall and sweeping views of rain forest and ocean. Elsewhere the views are lunar, and, in fact, astronauts trained in these landscapes before launching into the final frontier. For an otherworldly experience at the crater rim, arrive in time for sunrise, which paints the sky in a Crayola box of color.
Upcountry Maui
Upcountry Maui is special in its own right, with history, heart-stopping views and organic farms—great for group visits on a session-less morning or afternoon. Located on the ever-ascending flanks of Mount Haleakala, Haleakala Crater sits at the summit, but there is much more to be experienced. Piiholo Ranch, 2,000 ft. above the ocean, offers horseback rides for breathtaking views of the island and a forest adventure. Picturesque Makawao town (pop. circa 7,100) is a thriving arts community as well as a proud bastion of the paniolo (Hawaiian cowboy) tradition. MauiWine, where very drinkable, sparkling wine made from pineapples is produced, offers private tours with a tasting.
Paia
Once upon a time, this area on Maui's north shore was known for sugar plantations. Now, this quaint little beachside town is filled with art galleries and boutiques, and nearby is Hookipa Beach, known as windsurfing capital of the world. So, too, is Mama's Fish House Restaurant & Inn, a family-owned, beachfront landmark since 1973 that is always named among the island's best for fresh seafood and retro-tropical flair. It seats groups of up to eight. Situated in a coconut grove near the restaurant, the inn features charming tropical cottages and junior suites, perfect for executive retreats and board meetings.
Jungle
Road to Hana
There's nothing like a good road trip. Maui's most famous drive is Hana Highway, also known as the Road to Hana, which snakes through the rain forest of the island's north shore. Several companies offer rides in comfortable tour vans and mini-coaches, with stops along the 68 miles to gape at waterfalls and other natural wonders, such as National Tropical Botanical Gardens, where groups can also tour Piilanihale Heiau, largest ancient Hawaiian temple in the state; it sprawls over 3 acres and took hundreds of years to build. Halfway to Hana Stand is famous for its banana breads, local ice cream (try the Maui Sunrise) and shave ice.
Meet & Stay
Andaz Maui at Wailea Resort
This 15-acre resort graces beachfront of more than a mile and offers 300 guest rooms and suites. It has 15,000 sq. ft. of indoor meeting space and 55,000 sq. ft. of outdoor event space.
Fairmont Kea Lani Maui
Situated on 22 acres of Wailea coast, this recently renovated property boasts 450 suites and villas and 42,000 sq. ft. of meeting space. There are four restaurants to choose from, plus award-winning Willow Stream spa and three pools.
Four Seasons Resort Maui at Wailea
This Forbes Five Star, AAA Five Diamond property overlooks Wailea Beach. It has 395 guest rooms and suites and 30,806 sq. ft. of meeting space. Its three restaurants include Wolfgang Puck's Spago. Lessons on paddling an outrigger canoe are among popular guest activities.
Grand Wailea, A Waldorf Astoria Resort
Grand, indeed, is this mega-property that has received numerous accolades. Its over-the-top amenities include nine interconnecting pools. The resort has 832 guest rooms; 22 banquet, meeting and boardrooms; and 17 breakout rooms. The largest event space is 26,700-square-foot Haleakala Ballroom.
Hyatt Regency Maui Resort and Spa
Located on 40 oceanfront acres on world-famous Kaanapali Beach, it features 806 guest rooms and 100,000 sq. ft. of recently renovated indoor-outdoor meeting and event space. Monarchy Ballroom boasts a clean, upscale design, a new connecting outdoor terrace and floor-to-ceiling windows. Check out the rooftop astronomy program and Grotto Bar, in a rustic cave setting between two waterfalls.
Lahaina Civic Center
This multipurpose facility sits between Kaanapali and downtown Lahaina and offers 24,942 sq. ft. of event space, including an amphitheater that seats 2,200.
Montage Kapalua Bay
Situated above Kapalua Bay, this 24-acre resort has 56 guest rooms and suites and 52,215 sq. ft. of meeting space. Cliff House is an intimate dining/meeting space. There are two championship golf courses, and islander art and cultural programs are offered.
Sheraton Maui Resort & Spa
The resort honors Hawaiian culture with cultural adviser Jack Stone, who works with in-house groups to organize authentic cultural experiences and teach about ancient Hawaii. The property has 508 guest rooms and 40,000 sq. ft. of meeting space.
The Ritz-Carlton, Kapalua
Located on 54 spectacular acres in Kapalua, the resort offers 463 guest rooms and 50,000 sq. ft. of indoor meeting space. Other amenities include six restaurants, a spa, two golf courses and Jean-Michel Cousteau's Ambassadors of the Environment program.
The Westin Maui Resort & Spa, Kaanapali
Koi, flamingos and black swans in the resort's lagoon greet your arrival at this Kaanapali Beach landmark. Meetings and events are accommodated in its two ballrooms, multiple breakout rooms and oceanfront event lawn. Total meeting space rings in at 45,000 sq. ft., with the largest indoor space at 8,760 sq. ft. There are 759 guest rooms.
Wailea Beach Resort & Spa
Adjacent to Ulua and Wailea beaches, the resort recently completed a multimillion-dollar renovation of its 527 guest rooms and 29,880 sq. ft. of indoor meeting space. New pools complement a spa and three golf courses.
Lanai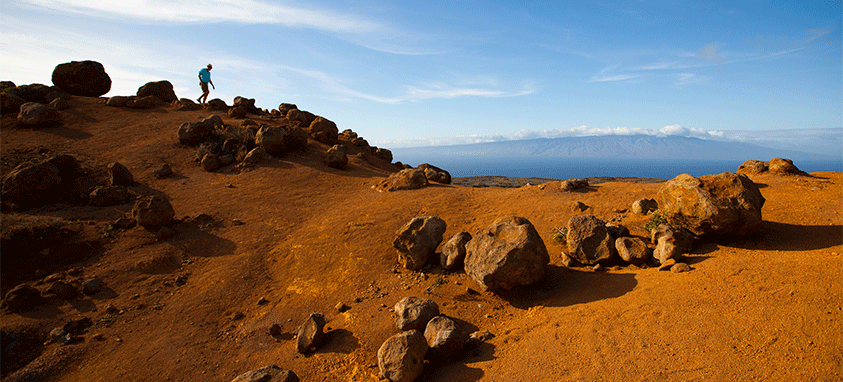 Lanai, a 140-square-mile island that is also officially part of Maui County, has been privately owned since the 19th century. Cattle have grazed its hillsides, pineapples have grown in row after row (when Dole was the island's owner) and, most recently, it's become an exclusive enclave for tourism. In 2012, tech billionaire Larry Ellison bought up 98 percent of Lanai, including its two luxury resorts that host meetings and events. Apart from these resort properties and small, charming Lanai City (population circa 3,000), virtually the entire island is still wild, untamed—and ripe for exploration.
Sea
Petroglyph Explorations
Shipwreck Beach, on the north shore of the island, is known for its turbulent waters—true to its name, at least a dozen wrecks sit rusting—and beachcombing, but it is also home to the ancient stone carvings known as petroglyphs. Though their precise messages are unknown, one is clearly a hunting scene, while another depicts a man with an Axis deer—animals that were believed to have been brought to the island from India. It's about 45 minutes from Lanai City via an off-road tour vehicle.
Mountain
Garden of the Gods
Less than an hour from Lanai City, Keahiakawelo—also known as The Fires of Kawelo and Garden of the Gods—is a world apart from the glimmering ocean and white-sand beaches. Though you may imagine a lush landscape, you'll find instead a wind-swept, rocky elevation that looks otherworldly. Hawaiian lore says two priests, from Lanai and Molokai, were challenged to keep a fire burning on their respective islands. So, the story goes, the priest of Lanai used up every stick and twig to keep his fire alive—thus the barren land. At sunset, the rocks glow red and purple. On clear days, you have views of Molokai and Oahu.
Munro Trail
Named after George Munro, a naturalist from New Zealand who explored the island in 1890 and planted the stately Cook pines that line the pathway, this hike stretches for nearly 13 miles—so bicycles are the most efficient way to experience it all. The trail goes through a rain forest lined with flowers and trees, such as ohia lehua and ironwood. The ultimate payoff is reaching the 3,366-foot peak of Lanaihale, (House of Lanai), highest point of the island, from which six Hawaiian islands can be seen. No need to make it that far, though: The first scenic lookout awaits just 2 1/2 miles up the trail.
Meet & Stay
Four Seasons Resort Lanai
This completely rebuilt luxury resort overlooking the Pacific boasts 213 guest rooms, including Hawaii's most expensive suite (three bedrooms, $21,000 a night); there are more than 10 event spaces, with the largest ballroom at 7,552 sq. ft. Dining options include Nobu Lanai and Malibu Farm Restaurant & Bar. The Jack Nicklaus golf course is renowned (Bill and Melinda Gates were wed on the 12th tee). The entire property is available for buyouts.
The Lodge at Koele, a Four Seasons Resort
The island's other luxury property, this resort should reopen later this year after a $75 million renovation that brings a new spa, pool and fitness center. On the outskirts of Lanai City, it offers an experience unique to Hawaii—that of a sumptuous mountain lodge. The redo will reduce the guest-room count from 102 to 94, with six rooms converted to meeting space. Nearly half the guest rooms will have private gardens with Japanese onsen (hot springs-style) baths.
Hawaii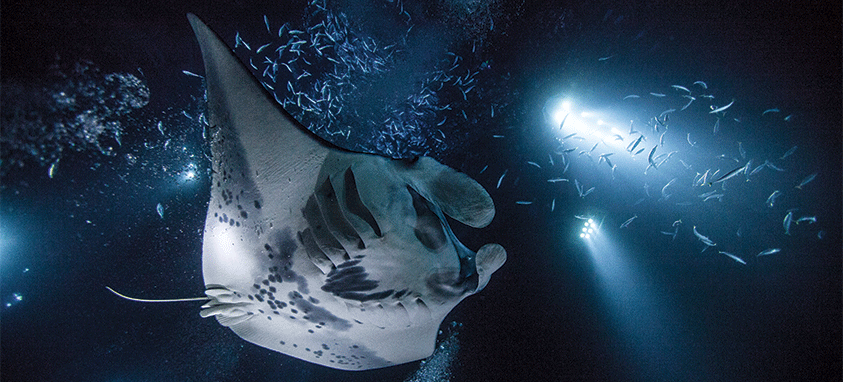 Hawaii Island is where it all began… and where it all happens. The first Hawaiians navigated by following currents and seabirds to the youngest and largest land mass of the Hawaiian archipelago. And it is there that fire and snow coexist—the former on Kilauea, as recent news footage vividly attests, and the latter on the highest reaches of volcanoes Mauna Loa and Mauna Kea in winter months. Extremes are the way on Hawaii Island. And that's why groups can still enjoy almost everything it offers, even as molten lava spews skyward and outward on a small section of the island's southeast.
Sea
Manta Rays at Night
Most water explorations take place during the day, when visibility maximizes the ability to witness life below the water's surface. But night excursions take the thrill to new depths, so to speak. Several tour operators offer nighttime snorkel and scuba encounters with the gentle manta rays that inhabit the island's Kona Coast. They can reach up to 16 feet and 1,600 pounds, yet are harmless and without stingers. Private charters can accommodate up to 20 passengers per boat. For shore sightings, bright lights shining from Huggo's, a waterfront fine-dining institution in Kailua-Kona since 1969, attract the gracefully gliding mantas at dusk; Huggo's offers several group options.
Puuhonua O Honaunau
Take your group to wander the ruins and grounds of a ceremonial refuge at the edge of the Pacific. A 40-minute drive south of Kailua-Kona, Puuhonua O Honaunau exudes an air of peace. For ancient Hawaiians, it was a sacred place of refuge. Strict taboos regulated everything—people, places, items and activities—and even minor infraction could mean death. For a reprieve, the safest bet was the nearest puuhonua. These sites also housed combatants' families during wars between rival chieftains. While these islands had many puuhonua, this one is the most well-preserved, thanks to the establishment of Puuhonua O Honaunau National Park.
Mountain
Waimea
At an elevation of 2,670 feet, Waimea in the island's north is an unexpected Hawaii. Also known as Kamuela, it's a place of cowboys and cattle, hyper-local farmers markets and outdoor adventure, that you might associate more with Colorado than the Aloha State. At the same time, groups can dip into nearby Waipio Valley, one of the most beautiful places on the island, and hike a trail to a black-sand beach. Waimea is home to Parker Ranch, once the largest ranch in the United States; horseback explorations are on offer. Anna Ranch, host to a spirited farmers market weekly, hosts historic ranch house tours where groups can learn how ranching on Hawaii Island dates to the time of King Kamehameha the Great. ATV tours and ziplining are other group activities available in Waimea.
Jungle
Kohala Ditch
In Kohala, in the northwest portion of the island, "The Ditch" is a manmade wonder. Requiring meticulous engineering, it was dug by hand to connect otherwise inaccessible river water to a sugar plantation. The mammoth project did not come without sacrifice—multiple workers met their deaths during 18 months of hard work—but the 22-mile concourse of flumes and tunnels opened in 1905. For decades, it served its purpose. But in 1971, the plantation was closed. Now, Flumin' Kohala leads kayak tours that travel the tunnels and jungle waterways built long ago.
Fire
Hawaii Volcanoes National Park
It would be remiss to not include one of Hawaii Island's biggest attractions, with multiple trails and plenty to see and do. Jaggar Museum in the park is a trove of information about volcanoes and seismology, for example, and a favorite of groups. There you will also encounter Kilauea, the volcano that could—it's been erupting continuously since 1983. With Kilauea's increased activity since May, the park has been mostly closed to visitors; consult its website for the latest update. Nearby, Mauna Kea is less known but makes up for its fame in height—standing almost 14,000 ft. high, it's the largest volcano in the state.
Meet & Stay
Fairmont Orchid, Hawaii
This AAA Four Diamond, 32-acre oceanfront hotel offers 540 guest rooms. Indoor meeting space totals 30,000 sq. ft., with 76,000 sq. ft. of outdoor function space. Amenities include a sumptuous spa and six restaurants. Guests can participate in the resort's hands-on voluntourism program.
Four Seasons Resort Hualalai
Located on Kona-Kohala coast, this luxury property has 243 guest rooms and suites. It offers 29,325 sq. ft. of indoor meeting space, including a 6,175-square-foot ballroom. Outdoor event space totals 26,600 sq. ft. The award-winning spa is 28,000 sq. ft.
Hilton Waikoloa Village
The largest hotel property on the island, the resort consists of three low-rise towers on 62 oceanfront acres. There are 1,172 guest rooms and a 235,000-square-foot convention center, plus 175,000 sq. ft. of outdoor meeting space. Its protected lagoon is home to sea turtles, and there are two championship golf courses.
Mauna Kea Beach Hotel
A luxury property on Kohala coast, this beachfront luxury hotel has 252 guest rooms and 59,864 sq. ft. of meeting space. Amenities include a twice-weekly luau, Mauna Kea Golf Course and 11 tennis courts.
Mauna Lani Bay Hotels & Bungalows
Nestled oceanfront on Kohala coast, this classic offers 341 high-style guest rooms and suites, and 21,922 sq. ft. of meeting space. Many islander cultural activities are complimentary, including hula and lei-making lessons. Its two championship golf courses boast solar-powered golf carts.
Sheraton Kona Resort & Spa at Keauhou Bay
This 22-acre property on Kona coast offers 509 newly redone guest rooms including 24 suites, as well as 27,760 sq. ft. of meeting space. Rays on the Bay restaurant is new again, too, with unobstructed ocean views and island-inspired cuisine. The resort's pool has a 200-foot "lava-tube" waterslide, and the spa features a salt room for halotherapy.
The Westin Hapuna Beach Resort
The evolution of former Hapuna Beach Prince Hotel is now complete, and a $46 million upgrade has made it over into a member of the Westin family. Resort upgrades include a new lobby, a refresh of all 232 guest rooms and 17 suites, new dining concepts and an adults-only pool with enhanced amenities. Its 14,800 sq. ft. of indoor meeting space has been augmented by a new 3,000-square-foot ballroom.