Skydive Long Island, Shirley
America's favorite holiday destination thrills active groups
New York City has always been a draw for visitors, but just a short drive from the city is Long Island, a longtime fave with locals and travelers alike for its white-sand beaches and elegant Gold Coast mansions immortalized by F. Scott Fitzgerald's novel, The Great Gatsby. On Long Island, visitors can tour award-winning vineyards, bask on a sun-drenched deck, stroll through charming villages and partake in seafood caught fresh that morning.
"Our prime location and accessibility, combined with our array of attractions and activities, provide travelers and locals with a unique destination experience," said Kristen Jarnagin, president and CEO of Discover Long Island.
Though Long Island is comprised of four counties, most people think of Nassau and Suffolk counties as "the island." This is where some 9 million visitors converge each year, bringing in roughly $722 million in tax revenue.
Nassau County has three towns—Oyster Bay, Hempstead and North Hempstead, and two cities—Long Beach and Glen Cove. In Suffolk, there are 10 towns—Babylon, Brookhaven, East Hampton, Huntington, Islip, Riverhead, Smithtown, Shelter Island, Southampton and Southold, with lots of villages and hamlets scattered about.
In addition to its many scenic and historic treasures, Long Island has loads of adventurous activities. Groups can put the pedal to the medal at an off-formula speedway, take a trapeze lessons with circus alum, fly high in the sky in a WWII-era biplane or go wild on a wakeboard. The list goes on. Below are a few places to get started.
Airborne
If you've always wanted to soar like an eagle, head to Sky Sailors, where you can take to the skies in a glider, sailplane, Warbird and other aerial craft. The launchpad is at Westhampton Beach, where once you're airborne, the bird's eye view is the best on Long Island.
More aero-adventures can be found at American Airpower Museum at Republic Airport in Farmingdale, where wannabe aviators can climb aboard and explore vintage aircraft, or better yet, strap themselves in and pilot alongside an FAA-certified flight instructor for 45 minutes of sky-high sightseeing in a WWII fighter trainer, open-cockpit Waco biplane or a C-47. Special re-enactments of the D-Day experience will take place this summer in commemoration of the 75th anniversary of that time.
Want to find out what it's like to free-fall at 120 mph? Skydive Long Island in Shirley will show you. The company specializes in first-timer skydivers, and meets with them first to answer questions and quell fears before taking them in a plane for the giant leap.
Biking the Beaches
If you've never tried "fat-biking" on the beach, this is your chance. Rent a bike and hop on the ferry to Fire Island, Long Island's 32-mile-long barrier island. Ride the trails through the dunes or at the shoreline. Other well-traveled paths include the bikeway to Bethpage State Park and Jones Beach Bikeway. Long Island Bicycle Tours will guide you through the local wine country.
Boards and Boats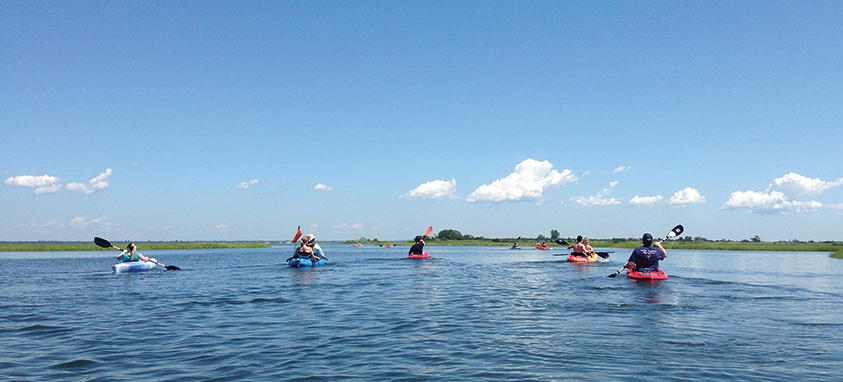 A popular way to get your feet wet is by climbing into a kayak or canoe, and paddling around Long Island's inlets. In addition to the beautiful surroundings and abundant wildlife, there are loads of harbors and waterways to explore. Shelter Island is a longtime favorite destination for water sports. You will find outfitters offering guided tours, group lessons and rental boats, and equipment for wakeboarding, water skiing, wake surfing, kiteboarding and jet skiing. Stand-up paddleboarding is also available.
If sailing Polynesian-style is on the A-list, talk to Sailing Montauk, which owns Mon Tiki Largo—a U.S. Coast Guard-certified catamaran inspired by traditional Polynesian double-canoes. Sailing trips, including sunset cruises and custom outings, are offered daily.
Your group can take the "child pose" on Sailacat, which offers yoga meditation sails aboard an ocean-going cat in the heart of the Hamptons. Private full- or half-day sailboat charters and catamaran rides also can be arranged.
Blue Island Oyster Kayak Tours of Manhattan's premium oyster supplier show off where Blue Points are grown. Harvest your own oyster right from the source and then slurp it down after a private shucking lesson.
While flyboarding is a fairly new water sport, it is a thrill-seeker's delight. Part wakeboarding, part jet skiing, it was invented in 2011 by a watercraft rider who wanted to use water to hoist riders into the air. Flyboarders learn to perform acrobatics and then make a smooth landing into the water.
If you want to settle in where you sail, look no further than The Pridwin Hotel and Cottages on Shelter Island, a Gatsby-era hotel with 40 guest rooms and nine cottages. This classic, all-wood American resort opened in 1927, and features a private pool, its own beach, two docks, a tennis club, and restaurant and event space for 250.
The Menhaden in Greenport opened in December as a 16-room boutique hotel with a rooftop deck looking out to Greenport Harbor and Shelter Island. Rooftop yoga is offered seasonally.
Fish Tales
Boasting some 400 miles of coastline, Long Island has fishing opportunities for all levels and interests. Anglers can enjoy some of the best saltwater fishing in the east there. Inshore fishermen will find a boatload of bluefish, mackerel and flounder waiting to bite, while the offshore waters are swimming with tuna, swordfish and shark. Spear fishing is the new eco-friendly sport, since you harvest only fish in season that meet legal size requirements.
Many top-notch outfitters offer both group excursions and private charters. Eskimo Charters sails daily from Captree State Park as does Fishtale, which has 65-foot-long boats that can accommodate up to 85 guests.
Those who prefer watching to wading can sign up for Viking Fleet's whale-watching cruises in the summer. Winter warriors can seal-watch in Montauk Point State Park.
Long Island Aquarium in Riverport features one of the largest all-living coral reef displays in the Western Hemisphere, a 120,000-gallon shark tank, year-round sea lion shows, African Penguins, marmosets, touch tanks and more than 100 exhibits. It also has 19,837 sq. ft. of meeting space.
Hang 10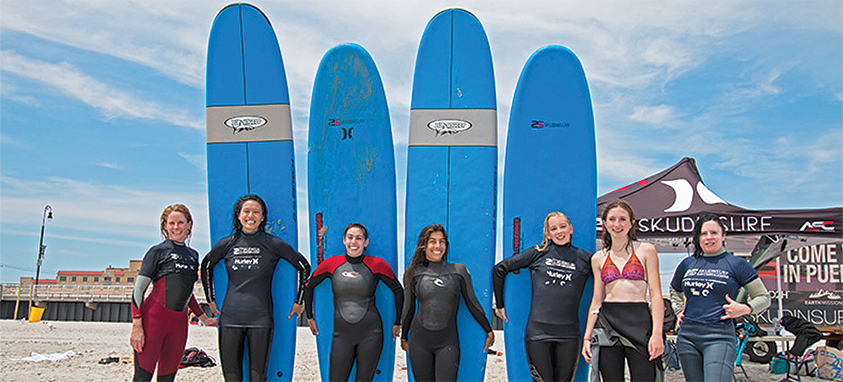 Surfing is a favorite pastime on Long Island, and for good reason. There are some 118 miles of coast stretching into the northern Atlantic Ocean, producing some mighty strong surf and putting Long Island on the global map as a prime surfing destination.
No surprise that Long Island offers plenty of instruction, too. Montauk is one of the better places to learn—veteran surf dudes at Gilgo Beach and Long Beach coach beginners on shore before letting them catch the swells. Long Beach Skudin Surf has experienced instructors who organize surf camps as well as private lessons,
Surfing fans can settle in at the 146-room Gurney's Montauk Resort and Seawater Spa. This luxury beachfront hotel and Hampton icon has a private beach, seawater spa, Roman spa and the only ocean-fed seawater pool in North America. It is also the only year-round resort in Montauk. More than 25,000 sq. ft. of event space is available, all with ocean views.
Also in Montauk is Sole East Resort, a 67-room resort housed in a Tudor-style building on 2 1/2 acres. Sporting a surf-chic vibe, the resort offers amenities that include a pool, restaurant, and bar and lounge areas.
Another place with easy access to the swells is 156-room Allegria Hotel in Long Beach, Long Island's only luxury oceanfront hotel.
Stargazing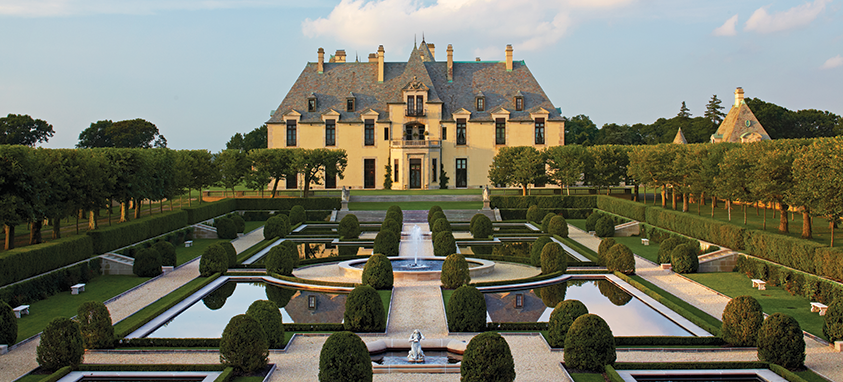 The Long Island sky is an adventure in itself. Bringing it down to earth are astronomers at Helen and Charles Reichert Planetarium in Centerport, one of the most advanced astronomical facilities in the area. Its GeminiStar III system includes a state-of-the-art projector, full-dome video and surround sound. Seating is graduated under a 60-foot dome, where shows are narrated by staff astronomers. The theater can accommodate up to 147.
The planetarium is part of Vanderbilt Museum, once a Gold Coast mansion. A fitting place to make your base is Oheka Castle in Huntington, a Gold Coast mansion turned 32-room hotel oozing with Gatsby-era glamour. Guests may recognize the French chateau-style castle from Taylor Swift's music video, Blank Space. Several function rooms are available, with the largest accommodating 400. Twenty-three acres of formal gardens are used for warm-weather events.
Also from the Gold Coast era is the 187-room Mansion at Glen Cove, built in 1910 in the Georgian style. Commissioned by a Rockefeller executive, the elegant hotel features an indoor pool, a basketball court, a yoga studio and a vintage bowling alley. Set on 55 acres, the mansion provides 30,000 sq. ft. of attractive meeting space that includes 27 conference rooms.
Tightropes and Tight Turns
Those who prefer being above water to being in it should stroll the boardwalk at Long Beach until reaching I. Fly Trapeze School, where professional trapeze artists fly through the air with the greatest of ease before teaching others how to swing from rope to rope. Instructors come from circus disciplines.
At RPM Raceway in Farmingdale, Mario Andretti wannabes can burn rubber on a race track modeled after off-formula speedways. Racing pros are on hand to provide tips on navigating the course safely This go-kart raceway offers 12,400 sq. ft. of meeting space. Full venue buyouts are available, or rent a private track by the hour.
Pole Position Raceway also offers kart tracks created for racers, by racers. Its Farmingdale location features two quarter-mile tracks and high-performance, all-electric, emission-free indoor karts capable of speeds of 45 mph.
Giddy-up
From April to July, 90,000 spectators descend on Elmont, cheering horses at the running of the Belmont Stakes, considered the longest and most difficult part of the Triple Crown. Since 1930, only 11 horses have won the prestigious Triple Crown, with Secretariat still holding the record for the fastest times in each race. Belmont Stakes is dubbed The Championship Track because most major champions have completed the racecourse.
Races are held at Belmont Park. which opened in 1905 and is operated by the nonprofit New York Racing Association. On the cusp of Queens and Suffolk counties, the 430-acre track has two racing schedules per year: from the end of April through the middle of July and from the beginning of September through the end of October.
One special treat is Breakfast at Belmont, which allows attendees to enjoy breakfast while watching thoroughbreds train during the Belmont. Tram rides through the stables are free,weather permitting.
Groups can rest between races at Garden City Hotel, an elegant and a historic 269-room property with some 30,000 sq. ft. of event space. Built in Georgian Revival style, it is consistently rated AAA Four Diamond. New to the resort is Red Salt Room by David Burke, offering signature dishes such as cheesecake lollipops as well as pastrami salmon.
Not-So-Trivial Pursuits
While most people think Long Island's lure is its beach life, it is much more than sand and drinks.
Early computer game invented: In 1958, staff members at Brookhaven National Laboratory were planning the upcoming Visitor's Day, often a somewhat boring event. William Higinbotham, a nuclear physicist and head of the lab, wanted it to be memorable, so he recruited colleagues to help him design a game. The result was Tennis for Two, a forerunner to Pong. Locals loved it and lined up in droves to play. Higinbotham developed an improved version the next year, but the game was never sold in retail stores and the original copies were tossed.
Busiest commuter rail service on the continent: Long Island Rail Road Company is a commuter rail system founded in 1835, and the nation's oldest railroad still operating under its original name. It is also the busiest commuter rail system in North America. In 2016, it averaged a weekday ridership of nearly 355,000, with more than 80 million passengers climbing aboard each year. It is also one of the world's few commuter trains that operate 24 hours a day, seven days a week, year-round.
Charles Lindbergh began his famous flight: Early on May 20, 1927, Lindbergh took off from Roosevelt Field. Thirty-three hours and 30 minutes later, he landed in Paris, making the first nonstop, solo flight across the Atlantic Ocean. Though the airport is long gone, the aero-memory lingers on.
First Lady Jackie Kennedy born: Jacqueline Lee Bouvier's birth in Southampton in 1929 is one of many famous celebrities born on Long Island. Others include Alec Baldwin, Mariah Carey and Billy Joel.
Jaws was inspired: In 1964, novelist Peter Benchley read an article about a 4,500-pound great white captured near Long Island. A light bulb went off. What would happen if one of those monsters came onto a beach and wouldn't go away? The story developed and Benchley's blockbuster thriller, Jaws, was born. Most locals believe that Captain Quint was inspired by Frank Mundus, a Long Island shark hunter-turned-shark conservationist.
Kristine White is a California writer who spent many years attending off-site meetings and now enjoys writing about them.