Wine Country pops
An hour's drive north of San Francisco, California's famed wine country calls to groups with the allure of relaxed gatherings meant to be savored. Inspired by a terroir that offers some of the best food, drink and idyllic backdrops in the world, relationships deepen quickly in the hotels, wineries and outdoor spaces that abound in Napa and Sonoma counties. The popular region is actually two valleys, with new and expanded properties in each; together, they promise refreshing approaches to gathering.
More: To Your Health: The Case for Organic Wines
Arrive
The western side of Northern California's wine country is more accessible than ever as Charles M. Schultz Sonoma County Airport (STS) continues to add nonstop flights by Alaska Airlines, American Airlines and United Airlines. On the other side of the hill, Napa County Airport (APC) hosts corporate jets and air taxi service.
Meet and Sleep
The diverse landscape of Sonoma County includes 425 wineries, majestic redwood forests and a rugged Pacific coastline. Fairmont Sonoma Mission Inn & Spa pairs meetings with relaxation in Willow Stream Spa, a 40,000-square-foot tribute to the ancient thermal mineral spring that flows 1,100 feet beneath the Spanish Mission-style resort. With 42,555 sq. ft. of meeting space, including the tented Pavilion Room, and 226 guest rooms, this is a retreat made for memories.
More: Harbor, Wine Country and Airport Meetings
In Napa County, 400 of the world's top wineries await, as does Culinary Institute of America at COPIA, a tribute to the foodie culture that has transformed this agricultural destination. In the town of St. Helena, Las Alcobas, a new boutique luxury property with 68 guest rooms—many with balcony fire pits overlooking Beringer Vineyards—hugs a beautifully restored 1907 Georgian mansion; 4,500 sq. ft. of meeting space includes a refined boardroom.
The Estate at Yountville keeps growing. Last year, Hotel Villagio added 112 cozy guest rooms as part of a larger property makeover of the former Groezinger Winery that includes 80 guest rooms at Vintage House. The Social at The Estate, a free-standing, barn-style venue with 15,608 sq. ft., includes a garden area to soak in vineyard views.
Meritage Resort and Spa in Napa has long been a favored destination for event professionals because of its vineyard location and abundant meeting space (not to mention a bowling alley and an executive spa). Last year, Vista Collina Resort opened across the street, bringing the total indoor and outdoor meeting space to 80,000 sq. ft., along with 467 guest rooms. The Vintner's Room offers a soaring, exposed-brick and rugged-wood space with levered glass sides that open onto Village Lawn. The addition is also home to nine tasting rooms and a professional cooking school. An underground estate cave on the Meritage side of the property hosts corporate wine dinners.
Eat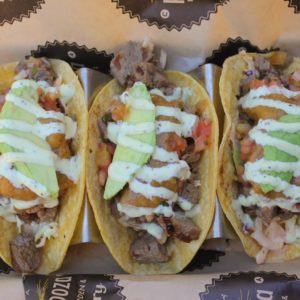 The new home of Sunset magazine outdoor kitchen and test gardens, Cornerstone Sonoma, now also hosts Palooza Beer Garden and Eatery, a family-, dog-, beer- and wine-friendly venue. The marketplace also boasts Vineyard Lawn and The Barn at Tyge William Cellars, a shabby-chic space that puts people in a mellow state of mind. In Healdsburg, groups can sip and learn about nuances of the "berry" at Baca Wines tasting room, featuring a selection of vintners, including Walt and Hall.
A popular Napa brunch destination, Brix Restaurant and Gardens, recently renovated to put the emphasis on the outdoor part of the name. The sunny dining room now looks out on Kelleher Family's Vineyard and lawns that serve as the backdrop for two Provencal-inspired meeting cottages. Inside the Reserve Cellar, a dining room awaits.
In Napa's up-valley, Solage Calistoga, an Auberge Resorts Collection charms with Solbar restaurant, an indoor-outdoor tribute to the bounty of the region with attached meeting space fringed by vine-covered patios and private VIP dining; there are also 89 private cottages.
Do
In Sonoma, you can rev up the meeting by renting space trackside at scenic Sonoma Raceway. Team building begins at the drop of the checkered flag on the karting track, where everyone can compete in the twists and turns of the road course. Or, get above it all with hot air balloon rides that show off both valleys in the glow of early morning light; the woven rattan baskets each hold up to 20 people.
Need to Know
385 million visitors to Napa Valley in 2018
6,600 Sonoma County guest rooms connected to meeting space