How hyper-local experiences can energize meetings
Immersing your attendees into a destination's local culture is a time-tested way to give them a sense of place that goes beyond the four walls of the conference room. In fact, today's attendees not only desire this immersion—they expect it.
What may not be well-known, however, is that hyper-local experiences are more than just a fun break from the routine: They can result in takeaways that influence attendees during the meeting and have a lasting impact when they return home.
Smart Meetings uncovered a few ideas to consider for your next Southern California event. While the region is broad in geographic terms, each of its major cities has its own distinct culture, history and style—with opportunities to experience them in ways that educate, inspire and contribute to the health and wellness of your meeting guests.
Santa Barbara:

Blending Old and New

The City: A gorgeous oceanside haven, Santa Barbara has long lured visitors with palm-fringed beaches, sunsplashed architecture and picturesque, sprawling wine country. Today, however, Santa Barbara has become well known for another reason: its resilient, can-do spirit. After last year's devastating fire and mudslide, the city is back on track as a dynamic meetings and leisure destination, with a clutch of new and renovated hotels and a renewed commitment to revitalizing old neighborhoods in exciting, modern ways.

Chief among these neighborhoods is the ever-evolving Funk Zone, a reimagined area of warehouses turned urban tasting rooms, art galleries, and hip cafes and restaurants where new hot spots continue to pop. And then there's the resurging Presidio Neighborhood, a vibrant few blocks in the oldest part of the city that includes early California historical sites as well as Paseo de la Guerra, with catacomb-like hallways that encompass tasting rooms from many of Santa Barbara's noted wineries. (Together with those in the Funk Zone, they make up a highly popular urban wine trail).

The Experience: For a good example of re-imagining—as opposed to razing and starting from scratch— book your group for an afternoon El Paseo Wine Tour in downtown Santa Barbara. This walking tour (typically 12–24 people, 50 maximum) features an opportunity to taste 10 or more of Santa Barbara's French-style wines, along with a few small bites to cleanse the palate, while you explore the Presidio neighborhood and learn about the city's early history. The tour, hosted by Eat This, Shoot That!, also provides guided travel photo tips (hence the name).
Los Angeles:

Inspiring Creativity

The City: Los Angeles is—as usual—in the process of reinventing itself. "We've held three citywide events in Los Angeles over the past seven years, but wow, what a difference a few years makes!" says Cait Goldberg, chief of event planning and operations, Society for Science & The Public, based in Washington, D.C. There is continued infrastructure development with new and interesting restaurants, hotels and retail opening with frequency."

The Experience: Just 1.2 miles from the formal galleries of The Museum of Contemporary Art is a virtual explosion of colorful street art: more than 100 murals and graffiti tags created by (mostly) local artists in a former industrial area. There, in what's now officially called the Arts District, you'll find murals such as the 30-foot-tall Ed Ruscha Monument by legendary artist Kent Twitchell, a spray-painted work that looks like intertwined gummy worms by Ricky Watts, and one that encompasses a lowrider, a cowboy and lots of palm trees in a geometric style that artist King Raptuz, calls "broken window futurism."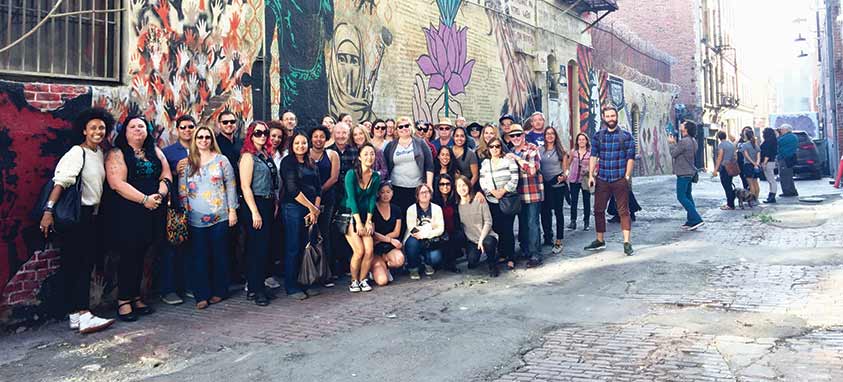 Cartwheel Art offers private walking tours of the area for any size group that can be customized to include food and beverage (lunch at Peals BBQ is a popular option), art workshops, "meet the artist" opportunities and more, according to Cindy Schwarzstein, founder and experience curator.
Beverly Hills:

Catering to Incentive

The City: Beverly Hills, a pocket of luxury in Los Angeles' wild west, is the epicenter of the region's glitz and glam—coupled with opportunities to be on the lookout for Hollywood's marquee names strolling Rodeo Drive, shopping, sipping cocktails or dining a deux. Its hotels, restaurants and top-tier stores are magnets for the rich and famous—but also quite welcoming for meeting and incentive groups.

The Experience: Award travel has always been a tantalizing carrot for both employees and contractors, especially those with challenging sales goals. The ideal Beverly Hills incentive offers your high-achievers suites in a posh hotel, luxurious spa treatments and dining at a five-star restaurant frequented by A-listers.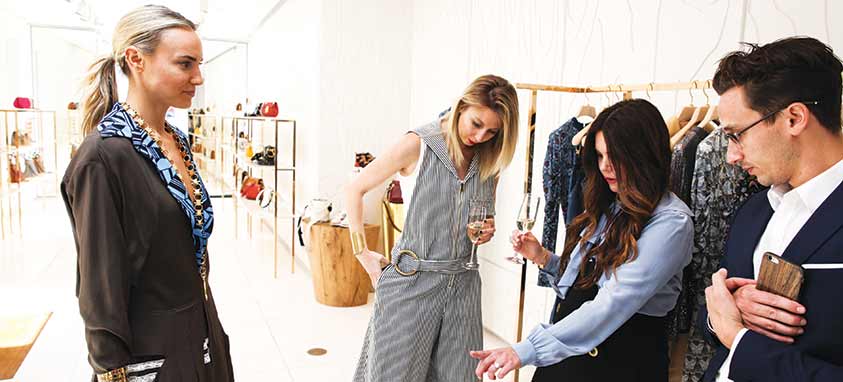 It also includes a culinary demonstration by a hotel chef who is accustomed to feeding awards-dinner crowds and picky celebrities, and ends with cocktails at a hip rooftop bar with live music or DJ sets. To make this experience really Beverly Hills "local," book your group on a VIP Rodeo Drive tour with LaLaLuxe, a company that takes you "behind the velvet rope" into the special VIP rooms at several of Beverly Hill's ultra-chic flagship stores (such as Dior, House of Bijan and Harry Winston's). The message to potential attendees is clear: Work hard and earn your award; then, once you've arrived on site, incentivize yourself for next year's trip.
Malibu:

Welcoming Wellness

The City: Travel & Leisure magazine once referred to Malibu as "sun, fun and celebs," a description that still endures. Stretching for more than 30 miles along the Pacific Ocean, this trendy, upscale city just west of Los Angeles is home to famous beaches and equally famous surf breaks—plus the billion-dollar mansions of numerous Hollywood stars and top athletes. It has a laid-back, although exclusive, vibe, permeated with a health and wellness ethos. It offers leisure visitors as well as meeting groups upscale hotels, chef-driven restaurants, high-end shopping and a burgeoning wine industry not far inland from the coastal highway.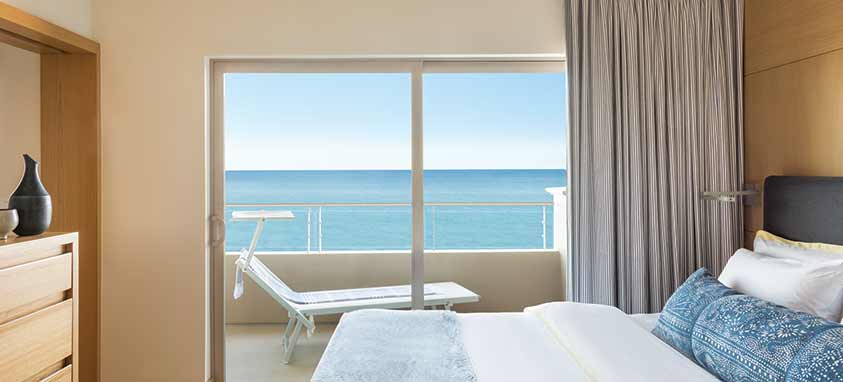 The Wellness Experience: Whether you're planning an executive retreat or a local Malibu/Southern California experience, consider meeting at Malibu Beach Inn, a serene hideaway tucked into Carbon Beach, the so-nicknamed "Billionaire's Beach" (for obvious reasons). There, the concierge can arrange for you to start the day with a private beachfront yoga session (for up to 20 hotel guests), which takes advantage of the synergy between ocean and yoga, both of which reduce stress, enhance your mood and support good health. Your group will then be ready to face the day ahead relaxed and inspired. (An added bonus for yoga novices in the group: a fun new routine to explore when they return home.)
Marina Del Rey:

Featuring Fitness

The City: Located on the Los Angeles coastline, about four miles from Los Angeles International Airport (LAX), Marina del Rey is a waterfront playground that also doubles as a premier meetings destination. Once a salt marsh, it is now the largest man-made small-craft harbor in the country, with eight basins and nearly 5,000 boat slips. Tucked among its picturesque 1.5 square miles (more than 40 percent of which are water) are high-end hotels, dock-side restaurants and sleek sightseeing yachts.

In fact, it's the dual opportunity of location and hotel that has drawn Volkswagen Group Australia for its annual convention (45 attendees) for a number of years, with The Ritz-Carlton, Marina del Rey as its base.

According to Jason Bradshaw, chief customer officer of the group, the combination offers both a consistent, "exceptional high-quality hotel experience" and the flexibility to hold parts of their program at other off-site locations without hassle, due to the proximity of major connecting roads. Plus, he says, there's quick access to and from LAX, which makes meeting there "great for late night or early morning departures."

The Experience: While skippered yacht charters and luxe boat cruises are typical ways for your attendees to enjoy the water at Marina del Rey, for an up-close-and-personal experience, they can climb into kayaks and explore the water at eye level with their colleagues. Pro SUP Shop offers one-hour group paddles for up to 29 participants that include instruction. Stand-up paddleboards can also be launched on the calm, flat water of Mother's Beach, after your group receives instruction and lessons on safety procedures.
Long Beach:

Getting the Big Picture
The City: An urban beach city just south of Los Angeles, Long Beach attracts meetings more for its diverse locale and vibrant waterfront than its sun-and-surf ocean culture. There is, of course, a 5.2-mile stretch of sandy white beach, where waves and the Pacific Ocean beckon, but downtown's shoreline offers hip cafes and restaurants, trendy boutiques, several museums, a world-class aquarium and a lively nightlife scene—all in walkable proximity to major hotels and the convention center.
Along with the city's easy access via three airports (Long Beach Airport, John Wayne Airport and LAX), Long Beach Convention Center was a major draw for Christopher Cherkis, CMP, senior manager of conferences and seminars at National Business Aviation Association in Washington, D.C. Cherkis recently brought a citywide group of more than 2,900 attendees for the 2018 NBAA Schedulers & Dispatchers Conference, who met for three days of education and a trade show, plus pre-and-post professional development courses.
The center's meeting space is great, he says. "It's nicely stacked and well appointed: It feels more like those one might expect in a hotel, complete with artwork, mirrors and a calming color palette. They've invested in a lot of flexible seating options for folks to network—many with an element of natural light."
The Experience: With the Pacific Ocean at your doorstep, taking part in a Behind the Scenes Tour at Long Beach's Aquarium of the Pacific allows your group to see the big picture—what it takes to maintain this ever-evolving aquarium (an expansion is underway), from water filtration to animal care and the feeding of its 11,000 animals. The one-hour tour (10 people maximum) takes place on the "wet side" of the aquarium, a section that is not normally open to the public, and includes an opportunity to feed the fish from above the 350,000-gallon Tropical Reef Habitat.
Anaheim:

Putting Hyper into Local

The City: The largest city in Orange County, Anaheim is undergoing an exciting period of growth in its meetings and hospitality industry. Last year saw the opening of the architecturally striking Anaheim Convention Center North, an addition of 200,000 sq. ft. of event space that now makes the entire convention center (1.8 million sq. ft.) the largest on the West Coast. Complementing this expansion are several big-brand hotels currently under construction or development, plus a fourth Disney property. Nearby, Anaheim's historic downtown is being revitalized, as well. Just minutes from the convention center, in the area's Anaheim Packing District, is the restored Anaheim Packing House, a multistory contemporary food hall "packed" with dozens of food stalls, many focusing on hyper-local ingredients.

The Experience: The desire for locally produced food and beverages is no longer just a trend: It's become part of the fabric of how we dine and socialize at meetings as well as at home. To offer a super-local culinary experience to one recent group, Anaheim Marriott brought in a local beekeeper from Honey Pacifica Farms, who came with displays of hives (under glass) and a supply of the company's honey. According to Phil Aldax, director of food and beverage for the hotel, the bee expert explained the honey-making process to attendees, who then made macarons, cakes, and many dishes and cocktails while incorporating the local honey (in fact, he says, everything served at that evening's buffet incorporated it in some way).
Greater Palm Springs:

Igniting Insight

The City: Picture sunny blue skies, a gorgeous valley with nine resort cities, spectacular mountain vistas, craggy canyons and numerous lush resorts. "Greater Palm Springs (and the Coachella Valley) is iconic," says Sulema H. Peterson, principal of Sulema Peterson & Associates, who recently hosted 700 attendees for a four-day educational conference at Renaissance Indian Wells Resort & Spa.

"It's a real-life oasis," she says, with "amazing meeting room space," plus top-notch golf and accommodations.

The Experience: For an unexpected Palm Springs experience, try a trail ride through the area's spectacular landscape with Smoke Tree Stables. The most popular option for meeting groups is the Haul Ride, in which they trailer the horses out of the city to scenic Indian Canyons for a leisurely ride along year-round streams and native palms. Once your attendees have "met" their 1,000-pound horse, they may be in uncharted territory, much like joining a new company or a newly reorganized department. But Smoke Tree also provides some guidelines to equine psychology and group dynamics (yep, it has them, too) and along the way, attendees learn