Morven Park
Meet among Mid-Atlantic history at the homes of America's seminal figures
Seven score and 13 years ago, the 13th Amendment to the U.S. Constitution banned slavery, but President Abraham Lincoln emancipated the slaves two years prior, in 1863. Slave labor, of course, had built the grand edifices of the Confederacy, and today the Mid-Atlantic is steeped in plantations and estates from that era.
We can appreciate these grand homes for their grace and shining beauty, while acknowledging their shadowed past. The furniture and four walls—preserved, restored and maintained to appear frozen in time—may look the same when you step into this time warp of American history, but the demographics could not be more different from centuries ago.
Visitors and groups of all races, ethnicities and classes are now equally welcome to freely roam in unity. During a group tour of sprawling Morven Park in Leesburg, Virginia, for instance, onlookers may spot an interracial couple posing for engagement photos, a sight unimaginable when the home was built in 1780.
The Mid-Atlantic plays a vital role to the hospitality industry. Two of the largest hotel chains in the world can be traced back to the area. The founder of Marriott International, J. Willard Marriott Sr., established Marriott Ranch in Hume. The inn has 12 guest rooms and its Farm House has a boardroom with seating for 18. As a 4,200-acre working cattle ranch, Marriott Ranch can accommodate much larger groups for outdoor picnics and activities. The brand's headquarters is now in Bethesda, Maryland.
Hilton selected McLean, Virginia, as its global headquarters. Next door, 458-room Hilton McLean Tysons Corner has more than 28,000 sq. ft. of meeting space. In November, Virginia Crossings Hotel & Conference Center, near Richmond, joined the Tapestry Collection by Hilton. The meeting-centric hotel looks like a Colonial estate with 28,000 sq. ft. of meeting space and 183 guest rooms.
Fauquier County
Marriott Ranch is not the only old property Fauquier County has to offer. The Manor House Restaurant in Warrenton was built in the late 1920s by lawyer Robert Randolph Hicks and his bride, Rose Beatrice Sutton. In an effort to replicate 16th- and 17th-century European architecture, they used stones from what is believed to be Civil War camps.
In 2002, Poplar Springs The Inn and The Spa was added, with 21 guest rooms. The 170-acre estate specializes in hosting corporate retreats, think tanks, dinners and board meetings. In partnership with vintner and local winemaker Chris Pearmund of Pearmund Cellars, Poplar Springs planted 1,000 Traminette vines in 2017, establishing it as the only destination in the Greater Washington, D.C., Metropolitan Area that has an inn, a spa, an events venue, an upscale restaurant and a vineyard, with a tasting room on the horizon.
Since purchasing Airlie Farm in 1956, Dr. Murdock Head transformed Airlie Center in Warrenton into a premier, 17,000-square-foot meeting venue. The first conference was held there in 1961. The following year, the NAACP Legal Defense Fund held its first annual Civil Rights Conference at Airlie, making it the only location south of the Mason-Dixon line that allowed an integrated function to take place.
Then, in 1969, Airlie again found itself at the forefront of history by becoming the birthplace of Earth Day. Ever since then, Airlie has prided itself in sustainable initiatives at the 300-acre, 145 guest room property that Life Magazine dubbed an "Island of Thought." In late summer, the hotel will begin 18 months of extensive guest-room renovations.
Loudoun County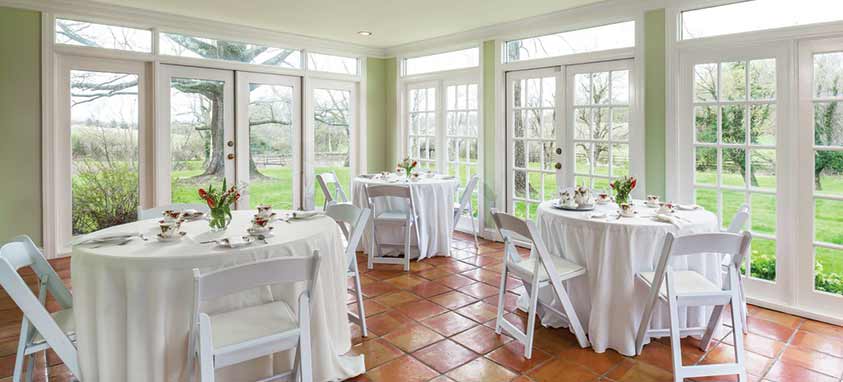 Less than an hour outside of Washington, D.C., are the serene fields and lush greens of Virginia's Loudoun County. Formerly a plantation dating back to the 1790s, Oatlands Historic House & Gardens in Leesburg is now a celebrated event venue. Tented events for up to 250 guests can be held in front of the 1804 Greek Revival Mansion or on the pavilion. Indoor affairs for up to 100 attendees can take place inside the 1903 Carriage House. The property also has a five-bedroom, five-bathroom inn for guests wanting to spend the night. Meeting space is available on the inn's first level.
"Home to Dulles International Airport (IAD) and just 25 miles from the nation's capital, Loudoun County is a premier, highly accessible meetings destination," says Ann Hayes, director of sales for groups and meetings at Visit Loudoun. "Meet at a vineyard and enjoy stunning views of the Blue Ridge Mountains, host an intimate meeting at a historic estate or impress clients with an event at a luxury resort. Loudoun also offers a variety of team-building activities where attendees can do everything from blend wine with a winemaker to create a chocolate masterpiece with a celebrity chef or participate in indoor skydiving."
Don't let the tranquility of the landscape fool you. If your group is looking for an adrenaline rush or wanting to face fears, Loudoun County has plenty of boundary-pushing, team-building activities. Soar at iFly Indoor Skydiving and swing at Topgolf during a corporate event. The two facilities share a parking lot, making it a convenient joint activity depending on the comfort level of each individual attendee. Your meeting will be a hit inside the 3,000-square-foot Signature Room or atop the rooftop terrace at Topgolf. Need more space? The entire venue can be bought out for groups of up to 1,000. Catering packages are available.
Adventure awaits at Salamander Resort & Spa in Middleburg. Sean Burch offers his Everest Team- Building Workshop exclusively at this resort, which takes a psychological approach to lowering anxiety and stress via visualization, embracing obstacles through motivational speaking and applying lessons gleaned in scenarios during his boot camp.
There's tennis, cornhole, croquet, swimming, ziplining and more, but what is truly unique about Salamander is the option to become a horse whisperer. Its EquiSpective program guides participants on a journey of self-discovery through interaction with horses who are tuned in to human body language. Your event will be a hoot with a special appearance by master falconer Jennifer Westhoff of Raptor Hill, who will bring her feathered friends, such as owls and birds of prey, for a photo op and education session.
"The staff at the Salamander could not have been more professional and the facilities are second to none," says Cori Kramer, executive director for Center Forward. "At Center Forward, we pride ourselves on providing a first-rate experience for our members during our annual issues conference; that is why the Salamander is the perfect fit for us. We would recommend this beautiful resort set in the Virginia countryside to anyone who is looking for a truly exceptional experience."
Salamander has 30,000 sq. ft. of meeting space and 168 guest rooms. Just off property, Market Salamander restaurant began renovations in May.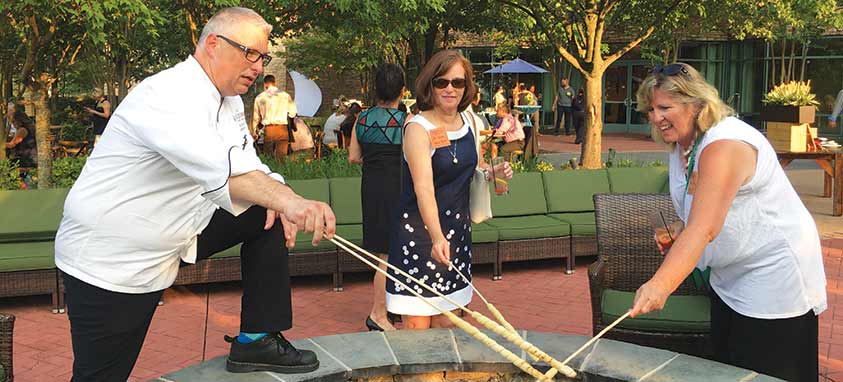 Last July, Smart Meeting Mid-Atlantic was held at AAA Four Diamond Lansdowne Resort and Spa in Leesburg, which has 55,000 sq. ft. of meeting space, 296 guest rooms and 45 holes of golf. A highlight was the culinary experience provided by Germanborn chef Marcus Repp, the resort's director of culinary operations. He blends his native European cuisine with local farm-to-table fare inside the property's various restaurants, outside by the herb garden and surrounding a firepit for a Pinterest-perfect meal.
Whoever coined the phrase "everything is bigger in Texas" may not have taken a look at The National Conference Center in Leesburg, which has 265,000 sq. ft. of event space, including the 55,000-squarefoot West Belmont Place Event Center. There are 250 breakout rooms and 917 guest rooms. The center has also upped its food-and-beverage game by partnering with local farms for a multicourse chef's table, complete with wine pairings selected by Mary Watson-DeLauder, the chief wine officer.
"We know that food plays an important role in the overall experience of our guests and their meals," says Todd Goldian, director of food and beverage. "And we know the value that food plays in ensuring that learning sessions, meetings and networking events are far more productive when participants are eating food that effectively fuels their minds."
The National also prides itself in designing themed events and team-building activities, such as the adult summer camp it created for the 130 meeting planners and suppliers who attended Reston Herndon Meeting Planners' event last July. Event coordinator Marguerite Leishman wants her members to have even "s'more" fun, so she booked the venue again for this summer.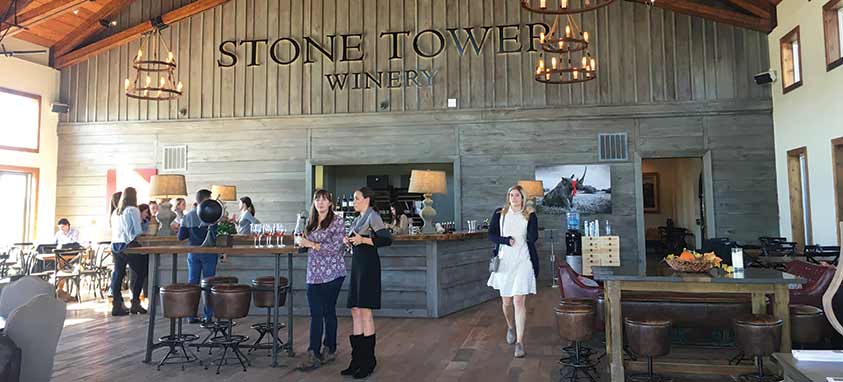 The vino flows throughout Virginia's Wine Country in Loudoun. Host a rustic event for up to 175 guests inside Stone Tower Winery's Harvest Barn, or opt for an elegant affair for 250 guests inside its Vineyard View Ballroom. Smaller rooms for groups of about 50 are also available.
Norfolk
With 144 miles of shoreline, Norfolk has a rich history dating back to the 1600s as a port of call to some of the nation's earliest English settlers and has the world's largest naval station. In 1908, wealthy New York couple William and Florence Sloane built a summer home in Norfolk. By 1936, the five-room house expanded to 42 rooms. It is now known as Hermitage Museum and Gardens. Its beautiful grounds offer a great setting for corporate functions.
The couple supported the founding of Norfolk Museum of Arts and Sciences, which has since been re-named Chrysler Museum of Art. Located in Ghent, the Renaissance-inspired structure's Huber Court atrium has a glass roof and serpentine staircase for elegant affairs. It can fit 220 guests seated and 720 standing. Chrysler Glass Studio provides a live glass demonstration during private events. Tours of The Moses Myers House and The Willoughby-Baylor House, home of the Norfolk History Museum, are provided; both are overseen by the Chrysler. Nearby, Hunter House Victorian Museum is also open for guided tours.
Norfolk embraces the present and future on the hospitality front, as well. Citywide, there are some 5,400 guest rooms and 263,370 sq. ft. of event space. Hilton Norfolk The Main, which recently celebrated its first anniversary, has 42,770 sq. ft. of meeting space and 300 guest rooms. Sheraton Norfolk Waterside Hotel recently underwent massive renovations of its 468 guest rooms and 46,000 sq. ft. of meeting space. It also remodeled and renamed its restaurant Waterside Seafood Company earlier this year.
Norfolk Waterside Marriott, which is connected to Waterside Convention Center, will complete renovations by the end of the year. It has 68,879 sq. ft. of meeting space and 405 guest rooms. The downtown Waterside District has been booming since opening in spring 2017. With more than 90,000 sq. ft. and two levels of restaurants and lounges, planners can book events for up to 6,000 guests. The new, nautical-themed Harbor Club overlooks the Elizabeth River and can accommodate groups of up to 500 people.
Guests can also enjoy waterfront and skyline views at Peter G. Decker Jr. Half Moone Center, which has more than 33,000 sq. ft. of indoor and outdoor event space. Additional venues are available at Nauticus, a maritime museum, and aboard Battleship Wisconsin.
Virginia Beach
The Virginia Beach History Museums paint a clear picture of what life was like during slavery, and oversee some former plantations in the region. From 1725 to 1727, plantation owner Francis Thelaball and his family called Lynnhaven House their home. Today, it is a museum for visitors to learn about life during that period, including slave ownership. A restoration project is currently taking place. Typically, outdoor events with up to 300 guests can be booked on the grounds.
Another prominent plantation owner, Francis Land VI, set down roots in Princess Anne County. Francis Land House served as his family's home from 1805 to 1819. It's now furnished with decor reminiscent of that period. Its cellar can accommodate 50 guests for private functions and up to 300 people can meet outdoors underneath a tent.
Virginia Beach is a who's who of then and now. Groups can celebrate yesteryear at the historic Cavalier Hotel, while making new memories. Originally built in 1927, the property has reopened after undergoing a $75 million renovation. The elegant "Grand Dame of the Shore" has hosted 10 United States presidents and Hollywood stars such as Judy Garland and Bing Crosby. Legendary author F. Scott Fitzgerald swam laps in the pool and mobster Al Capone chilled out by the fireplace. Cavalier has a distillery, 85 guest rooms and a 2,490-square-foot ballroom, plus prefunction space and two meeting rooms.
"Virginia Beach offers a new perspective on meetings, with diverse out-of-the-boardroom experiences that allow attendees to immerse themselves in our coastal culture," says Todd Bertka, vice president of convention sales and marketing at Virginia Beach Convention and Visitors Bureau. "With unique meeting settings from venues overlooking the ocean to performance centers and the museum, coupled with our flourishing culinary and emerging craft beer scene, meetings are better at the beach."
Virginia Beach Convention Center proudly calls itself the first convention center in the United States to earn LEED Gold certification as an existing building from U.S. Green Building Council. It has a 150,000-square-foot exhibit hall, 31,000-square-foot ballroom, 29,000 sq. ft. of flexible meeting space and ample free parking.
Virginia's Blue Ridge
Virginia's Blue Ridge, made up in part by Roanoke Valley, boasts more than 683,000 sq. ft. of meeting space. The region can accommodate up to 11,000 attendees for meetings, conventions, conferences and trade shows.
"Virginia's Blue Ridge is a meeting planner's hidden gem," says Ashley Hinkle, director of meetings and conventions for Visit Virginia's Blue Ridge. "[It has] ample meeting space, including outside venues with vast hotel accommodations, a plethora of walkable sustainable restaurants and endless activities showcasing the true beauty of the Blue Ridge Mountains."
Some 63,000 sq. ft. of meeting space can be found at The Hotel Roanoke & Conference Center, Curio Collection by Hilton. The historic 330 guest-room property earned the nickname The Grand Old Lady. Originally built in 1882 by railroad magnate Frederick J. Kimball as a railroad juncture, the Tudor-style structure was reconstructed in 1939 and is now a member of International Association of Conference Centers. It houses 63,000 sq. ft. of newly renovated conference space, including 34 meeting rooms.
In April, the hotel and its restaurant, The Regency Room, received a AAA Four Diamond rating. By summer, it plans to open a new coffee shop and eatery, Steam. Hotel Roanoke is under the same management, Benchmark Hospitality International, as The Inn at Virginia Tech and Skelton Conference Center, which has 147 guest rooms and 23,705 sq. ft. of meeting space on the university's Blacksburg campus.
"The Virginia Society for Technology in Education has been hosting events in Roanoke for over 30 years," says Karen Richardson, executive director of Virginia Society for Technology in Education. "The setting of the city, in Virginia's Blue Ridge, is gorgeous, and a vibrant downtown with shops and restaurants connected to Hotel Roanoke and Conference Center make it one of our and our attendees' favorite spots in the state."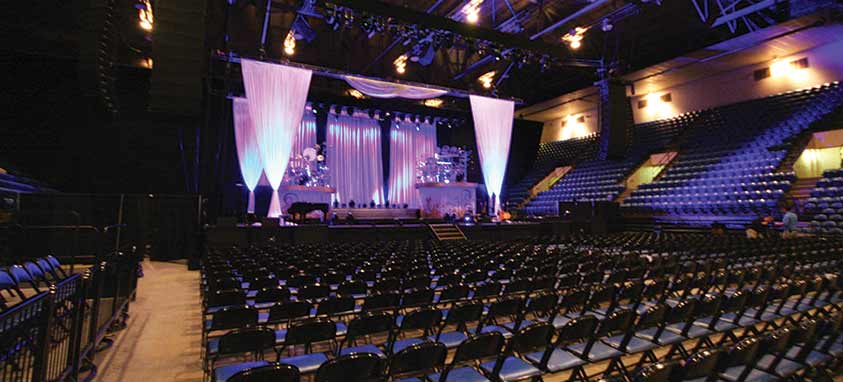 Another full-service option for meeting professionals is Sheraton Roanoke Hotel & Conference Center, which has 38,000 sq. ft. of meeting space and 320 guest rooms. It is in the epicenter of Roanoke's tourist and cultural attractions, including The Berglund Center, which is the largest meeting facility in the area. Formerly known as Roanoke Civic Center, it has 110,000 sq. ft. of space, including the 10,000 sq. ft. inside the columns of the Exhibit Hall, 10,500-seat Coliseum, 2,148-seat Berglund Performing Arts Theatre and 46,000-square-foot Special Events Center. Salem Civic Center contributes another 41,868 sq. ft. of space to the area's inventory.
Your event can hit the high notes at the 5,000-square-foot Charter Hall, located on the third floor of City Market Building. Originally Roanoke Opera House, it dates to 1885 and now also offers 4,000 sq. ft. of event space on its main floor and 1,500 sq. ft. on its mezzanine. From 1924 to 1974, what is now known as Jefferson Center was Jefferson High School. Years later, it was converted into 29,113 sq. ft. of meeting space and a performing arts venue, comprised of the 925-seat Shaftman Performance Hall, Fralin Atrium, Fitzpatrick Hall, L.L. Rice Room, Fostek Rehearsal Hall and Training Theater.
Built in 1932, Grandin Theatre is the oldest nonprofit community movie palace in Roanoke Valley. It offers various meeting facilities, with a capacity for 509 guests. Its staff can work with meeting professionals to create a memorable movie-themed event.
Williamsburg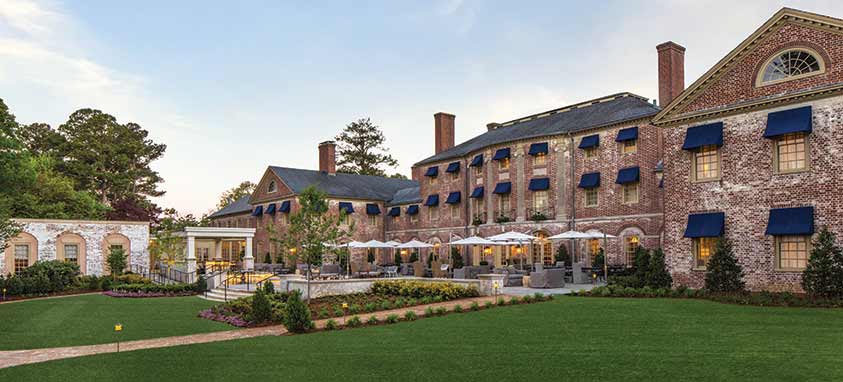 Groups visiting Colonial Williamsburg feel as if they're stepping back to the 18th century. Colonial Williamsburg Resorts, a collection of six hotel properties—Williamsburg Inn, Griffin Hotel, Williamsburg Woodlands Hotel & Suites, Colonial Houses, Governor's Inn and Williamsburg Lodge, Autograph Collection, which will complete a guest room renovation by the end of July—have a combined 67,000 sq. ft. of event space and 48 meeting rooms.
The regal Williamsburg Inn's 62 guest rooms, restaurant, meeting space and social terrace underwent a multimillion-dollar renovation in 2016 and 2017. Some of the hotel's suites are themed to honor famous guests who have stayed in them, such as Queen Elizabeth II, Winston Churchill and John D. Rockefeller Jr. In February, the inn was named a Forbes Travel Five Star Hotel.
"At the Williamsburg Inn, we aim to infuse the classic historical foundation of our property, built in 1937, with a contemporary luxury experience that the modern traveler is looking for," said Florencio Ferrao, Colonial Williamsburg vice president of hospitality, in a press release about the rating.
In the Colonial era, parcels of land were measured by capacity. A lot that could hold 100 families was referred to as a "hundred." That explains the naming of The Williamsburg Winery at Wessex Hundred, which is actually 300 acres in size. It has meeting and conference rooms, and banquet facilities, for up to 300 attendees. Its Wedmore Place at Wessex Hundred has 28 guest rooms.
Kingsmill Resort is the only AAA Four Diamond resort in Williamsburg. Located along the James River, English settlers landed there on May 12, 1607, before planting their boots in Jamestown the following day. A few years later, Kingsmill became a plantation until the 1800s. Its Pettus House is renovating both inside and out, and adding a new infinity pool. Kingsmill is home to a 16,000-square-foot, IACC-certified conference center and 425 villa-style guest rooms, as well as condos. There's also two golf courses, a spa, 15 tennis courts, four restaurants and pools.
Cannonball! Immerse your meeting in Civil War history at Fort Magruder Hotel & Conference Center, the site of the Battle of Williamsburg on May 4–5, 1862. It offers 26,000 sq. ft. of recently renovated indoor/outdoor meeting space and 303 guest rooms.
Williamsburg offers fun for all ages. Great Wolf Lodge Williamsburg has a 8,622-square-foot conference center with its own wing of guest rooms. In total, there's nearly 14,000 sq. ft. of meeting space and 405 guest rooms. Groups can splash around at its nearly 80,000-square-foot indoor water park, satisfy their sweet tooth at Great Wolf Candy Company and enjoy the new Wine Down service as a night cap. Great Wolf also plays up holiday celebrations with Spring-A-Palooza, Howl-O-Ween and Snowland.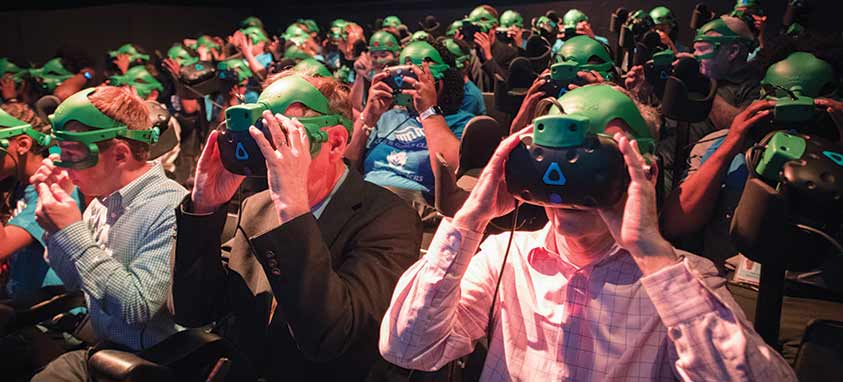 This Colonial town also features some of the latest technology. Busch Gardens Williamsburg debuted a brand-new virtual reality attraction, Battle for Eire—Action VR Ride, in April. The amusement park also offers meeting professionals several event options, including park buy-outs for a minimum of 3,000 guests, exclusive areas for more than 100 guests, discounted group tickets, business meetings, team-building activities and facilities for company picnics and holiday parties.
Patriotic Landmarks
The White House is far from the only presidential mansion in the Mid-Atlantic region. Sitting in the shadows of the capital, key figures such as George Washington, James Madison and Thomas Jefferson set down roots. These properties are not only historically fascinating, but they also offer unique meeting spaces.
Mount Vernon
Light up the night with a fireworks display over the Potomac River as up to 1,200 guests enjoy a tented event on the lawn of George Washington's Mount Vernon estate. Additional meeting space is offered in Donald W. Reynolds Museum and Education Center and Ford Orientation Center. Tours of Washington's mansion, distillery and gristmill are available. Meetings and receptions can be held in the 200-seat Robert H. & Clarice Smith Auditorium and Mount Vernon Inn Restaurant, respectively.
Monticello
Thomas Jefferson, former U.S. president and author of the Declaration of Independence, was the designer and owner of this 5,000-acre plantation near Charlottesville, Virginia. Tours of the house and garden are available.
Berkeley Plantation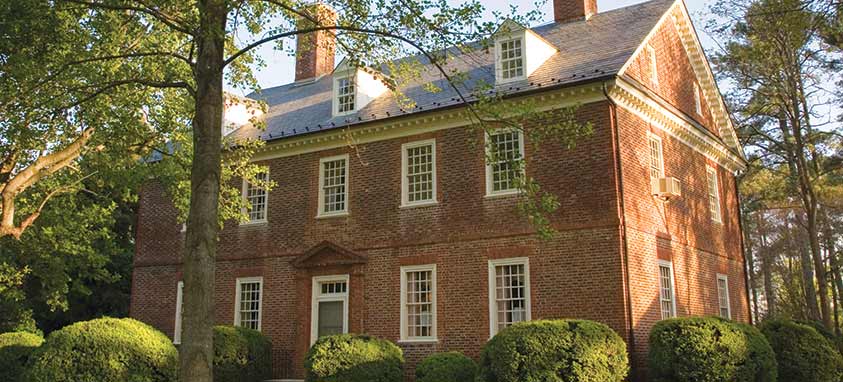 Outside of Richmond and Williamsburg lies Virginia's most historic plantation, Berkeley Plantation (pictured above). Settlers observed the first official Thanksgiving there in 1619, but the mansion wasn't built until 1726. It's the birthplace of Benjamin Harrison V, who served as Virginia's governor and was a signer of the Declaration of Independence, and William Henry Harrison, the 23rd U.S. president. The grounds, dining room and gazebo are available to rent for private events.
Tuckahoe Plantation
Thomas Jefferson called Tuckahoe Plantation, near Richmond, his childhood home. The main house can be rented for intimate gatherings of up to 60 guests, but larger groups of up to 500 can throw a party on the lawns and gardens. It can accommodate everything from a formal black-tie affair to a casual barbecue.
Montpelier
James Madison's 2,650-acre Montpelier estate now serves as a memorial to Madison and the enslaved community, and educates visitors about the U.S. Constitution and First Lady Dolley Madison. Guided group tours are available.