Houston skyline
Houston, The Woodlands and Galveston deliver what meeting planners want now
Let's admit it: We all like "new"—new clothes, new house, new car (even new car scent at the car wash). The prospect of new intrigues and excites us and fills us with anticipation.
The same can be said in our professional lives, where new creates interest and inspires creativity both for us and for our attendees—not to mention keeps us on our toes.
Today, of course, we're tracking new ideas in meeting design, room set-ups and technology, but at the same time, we're dealing with an increased emphasis on new in the other meeting realms: hotels and convention centers with fresh, open spaces and informal networking areas, wellness opportunities beyond a spa visit, a sizzling dining scene with local offerings and attractions that provide experiences that are unique to the area.
Matching these demands often begins with the choice of destination, and that's where Greater Houston and new go arm in arm. There, in the largest city in Texas—and fourth-largest in the country—construction hard hats are as ubiquitous as Stetsons, outdoor parks are carved out of parking lots, the dining scene rivals that of Los Angeles, and attractions compete with the biggest and boldest in the world.
Depending on your group, take a look, too, at Galveston, about a one-hour drive south of Houston. This coastal city has a historic vibe along with its sandy beach, but there's plenty of new there for meeting groups, as well. And don't overlook The Woodlands, a luxurious, master-planned community that's part of the Greater Houston metro area.
Houston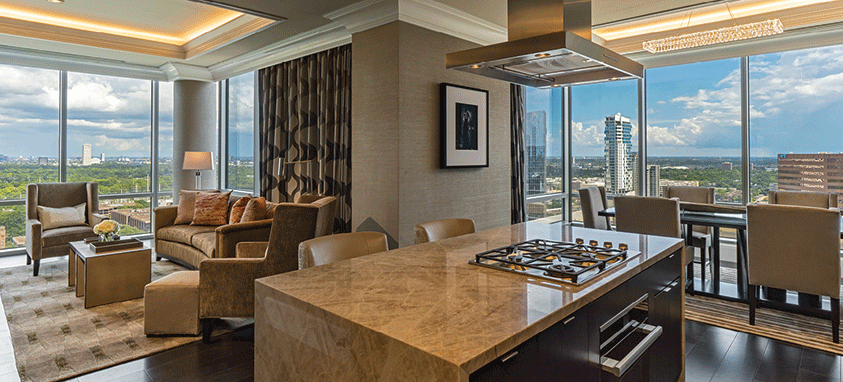 One thing that defines Houston is energy—and not only due to its roots in the oil and gas industry. The city is ever-growing and ever-evolving as it continues to be a major player in the meetings market.
You needn't look further than Avenida Houston, a reinvented dining, entertainment and nightlife district surrounding George R. Brown Convention Center (GRBCC), to back up this claim. The project's $175 million price tag included upgrades to the center itself, providing connectivity to its 550,000 sq. ft. of contiguous exhibit space, plus other improvements. And Hilton Americas-Houston (1,200 guest rooms; 91,500 sq. ft. of meeting space), its headquarters hotel, was joined by Marriott Marquis Houston, which added 1,000 guest rooms and 153,303 sq. ft. of function space to the convention complex.
What's New in Houston
New Hotels: We've just entered Q2, and 2019 promises to be a banner year for the city's hotel scene. Earlier this year—following the splashy debut in 2018 of The Post Oak Hotel at Uptown Houston, an ultra-luxurious property with 250 guest rooms and 35,000 sq. ft. of meeting space—InterContinental Houston-Medical Center joined the new hotel mix. This 353-room, modern retreat is located next to the world's largest medical complex and has 18,500 sq. ft. of meeting space.
Next month, AC Hotel Houston Downtown opens the doors of its boutique lifestyle brand, with 195 guest rooms and 3,900 sq. ft. of meeting space within two event rooms. Coming early this summer is C. Baldwin, a posh independent hotel operating under the Hilton umbrella, with 354 guest rooms and 14,000 sq. ft. of meeting space. It's as big and bold as its namesake, Houston's "First Lady" and major philanthropist, the late Charlotte Baldwin Allen. Hyatt Place Houston Galleria chimes in with 157 rooms and space for small-scale meetings.
Renovated Hotels: Not to be outdone by the opening in 2016 of Marriott Marquis Houston, 1,200-room Hilton Americas-Houston—GRBCC's original anchor—recently announced a $37 million upgrade that will focus on new colors and design schemes, artwork and technology. Omni Houston Hotel, after undergoing a $30 million renovation, reopened with 378 guest rooms and 30,000 sq. ft. of meeting space, plus Black Swan Night Club, available Sunday to Thursday for meetings. The Lancaster, a registered historic landmark that underwent a multimillion-dollar re-do after Hurricane Harvey, once again welcomes groups with 84 guest rooms and 1,200 sq. ft. of meeting space.
Hotels on the Horizon: Still in the planning stage is a luxe, boutique-y Thompson hotel near Buffalo Bayou Park; it's said to be at least two years from opening. For those planners with long lead times (and a healthy budget), the ultra-luxury, 150-room Rosewood Houston is anticipated to open in 2023 in the city's tony Uptown District.
Unique Venues: On the calendar for a fall opening is Lyric Market, a massive food hall in the Downtown Theater District. This multistory structure (which is already sparking interest with a colorful light show splashing on its exterior nightly) will feature al fresco dining terraces, a full-service restaurant and spaces for private events, including a glass-enclosed private terrace with seating for up to 400, plus an underground speakeasy that can host small-scale events for up to 100.
Wellness: With Discovery Green, a 12-acre park across the street from the convention center, Houston makes it easy to take your attendees outdoors for a free-time breakout or planned "walkie-talkies," particularly in spring and early summer. Adding to the city's expansive inventory of parks and open space is Southern Park, a new sliver of green expected to open in downtown in 2020 about three blocks northwest of Toyota Center. The L-shaped park will encompass sustainable gardens, outdoor exercise space, an open stage and a cafe.
Dining Scene: Juggling the dietary needs of your groups is an ongoing mission, but looking beyond everyday catering is a joy in Houston. First, the city is giving Los Angeles serious competition as the country's top dining destination, says Food & Wine magazine. Not only are some of the country's top toques behind the stove in H-town, but local chefs also dish up great-tasting ethnic food that characterizes the city's multicultural demographics (representing 70 various countries).
Then there's the virtual explosion of food halls downtown, which will now include Lyric Market (see above) and Understory, a 35,000-square-foot culinary marketplace with a full-service restaurant that's located inside the two-story atrium of Capitol Tower, which is expected to open later this year. The hall's Great Steps will serve as the gateway to Houston's pedestrian tunnel system.
Attractions: The biggest news on the attractions front is, of course, the 50th anniversary of the Apollo 11 moon landing on July 20, 1969 (see sidebar). For something entirely different, and a splash of local fun, there's a team-building opportunity on Wild Isle's floating obstacle course at Big Rivers Waterpark and Gator Bayou Adventure Park, which opened last summer.
The Woodlands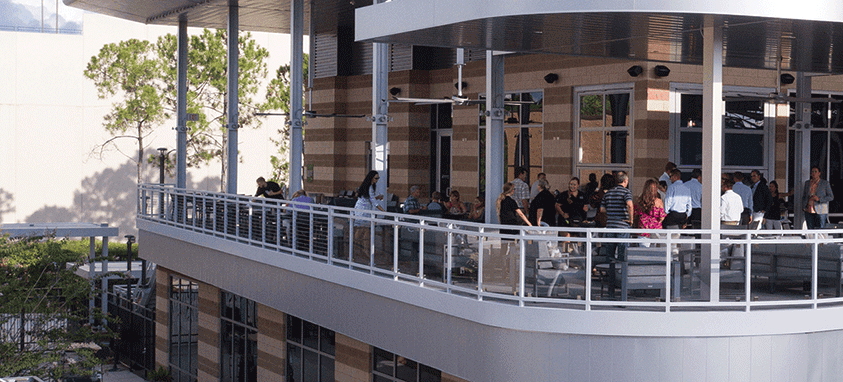 Twenty-eight miles north of downtown Houston, The Woodlands is an attractive meetings destination unto itself, an upscale master-planned community set on 28,000 acres, the majority forested open space. Its villages encompass not only residential neighborhoods, but also dining, shopping and entertainment options that are drawing an increasing number of business and leisure travelers to its hotels and resorts.
One recent gathering, Algae Biomass Organization's annual Algae Biomass Summit, attracted 550 attendees for three days, staying at The Woodlands Marriott Waterway Hotel & Convention Center. According to LaDonna Pettit, director of operations and conferences for Stone Fort Group, which organized the event, it chose The Woodlands because there was so much to do near the hotel and its location close to the airport. "We have international attendees, so this was very important," she says.
What's New in The Woodlands
New Event Space: New event spaces reflect the community's arts focus. Situated alongside a tree-lined lake, Glade Cultural Center is a museum and art gallery with permanent and rotating exhibits that provides 6,000 sq. ft. for VIP events—plus a grand piano. On a larger scale, The Woodforest Bank Club is a 15,000-square-foot facility with two floors of expansive seating, three bars, a catering kitchen and an outdoor patio. During the arts season, it's reserved for The Cynthia Woods Mitchell Pavilion patrons; at other times it's available for group meetings and private functions.
Renovated Hotels: There's no lack of updates there. Hyatt Centric, a luxury boutique hotel, is in the final phase of its full-scale $2.5 million renovation offering more of an open layout. The Woodlands Waterway Marriott completed a $3 million renovation of its event space in 2018, with plans to renovate all sleeping rooms in 2019. And the 406-room The Woodlands Resort is fresh from completing a $77 million renovation and improvement project.
Wellness: Part adventure, part exercise, big part team building, Texas TreeVentures will open late this spring in Rob Fleming Park. This outdoor, aerial adventure course provides both physical and mental challenges for your attendees as they attempt to traverse a series of poles, cables and other elements in the area's natural canopy.
Galveston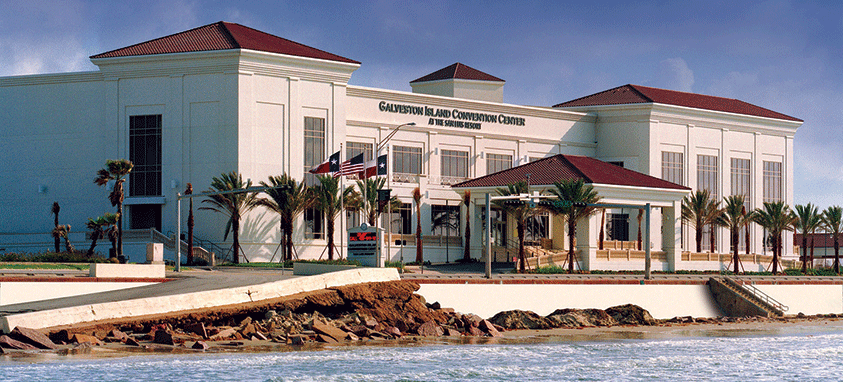 Only 45 miles southeast of Houston's urban sprawl, Galveston Island is a world away. Cross the causeway that connects Houston and Galveston, and you've landed in a historic beach resort with miles of sandy beaches, waterfront hotels and restaurants, amusement parks and a surprising collection of well-preserved Victorian buildings. It plays host to meetings of all types and sizes, at a variety of venues—many with recent upgrades.
The fact that Galveston experienced only minimal damage during Hurricane Harvey aided the city in its efforts to attract meetings and conventions last year, according to Kelly de Schaun, CTA, executive director of Galveston Island Convention & Visitors Bureau and Park Board of Trustees. "We are pleased to report that 2018 was a successful year for Galveston Island," de Schaun says.
Among the groups it hosted last year was the annual convention of TCEA Elementary Technology Conference, which met at Galveston Island Convention Center and headquartered at Hilton Galveston Island Resort and The San Luis Resort Spa & Convention Center, with 800 attendees in June.
According to Kristy Breaux, associate director of the organization, "The Convention Center and San Luis Resort package of hotels offered a great option for various price points, and it's all in walking distance."
Breaux also says that the flexibility of the convention center "is great for our group because we like to utilize a lot of the public space for networking. The layout and helpfulness of the staff combined to allow us to transform the space and maximize our offerings."
What's New in Galveston
New Hotels: The Tremont House, a Wyndham Grand Hotel, has added an extended-stay property, dubbed The Quarters, for guests who stay five days or longer. The $1.2 million expansion offers one- and two-bedroom suites, access to Tremont Fitness Center and the Hotel Galvez & Spa, a Wyndham Grand Hotel, pool, which is now complemented with new cabanas as well as a remodeled bar.
Renovated Properties: San Luis Resort, Spa & Conference Center underwent upgrades and renovations for the pool area, with additional deck space, cabanas and a new VIP area, The Cove, with a custom-built fire pit for relaxing and enjoying views of the Gulf (s'mores, anyone?).
Unique Venues: As befits a beach town, Galveston is chock-full of amusement parks that will delight your attendees with heart-pumping thrill rides, slides and midway games (private rentals are available at some, including Historic Pleasure Pier).
Dining Scene: Dining is highlighted by fresh Gulf seafood, and crustaceans and bivalves of every stripe appear boiled, sauteed, grilled—even raw—on restaurant menus. But that doesn't mean that fans of upscale American cuisine or thick, juicy steaks can't dine well outside of their hotel.
For example, Hearsay on the Strand, the third outpost of a Houston group that situates its restaurants in historic buildings, is a new entry in the gastro lounge/American cuisine niche, and offers private event space. For a combo seafood/steak house (you must take care of your landlubbers), look to tried and true, such as Willie G's Seafood & Steaks, an elegant, white-tablecloth restaurant on the waterfront with private event space.
Health/Wellness: The beach is ageless—both old and new, with a vast array of exciting possibilities. Galveston beaches will inspire your meeting attendees to get out early for a run, especially along Seawall Boulevard, an urban park that
is close to many hotels, with a 10-mile-long paved path.
Take a fresh look at the possibilities there for your group and arrange an early-morning yoga class in the sand, or opt for bike rentals for a spin in the salt air on what is the longest continuous sidewalk in the country.
Attractions: Galveston's Moody Gardens, a sprawling family entertainment complex, has now wrapped up a $37 million renovation of its Aquarium Pyramid, one of its three distinctive triangular structures, which features a new underwater experience. This multiphase project now encompasses a new Humboldt Penguin habitat (for its colony of unique, warm-climate penguins); Mangrove Lagoon touch-tank, home to stingrays and sharks; and the multilevel, 30,000-gallon Oil Rig Tank, which is part of a reef ecosystem.
Or, take your group old school to Galveston Island Historic Pleasure Pier where a new Shark Attack 5-D ride awaits.
'Space City' Celebrates 50th Anniversary of Apollo Moon Landing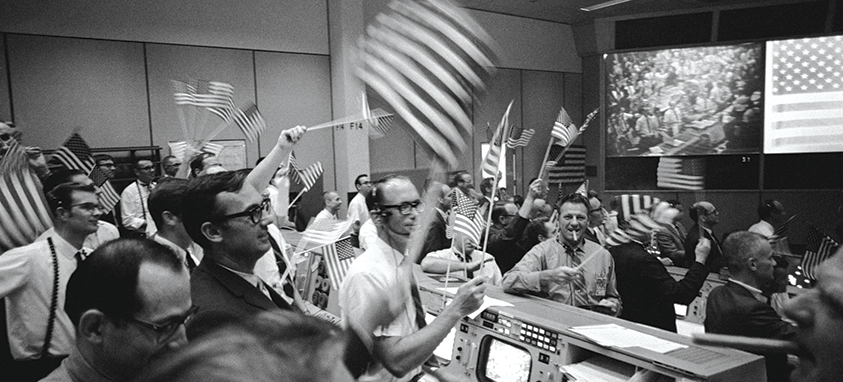 Whether you've viewed it in a movie theater or recall seeing it live from a TV screen during your youth, the Apollo 11 "moon walk" by U.S astronauts Neil Armstrong and Buzz Aldrin, the first humans to walk on the barren lunar landscape, was a thrilling sight. Fifty years have passed since that historic 1969 event, and NASA Johnson Space Center and Space Center Houston have worked this past year to restore the Historic Mission Control center in time for the July 20th anniversary.
The restoration features the authentic consoles that monitored nine Gemini and all Apollo moon missions, as well as 21 space shuttle missions—especially memorable today, not only for Armstrong's declaration, "That's one small step for man, one giant leap for mankind," but also for adding "Houston, we've had a problem" to our lexicon during the Apollo 13 mission that famously experienced a hair-raising, in-flight emergency. (The movie Apollo 13 erroneously quotes Mission Commander Jim Lovell, played by Tom Hanks, as saying "Houston, we have a problem.")
This restoration goes beyond the flight control consoles, which were unveiled in November with some of its illustrious former astronauts on-site: It digs deep into the center's history to accurately display the way it was at the time, from wall-size screens down to furnishings, carpeting, tile, paperwork, and even coffee cups and ashtrays.
The city of Houston (dubbed "Space City" for obvious reasons) is hosting a celebration of the event throughout July.
Carolyn Koenig is the former editorial director of Smart Meetings and is a frequent contributor.