The Arizona city offers myriad intriguing outings for groups
Tucson offers meeting planners a one-of-a-kind experience, and natural wonders found nowhere else in America.
Maybe it's the clear air, the purple mountains, the history, the tri-ethnic local customs or the Southwestern architecture. Maybe it's the five mountain ranges, Saguaro National Park bordering the city, stars that seem to dance in black skies or the unique places in which to stay or meet.
Whatever it is, Tucson has its own singular essence, one that planners generally feel the minute they get there. Perhaps that's why eight of every 10 meeting planners who visit for site inspections end up holding their meetings there. It won't hurt, either, that a brand-new hotel is scheduled to open right about now. AC Hotel Tucson Downtown will have 130 guest rooms and 1,847 sq. ft. of meeting space, along with plenty of luxury and high-tech amenities.
"Tucson's a very unique destination with a great CVB," says Susan Shermer, president of Shermer & Associates, an association-management company based in Harrisburg, Pennsylvania. "We took a group of 325 attendees from the Money Transmitter Regulators Association there last September (2016), for their annual conference. And the feedback we got was fantastic.
"They loved the cuisine and the multiethnic flavor, along with the magnificent Southwestern scenery. And many attendees brought spouses and came early or stayed longer to experience some of the great day trips in the region."
Great Day Trips from Tucson
Ajo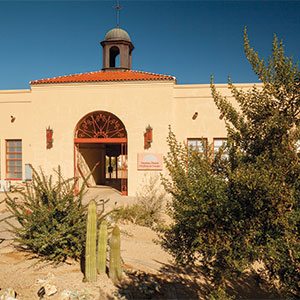 When the price of copper collapsed in 1985, Ajo nearly did, too. Homes were abandoned and shops were shuttered. But when property becomes cheap, buyers become plenty. The new buyers in the 1990s were mainly retirees with spendable income and agents from the Border Patrol. Largely because of them, this town was turned around, and is now a blossoming art destination.
In addition, it's the site of Organ Pipe Cactus National Monument. Also in Ajo is Sonoran Desert Inn and Conference Center (pictured right), with 21 guest rooms and meeting venues accommodating up to 250. Housed in a restored school, the inn is a great example of what community vision can do.
Benson
Benson is bisected by the beautiful San Pedro River, which attracts bird-watchers, nature-lovers and picnickers. It's a picturesque town that was a stop on the Butterfield Overland Stage route, and later on the Southern Pacific Railroad.
The Benson Historic Walking Tour is a great way to learn about the town's colorful history. Nearby Kartchner Caverns State Park is an underground cave with colorful mineral formations that can be toured by reservation. Its Discovery Center has interpretive exhibits and hiking trails, a hummingbird garden, campsites and picnic grounds.
Also nearby is the village of St. David, with San Pedro Riparian National Conservation Area and Holy Trinity Monastery, a beautiful spot with a bird sanctuary and a scenic trail.
Bisbee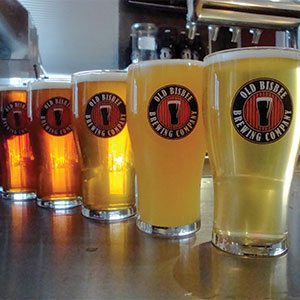 Thanks to copper, Bisbee was once the largest city between St. Louis and San Francisco. Its Copper Queen Hotel, with 52 guest rooms and 350 sq. ft. for meetings, opened in 1902 and is considered the oldest continuously operating hotel in Arizona.
The historic Queen Mine offers tours 1,500 feet underground, where the miners once toiled, and Bisbee's rich mining history is captured at Bisbee Mining & Historical Museum. Many of these attractions are in Old Bisbee, where you can dine on locally sourced Southwestern specialties at Cafe Roka, or sample award-winning suds at Old Bisbee Brewing Company (pictured right), which has a small event space. Today, Bisbee is an artsy destination with antique shops, galleries, restaurants and, residents say, ghosts.
Cochise Stronghold
For a team-building/bonding trip with a bit of exercise, head for this isolated spot in the Dragoon Mountains. In craggy, expansive canyons of granite in which voices echo, your attendees can explore what's said to be the last hideout of Apache Chief Cochise and his followers.
It was there, legend says, that Chiricahua Apaches sought refuge from the U.S. Cavalry. Actually, though, legend seems more like fact in this instance, because you can see rounded, smooth boulders where Apache women did their wash. Cochise is said to be buried somewhere there.
Douglas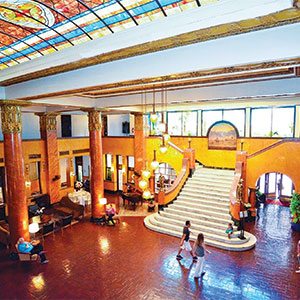 This is an Old West mining and ranching town at the Mexican border, with 14 sites listed on the National Register of Historic Places. Gadsden Hotel (pictured right), opened in 1907, exudes the Old World grandeur then popular in the prosperous mining towns of the West, with vintage stained-glass windows from Tiffany & Company, a grand staircase of marble and soaring Italian-marble columns.
The hotel offers 20 guest rooms and 3,424 sq. ft. of meeting space, and is said to have ghostly guests still roaming the halls at night. Also in Douglas are San Bernardino National Wildlife Refuge and Slaughter Ranch, a meticulously restored adobe house offering a glimpse into the lives of well-to-do ranch owners of that time.
Dragoon
The isolated little town of Dragoon and the craggy mountains in which it's located take their names from a legendary United States Cavalry unit. In this unlikely spot, you'll find one of America's finest private collections of Native-American art and artifacts, at Amerind Museum. There, your attendees can get an intimate peek into Southwestern indigenous culture from indigenous people themselves.
Oro Valley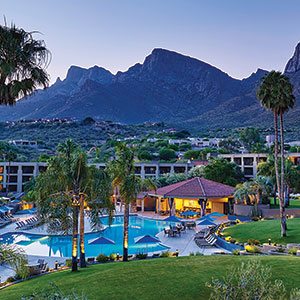 Less than a half-hour from Tucson, Oro Valley, incorporated in 1974, already has some 40,000 residents. "Oro" is Spanish for "gold," and hordes of prospectors arrived there in the late-1800s to stake their claims. Unfortunately, they went back home with only their deeds: There was no gold there. There is, however, natural beauty everywhere you look, and a small-town, family-friendly culture that's landed Oro Valley on several "best places to live" lists.
Oro Valley is home to Tohono Chul Park, recognized as one of the greatest botanical gardens on Earth; the highly rated Hilton Tucson El Conquistador Golf & Tennis Resort (pictured right), with 428 guest rooms and 39,029 sq. ft. of meeting space; and Oro Valley Aquatic Center, which is ideal for cooling off on a hot summer day.
Sierra Vista
Sierra Vista boasts the 36-mile-long San Pedro Riparian Conservation Area along the San Pedro River, supporting some 400 avian species. The Visitor Center is housed in a 1930s-era ranch called San Pedro House, and the Ramsey Canyon Preserve is a stream-side habitat with beautiful Arizona sycamores.
Hummingbirds migrate seasonally, along with more than 150 other bird species. The best months for birding there are March–September, and hummingbird migration peaks during April and August. Parking is limited, so you need to call ahead. Nearby are the Arizona Folklore Preserve in Hereford, where local historians preserve Arizona folklore, music, poetry and legends; and Fort Huachuca, built in 1877, where a museum and statue pay tribute to the Buffalo Soldiers, 19th-century African-American cavalry troops.
Tombstone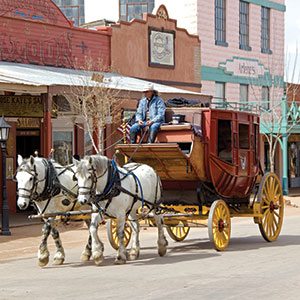 Tombstone is a National Historic Landmark District for being one of the best-preserved specimens of the rugged frontier of the 1870s and 1880s. More than 140 years after its founding, "the town too tough to die" still lives, with daily re-enactments of the shoot-out at the O.K. Corral, and other live-action presentations at Helldorado Amphitheater and Six Gun City.
The bad guys from the O.K. Corral showdown are buried at Boot Hill. Old West history is displayed at Tombstone Courthouse State Park, at Tombstone's Historama and at Rose Tree Museum. Stagecoach rides and attractions such as Crystal Palace Saloon, Big Nose Kate's Saloon and Bird Cage Theatre round out the campy cowboy fun.
Tubac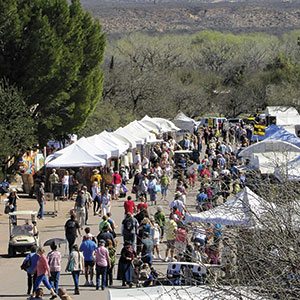 South of Tucson, Tubac was once the site of a Spanish presidio (fortified base or fort), and is the oldest European settlement in Arizona. Its history is filled with shady deals; conflict among the Spanish, the settlers, and the Chiricahua and Apache tribes; and plenty of robberies, murders and gunfights.
Tubac is now a thriving arts community, with more than 100 art galleries, studios and shops. The Tubac Festival of the Arts (pictured right) every winter is Arizona's longest-running art festival.
Willcox
Willcox is a fertile agricultural area with pick-your-own farms and orchards, including Apple Annie's, as well as an up-and-coming wine region, with some outstanding vineyards and wineries making up a wine trail.
Every winter, the town celebrates the huge populations of Sandhill cranes stopping over at Willcox Playa with the Wings over Willcox birding and nature festival. Rex Allen Museum honors the life of the "Arizona Cowboy," a 1950s Western film and singing legend (and local boy).
Nearby is the ancestral home of the Chiricahua Apache tribe, in a place often called "a wonderland of rocks." You can access Chiricahua National Monument State Park there, and explore its 8-mile scenic drive and 17 miles of hiking trails past striking volcanic rock spires, called hoodoos.
A Hidden Gem
"Tucson is a hidden gem," says Christine Khan, marketing communications manager for Eppendorf, a German company with U.S. headquarters in Hauppauge, New York. Kahn brought 230 attendees to Tucson in February for the company's U.S. national sales meeting.
"We like to bring our people to a beautiful place, and to hold our meetings at a beautiful property, and Loews Ventana Canyon was perfect," she says. There's so much to do and experience at the resort, and so much incredible natural beauty. Many attendees never left the property, but those who did came back with wonderful stories about the uniqueness of Tucson and the surrounding areas."
Gunfight at the O.K. Corral
On Oct. 26, 1881, the most famous gunfight in American history took place in Tombstone, a one-hour drive south of Tucson. But as is the case with so many legends, the facts have "evolved" a bit.
For instance, it wasn't really a case of angels versus devils. Wyatt, Virgil and Morgan Earp, and their friend, Doc Holliday, were technically on the side of the law. But they proved, by insisting to go to the O.K. Corral to force a showdown with the "bad guys"—from a gang called "The Cowboys"—that they weren't exactly peace-loving lawmen. In addition, contrary to popular lore, Wyatt Earp was not the Marshal of Tombstone—Virgil was.
Also, though this shoot-out left an indelible mark on American history, it was actually over in 30 seconds. When the Earps and Doc Holliday kicked open the door to the corral, the Cowboys were totally surprised. Virgil Earp was the first one to draw, shooting Billy Clanton in the chest. Then Doc Holliday whipped out his double-barreled shotgun, and blew away Tom McLaury. Wyatt Earp supposedly shouted, "You're looking for a fight: Now you have it." He then shot Frank McLaury.
Two of the Cowboys ran for their lives. But Billy Clanton and Frank McLaury, as they lay dying, each managed to get off several shots, wounding Virgil and Morgan Earp, and Doc Holliday.
Today, the town of Tombstone celebrates this famous "gunfight" in myriad ways (and the three Cowboys are buried on Boot Hill). The "celebration" of this event takes place pretty much 365 days a year, countless times a day, in restored saloons, rooming houses, dance halls and, yes, in the dusty courtyard of the O.K. Corral.
MAJOR MEETING VENUES IN TUCSON

Canyon Ranch
Attendees leave refreshed and reinvigorated; healthy gourmet cuisine; team-building and wellness activities; meeting rooms accommodate up to 90; 158 guest rooms; 7,967 sq. ft. of meeting space.

Casino Del Sol
Owned and operated by Pascua Yaqui tribe; Forbes Four Star, AAA Four Diamond resort; golf; Hiapsi Spa (hiapsi means "heart and soul"); fitness center; 215 guest rooms; 35,000 sq. ft. of meeting space.

Desert Diamond Casino & Hotel
Lively casino hotel; four restaurants, one of them open 24/7; pool and hot tub; fire pit; fitness center; business center; 148 guest rooms; 11,000 sq. ft. of meeting space.

DoubleTree by Hilton Hotel Tucson-Reid Park
Across from Reid Park, which has great recreational facilities; 24-hour fitness center; Cactus Rose Steakhouse has outdoor dining; 287 guest rooms; 22,000 sq. ft. of meeting space.

El Charro Cafe
The original El Charro, a downtown Tucson icon; opened in 1922; two additional locations; rentable private rooms in each location; entire restaurant is rentable.

Embassy Suites by Hilton Tucson Paloma Village
Great views, close to shopping and attractions; free breakfast; business center; fitness center; on-site catering and planners; 119 guest rooms; 2,700 sq. ft. of meeting space.

Fox Tucson Theatre
Building has been beautifully restored to its 1930s glory; one of the West's great theaters; 1,164 seat auditorium and three lobby spaces; 29,000 sq. ft. of meeting and event space.

Hacienda Del Sol Guest Ranch Resort
Luxurious Old Southwest ranch; hiking trails, horseback riding; The Grill has great food and views; 59 guest rooms; 8,121 sq. ft. of meeting space.

Hilton Tucson East
Beautiful views of the Santa Catalina Mountains; Vistas Bar and Grille; outdoor pool; free Wi-Fi; fitness center; 232 guest rooms; 12,000 sq. ft. of meeting space.

Hilton Tucson El Conquistador Golf & Tennis Resort
Longest-running AAA Four Diamond resort in Arizona (33 years); 80 acres; Elements Wellness Center spa; fitness center; five pools; 428 guest rooms; 39,029 sq. ft. of meeting space.

JW Marriott Tucson Starr Pass Resort & Spa
AAA Four Diamond spa and golf resort in Sonoran Desert foothills; 27 golf holes; noteworthy Hashani Spa; five restaurants, Starbuck's; 575 guest rooms; 80,768 sq. ft. of meeting space.

Loews Ventana Canyon
Golf and tennis resort with beautiful grounds; Flying V Bar & Grill offers great food and ambience; two heated pools; hot tub; 398 guest rooms; 37,000 sq. ft. of meeting space.

Old Tucson
Located in the mountain-backed village of Old Tucson, it's still the Old West; site of numerous Hollywood westerns; hosts events for up to 5,000; team-building options here are a hoot.

Omni Tucson National Resort
650-acre resort with sweeping views of Santa Catalina Mountains; four restaurants and bars; pool; spa; fitness center; 128 guest rooms; 10,500 sq. ft. of meeting space.

Pima Air & Space Museum
Attendees can see 150 planes indoors—from early-1900s to space-age—and more outside in The Boneyard; can accommodate groups of up to 400; 20,000 sq. ft. of event space.

Radisson Suites Tucson
Gated property with accents from nature; Breeze Patio Bar & Grill; free Wi-Fi; outdoor pool; fitness center; 299 guest rooms; 20,000 sq. ft. of meeting space.

Sheraton Tucson Hotel & Suites
In-town location means proximity to dining, shopping and entertainment; outdoor pool; fitness center; business center; Fire & Spice Restaurant specializes in Southwestern fare; 216 guest rooms; 14,000 sq. ft. of meeting space.

Stillwell House & Garden
Classic, very elegant Southwestern structure built in 1901; maple floors, 35-foot-high cathedral ceiling; accommodates 350 for events.

Tanque Verde Ranch
The Arizona Republic named this Best Dude Ranch In Arizona; event spaces outside with spectacular views of the Rincon Mountains; accommodates up to 300 outside; 14,716 sq. ft. of meeting space.

The Westin La Paloma Resort & Spa Tucson
Blessed by nature; Red Door Spa; excellent Azul Restaurant; 27 Jack Nicklaus-designed golf holes; 487 guest rooms; 64,000 sq. ft. of meeting space, with outstanding views.

Tucson Convention Center
In the heart of downtown, and only 15 minutes from Tucson International Airport; close to University of Arizona, shops and restaurants of Mercado San Augustin; 205,000 sq. ft. of meeting space.

Westward Look Wyndham Grand Resort & Spa
Blend of historic charm and modern luxury creates "The Soul of the Southwest"; award-winning Gold Restaurant; meeting rooms have advanced technology, open-air spaces; 241 guest rooms; 20,000 sq. ft. of meeting space.