Dealey Plaza, Dallas
They say everything is bigger in Texas—that includes belt buckles, business deals and meeting spaces. The grand scale of the hospitality infrastructure in the Dallas-Fort Worth metroplex means more options for drafting ambitious agendas. From historic Dealey Plaza to Fort Worth Stockyards, and all the sports, art and cultural stops in between, we consulted with experts to suggest a group journey that hits the hot spots of these two major meetings destinations.
Day 1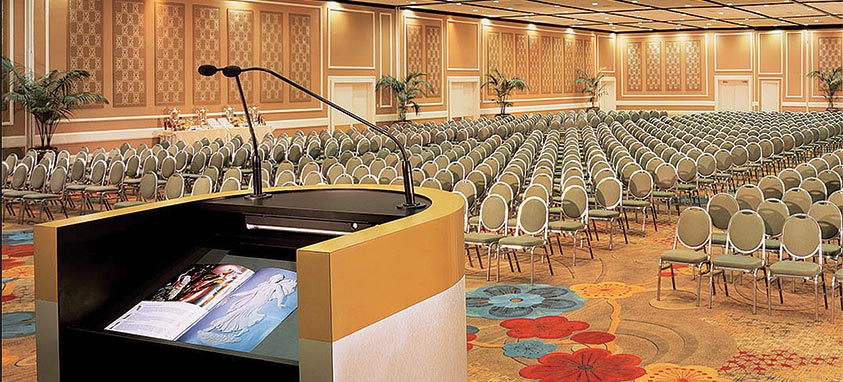 Some 1,685 meetings—including 24 citywides—were rooted in the fertile ground of Dallas last year. Much of the increase came from the growing local corporate segment, according to Visit Dallas President and CEO Phillip Jones. "As Dallas, and all of Texas for that matter, continues to experience an influx of companies and residents, it becomes an increasingly desirable market for conventions, meetings and events," Jones said.
Arrive: Dallas has become popular because of the easy lift through Dallas Fort Worth International Airport (DFW)—recently ranked the No. 5 large airport by The Wall Street Journal—and Love Field, ranked the No. 2 medium-sized airport by J.D. Power. This allows planners and attendees from about 70 percent of the United States to fly nonstop to Dallas in less than four hours, saving time and money.
Check-in: After arriving, it isn't tough to find the perfect meeting hotel. Dallas is a hot market for hotel development, ranking second only to New York City in terms of new hotel growth. Those additional keys are connected to a wide range of price points, making it affordable for almost any budget. The city counts more than 13,000 guest rooms already online downtown, and more than 9,000 guest rooms within 1 mile of Kay Bailey Hutchison Convention Center.
Omni Dallas Hotel's 1,001 guest rooms and 130,000 sq. ft. of meeting space are connected by skybridge to the convention center. Some 12,000 sq. ft. of additional outdoor space includes Restaurants on Lamar, a perfect dine-around spot that allows guests to enjoy custom tastes of the city without leaving the property.
For a convention center within a hotel, Hilton Anatole offers 600,000 sq. ft. of event space, 1,606 guest rooms, nine restaurants and one of the most extensive art collections of any property in the world. The property is also home to JadeWaters Resort Pool, where big ideas flow like rushing water.
Circle the Wagons: Once the bags have been dropped, gather the troops at one of the emerging foodie destinations recently singled out by GQ critic Brett Martin as making up the "Next Best New Food City." Celebrity chefs Dean Fearing, Kent Rathbun, Stephen Pyles and others are fueling the constantly evolving restaurant and entertainment scene.
Listen Up: When it is time to schedule a dinner keynote, VisitDallas' Experience Department makes engaging with the community easy by arranging speakers such as George W. Bush and Mark Cuban. They can also help medical planners connect with prequalified subject-matter expert speakers from the world-renowned medical community.
Day 2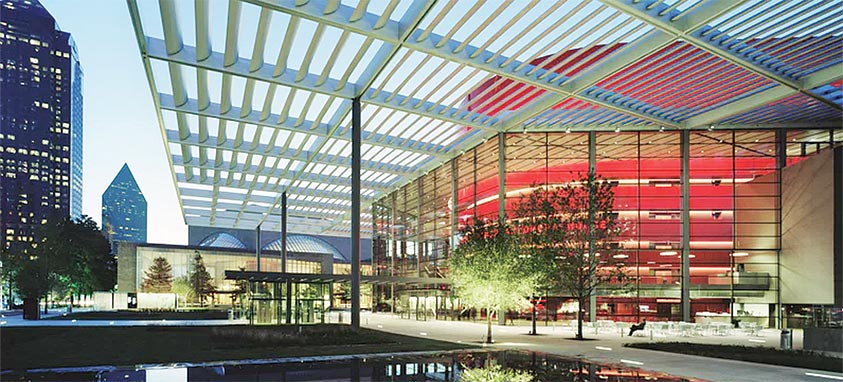 Pass It Around: Get the day started off on the right foot with a small investment in Dallas CityPass ticket booklets, which can save up to 40 percent off admission to Perot Museum of Nature and Science, GeO-Deck at Reunion Tower, Dallas Zoo, Sixth Floor Museum at Dealey Plaza, George W. Bush Presidential Library and Museum, or Dallas Arboretum and Botanical Garden.
A visit to The VisitDallas Experience Center, located in Klyde Warren Park, is a great way to introduce visitors and convention guests to the city and its history, way of life and traditions.
Ground attendees in the diverse history and innovative future of the area and how that relates to your program by letting them explore.
Get Cultured: The city's arts scene is broad. Boasting the largest contiguous urban arts district in the nation and an array of vibrant visual and performing arts experiences across the city, Dallas features world-class exhibits and adventures for culture lovers. AT&T Performing Arts Center offers 18,970 sq. ft. of space that will bring your group together in sweet harmony for a networking lunch that packs a punch.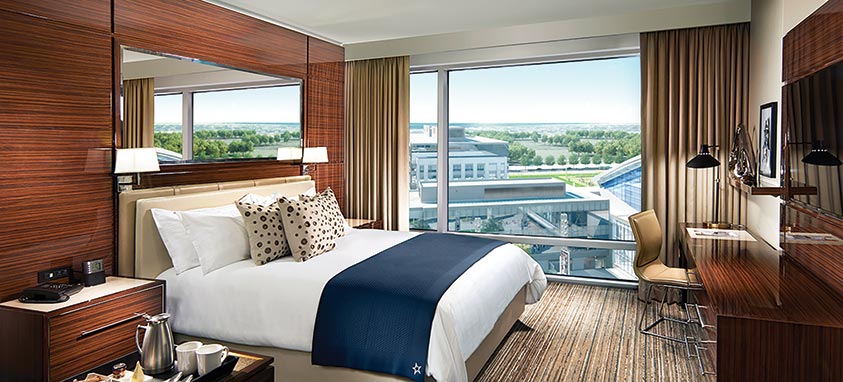 Go Long: Dallas is a sports city. Five major sports teams—Dallas Cowboys, Dallas Mavericks, Dallas Stars, FC Dallas, Texas Rangers—roam these parts. Leverage the world-class facilities of the metroplex for your event, including the diverse event space at The Star, where the Cowboys practice in a 12,000-seat stadium and superstars stay in 300 oversize guest rooms at adjoining Omni Frisco Hotel. A new deal between Omni and PGA of America calls for construction of a mixed-use, 600-acre project that will include two championship golf courses, a 500-room Omni resort and 127,000-square-foot conference center in Frisco. Tee times could be available as early as summer of 2022, with the event infrastructure online by the end of that year.
Go Deep: A quick side trip to nearby Sea Life Grapevine Aquarium for a dinner surrounded by hundreds of wriggling barred flagtail fish and a behind-the-scenes tour is a big deal for any corporate event.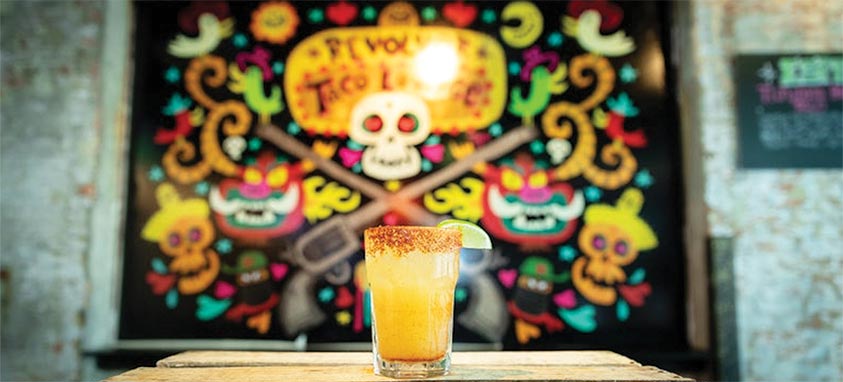 Stroll and Sip: Before turning in for the night, take your group on a journey down The Margarita Mile, where Revolver Taco Lounge is a standout in a collection of spots offering the best frozen tequila drinks, conveniently collected in a colorful app. The now-ubiquitous beverage was invented in Dallas in 1971 when the frozen margarita machine got its start there.
Day 3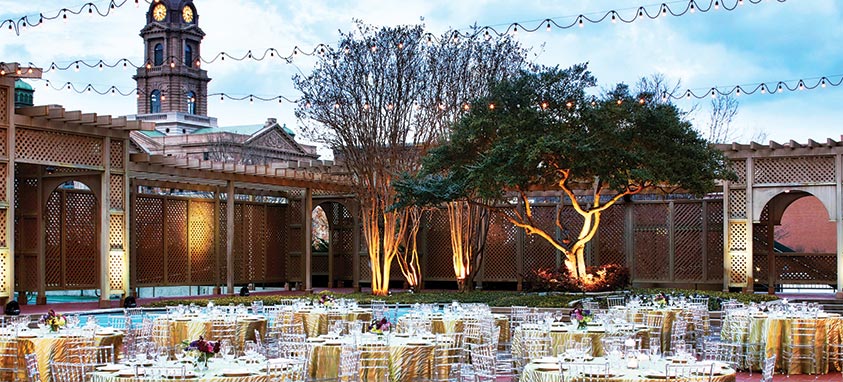 Head 32 miles west on Interstate 30 to action-packed Fort Worth in time for the daily 11:30 a.m. Texas longhorns drive down Exchange Avenue. This twice-daily ritual—and other attractions such as Texas Speedway, the world's largest honky-tonk bar and an extensive collection of museums in Fort Worth Cultural District—is a huge draw and helps the city attract more than 9.1 million tourists each year.
Between Fort Worth Convention Center, Will Rogers Memorial Center (soon to be home to 14,000-seat Dickies Arena) and American Airlines Training & Conference Center, the city offers more than 600,000 sq. ft. of event space.
Visit Fort Worth Vice President of Meeting Sales John Cychol calls it "the No. 1 downtown in America," with more than 92 attractions in a 10-mile radius.
Get Along: The terminus of that daily slice of the Old West, The Stockyards, is undergoing a $175 million overhaul, which includes repurposing 200,000 sq. ft. of former horse and mule barns. By spring 2020, a 200-room Hotel Drover will welcome guests with event space that includes a vaulted barn for Texassize gatherings at the end of a reimagined Mule Alley. Stockyard shops and restaurants are scheduled to open in fall 2019.
Minutes away at Sundance Square entertainment and shopping district, The Worthington Renaissance Fort Worth Hotel offers 504 guest rooms and more than 57,000 sq. ft. of meeting space with views of the European-style plaza's fountains and massive, 32-foot-tall umbrellas.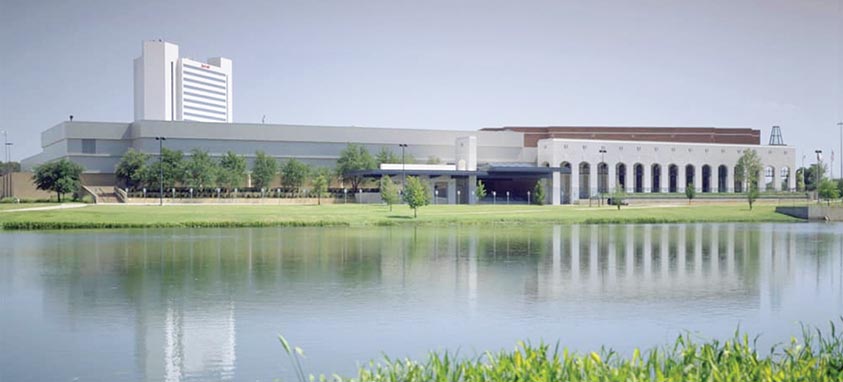 Live Large: Any of downtown Fort Worth's 3,400 guest rooms could be the jumping-off point for a convention at nearby 48,600-square-foot Arlington Convention Center and adjoining Sheraton Arlington Hotel. In 2019, the options expand once more when a new, $250 million Texas Live! entertainment hub throws open the doors on three venues positioned directly across from Globe Life Park, home to MLB's Texas Rangers. Live! By Lowe's, the flagship hotel, will boast 302 guest rooms, a rooftop terrace and restaurants, and The Grand Event Center, with more than 35,000 sq. ft. of event space.