A virtual site tour of new offerings in some favorite neighborhoods
Forget about Mrs. O'Leary's cow: Chicago is on fire in the best possible way for the meetings market. On the heels of 12 new hotel openings across the city last year, 2017 witnessed several developments in Chicago that will serve the group segment admirably in the years to come. Strengthened by the opening of signature multipurpose venues, McCormick Place—the largest convention center in North America—could attract even more events to the Illinois metropolis. The most recent figures from Choose Chicago confirm that the convention district has hit its stride. Of the 28 major shows that came to Chicago during the first half of 2017, five experienced record attendance. The American Library Association alone brought 22,700 people to McCormick Place in late June, the group's highest attendance since its 2013 event—in Chicago.
In other neighborhoods—Navy Pier and Magnificent Mile—new event spaces and culinary offerings coincide with the pier's centennial. In the Fulton-Randolph Market district, the tech-company migration led by Google has brought a flood of new restaurants. The residential district of Wrigleyville is also getting in on the group market with new boutique hotels.
Neighborhood Charms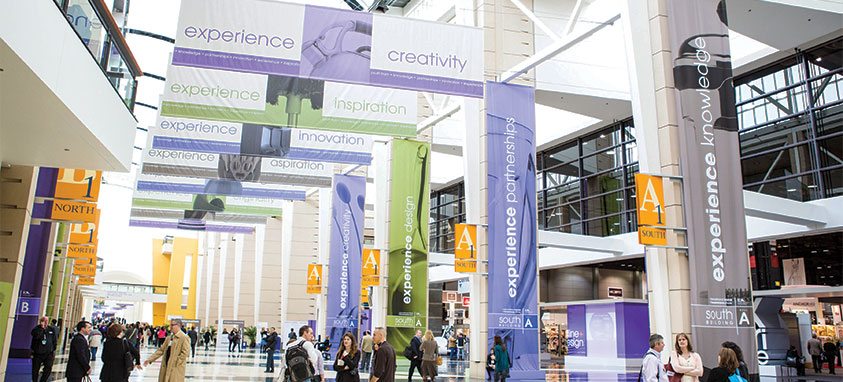 In late September, the Food Processing Suppliers Association held its Process Expo annual event at McCormick Place (pictured above) for 14,000 attendees and exhibitors. David Seckman, president and CEO of the group, says that the working meat- and bakery-production lines set up right on the show floor were a hit, as was the virtual reality showroom used by many exhibitors. What's more, "when it comes to food, there is no better place in the U.S. to hold a show than Chicago because of its exceptional restaurant options," Seckman says.
McCormick Square
For show managers, it is serendipitous that Chicago's newest happening neighborhood is McCormick Square, situated just west of McCormick Place between the South Loop, Chinatown and Prairie Avenue Historic District. The area is attracting convention attendees, tourists and locals thanks to the craft breweries Baderbrau, Motor Row Brewing, Vice District Brewing Company and Moody Tongue Brewing. Other nearby dining possibilities range from comfort food and live music at Reggies to Chicago-style pizza pies at Pizano's, barbecue at family-owned Windy City Ribs and modern steakhouse fare at the newly reopened Chicago Firehouse Restaurant.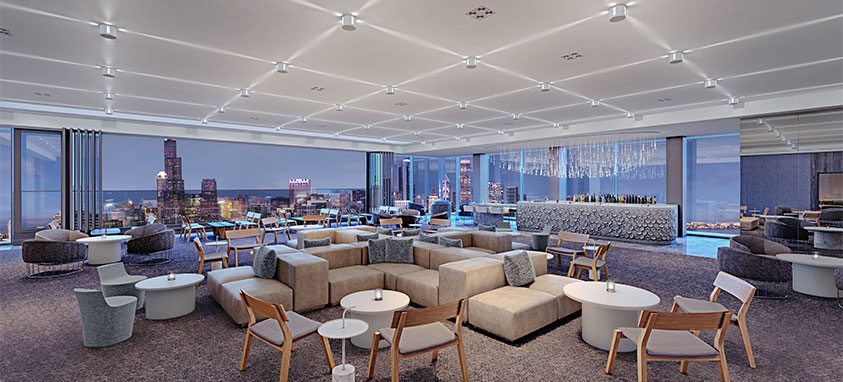 The newly built, 1,205-room Marriott Marquis Chicago (pictured above) opened in September. It provides 90,124 sq. ft. of function space next door to McCormick Place's 2.6 million sq. ft. of exhibit space, 600,000 sq. ft. of meeting space and 4,250-seat theater.
The 10,300-seat Wintrust Arena opened next to McCormick Place in September as well. It will serve not only as the home of DePaul University basketball, but as another venue business groups can use as exhibition space for opening and closing general sessions, or even for gala awards dinners like the one held by the Chicago Sports Hall of Fame just days after the arena opened. All of these facilities, plus the 1,258-room Hyatt Regency McCormick Place (featuring four new food outlets) are now connected to each other via indoor walkways.
Melanie Perez, director of media relations in the Americas for Choose Chicago, notes that this district now offers some dedicated spaces for social events, thus reducing transportation costs for meetings and shows that use McCormick Place. For instance, on South Michigan Avenue is Revel Motor Row, a venue named for the location where the Cadillac, Ford, Packard and Hudson car companies built their first showrooms in the 1930s. Its opulent carved-stone facades, scrolled ironwork and stained glass have been preserved throughout what is today more than 50,000 sq. ft. of flexible space.
For smaller groups, the Chess Studios building is another South Michigan Avenue location that taps into Chicago's deep history. The spot where Howlin' Wolf, Muddy Waters, Etta James, Chuck Berry, Bo Diddley and The Rolling Stones once produced seminal blues recordings is now a museum also featuring the Willie Dixon Blues Garden, where groups of 300 can enjoy a reception with live music after taking a studio tour. And come 2019, an even larger museum and reception space, The Chicago Blues Experience, will open nearby.
Navy Pier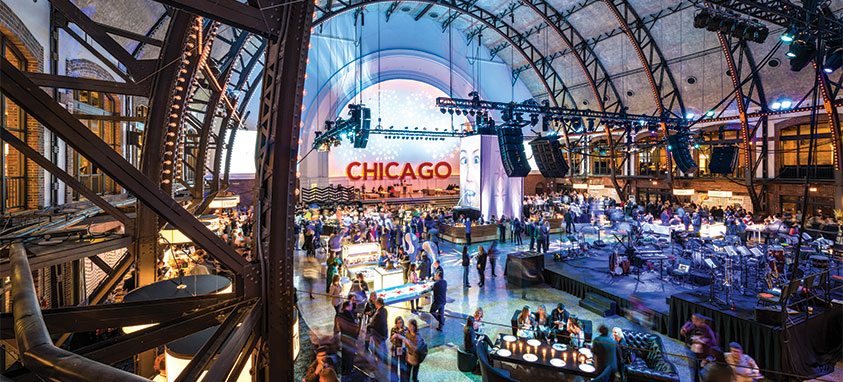 The centennial anniversary of Navy Pier—which is within easy walking distance of the 1,218-room Sheraton Grand Chicago, the 520-unit W Chicago Lakeshore, the new 180-room Viceroy Hotel and much of the Magnificent Mile—last year brought another sizable group space plus several food outlets representing authentic Chicago cuisine.
Aon Grand Ballroom has long been known as the pier's crown jewel; the 18,000-square-foot space features an elevated stage, 80-foot-high domed ceiling and panoramic views of Lake Michigan. It can hold 1,100 for a sit-down dinner. Festival Hall, with 170,000 sq. ft. of divisible exhibition space, recently hosted Expo Chicago, the space-intensive international exposition for modern art. Another 36 meeting rooms at Navy Pier and the 27,000-square-foot Rooftop Terrace are available for breakout sessions.
Chicago Shakespeare Theater also calls Navy Pier its home, and offers performances for group entertainment, plus lobbies and theaters for private events—one of them brand-new and cutting-edge. This year, the troupe unveiled The Yard at Chicago Shakespeare. Adopting a recent trend in theater architecture—movable seating towers that allow performance space to be reconfigured in many shapes—The Yard can host 150 to 850 people for a presentation, musical or theatrical performance. As a result, every event held there provides a unique experience, says Perez.
Other unique Navy Pier experiences are available through Odyssey Cruises, which operates lunch and dinner cruises from there onto Lake Michigan; and through Shoreline Sightseeing, which conducts architectural cruises into the Chicago River, which meanders through downtown.
Magnificent Mile
In addition to its high-end shopping and trendy restaurants, the Magnificent Mile district surrounding Michigan Avenue has the advantage of proximity to Navy Pier's event possibilities. Running from the Chicago River north to Oak Street, the district includes anchor meetings property Chicago Marriott Downtown Magnificent Mile, plus the city's main concentration of luxury properties: the 610-unit Drake, A Hilton Hotel; 452-room LondonHouse; 347-suite Omni Chicago; 345-room Four Seasons Chicago; 339-room The Peninsula Chicago; 792-room InterContinental Chicago Magnificent Mile; and 199-room Cambria Chicago Magnificent Mile. Almost all are easy walking distance to the group-friendly Museum of Contemporary Art. And on nearby Rush Street are the 415-unit Sofitel Chicago Magnificent Mile and 215-unit Waldorf Astoria Chicago.
River North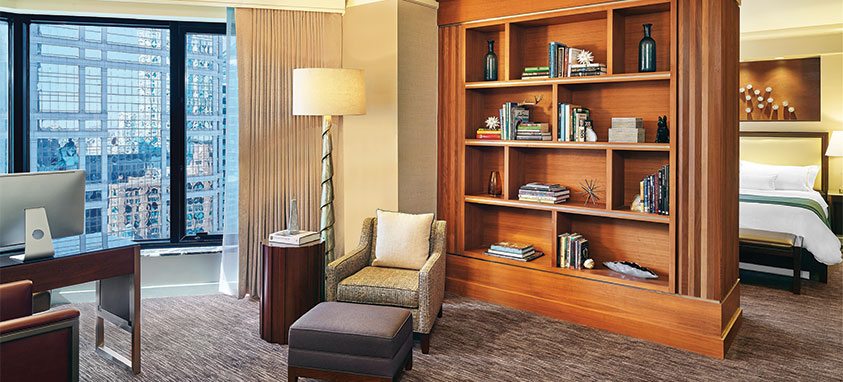 Just to the west of Magnificent Mile lies the River North area, home of the largest concentration of art galleries in America outside of Manhattan. A staggering number of restaurants make their home there, from high-end spots to family-style outlets such as Lou Malnati's, where smaller meeting groups can do a team-building event focused on making their own Chicago-style, deep-dish pizza. The 429-room Westin Chicago River North (pictured above) is the anchor meetings property in River North.
Of all the Chicago neighborhoods that offer cool social and dining experiences for business groups, the Fulton-Randolph Market district, just west of the Loop, is arguably at the top of the list. Designated a historic area by the city in 2015, this neighborhood evolved from its meatpacking-warehouse roots to become a stylish, walkable district of galleries, restaurants and eclectic food markets while retaining its architectural stylings. Everything from food-related scavenger hunts to dine-arounds to culinary team-building events are easily coordinated in this district.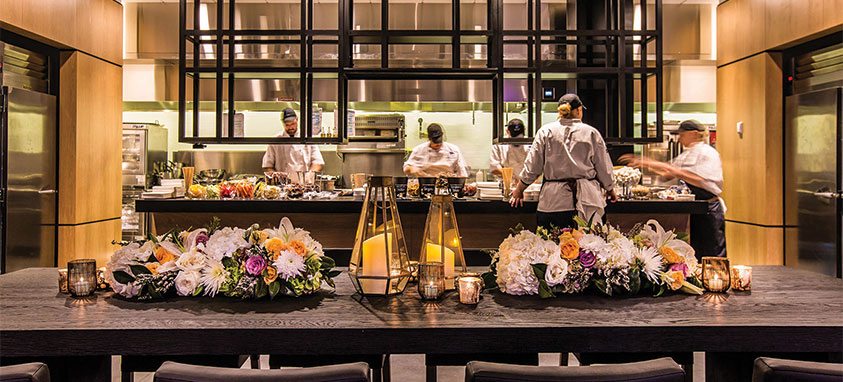 A 160-room Ace Hotel opened in Fulton-Randolph Market this year, while a 103-room Nobu Hotel will debut in 2018 with two appealing group options: a sidewalk-level bar/restaurant facing bustling Randolph Street as well as a top-floor lounge with adjoining rooftop terrace. Another new foodie space is 80,000-square-foot Larkin Hall (pictured above), on the second floor of an industrial-chic building that's headquarters for Blue Plate Catering. It features a conference center and event venue with built-in bar; a fully equipped tasting kitchen plus three tasting rooms; and, by early 2018, a wine cellar featuring 6,000 bottles set alongside a divisible dining room that can hold up to 350 guests. Also soon to open is a glass-enclosed third-floor rooftop, where a terrace with lush greenery offers skyline views.
Take Me Out to Wrigleyville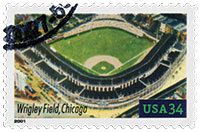 Boston and Chicago have deep roots in America's pastime: baseball. Not only have their teams been around for more than 115 years, but their ballparks are similar: cozy, low-profile, early 20th century edifices set in neighborhoods that have retained distinct local flavor.
Following the path that Boston took a few years back to develop more year-round appeal within its Fenway Park district, Chicago is now focused on making Wrigleyville—home neighborhood of the Chicago Cubs—a complete social hub. First, a new outdoor plaza has opened right outside Wrigley Field that hosts a game-day fan cafe, nongame-day tented events such as the Chicago Gourmet Food & Wine Festival and weekend farmers markets. There's also talk of building an outdoor ice rink for winter. Business groups that procure the space on nongame days can arrange for up to 25 attendees at a time to go through the adjacent gate into Wrigley Field for guided ballpark tours.
Across the street from this new plaza is where Starwood Hotels & Resorts will open Hotel Zachary in early 2018. Part of a seven-story, 238,000-square-foot, mixed-use project, the 175-room boutique hotel will have its reception area and 1,500 sq. ft. of event space on the second floor, providing sweeping plaza and street views. The ground floor will provide offerings from several well-known Chicago restaurant groups, including Big Star, West Town Bakery and Smoke Daddy.
While the trip to Wrigleyville from most center-city neighborhoods is about 20 minutes by bus, groups can get the full-on local experience by hopping on the Chicago Transit Authority (CTA) Red Line. The ride is about 25 minutes before getting off at the Addison Street station.
MAJOR MEETING VENUES IN CHICAGO

Cambria Chicago Magnificent Mile
New hotel in Streeterville neighborhood near Magnificent Mile; 199 guest rooms; 3,000 sq. ft. of meeting space; five meeting rooms; 52Eighty Rooftop Lounge; city views.

Chicago Marriott Downtown Magnificent Mile
In Magnificent Mile district, walkable to Navy Pier; multimillion dollar refresh completed last year; 9,000-square-foot fitness center with city views; Harvest restaurant serves farm-to-table American classics; business center; 1,200 guest rooms; 63,855 sq. ft. of meeting space.

Fairmont Chicago Millennium Park
AAA Four Diamond hotel near Art Institute of Chicago; 24-hour fitness studio; full-service MySpa; three restaurants and bars; $60 million renovation of meeting spaces in 2016; 687 guest rooms; 16,000 sq. ft. of meeting space.

Hilton Chicago
Overlooking Grant Park and Lake Michigan; full $150 million renovation completed this year; business center; fitness center with indoor track; 720 South Bar & Grill; Irish pub; 1,544 guest rooms; 234,000 sq. ft. of meeting space.

Hyatt Regency Chicago
AAA Four Diamond downtown hotel; close to Lake Michigan and Magnificent Mile; free Wi-Fi; 24-hour fitness center; Stetsons Modern Steak & Sushi and four other restaurants; 2,019 guest rooms; 228,000 sq. ft. of meeting space.

InterContinental Chicago Magnificent Mile
Built in 1929 with unique design elements; indoor pool; three restaurants and lounges; 24-hour business center; gift shop; fitness center; spa; 792 guest rooms; 45,000 sq. ft. of meeting space.

JW Marriott Chicago
Historic Chicago landmark in the Loop; top-tier dining in The Florentine; full-service spa; fitness center; indoor pool; 24-hour business center; 610 guest rooms; 44,000 sq. ft. of meeting space.

LondonHouse Chicago
Icon of Magnificent and Cultural miles; 452 guest rooms; 25,000 sq. ft. of meeting space, including Juliette Grand Ballroom with floor-to-ceiling windows; 21st floor private dining room.

McCormick Place
Largest convention center in North America; complex of four buildings; four theaters, one with 4,249 seats; 2.6 million sq. ft. of meeting space plus 10,300-seat Wintrust Arena next door.

Palmer House, A Hilton Hotel
AAA Four Diamond hotel in historic building; Balance Spa & Health Club; Lockwood Restaurant and Bar serves upscale American fare; three ballrooms; 78 meeting rooms; 1,641 guest rooms; 130,000 sq. ft. of meeting space.

Renaissance Chicago Downtown Hotel
Surrounded by the Loop, State Street and the Theater District; Rejuvenation Center has indoor pool and spa services; urban rooftop bar; 560 guest rooms; 35,567 sq. ft. of meeting space.

The Congress Plaza Hotel & Convention Center
A Chicago landmark since 1893; adjacent to Grant Park and Lake Michigan; 24-hour fitness center; complimentary Wi-Fi; business center; two restaurants and lounge; 839 guest rooms; 50,000 sq. ft. of meeting space.

The Drake
Historic, elegant hotel on Lake Michigan; fitness center with Precor equipment; business center; Drake Arcade shops; four restaurants include signature Coq d'Or; 535 guest rooms; 33,657 sq. ft. of meeting space.

MAJOR MEETING VENUES IN ROSEMONT

Crowne Plaza Chicago O'Hare Hotel & Conference Center
Close proximity to airport; free Wi-Fi; fitness center; indoor pool; well-equipped business center; four restaurants and bars; catering and audiovisual services; 503 guest rooms; 55,000 sq. ft. of meeting space.

Donald E. Stephens Convention Center
Connected to Hyatt Regency O'Hare; minutes from airport; 840,000 sq. ft. of exhibition space; another 92,000 sq. ft. across 50 meeting rooms.

Hilton Chicago O'Hare Airport
Only hotel in O'Hare International Airport; indoor pool; business center; audiovisual vendor; fitness room; convenience store; upscale Italian cuisine in Andiamo Restaurant; 860 guest rooms; 45,000 sq. ft. of meeting space.

Hyatt Regency O'Hare
Connected to Donald E. Stephens Convention Center via skywalk; O'H American Grill; 24-hour fitness center; dedicated meeting concierge; 1,096 guest rooms; 110,000 sq. ft. of meeting space.

Hyatt Rosemont
Close to airport and Donald E. Stephens Convention Center; business center; Networks Restaurant with outdoor patio; fitness center; complimentary Wi-Fi; free airport shuttle; 206 guest rooms; 9,680 sq. ft. of meeting space.