The Angel of Independence on Paseo de Reforma, Mexico City
There aren't any beaches in the heart of Mexico, but you'll be awash in commerce, culture and history
"Poor Mexico, so far from God, so close to the United States."
So goes the famed lament of 19th-century Mexican dictator Porfirio Diaz. He had a point. Many have argued that, were it not overshadowed by its neighbor to the north, Mexico might be a major player on the world stage. It is the 14th-largest nation and has the 16th-largest economy. Mexico is also the 11th most populous country.
Many meetings professionals are familiar with the coastal resorts of Mexico, and for good reason. But, to paraphrase former Presidente Diaz:
Central Mexico, so far from beaches, so close to overwhelmingly authentic, cosmopolitan and history-soaked experiences.
Behold the wonders of Mexico City, Guadalajara and Puebla.
Mexico City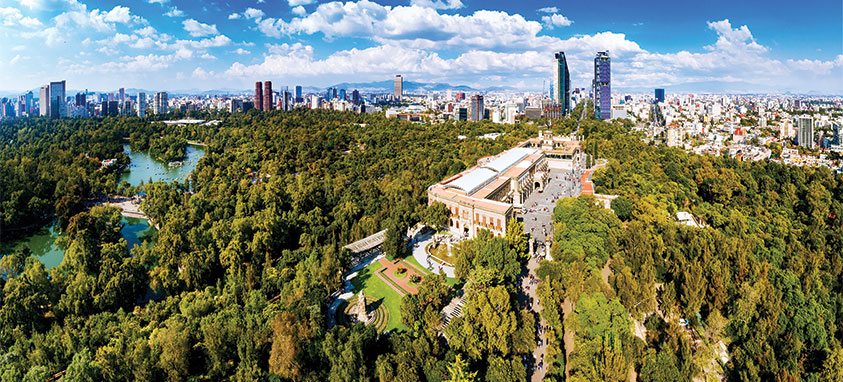 Bosque de Chapultepec aerial view, Mexico City
It's big, and has been for more than seven centuries. Today it is the second-largest city on the planet, after Tokyo, at just under 9 million inhabitants. But even when Hernan Cortes and his 400 soldiers arrived at Tenochtitlan, the Aztec predecessor city, in 1519, it was larger than any city in Europe (and maybe in the world). A chronicler who accompanied Cortes called it "an enchanted vision…so wonderful that I do not know how to describe this first glimpse of things never heard of, seen or dreamed of before."
Mexico City today still offers contrasts, surprises and superlatives at every turn, even as it recovers from its recent earthquake. It is modern. It is ancient, with four world heritage sites. It stands tall as the commercial leader of Latin America and harbors immense wealth, yet poverty lives just outside the gated walls of privilege. It is cultured.
Rivalling a European capital, and home to the largest number of museums in the world. It has been a center of intellectual and artistic life for centuries. Its residents are descendants of Spanish dons and Meso-American peasants and every gradient in between.
And the food, well, The Wall Street Journal called it "possibly the world's greatest food city," because of its role as an inventive showcase of one of the world's great cuisines. Three of the world's best 50 restaurants are there. Currently, the neighborhoods of Condesa and Roma Norte are trending as food magnets.
In 2016, Mexico City hosted the first-ever NFL Monday Night Football game to be played outside the United States, as well as saw the return for the second year of the Formula One Mexican Grand Prix—a huge boon for incentive group planners that was repeated this October.
Attractions not to be missed begin with El Zocalo, the main square, the heart of the city—as it once was for the Aztec capital. All worlds collide there, in a never-ending parade; from bureaucrats and business executives, to political protesters and vendors, to buskers and Aztec dancers. Officially named Plaza de la Constitucion, the Zocalo covers an entire city block and is among the largest squares in the world.
Not far away, Plaza Garibaldi has been the hub of mariachi music since the 1920s, and proud musicians in their broad sombreros still play for patrons of bars and nightclubs that surround the plaza. Other groups compete for tips as well, so it's always a go-to when trumpets and a cold cerveza (beer) sound enticing.
One of Mexico City's oldest neighborhoods, Coyoacan, is officially designated as a Barrio Magico (Magic Neighborhood) for its artisans' markets, unhurried cobblestone streets and Colonial-era estates hidden behind high walls. Plaza Hidalgo, shadowed by the trees of Jardin de Centenario is especially busy on weekends, with itinerant musicians, vendors and tourists.
Bosque de Chapultepec (Chapultepec Forest), at the opposite end of stately Paseo de la Reforma from the Zocalo, is immense—nearly 1,700 acres, and the largest urban park in the world. Elaborate family picnics, and strolling with balloons and ice cream cones on Sundays are a Mexico City tradition that never fades. The park is a verdant oasis in a city with buildings and busy streets that seemingly stretch forever. And it is where you will find much to entertain and educate, including the only true royal castle in North America (Chapultepec Castle, home to Mexican Emperor Maximilian I), several museums, the current and former presidential palaces, a zoo and many lakes.
Another favored weekend destination for locals is at the southern edge of Mexico City. Xochimilco ("place where flowers grow," in Aztec Nahuatl) is the largest natural reserve in Mexico and includes 14 towns that preserve many features of their traditional culture and indigenous heritage. Groups can enjoy a floating picnic party amid the last vestiges of the canals and chinampas (floating gardens) of Tenochtitlan.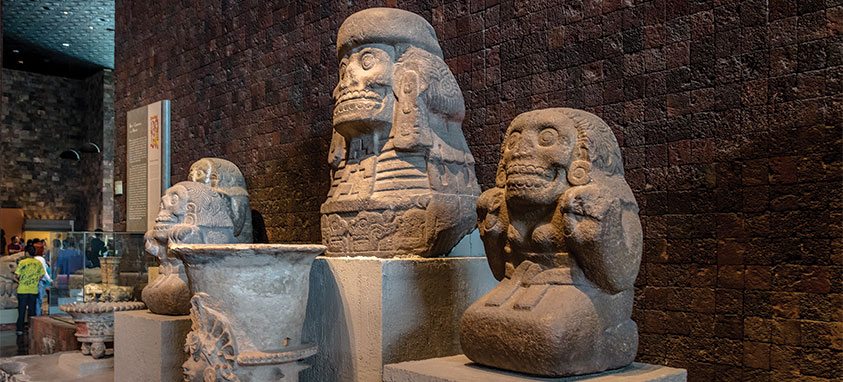 The opportunity for one-of-a-kind event venues is one of Mexico City's specialties. National Museum of Anthropology (pictured above), in Chapultepec Park, lovingly displays remains from the advanced metropolis that once stood where Mexico City does now. This amazing museum, which houses the most important collection of pre-Columbian treasures in the world, has special rooms for banquets and meetings.
Templo Mayor (Major Temple), where Aztec priests once offered human hearts to their gods, is now a fascinating museum in the Zocalo—right next to the Metropolitan Cathedral (largest in Latin America) and sprawling National Palace, seat of the federal government and rooted in materials plundered from the grand residence of Aztec ruler Moctezuma II.
Casino Espanol de Mexico, an elaborate 19th-century palace in the city center with stained glass enclosing a central courtyard, stages lectures, art exhibitions, book presentations, concerts and recitals, seminars and other events. It can seat 500 guests for private events.
Hotels are as plentiful and wide-ranging as you would expect in a major world capital. And they keep on coming: Sofitel has begun construction on five-star Sofitel Mexico Reforma, with 290 rooms and suites, plus meeting rooms, with an opening date of 2018; The Ritz-Carlton announced plans to open its first hotel in Mexico City by 2019.
Two of Latin America's strongest hotel players have new locations in Mexico City. Starwood Resorts, has opened Le Meridien Mexico City in the Paseo de la Reforma financial district. In additional to traditional luxury amenities, the hotel features the brand's Le Meridian Hub concept, in which the traditional lobby is transformed into a social networking space. Artwork and coffee service figure prominently in the experience.
Live Aqua, operated by Fiesta Americana, has set up stakes in the upscale Bosques de las Lomas neighborhood. Live Aqua Urban Resort Mexico offers cosmopolitan luxury with personal concierge service and exclusive floors, plus apartment-sized suites outfitted with Jacuzzis. There are attractive indoor and outdoor meeting spaces. It is close to one of Mexico City's primary convention centers, Expo Bancomer Santa Fe, as well as many corporate headquarters, shopping malls and restaurants.
Because of its size, location is everything in Mexico City. Four key locations:
Avenida de los Insurgentes. Hotels are chosen for proximity to the World Trade Center (WTC). Solid five-star options include Crowne Plaza Hotel de Mexico and Holiday Inn Ciudad de Mexico Trade Center. Mexico City is projected to add another 1,500 hotel rooms in the next few years, among them Hotel Isaaya, a five-star property with 26 luxury suites that will be minutes from the WTC.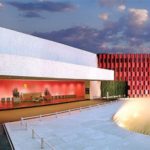 Polanco (pictured right). This upscale neighborhood near Chapultepec Park is home to three of the area's largest hotels, landmark Hyatt Regency Mexico City, Hotel Camino Real Polanco Mexico and InterContinental Presidente Mexico City (with recently redone guest rooms and the most lavish presidential suites in Mexico). W Mexico City is also nearby.
Paseo de la Reforma-Centro. This downtown area includes the new Barcelo Mexico Reforma Hotel, Four Seasons Hotel Mexico, D.F., Hilton Mexico City Reforma (with recently renovated guest rooms and a two-story convention center with capacity for 5,000 people, the largest of any hotel in the city) and Krystal Grand Reforma Uno. St. Regis. Recently remodeled NH Collection Mexico City Reforma are also close at hand.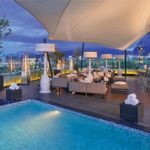 Santa Fe district (pictured right). Hilton Garden Inn Mexico City Santa Fe is expected in late 2017 as part of the first dual-branded Hilton property in Mexico. DoubleTree by Hilton Mexico City Santa Fe, the other half of the development, opened earlier this year. Within walking distance of the convention center is luxurious Westin Santa Fe Mexico City. JW Marriott Mexico City Santa Fe is nearby, as well.
Mexico City Itineraries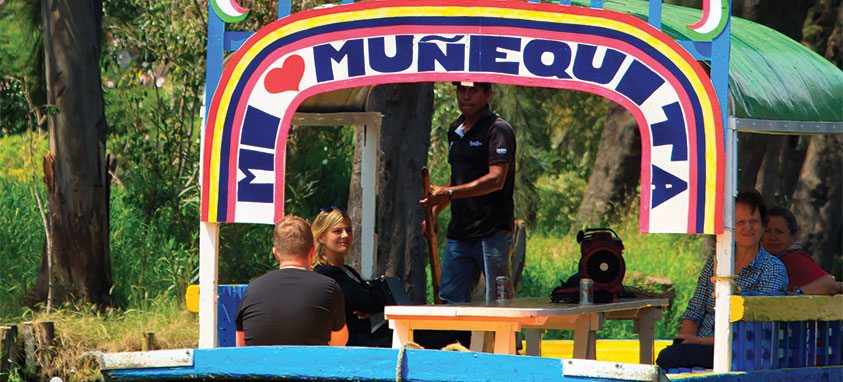 Visit: Templo Mayor Museum, National Museum of Art
Enjoy: More than 1,300 colonial and antique buildings, including Palacio de Bellas Artes (Palace of Fine Arts) and the iconic thoroughfare known as Paseo de la Reforma
Shop: Paseo de la Reforma
Coyoacan Neighborhood
Visit: Frida Kahlo and Diego Rivera's Casa Azul (Blue House)
Enjoy: street performances of every kind
Shop: traditional art craft or fashionable accessories
Chapultepec National Park
Visit: National Museum of Archaeology, museums of contemporary art
Enjoy: nature in the world's largest city park, view from Chapultepec Castle
Polanco Neighborhood
Visit: Soumaya Museum, containing Mexican billionaire Carlos Slim's private collection of art, sculpture and other treasures
Enjoy: the city's finest restaurants, parks, terrace cafes and architecturally distinct Mexico City homes
Shop: the world's finest stores on Avenida Presidente Masaryk
Xochimilco National Park
Visit: iconic Dolores Olmedo Museum, in a former 16th-century hacienda
Enjoy: gliding on canals in traditional trajineras (boats decorated with flowers, pictured above)
Mexico City: Meetings in Brief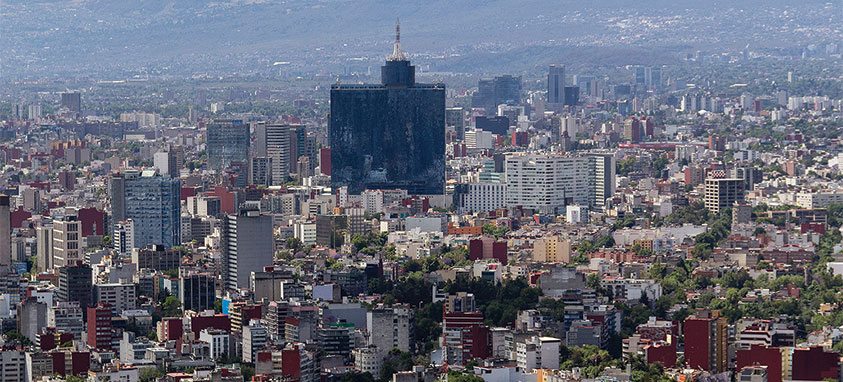 As a city that has hosted an Olympics and two FIFA World Cups, Mexico City offers a welcoming abrazo (hug) to meetings and events. Its rankings by International Congress and Convention Association have risen steadily over the decades: In 2016, Mexico City hosted more association meetings than Toronto, New York City or Washington, D.C. As a city that has hosted an Olympics and two FIFA World Cups, Mexico City offers a welcoming abrazo (hug) to meetings and events. Its rankings by International Congress and Convention Association have risen steadily over the decades: In 2016, Mexico City hosted more association meetings than Toronto, New York City or Washington, D.C.
Other highlights:
12 million visitors per year
38,479 hotels rooms (four-star and above) at 600 hotels
3,000 tourist-quality restaurants
Major convention venues:
Expo Reforma Centro Banamex—most renowned meeting space in Latin America, overlooking a race track; Earthcheck Gold-certified; 15,393 sq. ft. of expo space and 78,791 sq. ft. of meeting and convention space.
Expo Bancomer Sante Fe—in the most modern business district of the city, close to headquarters of many Mexican and international companies; 60,277 sq. ft. of meeting and convention space and 403,915 sq. ft. of expo space.
World Trade Center Mexico City (pictured above)—boasts Pepsi Center, a major concert and event venue; 138,208 sq. ft. of expo space and 128,661 sq. ft. of meeting space.
Guadalajara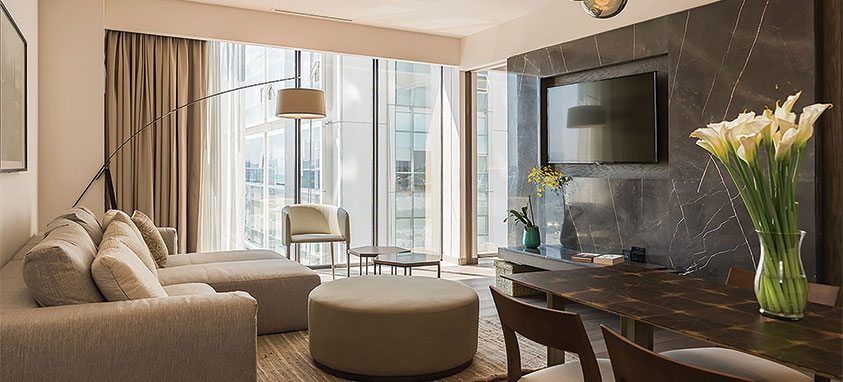 Mexico without mariachis, wide-brimmed sombreros, the Mexican hat dance and tequila? Unthinkable, no? We have Mexico's second-largest city to thank for these beloved exports. Yet at the same time, Guadalajara is a thoroughly modern, busily humming business engine known for its financial and commercial sectors. Its tech prowess has earned it the nickname of Mexico's Silicon Valley.
With more than 4 million Tapatios (as those who live in Guadalajara are called), the metro area is adorned with monuments, parks, fountains, murals and cultural buildings. Among those who call the area home are some 50,000 expats, mostly Americans and Canadians who have resettled or retired along Lake Chapala, an hour's drive southeast of the city.
The handsome historic center dates to the era of the city's founding in 1542, and is anchored by a magnificent cathedral and Instituto Cultural de Cabanas (Cabanas Cultural Institute), a UNESCO World Heritage Site built as an orphanage and home for invalids. As a splendid metaphor for the city's old-new contrasts, it now boasts jaw-dropping, 1930s murals by Jose Clemente Orozco, as well as works by other leading modern Mexican artists. Its auditorium seats 2,500, and 1,300 can be accommodated for a banquet.
Independence Avenue is the dividing line between old and new. And on the new side, in addition to towering skyscrapers, is a cultural experience as important to Tapatios as the unforgettably rousing mariachi classic aptly named "Guadalajara": masked Mexican wrestlers at the Arena Coliseo de Guadalajara. Extended families fill the cheap seats upstairs, while tourists mingle with local high rollers downstairs for a taste of "lucha libre"—all for the equivalent of around $10.
A new attraction downtown is Aquin Michin. The word michin means "fish" in Nahuatl, and this aquarium is unmatched in Mexico. It aims to be a world-class model in fostering the sustainability of Mexico's aquatic environments. It has a meeting space that can accommodate 200 people.
The Chapultepec neighborhood is where you go for trendy dining, coffeehouses and nightlife. Nearby Zapopan is, somewhat aspirationally, called the Beverly Hills of Guadalajara.
Guadalajara is no stranger to large gatherings, and many of them are cultural and gastronomic. September, for example, sees the International Mariachi and Charreria Encounter, when hundreds of thousands watch the world's best mariachis and Mexican rodeo performers strut their stuff. It also hosts the world's second-largest international book fair.
In all, there are more than 23,550 guest rooms at 370 hotels. Any list of major convention venues begins with Expo Guadalajara—largest convention center in Mexico, with 1.16 million sq. ft. of event space; recent upgrades include a room dedicated to press conferences and Festilia, a space with the latest tech for social events.
Palace of Culture and Communications opened in February 2016, as a design-forward setting for corporate and social events; it offers three auditoriums for 404 to 5,000 attendees, four meeting rooms for 30 to 360 attendees, plus exhibition areas. World Trade Center Guadalajara has 66,131 sq. ft. of meeting space, plus 700 tourist-quality restaurants nearby.
Guadalajara also boasts unique meeting and event venues. Newly refurbished Teatro Degollado, which dates to 1866, is the stunning home of Jalisco Philharmonic Orchestra; it seats 1,027. Some 30 miles outside the city, in the charming town of Tequila, Hacienda El Centenario, part of the Mundo Cuervo visitors center created by well-known tequila producer Jose Cuervo, has indoor and outdoor event space for up to 1,000 people.
Green Host is an initiative of the Jalisco Hotel Association. To date, more than 25 hotels in the state have joined, pledging to reduce their carbon footprints. Recent additions to the ample selection of hotels in Guadalajara include Hyatt Regency Andares Guadalajara (pictured above), in Zapopan, which offers 257 stylish guest rooms with floor-to-ceiling windows, 18,678 sq. ft. of indoor and outdoor meeting space, including an elegant ballroom and breakout rooms; it also has direct access to Andares, Guadalajara's high-end shopping mall. Another solid option is AC Hotel Guadalajara, a Marriott property with high-tech amenities in its 173 guest rooms and 3,100 sq. ft. of meeting space.
Hilton Guadalajara is a AAA Four Diamond hotel across from Expo Guadalajara and next to World Trade Center Guadalajara. It offers 450 guest rooms and the largest dedicated meeting space in the city. The largest meeting room (of 19 in all) is 15,370 sq. ft.
On a much more intimate scale, Hotel Demetria is an urban-chic, boutique hotel with 37 guest rooms and a rooftop pool that caters to business visitors; it's about 15 minutes from the main congress site, Expo Guadalajara. Located in the Lafayette district, the hotel is a stroll away, on tree-lined streets, to art galleries, bookstores, ateliers, bars and interesting dining.
Within an Hour
Tequila Country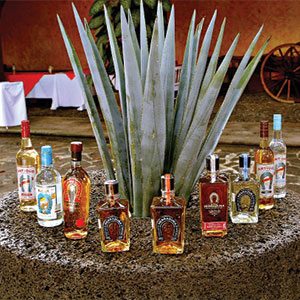 What to know: First, tequila can be legally produced in several Mexican states, but Jalisco (of which Guadalajara is the capital) is the epicenter of Tequila Country. Next, all tequila must be distilled of 51 percent or more Weber Blue Agave, but 100 percent is best—because anything distillable is allowed for the other 49 percent. And finally, there are really two centers of Jalisco agave-growing and tequila making—the lowlands surrounding the Colonial pueblo of Tequila and the highlands known as Los Altos centered around the city of Arandas.
Among the more than 30 distilleries in Jalisco, several—including Jose Cuervo and Sauza—offer public tasting rooms and tours in the center of the Tequila, and there's a quaint tequila museum, Museo Nacional del Tequila. But if you're driving from Guadalajara, stop at Casa Herradura, in Amatitan, a 400-year-old hacienda surrounded by agave fields and reeking with authenticity. Here you'll watch a jimador dig up an agave plant and strip its spiky leaves to the whitish heart. The hearts are roasted in brick ovens, crushed to release a sweetish, milky nectar, naturally fermented in open vats and distilled to make the final products.
Another option: On weekends, the Tequila Express train from Guadalajara stops at Casa Herradura for the tour.
Distilleries in Los Altos tend to be smaller, more artisanal and family run. They also insist you can tell the difference—a more aromatic liquor that is smoother and more flavorful than its lowland counterpart.
Tlaquepaque
This attractive town about 20 minutes from downtown Guadalajara is acclaimed for its art galleries, high-style artisan crafts and furniture shops and traditional Mexican restaurants. Its museums, galleries and Colonial houses have been used to host social gatherings such as incentive dinners. Street performers and musicians add to the festive atmosphere. A new visitors center gives attention to groups, and offers computer services and luggage check.
Puebla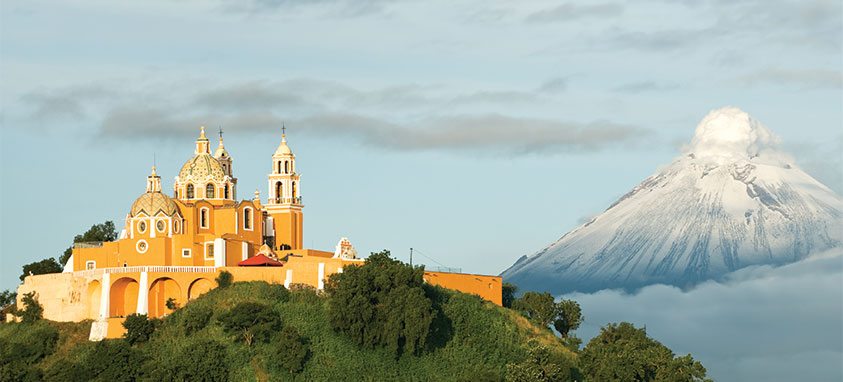 This pleasant city's "crayon-colored" historic center—to quote The New York Times—dates to 1531 and was named a World Heritage Site by UNESCO in 1987. It's very walkable and seems on a smaller scale than comparable Mexican cities, belying a total population of 1.6 million inhabitants. On clear days, the snow-covered flanks of Popocatepetl, an active volcano that spewed ash and forced the temporary closing of the airport only last year, loom on the horizon.
Located two hours southeast of Mexico City, Puebla has modern infrastructure, excellent hotel and meeting venues, and respected universities.
While it doesn't offer the scope of sights and activities available in Mexico City or Guadalajara, it makes up for quantity with quality. Museo Amparo in the historic center, for example, offers one of Latin America's finest collections of Mexican art, from 2,500 B.C. to the present. It occupies a pair of Colonial buildings from the 17th and 18th centuries. Group tours are available.
Puebla's cable car is in the Cinco de Mayor civic park, and takes passengers to the city's highest point. International Museum of the Baroque, designed by famed Japanese architect Toyo Ito, has seven permanent galleries as well as temporary exhibits. "Secrets of Puebla" tunnels run beneath the historic city center, and visitors can be guided on a fascinating tour to the city's past. Estrella de Puebla, in the south of the city, is a 26-foot-high Ferris wheel that is said to be tallest in Latin America; it offers panoramic views and volcanoes that surround the valley.
On Sundays, Callejon de los Sapos (Alley of the Frogs) is taken over by dozens of antiques and crafts dealers selling Talavera pottery, jewelry, leather and textile goods and much more.
Hotel NH Puebla Centro Historico is a modern, business-friendly hotel with 180 guest rooms and a heated rooftop pool close to the city's main convention center and cathedral. La Purificadora, a 26-room hotel with origins as an 18th-century water purification and ice factory, was given a colorful and completely contemporary Mexican revamp by pioneering architect Ricardo Legorreta; it offers several event and meetings spaces, the largest for 500 attendees.
Five-star Camino Real Puebla Angelopolis (formerly Fiesta Americana Puebla) is on the outskirts of Puebla. The property features 153 guest rooms, five meeting rooms for up to 400 attendees and seven event spaces for up to 1,000 people. AAA Four Diamond InterContinental Presidente Puebla has 166 guest rooms, an auditorium that seats 240 people and 11 event rooms that accommodate up to 500 people.
Puebla: Meetings in Brief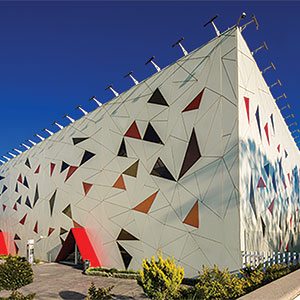 Meetings often revolve around the city's agricultural, commercial, and manufacturing businesses.
Other highlights:
More than 11,000 hotel guest rooms
Major convention venues:
Exposition and Convention Center Puebla—one of the largest in Mexico and ranked in the top 10 for Mexican venues; in Cinco de Mayo civic center, surrounded by museums and public parks; Earth Check silver certification; 430,556 sq. ft. of new meeting space, including the largest room without columns in Latin America; 24 breakout rooms.
Centro Expositor Puebla—430,400 sq. ft. of meeting space.
Centro de Convenciones Puebla—also known as Convention Center William O'Jenkins; can host up to 3,400 attendees; 96,875 sq. ft. of event space, 12 meetings rooms and an auditorium.
University Cultural Complex—auditorium seating for 3,494; outdoor plaza seats 15,000.
Post-Earthquake Recovery
Mexico has survived many earthquakes in her history, and the most recent In southern and central Mexico are no exception. The 7.1 magnitude temblor that shook Mexico City and Puebla in September was nowhere near as destructive as the 8.1 magnitude earthquake which, incredibly, occurred on the very same date 32 years earlier. That disaster collapsed 258 buildings in the capital's historic district alone.
By comparison, 38 buildings in Mexico City fell immediately after the most recent quake, mostly apartment blocks and office buildings. There have been no reports of serious damage to major meeting hotels or convention centers. Damage in the city of Puebla was much less severe than in Mexico City.
The complete overhaul of building codes in Mexico City is said to have contributed to the relative lack of damage compared to previous strong earthquakes.