Our 50th state wants to build tourism back better
Regeneration is such a positive word. No wonder it's being embraced as the new mantra for responsible tourism. It's a bigger concept than sustainable travel, which basically means you do no harm. Regenerative travel, on the other hand, welcomes groups to actively participate in reversing the harm—of overtourism, of climate change; it encourages us to engage with local communities, for mutual understanding and betterment of those communities.
When it comes to regenerative travel, nowhere in the United States is it being more talked about, and planned for, than in Hawai'i. Everyone wants to go to Hawai'i, and that's the problem. Tourism is the economic engine of those enchanted islands, yet the majority of Hawai'ian residents, surveys indicate, think their home is better off without tourists.
Major travel media is noticing, and meeting professionals should, too.
For years, Hawai'i has been packaged as a picturesque paradise. A place where mainland travelers could forget the worries of home. The problem? Hawai'i's land, history and people are often ignored or trampled. After decades of frustration—and a year and a half of having their islands back—the people of Hawai'i want something different.–AFAR magazine
Restarting tourism is unquestionably critical, but many also see a unique opportunity to reimagine the industry in a more responsible manner, one guided by the interests of locals. Last year, Hawai'i, a state of 1.5 million people, hosted 10.4 million visitors, and those unsustainable numbers have started to sour the aloha spirit.–Conde Nast Traveler
Wanted: 'Pono' Visitors
In October, Hawai'i Tourism Authority (HTA) issued an update on its efforts to address this issue. It called out how community feedback has played a role in its new destination-specific management action plans (DMAPs). These have already led to the launch of GetAroundKauai and the Maui Aloha Shuttle as transportation options instead of rental vehicles, funding of a Hawai'i Sustainable Tour Operator Certification Program, monitoring of visitor counts at areas most impacted by overcrowding, and relaunch of the Go Hawai'i App as well as a Hawai'i Farms Trail App, so that locals can benefit more readily from agricultural tourism.
HTA has also created the new role of Native Hawai'ian Chief Brand Officer. HTA itself, for the first time, is led by three Native Hawai'ians—President and CEO John De Fries, Chief Brand Officer Kalani Ka'anā'anā and George Kam, who is chairman of the group's board of directors.
"We are in a time of 'huiliau' or transformative change," said Kam when he became chair in April. "This is our time to find solutions towards a pono [sense of personal responsibility] traveler that balances the opportunities of tourism and the challenges it presents our community. Tourism can be the catalyst to improve the quality of life for all the people of Hawai'i. Finding balance is the razor's edge, the width of a blade of pili grass."
Groups are more closely managed, of course, than free-ranging leisure travelers. They are more unlikely to contribute to the affronts witnessed repeatedly by those who live there. Things like unsafe parking in the middle of roadways to clamber out of rental cars and pose for selfies, trespassing on private land and tramping across sacred Native Hawai'ian sites. "The visitor of 20 years ago is very different than what we have today," Sue Kanoho, executive director of Kauai Visitors Bureau, recently told the website Skift. "With the whole Instagram thing, people want the beauty shot in the remote location. They are often not aware of what they are doing and often will not listen to advice from local people. There have been some nasty exchanges when residents try to help, but just get told off."
Yet, there's no doubt groups could do more to learn about and interact with Hawai'ians. How many planners have limited their groups' encounters with the history and culture of the islands to a commercial luau and bottomless mai tais?
Go Authentic
Today's groups, we are repeatedly told, want really good reasons to venture forth from their WFH wombs. Authentic experiences and opportunities to learn and help local communities are at the top of their wish lists. That's regenerative travel. In a sense, it's a repackaging of what planners have programmed for eons as CSR and team building. Yet in Hawai'i, in particular, it's even more meaningful because there is an opportunity to go deeper, to learn from Native Hawai'ian cultural advisors at many hotels and resorts about how their rich and ancient culture underpins these activities. To seek out group activities that build bonds with Native Hawai'ians and support efforts to strengthen traditional culture.
One example: "The majority of tourists come and go year after year without knowing the true meaning of the culture," Bullet Obra, a native of Island of Hawai'i, told Conde Nast Traveler. As head of watersports at Mauna Lani, an Auberge Resort, on that island, he makes it his responsibility to share his culture and the history of the area. "Once I get guests in a canoe, I make the experience more meaningful by sharing a chant or explaining the significance of paddling to our culture," he says.
A recent study by University of Hawai'i found that 76 percent of U.S. travelers are willing to pay more for experiences that are respectful of Native Hawai'ian culture. More than 70 percent want such regenerative experiences, a dramatic increase attributed to demand by millennial and Gen Z visitors.
"Can we envision a future where we build the capacity to identify, train, qualify and certify local families to host a luau for 10 people or less in their homes at $200 a head?" HTA's De Fries asks. "Would that be an authentic experience that somebody would value? The answer is yes." That model is scalable, at least for groups of 100 or less, and De Fries sees this as a viable alternative to the huge, touristy shows that are spectacles, to be sure, but little more.
Regenerative Resorts
Hawai'ian tourism officials urge meeting profs to seek out resorts that offer regenerative activities. Here are examples from the many that do.
On Oahu, Sheraton Waikiki, which celebrates its 50th anniversary on Honolulu's beachfront and completed major renovation in 2020 to upgrade to the latest brand design, including 1,636 guest rooms and 42,720 sq. ft. of meeting space, participates in a program led by HTA and Hawai'i Visitors and Convention Bureau called Malama Hawai'i. Malama means "give back" or "take care." It's a teaming with local nonprofits like Pacific Whale Foundation to offer beach clean-ups or tree planting at Gunstock Ranch near Oahu's North Shore in partnership with Hawai'ian Legacy Reforestation Initiative (HLRI).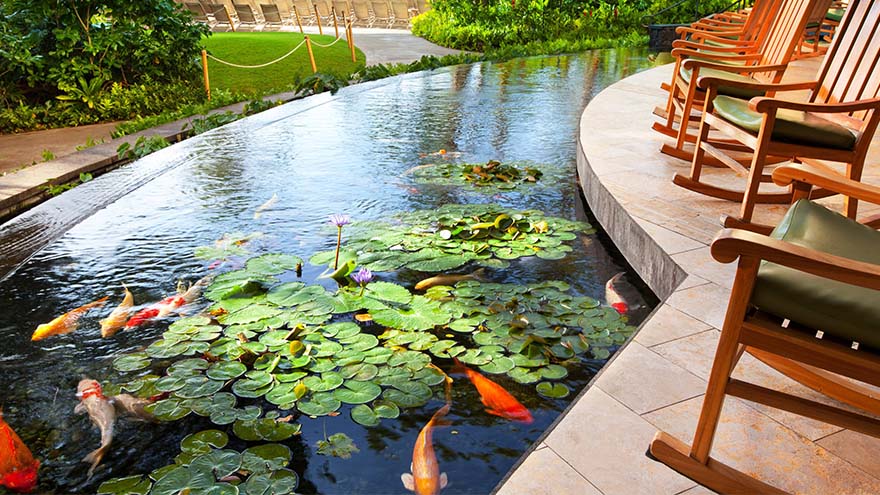 Saplings of milo trees, a legacy hardwood tree prized by early Hawai'ians for food bowls, poi calabashes and dishes, can be used by planners as table centerpieces before planting. Groups of up to 10 at a time ride to the ranch in an open-air bus. The trees have RFID tags so their exact locations after planting can be located via GPS.
Waikiki Beach Marriott Resort & Spa also participates in the Malama Hawai'i program. That 5.2-acre property overlooking Queens, the most famous surf break on Waikiki, has also undergone transformation, with 1,310 refreshed guest rooms, a modernized lobby and spa, plus a dramatic, new 1-acre Queensbreak amenity deck, now Waikiki's largest outdoor entertainment space, featuring two pools, a restaurant and bar. It offers 30,000 sq. ft. of reimagined indoor/outdoor function space, as well.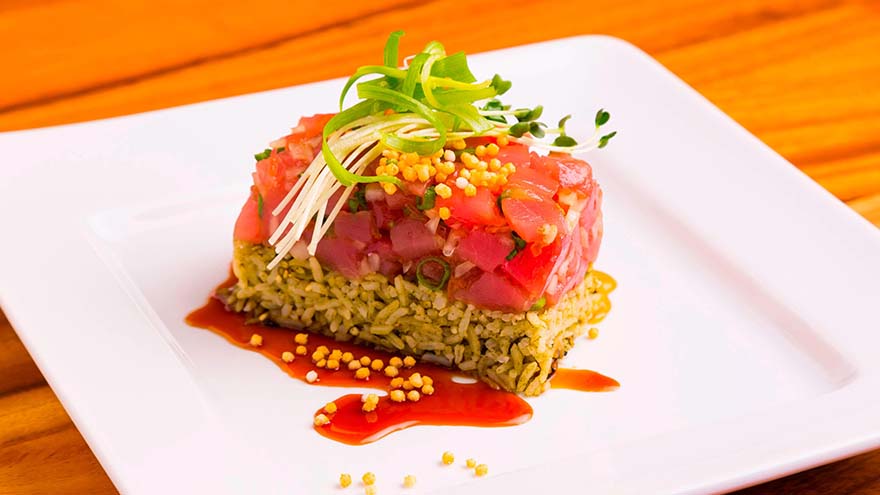 Other Oahu hotels partnering with HLRI include The Ritz-Carlton Residences, Waikiki Beach; Sheraton Princess Kaiulani; Moana Surfrider; The Royal Hawaiian and The Laylow, Autograph Collection.
On Maui, a meetings resort offering a wide range of cultural activities is Four Seasons Resort Maui at Wailea (383 guest rooms, 40,202 sq. ft. of meeting space). In addition to regularly scheduled programming like outrigger canoeing, cultural activities (lei-making, ukulele lessons, palm frond weaving, et al.) led by Cultural Ambassador Auntie Wendy and cultural garden tours by a Hawai'ian storyteller, the resort has offered Hawai'ian Star Stories, where an island "navigator" talks story about the amazing skill of her Polynesian ancestors, who used only the stars, wind and currents to find their way to these islands, which are the world's most isolated.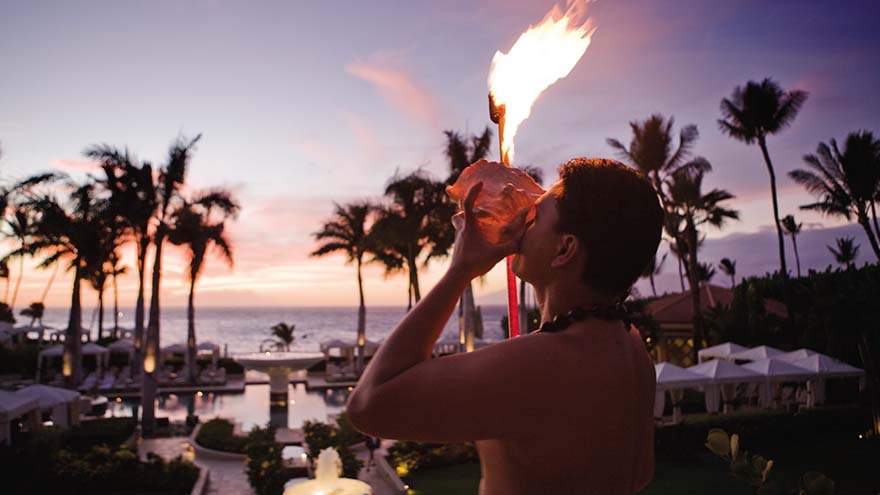 But the most regenerative opportunity is a volunteer experience to discover Maui's storied past through hands-on processing of historic artifacts and documents at Lahaina Restoration Foundation, a nonprofit with the mission to restore, preserve and protect the physical, historical and cultural legacies of Maui, and honor the era of the Hawai'ian monarchy. This three-hour experience involves measuring, describing and/or transcribing historic artifacts and documents from all eras of Maui's past, including Kingdom of Hawai'i, Missionary, Whaling and Sugar periods. Group size is currently limited due to Covid-19, but participants can be rotated in small groups.
Financial contributions to local communities can also be regenerative. At this resort, one group donated more than $20,000 to a local school earmarked for its Hawai'ian Immersion Program.
Also on the Wailea coast, Fairmont Kea Lani (450 spacious suites, 36,000 sq. ft. of event space) offers an extensive Hawai'ian Cultural Program led by its cultural advisor Kapono Kaumanu (some options are not currently available due to Covid restrictions), including a Hawai'ian Canoe Experience that includes a history of the canoe and its importance to Hawai'ian culture, a walking tour that informs about culture and indigenous plants in Hawai'I and an exploration of Hawai'ian culture through the history and legends of taro, the plant that sustained ancient Hawai'ians and is important to this day.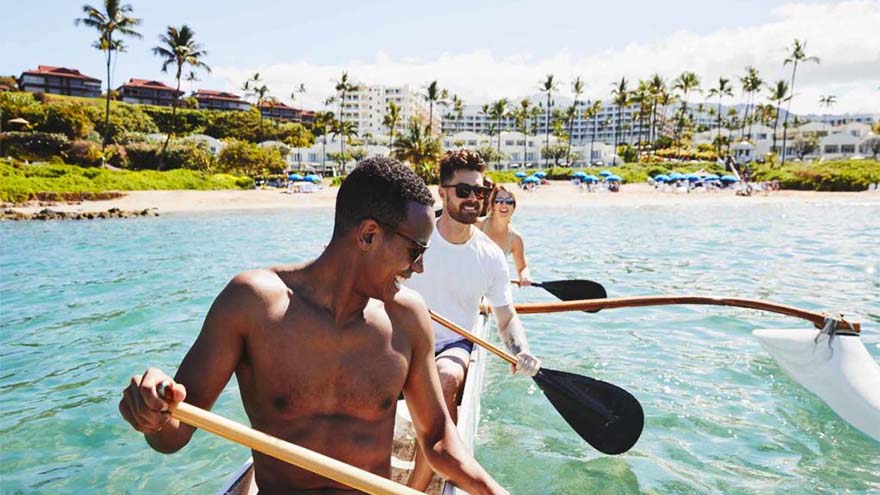 On Island of Hawai'i, sister property Fairmont Orchid (540 guest rooms, 110,000 sq. ft. of indoor/outdoor event space), has a similarly robust menu of cultural experiences. These include a class in Hawai'ian language basics, learning about and playing Hawai'ian games and storytelling about the legends and lore of the island. It also has a Malama program that offers a choice of three volunteer opportunities, including a visit to Waikōloa Dry Forest Preserve to help restore native forest or a beach clean-up.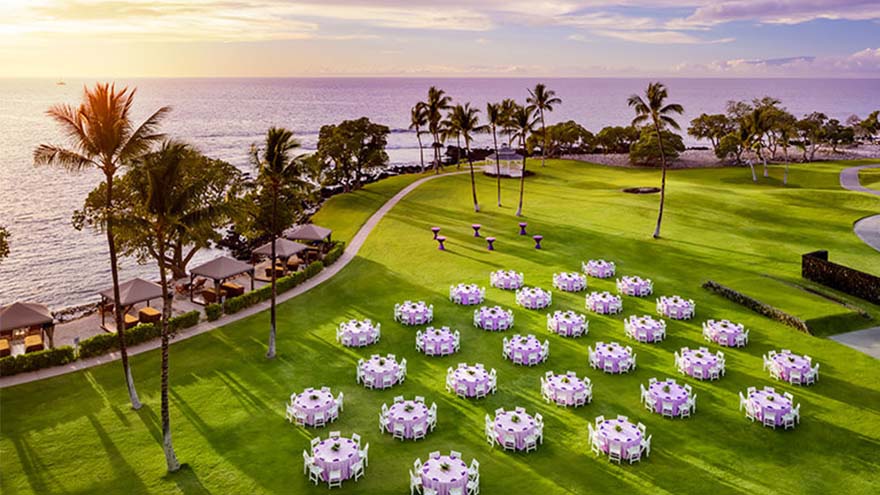 Waikoloa Beach Marriott Resort & Spa (297 newly renovated guest rooms, 14,991 sq. ft. of meeting space) sponsors clean-up of a beach or cultural site for groups of up to 10 at a time.
The Hawai'ian welcome of "Aloha!" is known the world over, yet it will never be said more from the heart than when groups arrive at these achingly lovely islands not only to enjoy them but also to enhance them in a regenerative spirit. It's already happening. In the words of Ben Shank, general manager of Four Seasons Maui Resort, "We're finding that, now more than ever, companies are choosing to travel responsibly and want to not only give back to the destination but leave it better than when they arrived."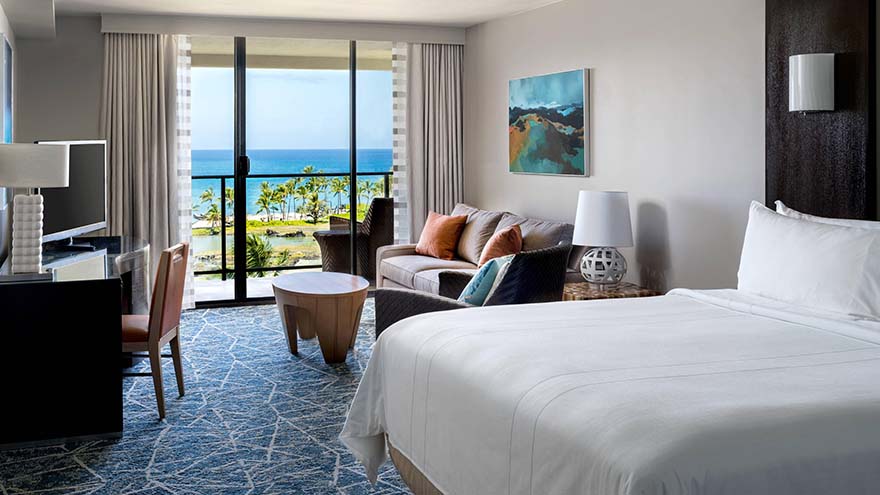 A Checklist for Respect
A Honolulu TV station put together this short but important list of how to be a respectful visitor to Hawai'i.
Use reef-safe sunscreens. In January, Hawai'i banned the sale of sunscreens containing two chemicals that harm coral: oxybenzone and octinoxate. They can cause coral bleaching, which eventually leads to its death. You can pack any sunscreen and bring it with you, even these banned formulations. Don't.
Be careful around coral. In short, don't touch it. And really, really important: Don't stand on it. Or break off a piece as a souvenir. Snorkeling and scuba-diving around coral reefs is fun and fascinating, but these activities can contribute to reef degradation and deterioration if done without care.
Don't litter. This one is so obvious, but locals noticed a drastic decrease in trash during the pandemic when tourism evaporated. Avoid plastic water bottles, plastic bags and other single-use plastics, as these often end up in the ocean and in the stomachs of marine life, especially turtles.
Treat the locals with respect. You're a guest. Act like one. Enough said.
Resources:
Go Hawai'i
Hawai'i Visitors & Convention Bureau
Island of Hawai'i Visitors Bureau
Maui Visitors Bureau