Starfield Library in Starfield Coex Mall, Seoul
An exploration of four fascinating, diverse meetings destinations
South Korea continues to become a much more visible player on the world stage, as shown in everything from its booming technological industry to its successful hosting of the 2018 Winter Olympics. The country has also recently developed a much stronger meetings and events industry, as evidenced by its rapid rise in worldwide rankings.
Seoul, the nation's capital and largest metropolis, still is the only immediately recognizable city in South Korea, and it is seemingly becoming more so by the minute. South Korea's appeal extends well beyond Seoul, though: Many other leading cities feature exquisite settings as well as outstanding lodging and meeting facilities—and intriguing historical and modern attractions are scattered throughout the country.
"As a country with more than 5,000 years of history, Korea has a long history and many traditions," said Min Min-Hong, vice president of international tourism for Korea Tourism Organization, at the 2018 Korea MICE Expo in Incheon in May. "Korea has 12 UNESCO World Heritage Sites, Korean traditional culinary culture and the unique beauty of hanbok (traditional Korean dress) to attract visitors from all over the world. At the same time, Korea is well-known for its dynamic energy."
Smart Meetings participated in a media trip recently that included visits to four of South Korea's major cities: Busan, Gyeongju, Incheon and Seoul. They are all distinctly South Korean, yet they each have a unique, alluring personality and are well-suited to host international meetings. Trains and buses were our second home as we traveled from place to place, never realizing what exciting adventures were right around the corner and how our perceptions of the country would constantly change.
Busan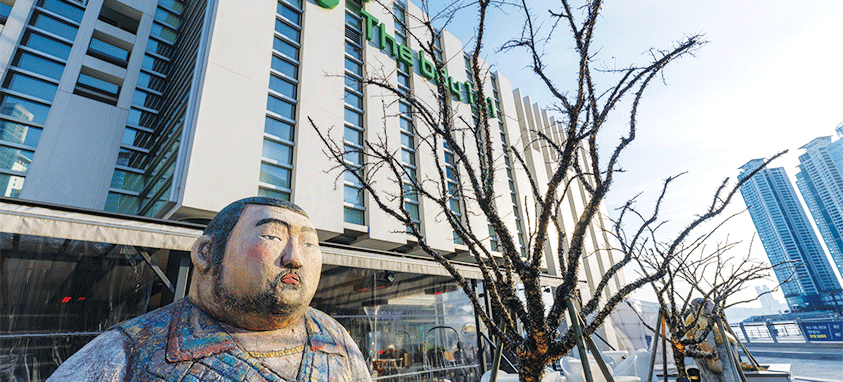 On the meeting group's first full day in South Korea, we traveled from the northwestern city of Seoul to the southeastern city of Busan. We took a South Korean Express (KTX) train that traveled at speeds of up to 190 mph and reached Busan in about 2 1/2 hours. Officially called Busan Metropolitan City, it is South Korea's second-largest metropolis, with a population of approximately 3.6 million.
Featuring a stunning coastline with scenic cliffs, refreshing hot springs and excellent hiking on nearby mountains, Busan is the country's top summer vacation destination. It also boasts significant historical sites and a modern infrastructure, including outstanding hotels.
Paradise Hotel, a 530-room luxury property with an oceanfront terrace that offers stunning views of Haeundae Beach and 16,580 sq. ft. of meeting space, was our host hotel in Busan. Our first stop was BEXCO, the city's premier large-meetings venue, in the heart of the convention district. The seven-story structure offers 515,504 sq. ft. of meeting space, including a 4,002-seat auditorium.
We also visited Nurimaru APEC House, a three-story building that was constructed for the 2005 Asia Economic Summit, which included 21 world leaders. Used primarily as a memorial hall and an international conference hall, it can hold receptions for up to 740 people. The building is located on Dongbaekseom Island, which is noted for its striking natural landscape, accented by camellia and pine trees. We also visited The Bay 101, located in a culture and art complex on the same island. It features several meeting venues—including Club 101, with 12,917 sq. ft. of meeting space—along with several restaurants and spectacular views of Busan's coast and skyscrapers.
The following day, we toured Hilton Busan, a contemporary, seafront hotel with spectacular views, 310 guest rooms, indoor and outdoor dining options, swimming pools and 35,000 sq. ft. of attractive meeting space. Later in the morning, the group visited Haedong Yonggungsa Temple, a leading historical attraction. Built in 1376, it's one of South Korea's few waterfront, as opposed to mountain, Buddhist temples. The views of the indigo-blue East Sea of Korea are stunning.
After enjoying a delicious lunch at Shabuya—featuring fresh vegetable rolls as well as a beef and seafood hot pot—we headed to Busan Gamcheon Culture Village. Consisting of houses built in staircase-fashion on the foothills of a coastal mountain, this village is referred to as the "Machu Picchu of Busan." It also includes a public area with museums, shops and other businesses—as well as hands-on crafts classes—dedicated to traditional Korean culture.
Gyeongju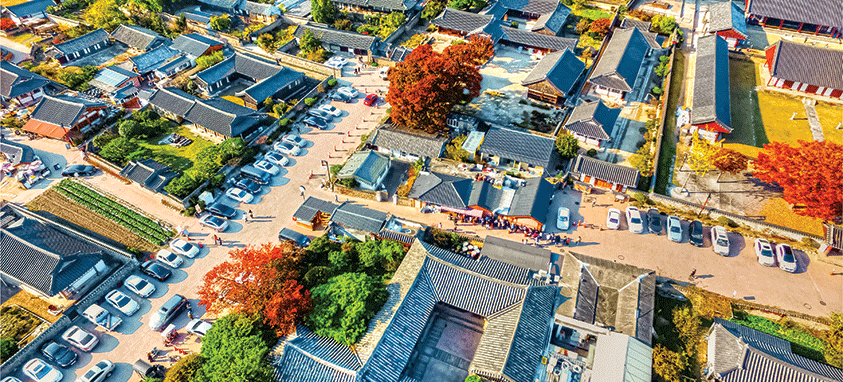 Though least known of the four cities we visited, Gyeongju is in many ways the most intriguing. Boasting a rich culture and history, it is also called the "Kyoto of South Korea" and the "Museum Without Walls." Situated 47 miles north of Busan, Gyeongju was the old capital of the Silla Kingdom, one of the Three Dynasties of Korea, from 57 B.C. to 935 A.D.
We stayed at Hilton Gyeongju Hotel, adjacent to Lake Bonum and surrounded by beautiful countryside and a majestic mountain range. It offers 330 contemporary guest rooms, six restaurants and 8,008 sq. ft. of meeting space.
Soon after we arrived, we enjoyed dinner—made exclusively with organic ingredients—at Yosokkong, one of the leading traditional restaurants in Gyeongju. Yosokkong is situated in Gyochon Hanok Village, a traditional complex that also features engaging local experiences such as pottery-making, quilt-making, glass-making and wine-tasting. We returned to the village the following day to be trained in the ethics of Korean tea ceremony at Cafe Daeyon.
One of the highlights of the entire trip was an evening visit to Donggung Palace complex and Wolji Pond, located in Gyeongju National Park. Completed in the year 674, Donggung was the Crown Prince's palace and, along with other buildings in the complex, was used to host important national events as well as entertain nobility and royal guests. The pond, which contains three islands, was created when the complex was built and provides a tranquil feel that pervades the entire area. Residents and visitors enjoy strolling through the complex, particularly at night, when the grounds are illuminated.
Our group also toured Hwangnyongwon, a corporate retreat center shaped like a pagoda-style Buddhist temple, that was designed and built in collaboration with Buddhist monks. It has more than 40 guest rooms that are intended for people participating in prayer and meditation practice there, but the attractive auditorium and garden can be rented for events with up to 450—and there are nice hotels nearby.
The next stop was Seokguram Grotto, a stone temple completed in 774 by piling stones into a dome-like structure and then covering it with dirt to make it look like a cave. Old records describe the grotto as "the shrine that was built by weaving silk out of stones," a testament to the delicate, beautiful features of its statues and other art pieces, all made of granite. It has been widely praised for the technology used to construct and preserve it. Bonjonbul, an 11-foot-by-9-foot statue of the Buddha made of white granite, is considered one of the masterpieces of the world's religious art.
Before leaving the city, we enjoyed a traditional Gyeongju Korean lunch that included lettuce wraps, and duck and beef bulgogi (a Korean barbecue dish made with thinly sliced beef) at Byul Chae Bon.
Incheon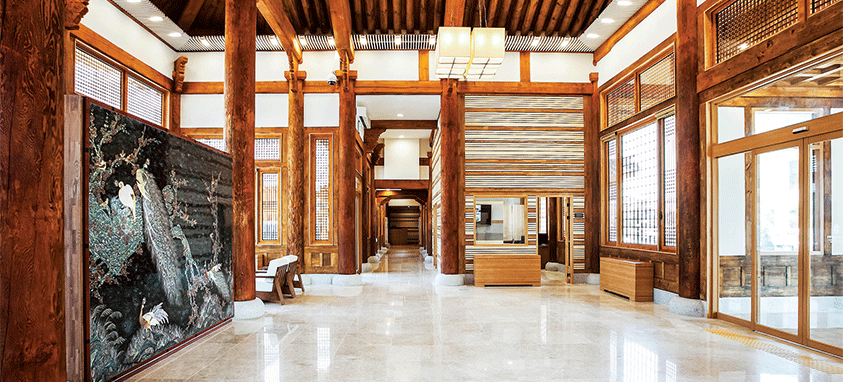 We took the KTX train from Gyeongju to Incheon, arguably the two cities in South Korea that are most different from one another. Whereas Gyeongju is saturated with tradition, Incheon (officially called Incheon Metropolitan City) is so modern that it has been nicknamed "City of the Future."
The second-largest port city in the country, Incheon is just 17 miles south of Seoul. In 2003, Incheon was designated as Korea's first free economic zone, referring to an area where companies are taxed very lightly or not at all to encourage economic activity. Since then, large local companies and global enterprises have increasingly invested in the Incheon Free Economic Zone (IFEZ), which consists of Songdo, Cheongna and the island of Yeongjong. IFEZ is transforming these three areas into hubs for logistics, international business, leisure and tourism for the Northeast Asian region.
Orakai Songdo Park Hotel, situated in front of Songdo Central Park, hosted us for two days in Incheon. Orakai provides 275 guest rooms and 6,598 sq. ft. of meeting space, including a 3,929-square-foot grand ballroom. Songdo Convensia, a five-minute walk from the hotel, is a convention center with 645,000 sq. ft. of exhibition space, 86,000 sq. ft. of ballroom space and 50,000 sq. ft. of meeting space.
Soon after arriving in Incheon, we headed to an outdoor welcome reception (which included a catered dinner consisting of Asian and Western dishes) for the 2018 Korea MICE Expo, the country's main annual meetings event. The reception was held at the courtyard of Yeongbingwan Hall at Gyeongwonjae Ambassador Incheon hotel, and included performances of traditional Korean music and dance. The expo was held the following day (see sidebar).
After attending the expo, we visited G-Tower Observatory, which provides panoramic views of the Songdo area, and then went for a water taxi ride on a man-made river adjacent to Songdo Central Park. We then toured the new Gyeongwonjae Ambassador Incheon, which offers a welcome dose of tradition (coupled with modern luxuries) in this ultra-modern city. Featuring a traditional Korean architectural style, it includes 30 guest rooms and two conference rooms.
The expo networking party followed, consisting of food and drink, K-Pop entertainment and plenty of high-spirited socializing.
Seoul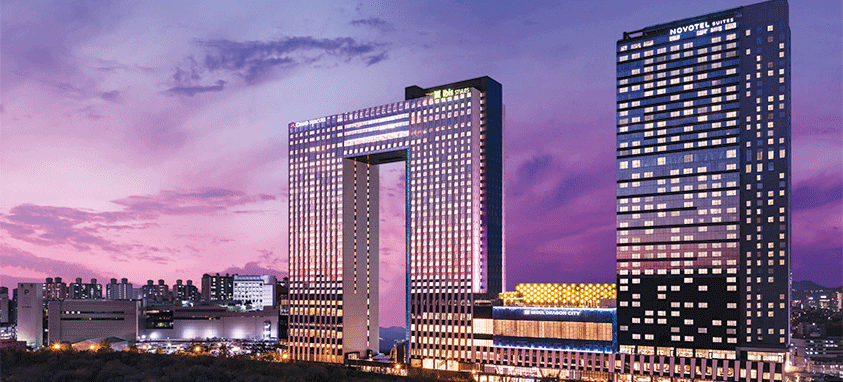 After a short bus trip, we arrived in Seoul, officially called Seoul Special Metropolitan City. Seoul was founded in 18 B.C. by the people of Baekje, one of the Three Kingdoms of Korea. The city is situated on the Han River, and is surrounded by a mountainous and hilly landscape. Home to 10.9 million people, Seoul now is one of the world's premier cities, featuring modern skyscrapers, high-tech subways and pop culture as well as Buddhist temples, palaces and street markets.
Our first stop was Coex, situated in the heart of the Gangnam District, Seoul's vibrant, cutting-edge business district. Coex is known to the meetings industry as Seoul's main convention center, with 387,576 sq. ft. of meeting space, including four exhibition halls and 64 meeting rooms. That only begins to describe Coex, though: It also contains Asia's largest shopping mall (which features the new Starfield Library, with 50,000 books and 43-foot-tall book shelves), three multinational office skyscrapers, the city's only airport terminal and two theaters, among other things. After leaving Coex, we had a traditional Korean lunch, including crispy bulgogi, at SMT Seoul.
The group also toured Seoul Dragon City, South Korea's first lifestyle "hotelplex," consisting of four brands from Accor Ambassador Korea. The brands represented are Grand Mercure (with 202 guest rooms) Ibis Styles (591 rooms), and residence hotels Novotel (621 rooms) and Novotel Suites (286 rooms). Overlooking the Han River and set against the stunning backdrop of Namsam Mountain, the hotel rooms provide exquisite views of Seoul.
The complex, which opened in October, features three tall, connected towers, creating a dragon-like appearance. It includes 11 restaurants and bars as well as a convention center than can accommodate up to 4,900 people, two grand ballrooms, 17 meeting rooms and eight private dining rooms.
In Seoul, we also saw Some Sevit (Floating Islands), a stylish complex consisting of four man-made islands—Some Gavi, Some Chaevit, Some Solvit and Some Yevit—on the Han River. The complex includes wedding halls, Italian restaurants, buffets and cafes, and is used for performances, international conferences and exhibitions. Its dome-style main banquet hall provides exceptional views of the Han River and can accommodate up to 500 people. Some Sevit is particularly beautiful at night, with its colorful LED lights, and has been used to film television shows and movies.
We also stopped by K-Style Hub, which is part information center (focusing primarily on travel) and part museum, featuring displays and activities that highlight Korean culture. Our group made miniature shoes out of paper and dressed in traditional Korean attire. We also visited Korea House, a kind of cultural center offering traditional Korean cuisine, arts performances, immersive activities and more.
The farewell dinner, hosted by KTO's MICE Bureau, was a rousing affair at Maple Tree House Itaewon—located in a pulsating, buoyant area—featuring excellent Korean barbecued beef, made right at our tables, as well as side dishes, and Korean beer and wine. It was a fitting end to an intensive, energizing trip that revealed a vast array of exciting options for meeting groups.