A Fresh Hospitality Day
New and renovated spaces in the Sonoran Desert
By Gretchen Kelly
The high Sonoran Desert of Tucson offers a unique blend of natural beauty, rich history and modern amenities. Instagrammable sunsets, an innovative culinary scene and a flurry of new venues make it easier than ever to bring your group to the heart and soul of the Southwest.
Come for the centralized location and easy access, then stay for outdoor adventures and peace of mind. We talked to locals to find the trending spots and activities that need to be on your planning short-list.
Local Expert Tip
"Be sure to allow for outdoor adventure in your agenda. Meeting in such a beautiful setting, groups should take advantage of the more than 300 days of sunshine by going for a guided hike, jeep tour, mountain bike or playing golf. Soaking up all that Vitamin D will leave everyone relaxed, rejuvenated and ready to take on the world!
"Incorporate local vendors for amenities such as the Mesquite Smoked Mexcal Carmel popcorn from Popped Artisan Popcorn, or the Churro flavored toffee from Tucson Toffee, or possibly the Prickley Pear Paloma non-alcoholic drink from Parch. This allows attendees to dive into local treats and will enhance their overall experience."
–  Mary Meade, Visit Tucson Vice President of Sales
5 Fabulous Places to Meet in Tucson
5 Reasons Meeting Professionals Love Tucson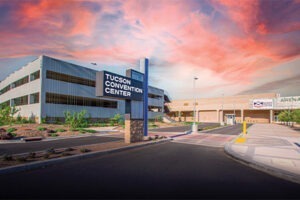 Scenic Beauty Tucson is nestled amidst the Santa Catalina Mountains, offering breathtaking views. This natural beauty not only provides a relaxing environment for attendees but also sparks creativity and out-of-the-box thinking. Imagine brainstorming with the dramatic Saguaro cactus-studded landscape and legendary dark sky nights as your backdrop.
Unique Cultural Experiences With its rich Native American, Mexican and Wild West heritage, Tucson offers a unique cultural immersion. Meeting attendees can enrich their experience by exploring the local history, traditions and art scenes, making their trip both productive and enlightening.
Year-round Pleasant Weather Tucson boasts over 300 sunny days a year. Its mild winters and warm, dry summers make it an ideal location for meetings throughout the year. The elevated location lowers the ambient temperature while raising the possibilities for everything from hot-air balloon rides to horseback outings.
Accessibility Tucson International Airport (TUS) has added hundreds of daily nonstop flights on Alaska Airlines and Southwest Airlines this year, making the city easily accessible for attendees from all over the country. Additionally, the city's layout is user-friendly with Interstate 10 passing through downtown.
Diverse Venue Options Whether you're looking for a high-tech expo space like 205,000-square-foot Tucson Convention Center, a rustic desert retreat, or an upscale resort, hundreds of unique properties await.